Last year Lisa Wolf-Wendel, a professor of higher education at the University of Kansas, decided to flip her classroom. Instead of delivering her lectures during class time, she videotaped them for her students, broken down into brief segments, to watch as part of their homework. She now devotes her class time to interactive case studies and other active learning exercises. It was a big change and a lot of work, but she's pleased with the results.
"Students can take notes at their own pace, they can rewind if they need to, they can go back and watch them again later in the semester," she says. "And the technology allows me to see who has watched them and how much time they spend watching." That feedback even helped her to make some additional tweaks: "I noticed that no one was watching the 20-minute video segments," she says. "Now they are all 10 minutes long."
Wolf-Wendel's changes mirror those being made by faculty across the country, according to Top Hat's 2018 Professor Pulse Survey of college and university professors. More than 80 percent of professors who use technology in the classroom say they do so to implement more active learning techniques and increase student engagement.
And while 7 of every 10 professors still use lecture slides in the classroom, that figure is down 15 percent from 2017, when more than 8 in 10 professors were using them. It's an increasingly clear recognition from professors themselves that sage-on-stage, stand-and-deliver lectures are no longer the best way to get through to students.
At the same time that they are changing their methods in the classroom, many professors wonder what will become of the classroom itself. The Professor Pulse Survey, sponsored by Top Hat—the all-in-one teaching app for higher education—surveyed more than 1,900 teachers at colleges and universities across North America between May 12 and July 20 of this year. And the results show that many are concerned about the future of the institutions where they work, and of America's entire higher education system.
Download the full report here.
Biggest worries: The cost of education
More and more college teachers agree: tuition is too high. When asked the question point blank, 87 percent said yes, up from 80 percent in 2017. And 90 percent of professors also agree that textbook costs are too high. That makes professors like Lori Peek, a sociologist at the University of Colorado Boulder, worry that cost is a rising barrier that doesn't just keep students out of college; it also hinders their chances for success once they're in.
"I am really concerned about it because I see it in the classroom," Peek says. "Being a social scientist, I ask my students how many of them work 10, 20 or 30 hours a week. More and more hands are going up for the higher numbers now. They're struggling with the cost of living, and it's impacting their studies."
"For public universities, there are two big pots of money: tuition and state funding," says Roy Fuller, an adjunct professor of religion at the University of Louisville, where he is also a faculty senate member. "If one of those sources goes down, which is the direction most state funding is heading in, then institutions make up the lost funds with the other."
According to the 2017 edition of the State Higher Education Finance report, state funding for public higher education has decreased 8 percent per FTE since 1992, while tuition has increased 96 percent during that same time period.
The Professor Pulse results show that the trend is a concern: nearly 60 percent of respondents said that insufficient funding was one of the biggest issues facing their institution, while 41 percent cited maintaining academic standards and 35 percent cited decreased enrolment. The latter two figures reflect what Fuller calls the "arms race in higher education": enrolments are down across the country, and because schools need the tuition dollars to survive, they compete to attract as many students as they can.
And it doesn't help enrolments when political leaders openly politicize college education. Three quarters of all faculty say the current federal administration is having a negative impact on higher education. It's easy to see their point, when officials such as Attorney General Jeff Sessions says that colleges are churning out "a generation of sanctimonious, sensitive, supercilious snowflakes."
Fuller says that adjunct faculty feel the politicization of higher education more acutely than most. "Adjuncts are vulnerable. We don't have tenure or its protections."
Tenure: Surprise—it's not what every prof is after
Despite his lack of tenure protections, Fuller has been teaching as adjunct faculty for 25 years and wouldn't trade it for anything. "You go on a journey every semester with your students," he says. "Sometimes I run into students I taught years before and they'll remember something from my course that changed them or changed their lives. It's a great job." Peek, at UC Boulder, agrees: "Education transforms lives, because we never lose what we learn."
Their perspectives are reflected in the Professor Pulse Survey results: 72 percent of faculty say their primary motivation is teaching students, while only 19 percent said it was research. When asked what their workweek would be focused on in a perfect world, 9 out of 10 profs answered teaching and 6 in 10 said meeting with students.
"Those are heartening numbers," says Jacques Berlinerblau, a professor in the school of foreign service at Georgetown University and author of Campus Confidential, a book highly critical of the way in which institutions fail to put enough emphasis on teaching. "These responses, to me, represent a kind of victory for the active learning movement. I think it has really taken hold, which is amazing because it's been largely a leaderless movement."
Berlinerblau, a proponent of active learning, points out that 20 years ago few colleges had teaching and learning centers for faculty; today every college has one. The next step, he says, is to empower them, so that active learning continues its ascent. "Give them a say in tenure-track hires. Appoint Deans of Teaching and Learning. Give them a voice in setting the university's priorities." (You can learn more about Berlinerblau's philosophy on the role educators really should play in wider decision-making in our on-demand webinar with him.)
Technology: Friend or foe?
More than two-thirds of all professors have the autonomy to make the decision on what technology gets used in their classrooms—and the issue remains a topic of constant discussion with peers. In all, 86 percent of professors allow students to use their personal devices in the classroom. At the same time, 87 percent say that students are more distracted in the classroom than ever before.
"The distractions of technology and the effort to keep students focused are constant challenges," says Peek. "It feels like a game of whack-a-mole sometimes. You finally get one social media distraction dealt with and three new ones pop up." Peek says the distractions of technology also follow students outside the classroom, and impact their study habits. When she began teaching undergraduates in 2005—at a time when smartphones, tablets and campus Wi-Fi didn't exist—roughly 5 percent of her students would fail to hand in their assignments on time. Now it can be as high as 25 percent, even with strict and heavy penalties for late submissions.
The key for many professors is to keep the technology focused on learning. Three-quarters of all profs use their institution's LMS in the classroom, while 35 percent now use mobile devices and 20 percent use social media. Those numbers are likely to grow, as will the number using smartphones and other new technologies. Some 56 percent of faculty cited cost to students as a factor in deciding which technologies to use, down from 71 percent last year. This trend makes sense, given that most new classroom technologies use students' own devices in the classroom. When you don't need to buy a handheld clicker to use the classroom clicker app, cost is less of a barrier to adoption.
Even so, keeping students' attention can be an uphill battle. Though 72 percent of Professor Pulse respondents said their students care about learning, nearly 70 percent of faculty said their biggest challenge is students coming to class unprepared (up from 62 percent last year), while more than half said it was students not paying attention in class (up from 42 percent).
"I've noticed it's gotten worse in recent years," says Fuller, at Louisville. "I had one group of first-year students who were really, always on their phones. I normally don't draw attention to it, but I had to stop everything one day and address the issue. It was clear no one had ever talked to them about it." One solution, he says, might be for universities to start addressing the matter with freshmen during their orientation.
Others, however, caution against the idea that students are worse now than before. "If you look at the history of Yale, the students were pretty badly behaved then too," says Kansas' Lisa Wolfe-Wylie. "We sometimes long for the 'good old days' when all students were excellent and committed, but it's a bit of a fantasy."
Georgetown's Jacques Berlinerblau sees things much the same way, and believes professors must not shirk their role in resolving the issue. "I'm not comfortable with any argument that focuses on students' behavior," he says. "It's our job to smarten students up from whatever it is they're wasting time on these days."
Career: Overworked and underpaid?
Professors love their jobs because they come with a lot of autonomy and flexibility: you set your own schedule, and never have to punch a clock. But that doesn't mean professors don't work hard. In addition to teaching, many are doing research, serving in administration, or participating in a research center. According to the Professor Pulse survey results, 30 percent of profs work more than 50 hours per week—and one-third of those work more than 60 hours weekly.
"It feels like everyone is overwhelmed, students and professors alike," says Peek, who also serves as the Director of the Natural Hazards Centre at UC Boulder, where she studies the human consequences of natural disasters. She keeps up with the pace of her work thanks to a very efficient routine, blocking off specific hours for specific tasks ("Monday mornings are spent prepping the week's lectures, and I have an office in a corner nobody knows about where I can avoid all distractions"), while also making sure she has "time for quiet, slow reflection."
Like every other profession that requires a lot of working hours, professors think they're undervalued. Roughly two in five professors earns between $41,000 and $80,000 annually. Meanwhile, when professors are asked what a fair salary would be for their work, the most popular answer is $81,000 to $100,000.
At the same time, given that colleges are faced with funding cuts and declining enrolments, few professors are expecting a hefty raise in the next year—which is fine, they say, because they don't do it for the money in the first place. "The greatest payoff of higher education is a smart citizenry," says Berlinerblau. "It's creating an informed electorate, people with critical-thinking skills, people with empathy, people who can understand and relate to people who are not like themselves, people who can argue civilly and change their minds as often as they change the minds of others."
Unfortunately, those social benefits are not as highly valued by American society as they once were. "We professors have been poor at making the argument of our own worth," Berlinerblau says. "We have to turn that around and promote these inimitable things that make higher education great."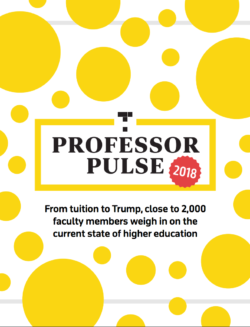 Free Ebook