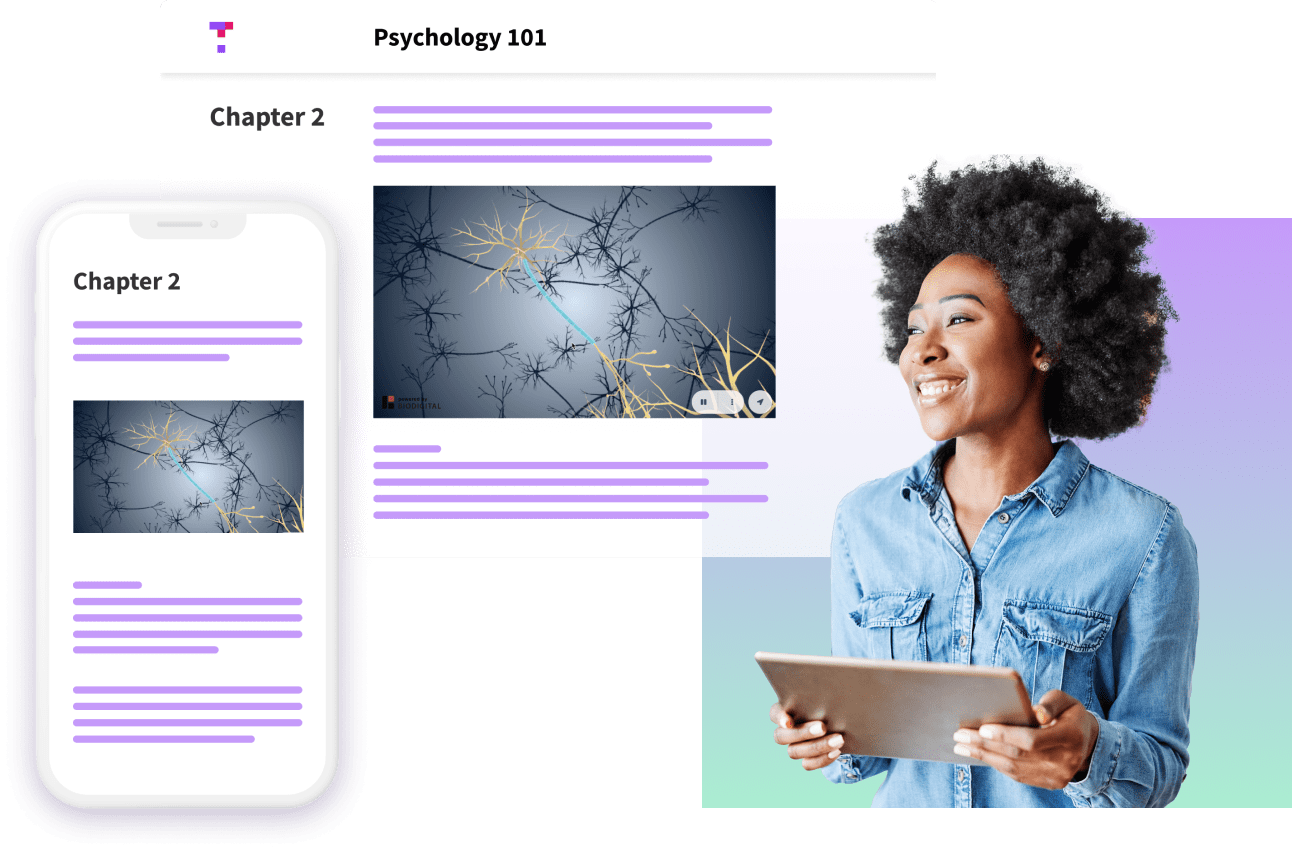 Feature: Dynamic eTexts
Dynamic eTexts bring learning to
life

.

Simply making a textbook digital isn't enough to capture the imagination of today's students. Top Hat's dynamic eTexts empower you to create learning experiences that are personalized, inclusive, and designed to prepare your students for their future.

91%

of instructors believe Top Hat drives positive student learning

81%

of students believe their Top Hat textbook is worth the price

75%

of students say they'd like to use a Top Hat textbook in a future course1

1 Source: Top Hat Student Survey: Tell us about your interactive text!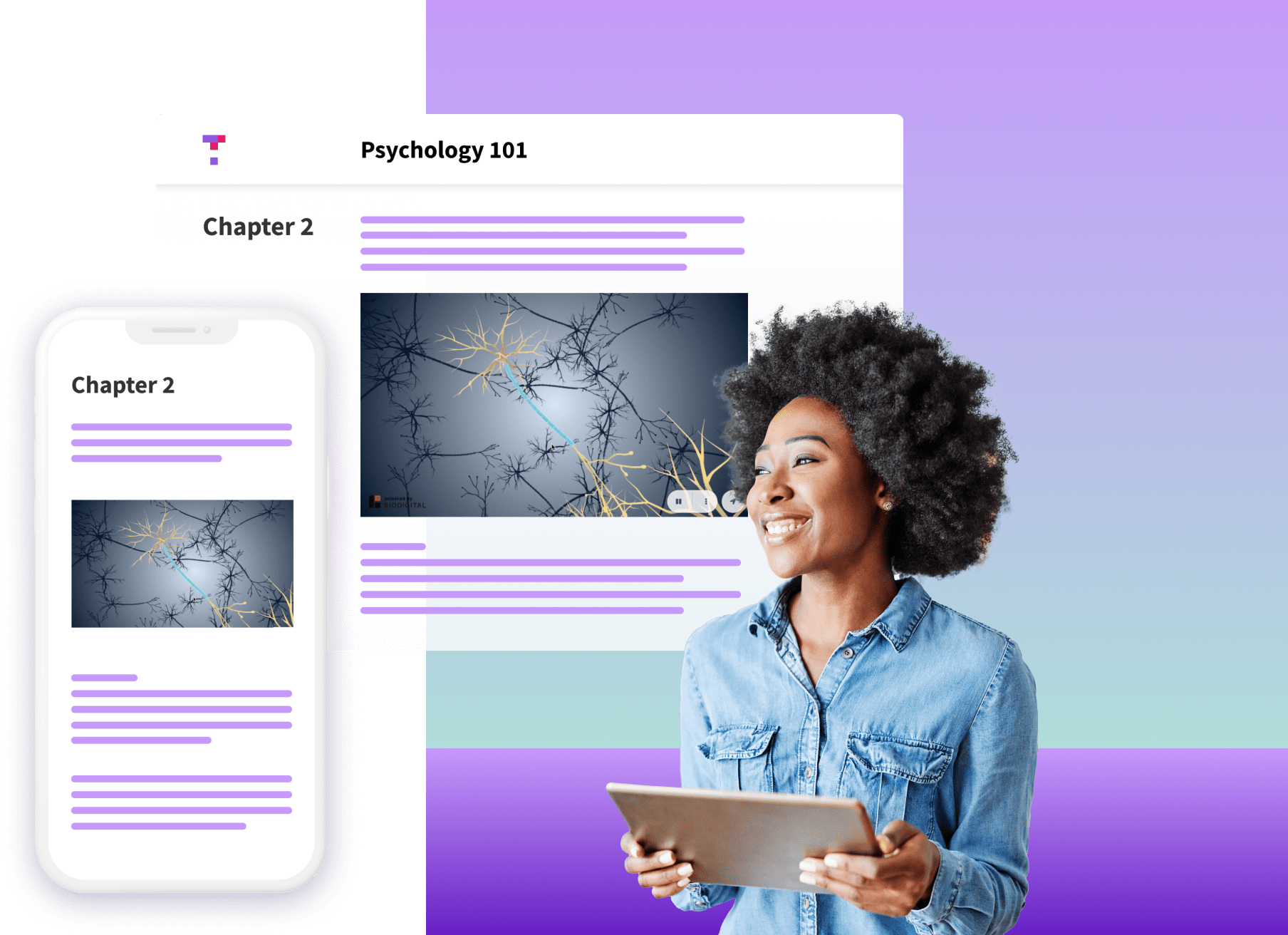 Not sure
where to start?
Try our catalog.
Personalize a dynamic eText from our extensive catalog featuring titles across all major disciplines optimized for an interactive, active learning experience.
All titles are built to reflect and respond to students with diverse backgrounds, experiences, and learning styles

Customize the content down to the individual words, photos or videos that appear in the text

You decide which text updates to accept, so your content stays as current as you see fit—there's no need to switch to a new edition

Our eTexts are designed based on the Web Content Accessibility Guidelines (WCAG) 2.1 Level AA and Section 508 standards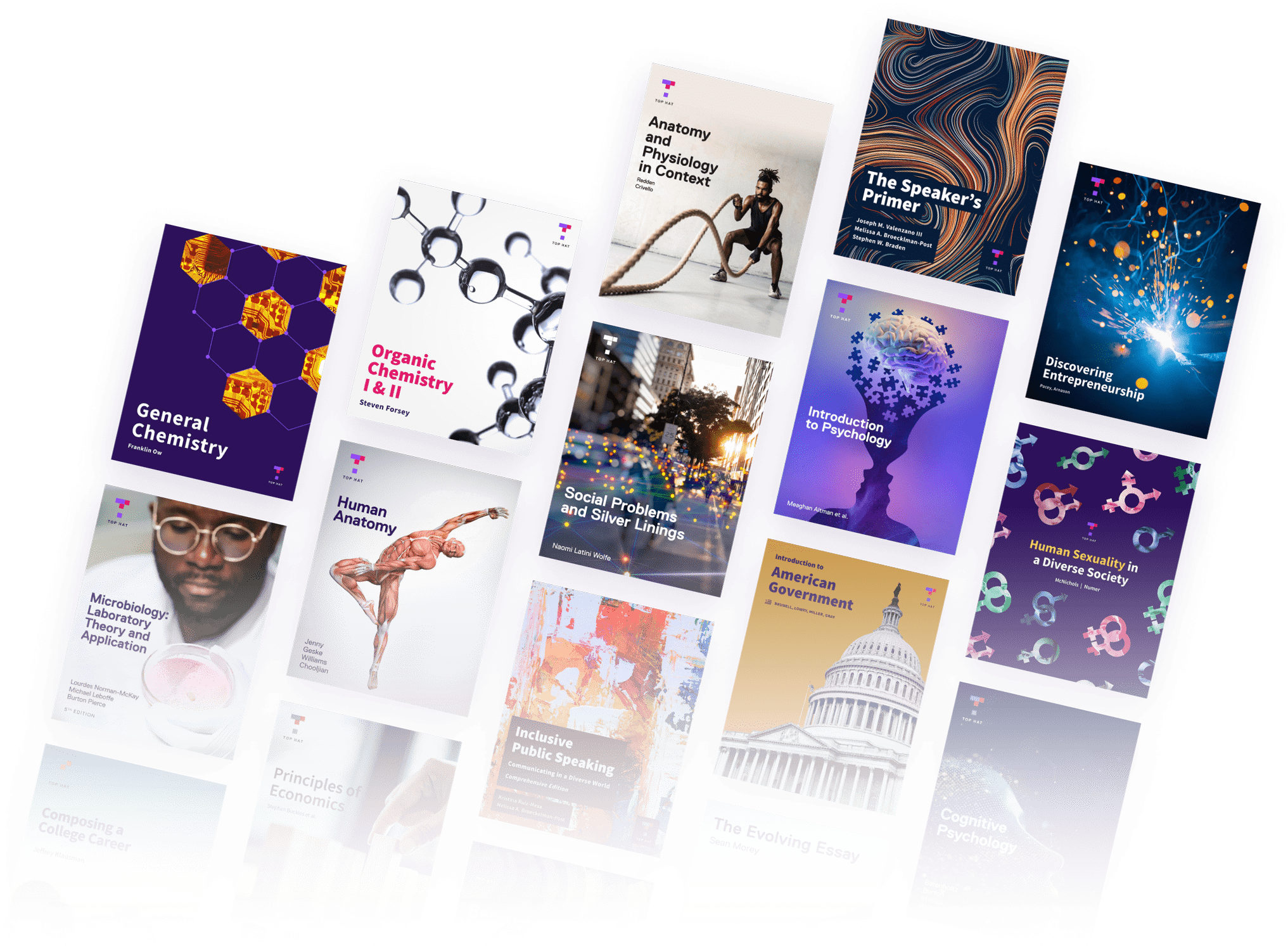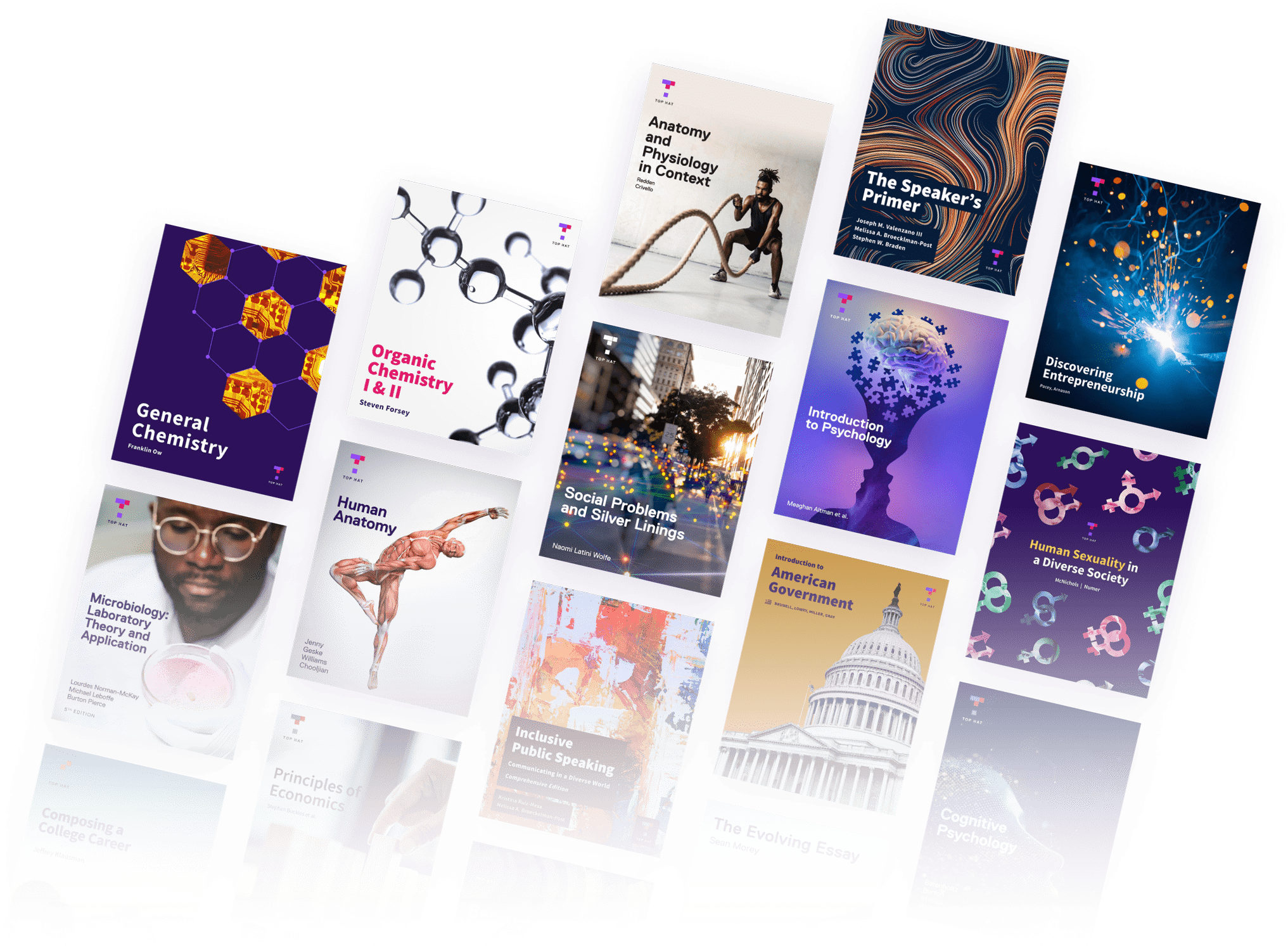 Make OER your own.
Teach with OER? Use Top Hat to keep the content up-to-date

Add multimedia, activities, and updates for an interactive learning experience

Adopt and personalize OpenStax content that has been optimized for our platform
Give your content the treatment it deserves.
Design a textbook as unique as your students by including content that best represents them

Intuitive content creation tools allow you to bring content to life by incorporating multimedia, autograded questions, polls, and discussions

Our dedicated team provides you with project management and 1:1 instructional design expertise to guide you through every step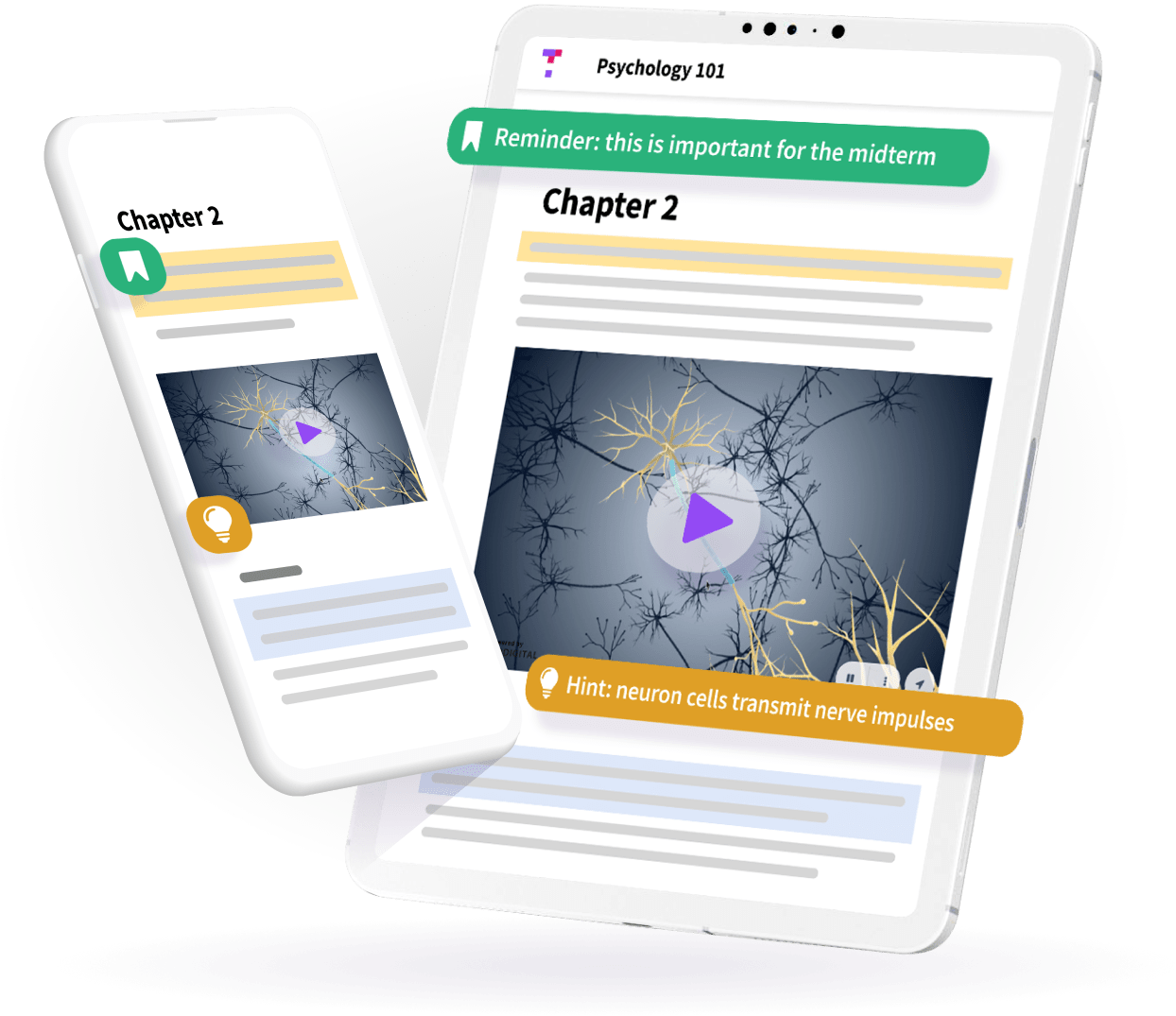 Explore our extensive catalog:
Choose from a robust catalog of dynamic digital textbooks and labs, to empower your delivery of personalized, inclusive and career-minded learning experiences.
Actionable data for
evolving teaching.
Every interaction in Top Hat leads to actionable data you can use to help students and personalize your teaching

Capture results from graded discussions in the Top Hat gradebook, along with quizzes, polls, and tests

See how your students are responding to material in class and out, so you know who needs extra support

Easily integrate with LMS platforms like Blackboard, Canvas, D2L, Moodle, and Sakai
Tools for
teaching, learning,

and engaging.

Textbooks are just one of the many ways Top Hat enables professors to teach with engaging content, tools and activities in online, hybrid or face-to-face classrooms.
Frequently Asked Questions
Why educators and students love Top Hat.