TOP HAT FEATURE: INTERACTIVE CLASS DISCUSSIONS
Discussion Tools to Create Buzz (and Fun) in Your Classroom
Spark a conversation. With a wealth of interactive features, Top Hat discussions help you engage students and create more moments of connection.
Fill out the form to see it free
81% of students said Top Hat's classroom discussions helped to increase their understanding of course material. 1
Give students a reason to speak up
Discussions can be a great way to engage students. But the reality is, not everyone is always comfortable participating. Now you can meet students where they are with questions they can respond to on any device.

Incorporate video, images or good old fashioned plain text to pique curiosity and drive the debate. Or explore sensitive topics by allowing students to respond anonymously. With Top Hat, you can create an interactive learning experience that encourages participation, no matter how big your class.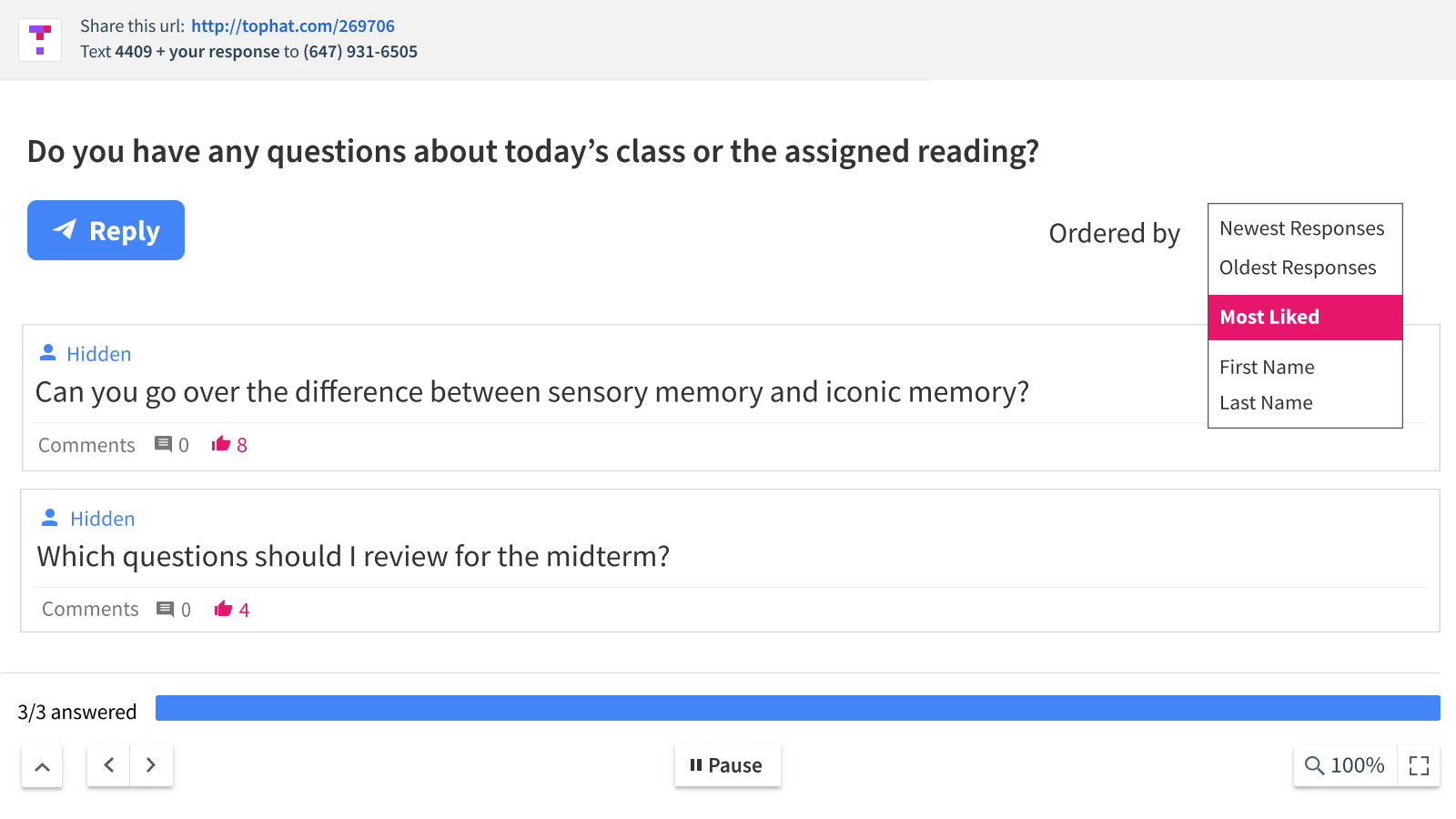 Make class time more interactive
Spur a lively in class discussion using text, videos and images, while letting students respond with emojis, GIFs and more
Give everyone a voice by allowing students to participate in live discussions anonymously
Level the playing field—let students engage using their laptops, tablets and even their mobile phones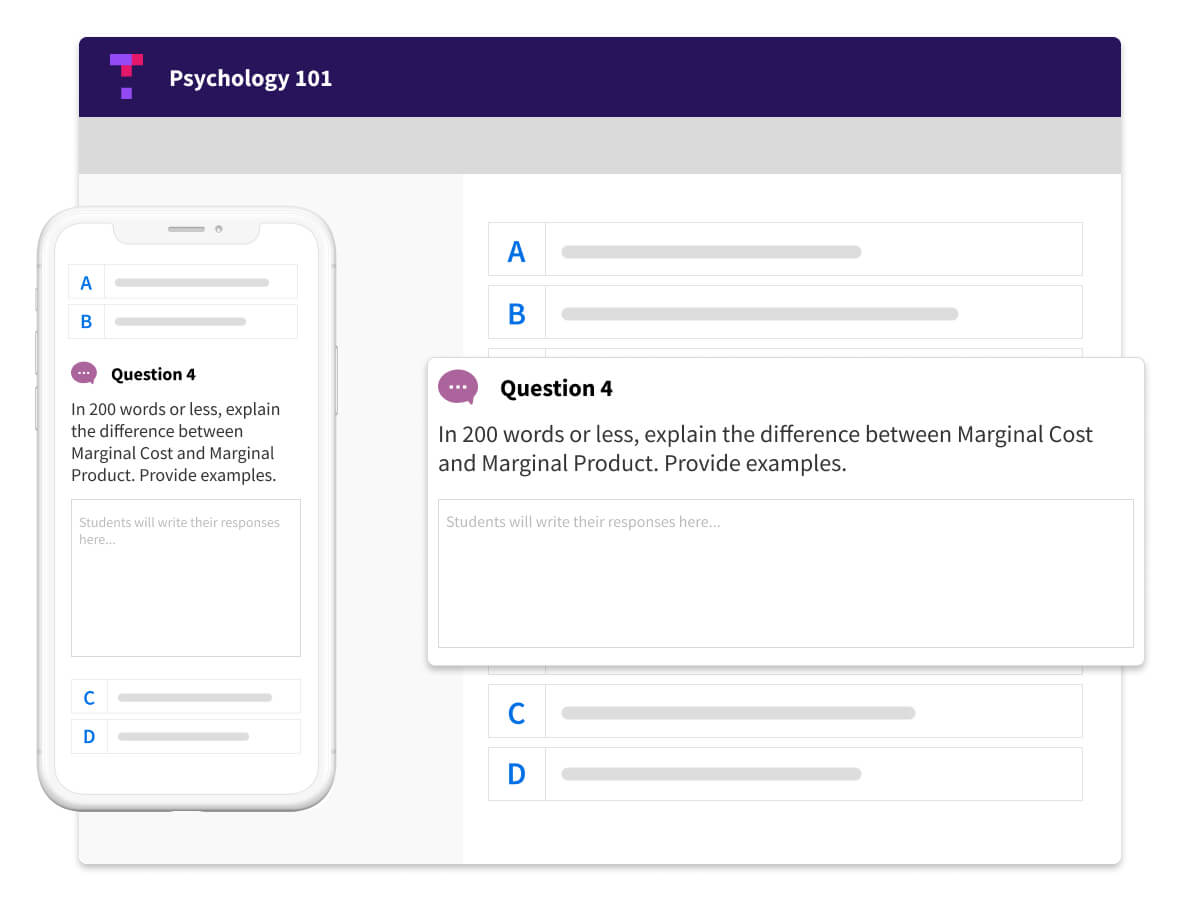 Keep the feedback coming
Get immediate insights from student responses to understand what's working and what isn't
Enable students to 'upvote' responses to surface concepts requiring further clarification
Assign graded discussion questions to understand how students are progressing in and out of class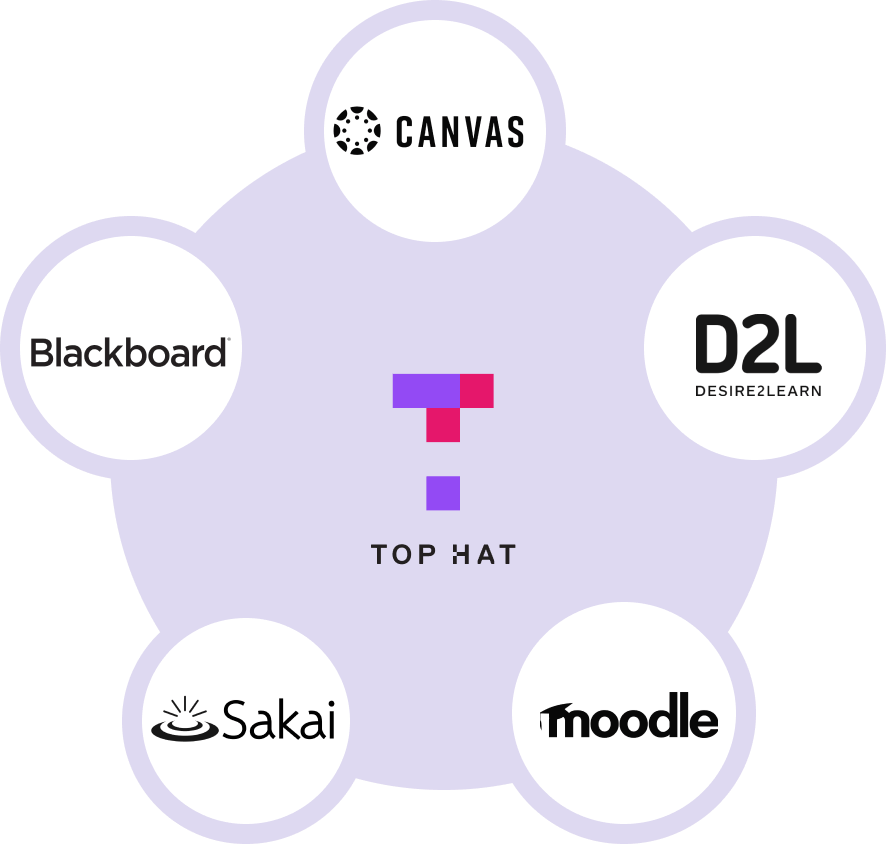 House everything in one place
Capture results from graded discussions in the Top Hat gradebook, along with quizzes, polls and tests
Easily export data into LMS platforms like Blackboard, Canvas, D2L, Moodle and Sakai
"I use Top Hat primarily for discussions and questions to review material that I had just covered. I have also noticed more participation in class; my students love being able to use their smartphones."
Rick Lindner
Communications, Georgia State University
FAQs about Top Hat's class discussion tools
What are class discussion tools?

Discussion tools allow students, teaching assistants and instructors to engage in conversation, whether virtually, in a small classroom setting or large lecture hall. Live discussion tools like those offered by Top Hat enable students to communicate the way they want. This includes responding using text, images, GIFs, emojis and even video. With a little planning, discussions are a great way to promote reflection and help students build connections with each other.
What are the best class discussion tools or platforms?

We might be a bit biased, but we think the best platforms should allow students to use their own devices to communicate in ways they are most comfortable. Support for multimedia and anonymous responses is also important. So too is acquiring a class discussion tools that is part of a larger, integrated teaching and learning platform. This helps lower costs and reduces the friction of using multiple tools to support the learning experience.
How do you make a class discussion fun?

Before you worry about the fun factor, take steps to ensure an inclusive environment so students feel comfortable participating. For example, consider allowing students to contribute to live discussions anonymously to get them in the groove. And avoid picking at grammar and spelling so students feel more willing to contribute.

Ok, time for some fun:

Consider hosting a 'lightning round,' where students have 30 seconds to respond to a short answer question. There's nothing like a deadline to focus the mind!
Get students working together by using the 'think-pair-share' technique. So, a moment to reflect and some time to discuss with a peer before sharing responses with the wider group.
Add some levity by asking students to respond to a question using an image, video, or GIF.
How do class discussions help students?

Class discussions encourage students to think critically about course content and engage with it in a more meaningful way, rather than rote memorization. Discussions also expose students to different perspectives and points of view, which is what learning is all about!
How does Top Hat's class discussion tools integrate with my LMS?

Top Hat offers seamless integrations with the most popular Learning Management Systems (LMS), including Blackboard, Canvas, D2L, Moodle and Sakai. Our goal is to simplify course management and reduce administrative tasks every step of the way.

The results from your homework assignments are captured automatically in the Top Hat gradebook. Sync your Top Hat folders and course roster with your LMS at the start of the semester. At this point, you'll be given the option to include assignment grades as part of your sync. All data housed in the Top Hat gradebook will now be automatically available in your LMS.
1 Executed using customer proof points survey to 39,000 students who currently use Top Hat (April 2017)
Your all-in-one teaching and learning platform
Discussions are just one of the many ways Top Hat enables professors to teach with engaging content, tools and activities in virtual, blended or face-to-face classrooms.