TOP HAT FEATURE: CLASSROOM POLLING AND QUIZZES
Bring the 'WOW' Factor with Interactive Polls and Quizzes
Make class time more engaging with checkpoints that break-up your lecture, spur discussion and get students to apply their learnings.
Fill out the form to see it free
87% of students said Top Hat helped them stay focused during lectures
81% of students said Top Hat helped to increase understanding of course material
Awaken motivation (and insight) in every course
Quizzes and polls are one of the best ways to get a read on class progress. They also help students stay engaged and on track by putting learning into practice.

Make class time more active by incorporating polls and quizzes directly into your lectures. Awaken discovery with images and click-on-target questions to highlight concepts in different ways. With Top Hat's real-time insights, you'll always know how your class is doing—while giving students more reasons to collaborate and connect with each other.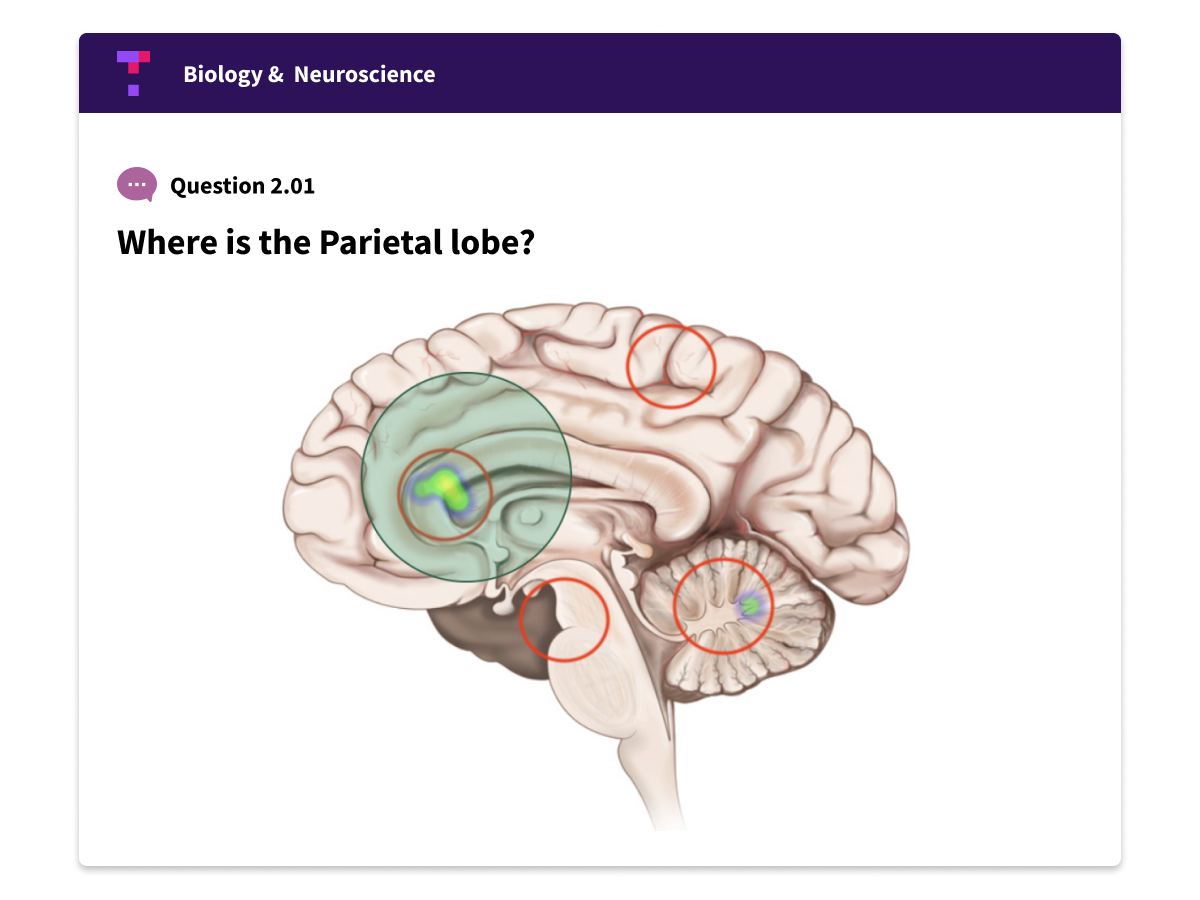 Get students to lean into learning
Create multimedia-rich polls and quizzes to engage students and help them apply their learnings
Choose from 14 question types, including matching, word answer, and click-on-target (always a favorite) that students can respond to on any device
Save time with autograding functionality and give students their quiz results back instantly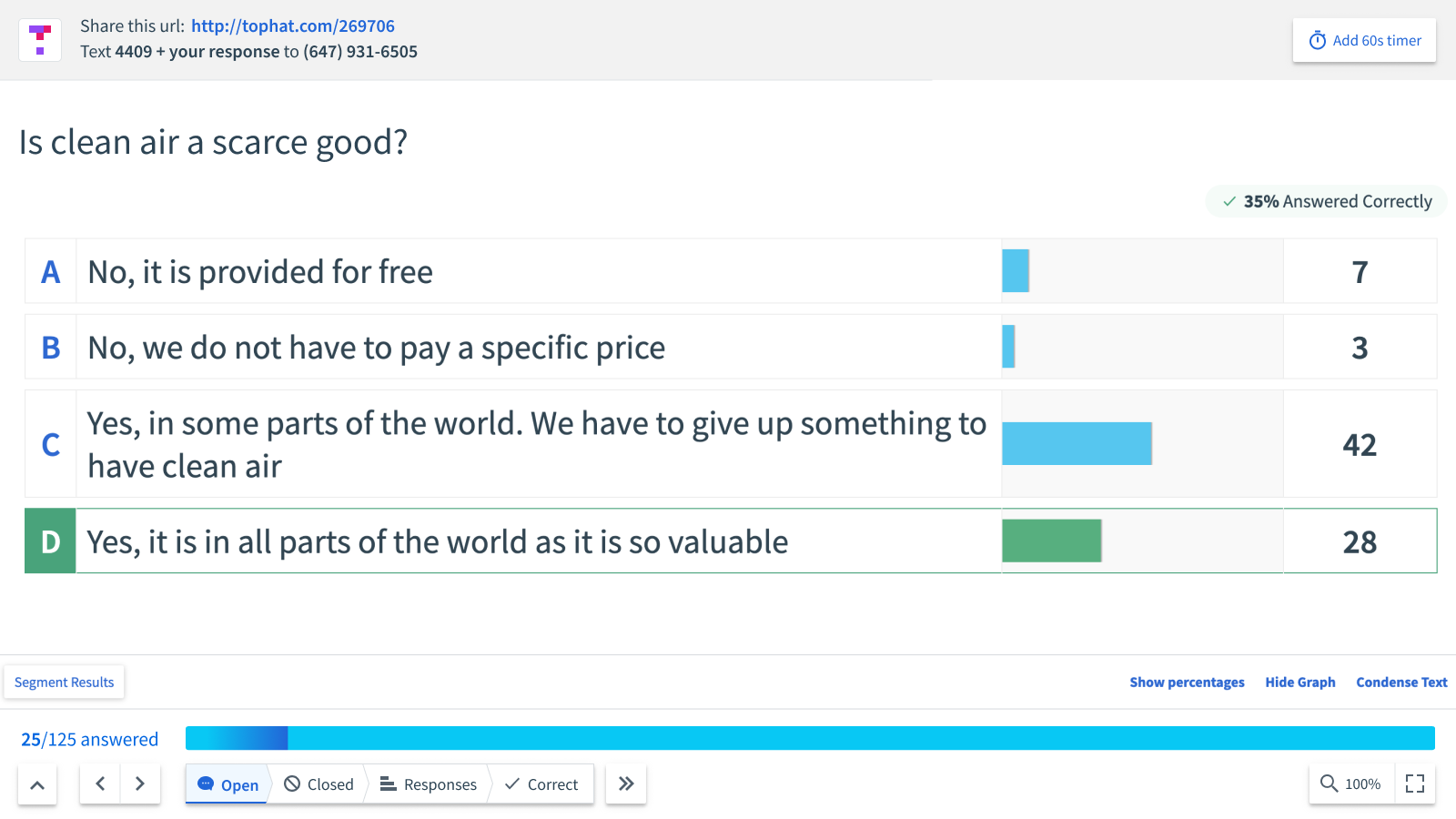 Let real-time feedback guide your teaching
Every poll and quiz gives you immediate insights to address learning challenges on the fly
View performance at a class or individual level to identify struggling students
Get a weekly summary highlighting your highest and lowest performers—and where learners are having trouble making connections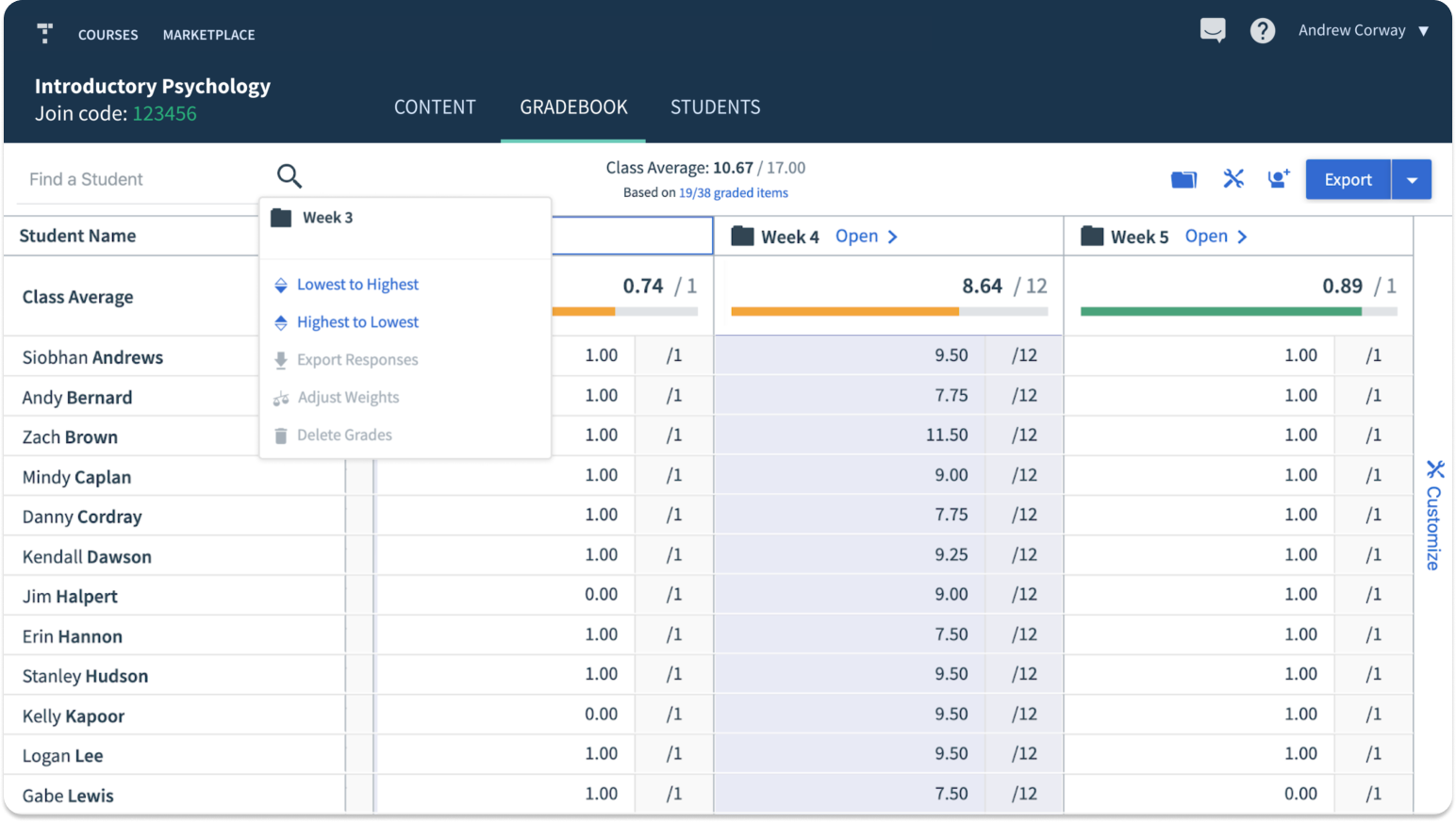 Easily track and manage data
View the results of polls and quizzes alongside attendance data and grades from homework and assignments
Automatically export all student data to your LMS
"I use Top Hat during class to get a quick snapshot of in-class understanding of new topics being covered, so that I can provide immediate feedback and reinforce concepts. I love the ease of use, the customer service, the real-time feedback, and the ability to engage students in my large classes."
Joel Stake
Biological Sciences, Louisiana Tech University
FAQs about Top Hat's quizzes and polls
How do polls and quizzes work with a classroom response system?

The best classroom response systems come with built-in polling and quizzing functionality. When an instructor poses a question, students respond and get immediate feedback on their answers.

Many classroom response systems require a physical 'clicker' students must purchase and carry with them to participate. Top Hat, however, is different. Students can respond using laptops, tablets and even their mobile phones, enabling participation in physical and virtual classroom environments. Students can also submit responses anonymously, ensuring more students feel comfortable voicing their opinions.
What is a classroom response system?

A classroom response system is a teaching platform that promotes active and collaborative learning. These systems let students submit answers to polls and quizzes, generating insights into performance and comprehension. Based on these insights, professors can adjust the pace and breadth of future lessons accordingly.
How do you create a classroom poll?

Top Hat simplifies the process of creating and running class quizzes. After you set up your Top Hat account, create a folder to house your classroom quiz and polling questions. Your folders can be organized by week or topic. Next, use up to 14 question types—including click-on-target, multiple choice and word answer—to draft your questions. You can also assign grades to student responses as you see fit. Intersperse these questions throughout your lecture slides to sustain engagement and identify gaps in student comprehension.
What is the best quiz maker software?

Because no two quiz maker solutions offer the same functionality, consider your teaching needs and course objectives when evaluating potential solutions. Quiz makers are effective at increasing participation in and out of the classroom, but often provide limited functionality.

Top Hat, on the other hand, offers polls and quizzes as well as the ability to host lectures, discussions, assignments and conduct secure tests and exams—all in one platform. We also provide one-on-one support and instructional design expertise to ensure you're set up for success from day one and beyond.
How does Top Hat's quiz and polling feature integrate with my LMS?

Top Hat offers seamless integration with all major LMS providers, including Blackboard, Canvas, D2L, Moodle and Sakai. The Top Hat gradebook is a repository of every interaction between instructors and students. The results from your quizzes and polls (including correctness and participation data) are available in the gradebook, which can be automatically synced with your LMS.
Your all-in-one teaching and learning platform
Polls and quizzes are just two of the many ways Top Hat enables professors to teach with engaging content, tools and activities in virtual, blended or face-to-face classrooms.