TOP HAT FEATURES
Meet Top Hat, Your All-In-One Teaching and Learning Platform
Intuitive teaching tools. Interactive textbooks. Actionable insights. Top Hat is purpose-built to make learning engaging, accessible, and connected, wherever learning takes place.
Higher education is evolving, as are student expectations for high-quality, interactive learning experiences. Give learners what they need to succeed. Top Hat delivers the features and flexibility to awaken curiosity, motivate students, and deepen learning—before, during and after class.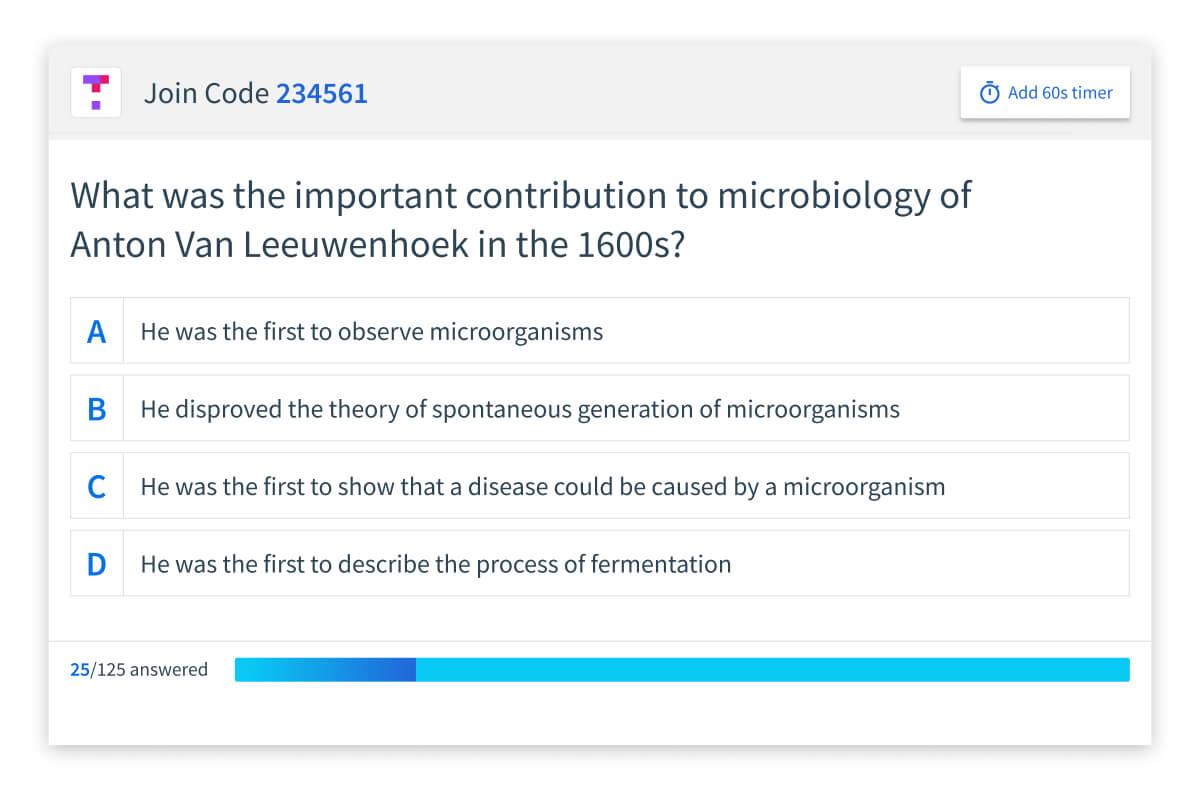 Polls & Quizzes
Access 14 different question types, including click-on-target, word answer and multiple choice. Make class time engaging and get immediate insights into student comprehension.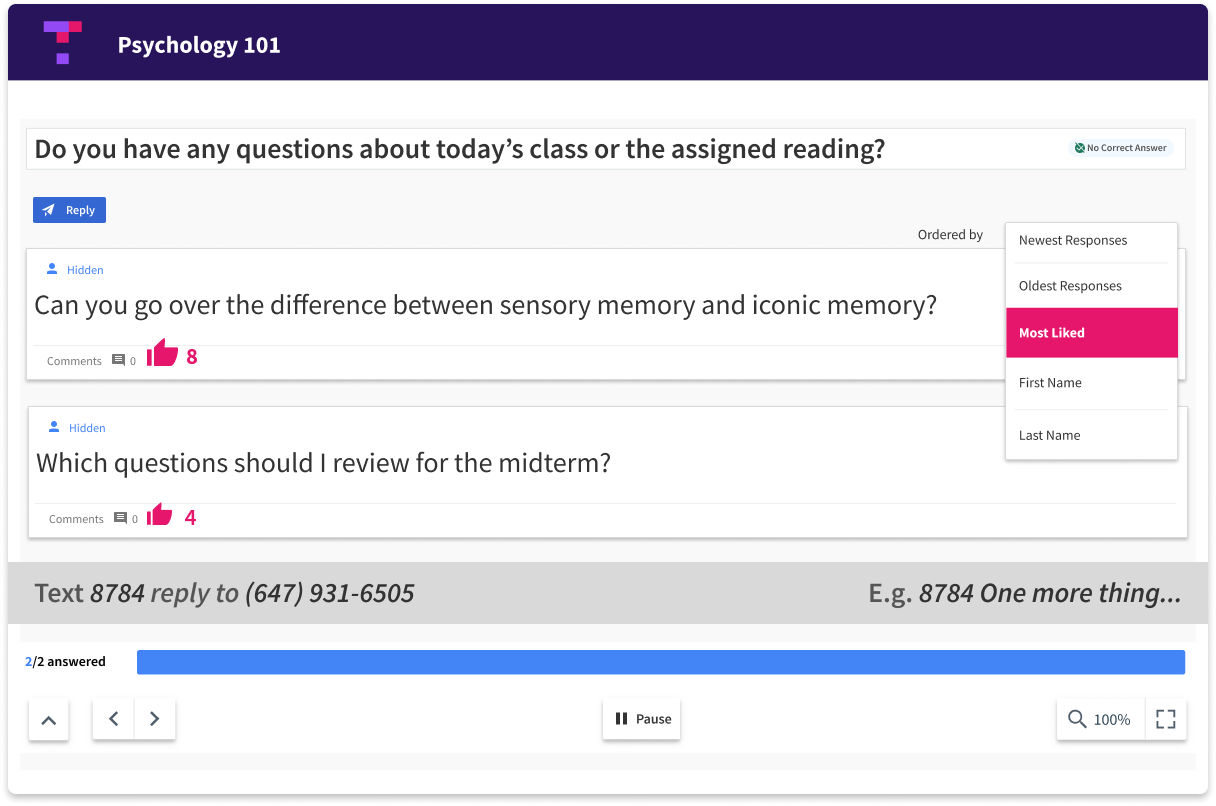 Discussions
Give every student a voice. Pose discussion questions students can answer on any device to promote collaboration and critical thinking—and to build community in your classroom.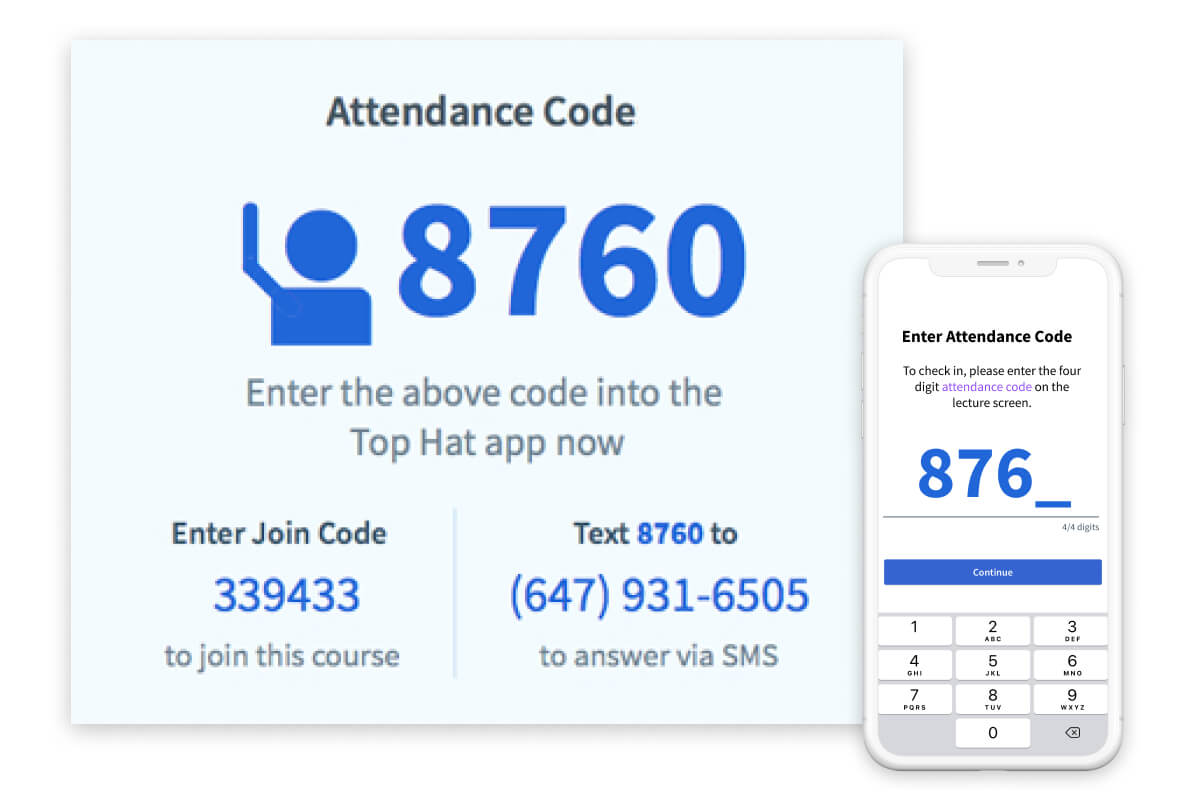 Attendance
Automate attendance tracking in any online or in-person course. Get immediate insights that help you identify and support at-risk students.

Interactive Textbooks
Packed with interactive features, including video, images and embedded questions, Top Hat textbooks extend active learning outside of class meetings.
Plus, you can tailor each title to teach your course, your way by editing text and adding in your own supplemental resources. Or create your own textbook with Top Hat's easy-to-use courseware authoring tools!

Tests & Exams
Create a variety of formative and summative assessments, including quizzes, open book tests and secure exams students complete on their own devices.
Save time with autograding functionality and maintain academic integrity no matter where assessments take place. With Top Hat you can monitor student activity and get an automatically generated proctor report as soon as the assessment ends.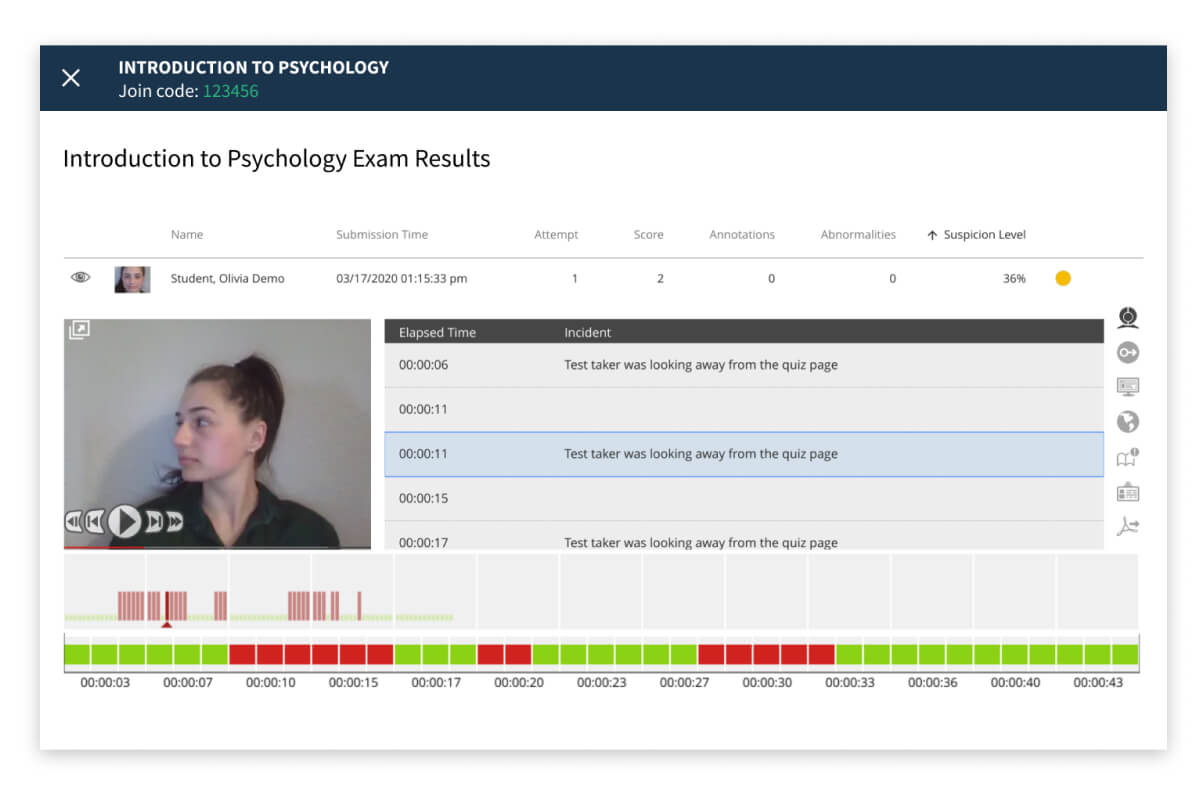 Learning Insights
Understand what's working and which students need extra help. Top Hat captures data from attendance, quizzes, polls, assignments and tests, and turns them into actionable insights to enhance learning, in the moment and over time.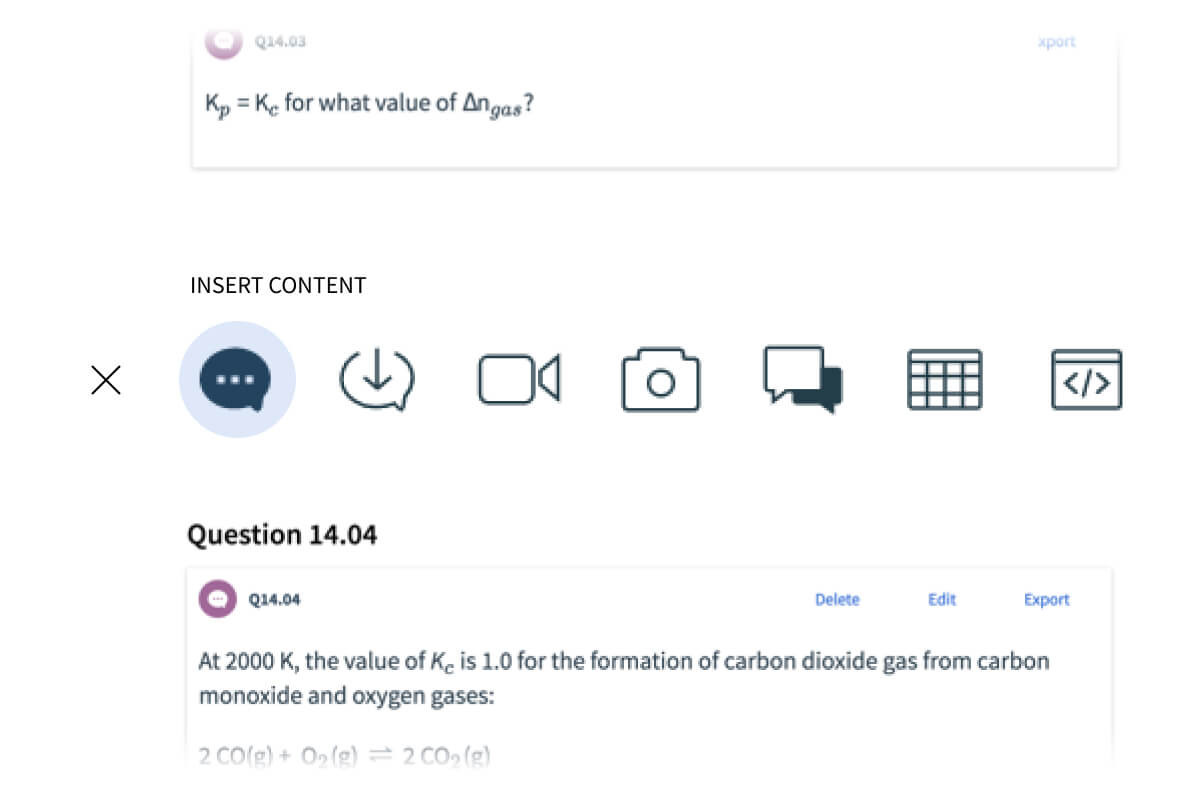 Assignments
Create dynamic, interactive homework assignments that keep students engaged after class. Incorporate multimedia to deepen learning and choose from a variety of different question types. Plus, save time with autograding to provide results back faster.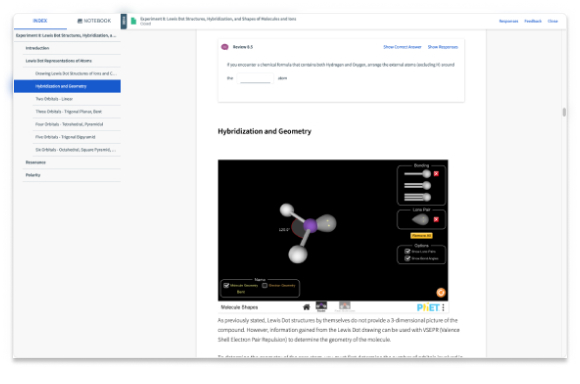 Labs
Motivate students to get the most out of their lab experience. Adopt and customize virtual lab manuals, packed with interactive diagrams, animations and video demonstrations that ensure students arrive ready to engage.

Accessibility Features
Top Hat is designed to meet or exceed the internationally recognized Web Content Accessibility Guidelines (WCAG) 2.1 Level AA and Section 508 standards in the United States.
Our platform is compatible with screen readers and offers keyboard navigation, making learning equitable for everyone. Students can learn anytime, anywhere, including using Top Hat in offline mode to complete work—no need for an Internet connection. You can also accommodate individual students or groups by providing flexible options for assignments, tests and grading.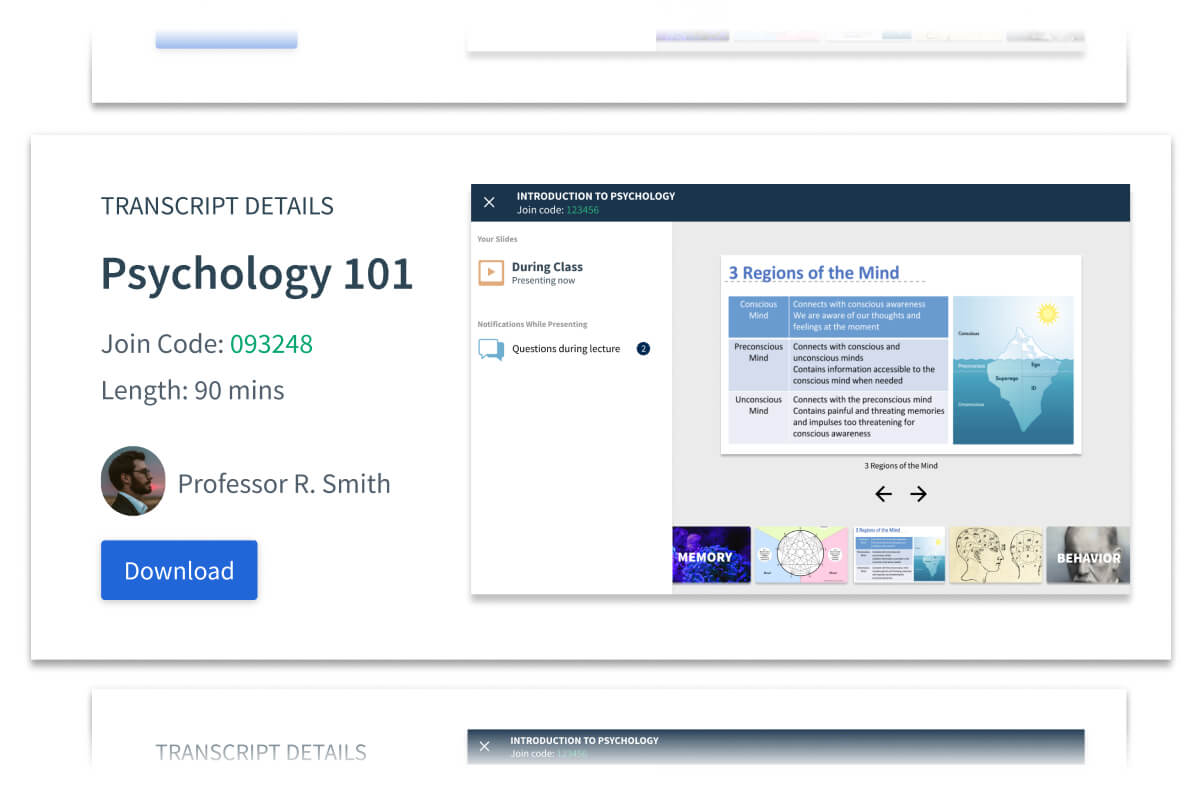 Dedicated Support
We help you make learning better with the best support in the industry. One-to-one onboarding, instructional design expertise and 24/7 technical assistance ensure you're equipped to deliver learning experiences that transform.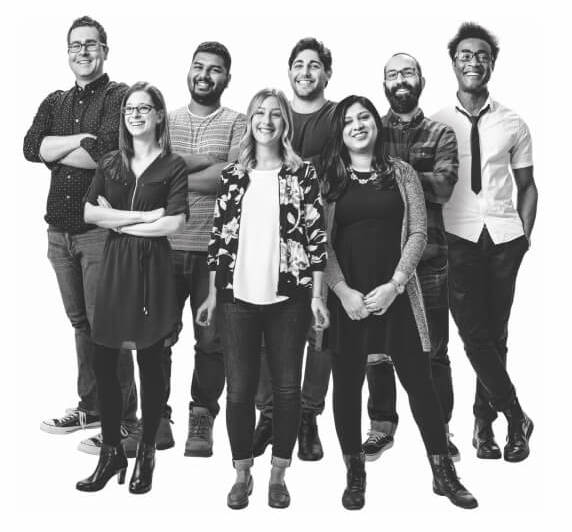 FAQs about Top Hat's all-in-one learning platform
What is a learning platform?

A learning platform is a set of integrated, interactive services that provide educators and students with access to information, tools and online resources to support course delivery and management. Learning platforms typically include four components:

Curriculum planning tools that allow instructors to organize course content, including presentations, quizzes, assignments and learning resources, whether by week or topic, in one centralized location.


Content creation and management tools or the ability to draft course content directly within a given platform and/or upload existing content. The learning platform serves as a repository for all materials that can be accessed by students and edited by faculty electronically.


Communication and engagement tools that allow instructors to connect and interact with students through in-app notifications and direct messages, as well as polls and discussions that can be used in physical and virtual classroom environments.


Progress and performance tracking,including gradebooks and reporting that capture data from attendance, assessments and polls housed within the platform to provide insights into student achievement and participation.
What online learning platforms are colleges using?

Institutions use a variety of different learning platforms. The backbone for most is typically a learning management system (LMS) such as Blackboard, Canvas, D2L, Moodle and Sakai. These platforms serve as a system of record, enabling instructors to plan and manage their courses, and measure student progress with gradebooks.

Many instructors use additional tools, including student response systems, digital courseware and testing software to engage students, provide access to learning materials (including interactive, digital textbooks), as well as deploy assignments and secure tests and exams.

Top Hat is unique in that it complements learning management systems by serving as the student engagement layer, while helping to eliminate the need for additional tools that add cost and potential friction to students and faculty. Top Hat is currently used by 750 of the top 1,000 postsecondary institutions to deliver interactive readings and assignments, host polls and discussions, manage assessments and gain rich insights into student progress and performance to enhance the learning experience, in the moment and over time.
Which software is best for teaching?

There are literally hundreds of educational software tools available on the market today. Choosing the right option will depend on your instructional goals. Perhaps it's improving student engagement, encouraging collaboration between students or getting better insights into progress and performance. One thing to keep in mind is the potential impact on students (and faculty) in terms of the cost and added complexity that may come with using multiple tools. Top Hat addresses these issues by providing a single platform you can use to manage your course and provide an engaging and interactive learning experience before, during and after class.
What are the benefits of educational software?

There are a number of benefits to using educational software in the classroom, including:


The ability to easily track student progress, such as participation and performance data, which may influence the pace and breadth of instruction.


Customizing content to keep learning relevant and up to date by adding in case studies and research, as well as supplementing learning materials with assessments or discussion questions.


Reducing administrative tasks through autograding functionality and by centralizing course preparation and organization.


Making learning more engaging through interactive readings and assignments outside of class and using polls, quizzes and multimedia elements in class to encourage participation and the application of knowledge.


Improving flexibility and accessibility for students by centralizing resources in one place for them to use in class, at home, or on the go using Internet-connected devices.
How does Top Hat integrate with my LMS?

The Top Hat gradebook is a repository of every digital interaction between instructors and students. The results from attendance, quizzes, tests and assignments (including correctness and participation data) are available in the gradebook. Sync your Top Hat folders and course roster with your LMS at the start of the semester. At this point, you'll be given the option to include student grades as part of your sync. All data housed in the Top Hat gradebook will now be automatically available in your LMS. We offer seamless integrations with all major LMS providers including Blackboard, Canvas, D2L, Moodle and Sakai.
Find Your Perfect Plan
Top Hat is available to professors and students in two convenient plans: