What do think-pair-share, role playing, case studies and small group discussions have in common? All four of these interactive activities constitute active learning: the principle that promotes student-centred learning. Higher education's unexpected pivot to online instruction as a result of the COVID-19 pandemic forced instructors to adopt new learning technologies to continue their classes. While the winter 2020 semester was potentially the first time that faculty and students were exposed to online course delivery, the results suggest a promising future for virtual learning.
It's no doubt that the online learning experience can be tweaked to better align with students' needs. However, for a dry run this past semester, the results are largely optimistic. Ninety-four (94) percent of students said that they learned just as much, if not more, in their online courses as they did in face-to-face classes.1Similarly, in classes that were offered both in-person and online—prior to the pandemic—there was a strong preference for the online version of the course. In a survey of 41 graduate students in an adolescence education program at a college in Western New York, up to 82 percent stated that they would recommend the online format of a course to other students. Up to 88 percent stated that they would take the same class online again if they had to re-do it.2
Ninety-four (94) percent of students said that they learned just as much, if not more, in their online courses as they did in face-to-face classes.
Course design centered on active learning practices can flourish in your online class. Not only will these practices engage students with diverse learning styles, they can also put theory into practice in entertaining, collaborative ways. We break down the urgent need for active learning in today's higher ed landscape and outline some simple ways for bringing these activities to an online environment below.
Active learning is key for student success
Active learning activities can help disconnected, unalert students see the value in course material. This pedagogy is traced back to 1991, when it was first pioneered by Charles C. Bonwell and James A. Eison. Active learning rejects the idea of passively listening to a subject matter expert and instead champions the notion of engaging students through interactive learning activities. Experiential active learning strategies such as debate, dialog and problem-solving exercises can be interspersed into your course curriculum. Not only are students more likely to engage more with the material covered, their satisfaction, knowledge retention and exam performance also increase. A study from the University of Washington found that STEM students who were exposed to active learning strategies attained a six percent increase on their exam scores compared to their peers who were exposed to a traditional lecture-based approach.3
When face-to-face course delivery was the norm, active learning often meant on-the-fly group exercises or discussions. On campus, active learning was associated with less time lecturing and more time on think-pair-share and problem-solving exercises, minute papers—where students quickly identify the most significant items they learned from a lecture or discussion—and exit tickets, where students are asked to state their areas of confusion at the end of class. Professors who had little experience with previous online course delivery may have found it a challenge to transfer in-class active learning exercises to a virtual environment.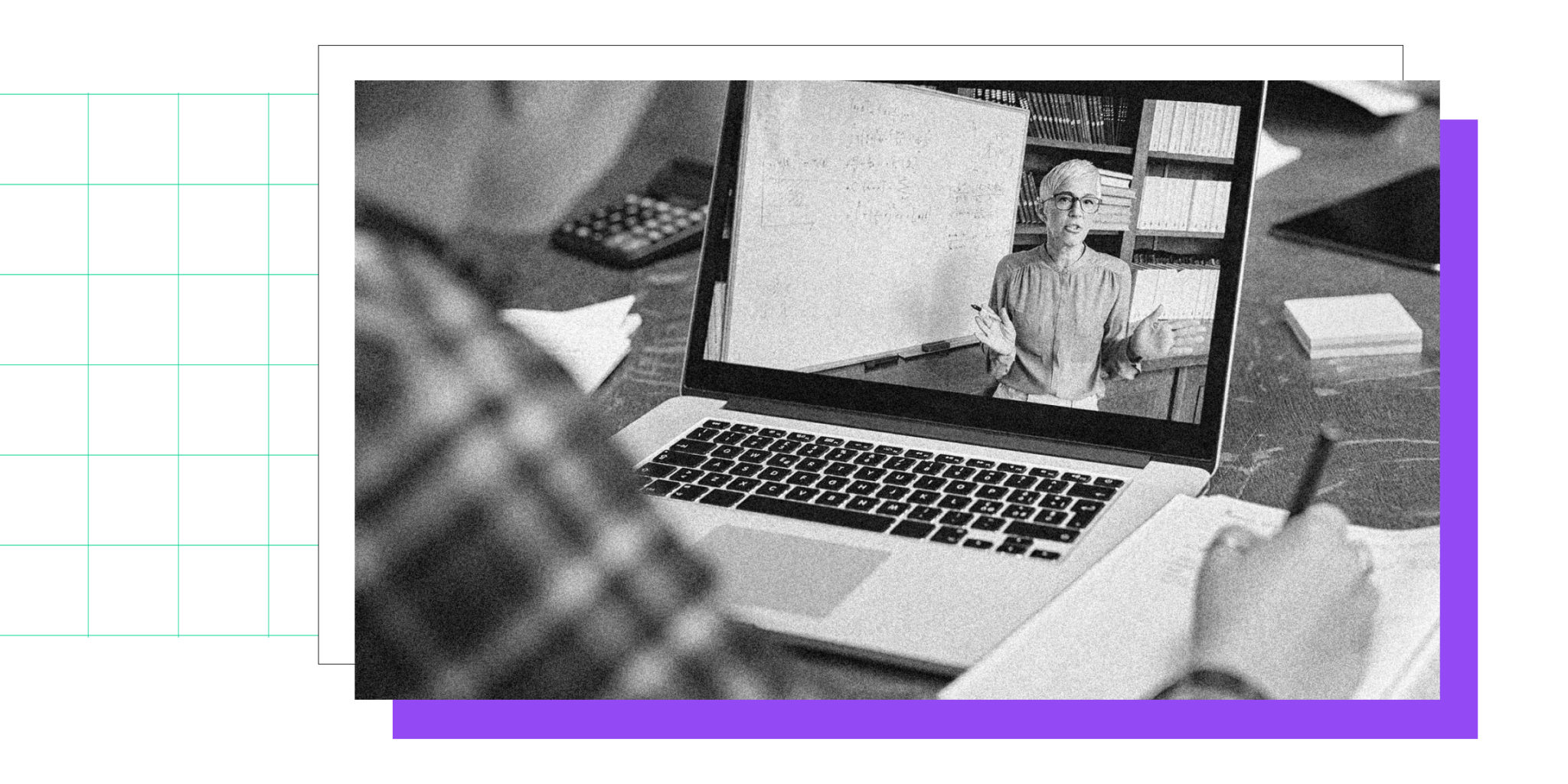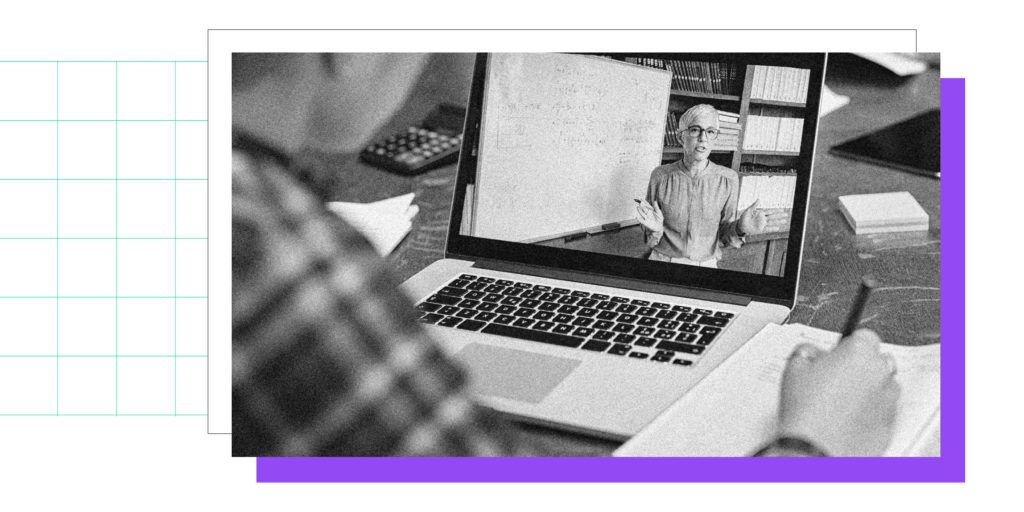 Putting active learning into practice
Students can still receive a meaningful learning experience when active learning practices are adapted—and not replicated—from your in-person classes. Below are three simple, low-risk activities that can be introduced in your online class.
Brainstorming is where students conceptualize various possibilities to a question or problem. This strategy acts as an effective, low-stakes group project. Brainstorming promotes creativity and critical thinking while fostering key soft skills: collaboration and communication. Analyzing the depth and breadth of ideas put forward can help students develop a more nuanced understanding of a topic while actively engaging everyone involved. Some tips for effective brainstorming sessions include:
Quantity breeds quality: ensure students are given enough time to share as many responses as possible. From here, students can sift through their peers' responses and identify the top answers to put forward.
Withhold criticism: all topics and opinions should be fair game. Ensure students critique responses after—and not during—a brainstorming session. This will help everyone feel comfortable sharing opinions.
Online discussions interspersed through course content can help gauge students' comfort level before you proceed to the next unit or topic. Online discussion forums can be leveraged to invite students to share material that they don't fully understand, allowing you to recap certain sections while it's fresh in students' minds. These virtual spaces can also be anonymous, where students may feel more comfortable sharing their concerns in front of the class. Class discussions can also help students feel more comfortable with course content, should they see that their peers voice similar concerns. The following are some do's and dont's to consider when implementing an online discussion component in your online class.
Provide frequent feedback
Track student participation
Ask one topic at a time
Demonstrate professionalism
Avoid online discussion forums
Use slang or acronyms
Disable access to discussion forums outside of class
Avoid responding to students who ask something that you don't know the answer to
Problem-based learning allows students to apply material covered to real-life scenarios. This method, whether used in group learning or individually, helps students build upon their creativity and critical thinking skills. Students are invited to analyze, synthesize and then critique the information presented. By drawing on one another's expertise and through seeking out online resources and tools, students who use problem-based learning can reach their course's learning objectives in collaborative, meaningful ways.
Active learning examples for the exclusively virtual instructor
With some additional planning and thought, and seeking out help from instructional designers as needed, you can foster a deeper sense of community with your students. In order to keep students alert and attending classes, student-centered learning can be a good path to wander down. Here are some more active learning exercises that can be easily implemented in your online class.
Case studies allow students to better understand how a problem presented in class is connected to society. Provide students with a real-world contemporary case related to your curriculum. If breakout room functionality is offered in your chosen technology, have students separate by group. If not, this approach can be just as effective individually. Have students analyze the case with guidelines you provide them, such as its relevance to the course content and its societal, cultural or economic meaning. Students can then present their findings to the class, either during designated time slots using video conferencing software or by submitting a written report via email or through your LMS' discussion forum.
Think aloud allows students to engage in a close reading of an assigned text. Students should be assigned in pairs in advance of this activity. From here, one student reads a passage of text aloud, stopping after a few sentences to 'think aloud' and reflect on what they have just read. After this, the second student performs their think aloud. A large class discussion can take place where students can comment on the most salient points of a text. The duration of this activity and the number of groups that present can be set in accordance with your content plans for that day. This activity also caters to those who may not have come to class with their readings complete. Students are given equal opportunity to learn from one another in engaging ways, all while honing their cooperative learning skills.
An online scavenger hunt asks students to find examples or artifacts related to course content by browsing the Internet. They can be administered either as icebreakers for informal purposes or they can be tied to your course's learning outcomes. In the case of the latter, students are provided with a specific topic to search the Web on. Students are given a predetermined period of time to search for information that meets the criteria, critiquing the available resources along the way. This strategy can also promote gamification, where students see the relevance of what they're studying while having fun. The scavenger hunt should be tailored to your discipline to help students get the most out of this activity. For instance, linguistics students may find samples of an accent or dialect on YouTube while political science students may source tweets from political figures that align with course principles.
The shift to online learning may have been daunting. You may have had to restructure components of your course using new pedagogical approaches, technologies and active learning activities that were previously foreign to you. While not all active learning strategies can be replicated online, most can be translated to fit the new teaching reality. The pandemic has surely caused a ripple in the active learning practices you knew and loved, but that doesn't mean they must be abandoned altogether. By instilling collaboration, communication and higher order thinking into your curriculum, you can still ensure students receive a valuable education experience, no matter where learning takes place.
References
Fredericksen, E., Pickett, A., Shea, P., Pelz, W., & Swan, K. (2019). Student satisfaction and perceived learning with on-line courses: Principles and examples from the SUNY learning network. Online Learning, 4(2) doi:10.24059/olj.v4i2.1899
>Burns, B. A. (2013). Students' perceptions of online courses in a graduate adolescence education program. Journal of Online Learning and Teaching, 9(1), 13.
>Freeman, S., Eddy, S. L., McDonough, M., Smith, M. K., Okoroafor, N., Jordt, H., & Wenderoth, M. P. (2014). Active learning increases student performance in science, engineering, and mathematics. Proceedings of the National Academy of Sciences of the United States of America, 111(23), 8410-8415. doi:10.1073/pnas.1319030111