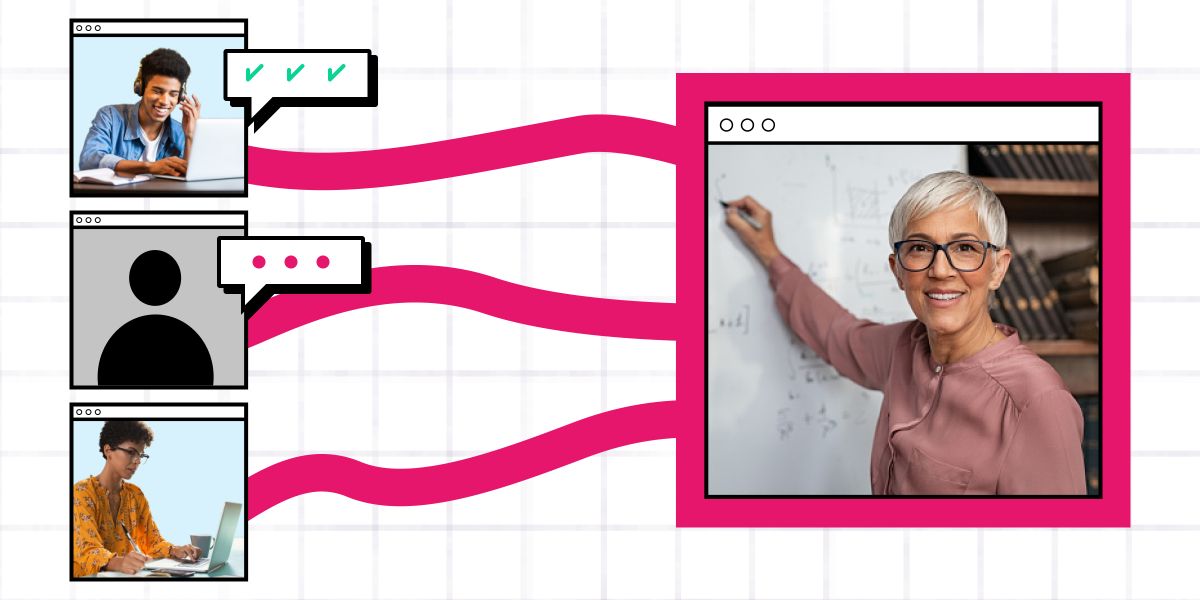 The 2020–2021 academic year is officially upon us—and it's going to be one like no other in modern history. Prior to this semester, 58 percent of instructors reported that they were concerned about providing an engaging in-class experience this fall.1 Indeed, maintaining student presence through attendance and engagement has gained new meaning for educators embarking on a synchronous online course journey. Here are our top tips for ensuring students don't check out of your real-time class.
3 ways to offer students value in online education
Top Hat's survey report of over 3,000 students in higher education found that only 41 percent prefer synchronous online learning. In order to motivate students to attend your live classes, they must see the value of—and more importantly, feel comfortable with—your classroom environment. Interactive activities, a flexible webcam policy and ample communication is the first step in incentivizing students to attend live classes.
1. Arrive to your real-time online class 10 minutes early
Consider joining your synchronous online class 10 minutes before it starts so students can get to know you informally. In a study of a large undergraduate biology course in a traditional classroom environment, learning names led students to feel more valued and comfortable seeking help from their professor. Make community building a pillar of your online classroom by actively getting to know the names and unique backgrounds of students, which you can do by showing up early—and letting them know you'll be there—on a consistent basis.
2. Reassure students that it's okay to turn off their cameras in synchronous sessions
The importance of flexibility in online course delivery cannot be overstated. As per Karen Costa, Faculty Development Facilitator at Lumen Learning and founder of 100 Faculty: do not force solutions upon students, but rather, let students explore their options on their own. Put simply, you should let students decide whether they want to have their webcam on in your synchronous class session. Consider that not all students will have access to a webcam and reliable Internet access. Others may not feel comfortable showcasing their home in front of strangers. Allowing students to have their webcams off, or permitting virtual backdrops while using video conferencing software, shows empathy and concern for students' non-academic lives.
3. Humanize your synchronous class—with asynchronous learning elements
Humanizing learning, as Michelle Pacansky-Brock, Faculty Mentor, Online Teaching and Learning at the California Community College system, puts it, is where instructors increase the relevance of content that motivates students to attend class week over week. To do this, consider incorporating some asynchronous elements that students can complete at their own pace. Examples are viewing a lively welcome video at the start of the week or reading a course announcement prior to the first day of virtual class. Your announcement might discuss your background, your availability to meet via office hours and how students can contact you. You may also want to share a fun fact or two about yourself and a call to action for students before the live class starts—like asking them to come prepared with a fact about themselves or one thing they want to get out of your class.
Be a community manager in your virtual classroom
How will you foster a collaborative learning experience? What exercises might be used to help students feel comfortable in your online course? In Top Hat's survey report, an overwhelming 78 percent of students said that online courses in the spring were unengaging. To help students find meaning in your synchronous class, consider taking on the role of a community manager, to use innovative ways to engage students while advocating for inclusion and belonging in the process.
1. Icebreakers can improve engagement
With distance learning, students can't sit in groups and get to know one another in common areas on campus. Icebreaker activities not only allow you to learn about student histories and interests, they can help facilitate peer-to-peer interactions. Icebreakers such as 'collaborative resumé,' where groups of 4–6 record their educational backgrounds, hobbies, knowledge about course content and more, help students get to know one another informally. Once students form allies in their classes, they may be more confident in engaging with course material and more open to the idea of synchronous teaching and learning.
2. Use breakout rooms for case studies and discussions
Discussion questions and timely case study exercises will help stir engagement in your synchronous learning environment. As Joshua Eyler, Director of Faculty Development at the University of Mississippi, notes, breakout rooms can be a more effective alternative to managing a class discussion with 100+ students. Break students into small groups with the understanding that they will need to report back and share their findings synchronously via instant messaging or asynchronously via a discussion board or a learning management system (LMS). Enabling students to communicate among themselves and receive immediate feedback from their peers will additionally strengthen relationship building.
3. There is no such thing as too much discussion in distance education
When it comes to interspersing opportunities for retrieval practice in your live class, don't hesitate. Mix class time with lecture blocks and check-in questions for students to apply what they have learned—which may additionally expose gaps in their learning. Facilitating discussion questions part way through class also makes it difficult for students to tune out, and instead strengthens the need to be present in order to participate in your polls and discussions. Ensure you anonymize poll responses—a function offered by Top Hat—so that all students feel comfortable participating in front of their peers while in a live class.
Top Hat's attendance capabilities provide a holistic overview of who is present and who is not in your synchronous online class. Fourteen different question types ensure students are engaged in your real-time classroom. Click here to learn more about Top Hat's comprehensive feature suite—with synchronous and asynchronous functionality built for any distance learning environment.
References
1. Top Hat. (2020). COVID-19 Faculty Preparedness Report. https://tophat.com/teaching-resources/interactive/faculty-preparedness-survey/