Educator Story
This Professor
Thrives Teaching Remotely

By Using An Interactive Textbook On Top Of Her LMS
120
interactive questions tracked
$145
students saved on course materials per semester
100
students taught per semester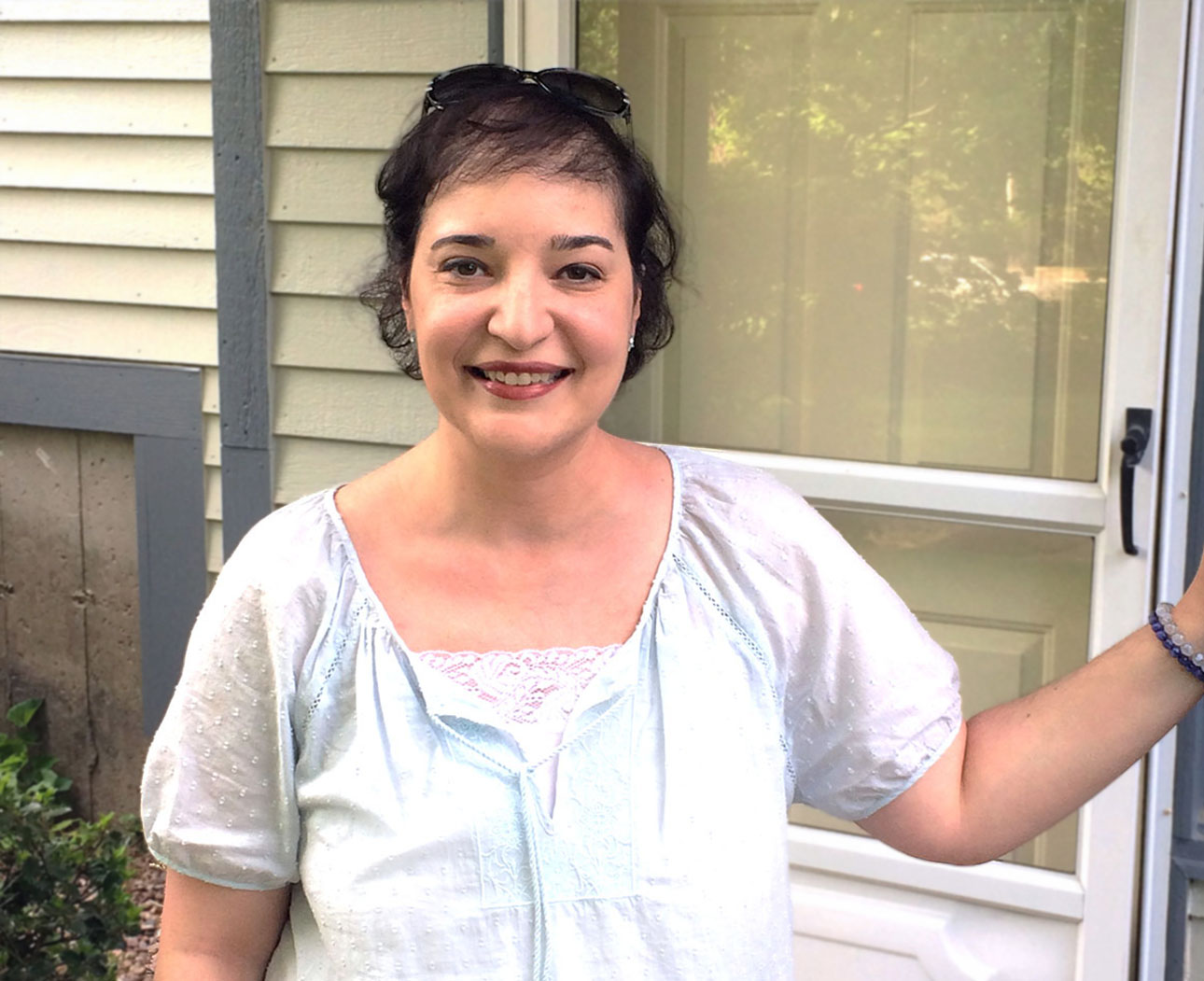 The Challenge
Expensive course materials that gave no indication of student comprehension
Christina Alevras picked a fortuitous time to introduce an active learning platform and interactive textbook into her course. A biology instructor at the University of Saint Joseph for 16 years, Alevras adopted Top Hat's Anatomy and Physiology in Context for the spring 2020 semester. With it, she got a solution for engaging her students, as well as comprehensive resources and course materials. Little did she know Top Hat would be a lifesaver when COVID-19 forced in-person class cancellations.
As a cancer survivor, Alevras understands the importance of infusing her clinical teaching with a human element. "I really want my pre-nursing and pre-medical students to understand that they're going to be treating real humans," she says. However, Alevras long had issues with her conventional Anatomy and Physiology course materials. To start, they were expensive, coming in at almost $300 for the textbook and lab manual. Alevras also felt that the print textbook fell short of what she needed in order to teach effectively. The flat images and readings were unengaging and gave no indication of which students were completing the work, let alone whether they were understanding the often complex and intricate course content.
Ultimately, the learning management system (LMS) Alevras used was simply not up to the task of providing insights into student learning. So she went looking for a solution that would allow her to track progress throughout the semester, to ensure learners not only got the grades they needed to progress in their academic careers, but absorbed the material that would let them thrive.
The Solution
When COVID-19 forced campuses closed, Top Hat helped create a self-paced learning environment that improved knowledge retention
In adopting Top Hat's Anatomy and Physiology in Context, Alevras was able to fully realize the best way to teach her course. The interactive textbook and lab manual not only saved her students $145, they boasted roll-over definitions and complex 3D anatomy models that helped learners visualize the structures and tissues of the human body. She also got access to pre-built slides and assignments tied to the textbook content, creating a richer and more comprehensive learning experience.
By combining the new textbook with the power of the Top Hat platform, Alevras was able to take learning and student accountability to a whole new level. Alevras could automatically assign readings each week, which students were required to finish before class. She could see which students completed those readings and used Top Hat's built-in responses report to quickly identify where the class stumbled. With Top Hat's Weekly Course Report—delivered directly to her inbox—she was also alerted to which students were struggling at a given point in time, offering the actionable insights that her LMS simply could not. By giving students access to course slides before lecture, Alevras freed in-class time to shore-up their knowledge gaps and discuss clinical case studies tied to the course material—injecting the human context so essential to her teaching.
When COVID-19 forced classes online, Alevras was prepared. A survey of students indicated that many of her learners were essential workers and EMTs. Others reported that, off campus, they had limited access to technology. Top Hat's robust and accessible tools—which offered the flexibility to work offline from any device—allowed Alevras' students to pursue a self-paced method of learning. "I wanted to reach as many people as possible, which I couldn't do through my LMS alone," she says. "I still assign textbook readings and assignments and I love that I can regulate what they're working on at any given time," she says. Through Top Hat, Alevras creates an interactive and inclusive asynchronous learning environment that would not otherwise have been possible. "Blackboard is just very flat. With Top Hat, the content almost jumps off the page," she says.
"Top Hat allowed me to truly interact with students, see what they're doing at any given time and monitor their progress."

Christina Alevras
Instructor of Biology, University of Saint Joseph
The Results
Alevras used Top Hat along with her LMS to help students succeed in a remote learning environment and prepare them better for future courses
Top Hat wasn't an immediate hit with Alevras' students. But an interesting thing started to happen. "Suddenly, students were asking questions that showed me they were thinking critically about the topics," she says. By using more discussion-based and probing questions throughout the semester, Alevras gained confidence that students were prepared with the tangible skills necessary for the next stage of their training.
Alevras was overwhelmingly thankful for Top Hat in the transition to emergency remote teaching. "Students were already used to completing homework readings and assignments on their own time," she says. "Top Hat really was my saving grace." Alevras continues to use her LMS to manage final student grades, as well as house the study guides and lecture modules that allow her to teach asynchronously in the same way she used to in class. The latter two will soon be migrating to Top Hat, the platform that lets her make every learning activity interactive. "Top Hat allowed me to truly interact with students, see what they're doing at any given time and monitor their progress," she says.
The contents, including all opinions and views expressed here, are entirely personal and do not necessarily represent the opinions or views of anyone else, including other employees in the department or at the University of Saint Joseph. The department and the University of Saint Joseph have not approved and are not responsible for the material contained in this profile.