Educator Story
This English Professor Improved Grades in an
Online Course
85%
Completion rates for pre-class readings and assignments via Top Hat
12%
Increase in students who passed the class
13%
Increase in students who earned a B grade or higher
The Challenge
Brooke Archila was looking to improve the learning experience in her online classes
Not long after Brooke Archila joined the Madisonville Community College faculty in 2011, teaching online courses became a significant portion of her workload—the logistics of which proved increasingly frustrating for her and her students. "I hated the way that our LMS made students click in a million different places to submit their essays, do their quizzes or view the discussion board," she says. The textbook she was using also presented a major challenge: Students weren't completing the readings, resulting in poor essay assignments and grades.
Archila was looking for a singular way to seamlessly deliver course content and assessments to the 20–30 students in each of her sections. The English literature instructor was also on the hunt for a textbook more closely related to her course material, that concisely provided students with the pertinent information they needed to improve their writing skills for essay assignments. In Top Hat, she found a solution for both.

The Solution
Archila used Top Hat to keep all her teaching materials in one place and wrote a textbook with Top Hat closely tied to her lessons
In 2016, Archila authored the textbook Writing I: Introduction to Academic Writing through Top Hat, and also adopted the all-in-one active learning platform for her online classes. "Top Hat gave me the opportunity to bring together my quizzes, videos, PowerPoints and discussion questions all in one place," she says. The textbook—written in a clear, relatable style to ensure better comprehension—now only has information relevant to her class and it can be kept constantly up to date, making it a seamless part of her teaching strategy.
With Top Hat, Archila is able to frequently assess her students not only via written assignments, but with true or false, multiple-choice and matching questions to quickly reinforce learnings. She embeds graded quizzes and discussion questions directly in the readings, offering engagement with every one of her students and providing a good gauge of class progress. This also allows her to create a feedback loop that alerts her to where students are struggling. "It just really increases the communication between the instructor and the students, which can be challenging, especially in an online environment," she says.
"The essay scores and grades have improved because students have a better understanding of the content."

Brooke Archila
Associate Professor, English, Madisonville Community College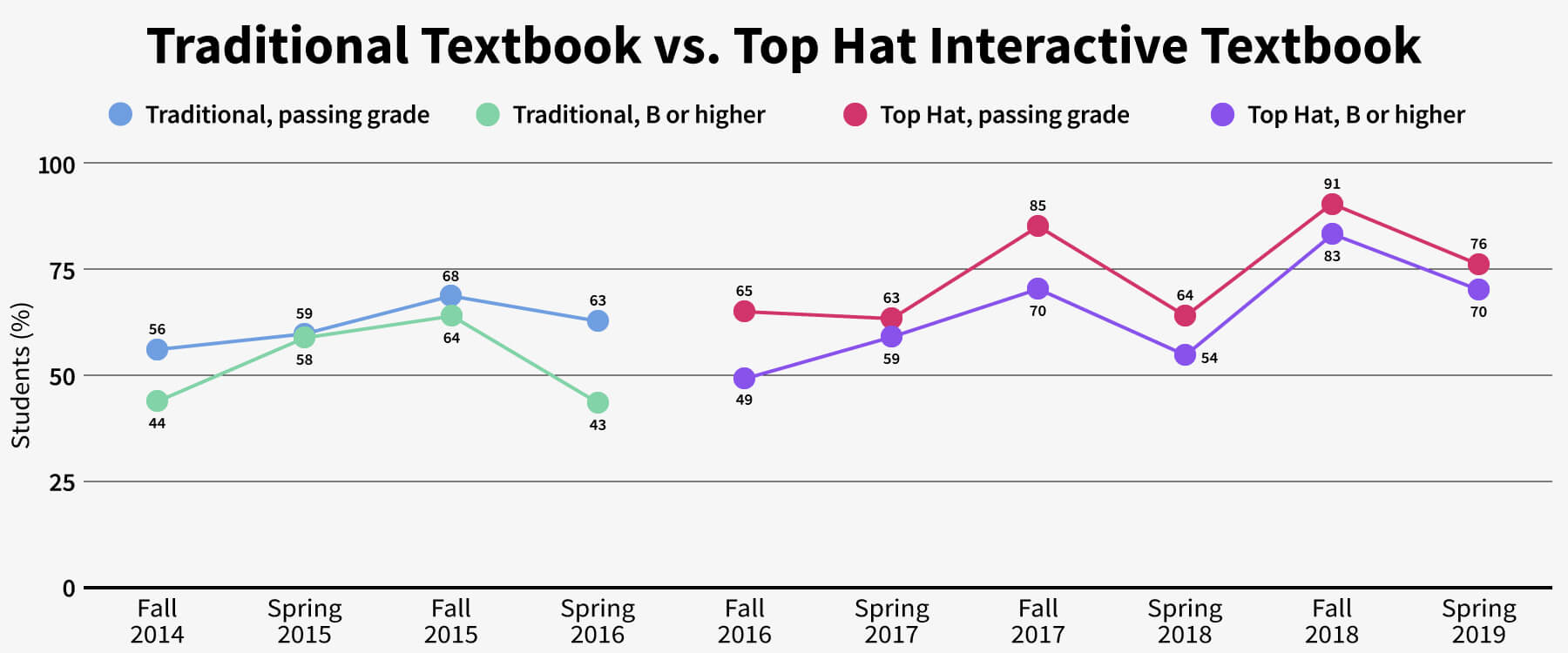 The Results
The pass rate for Archila's course increased by an average of 12 percent since adopting an interactive Top Hat textbook
After Archila implemented Top Hat in 2016, student grades improved, though not markedly from how they might fluctuate year-to-year. It wasn't until her third semester with Top Hat that she saw a drastic increase in student pass and performance rates.
Recently, she found that students with passing grades increased by an average of 12 percent, while the number of those with a B grade or higher improved by 13 percent thanks to her interactive Top Hat textbook. Homework reading and completion rates also jumped to 85 percent—the highest ever recorded in her classes. Now, the discussion questions she's embedded in her assigned readings provide a feedback loop that allows her to ensure problem areas are tackled so that students have the tools they need for their writing assignments.

Students have also embraced Top Hat with fervor, finding the platform easy to use, and moving through the chapter readings and quiz questions without issue. "They also like the fact that Top Hat support is quick to respond," Archila says. "The students know that they can reach out and that they will get help." Among Top Hat's many benefits, Archila likes that she's also able to quickly get answers from the Top Hat support team, even while she's teaching. "I can get a response in less than 15 minutes," she says. "It actually does work."