Congratulations! Whether you were adjusting your course delivery to better serve non-traditional students, finding more affordable learning solutions, or bridging the gap between your class and the real world, you've made a huge difference to your students in 2022. At Top Hat, we thank you for your continued commitment to making learning even more personalized, equitable and engaging.
As we prepare to usher in a new year, we're looking back at the top courses and interactive titles that made STEM, Social Science and Humanities courses that much more dynamic.
→ Create personalized content in your next course with Top Hat Pages [Free tour]
GIving STEM courses heart and soul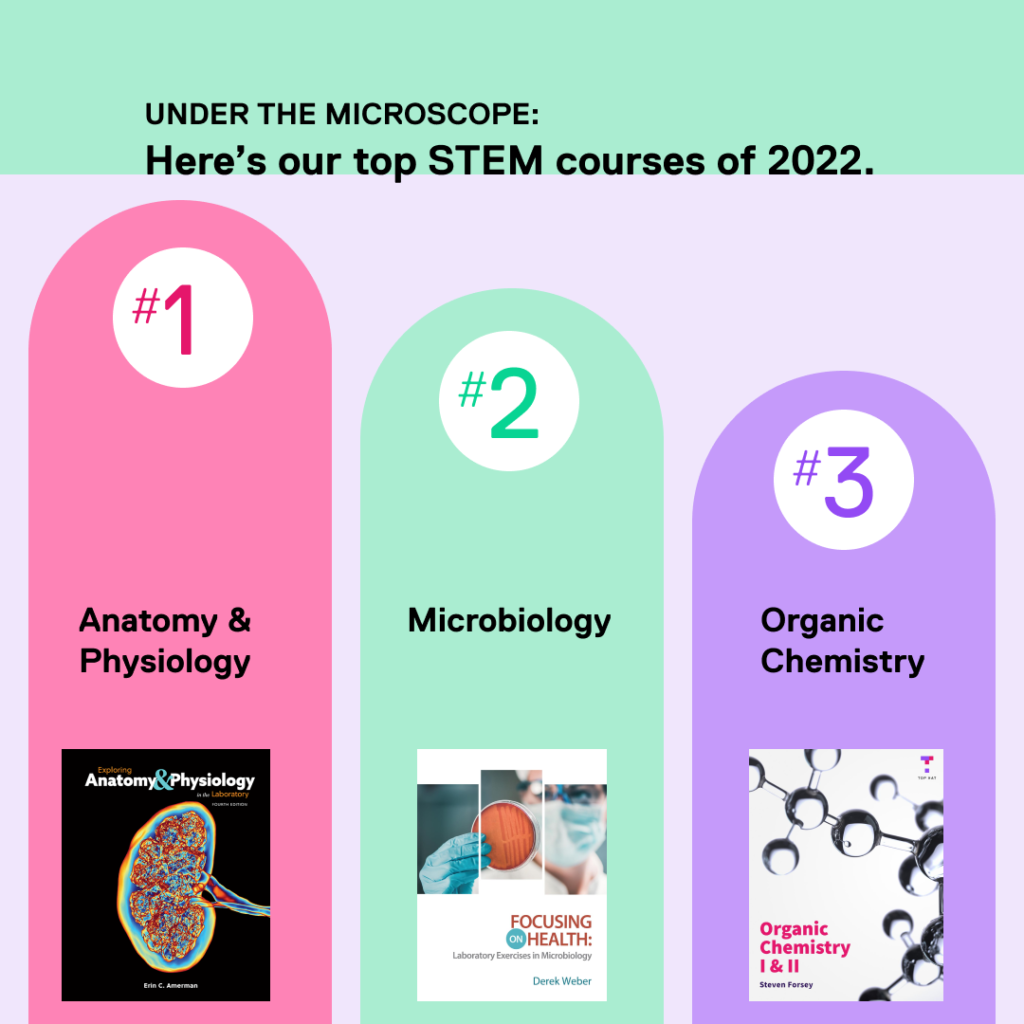 It may have been helping students visualize the stages of mitosis. Or letting them learn about chemical reactions through simulated activities. Our top STEM courses of 2022 represent educators' efforts to prepare their students for increasingly in-demand fields.
Anatomy & Physiology takes first place for top course. Erin C. Amerman's supplementary lab manual, Exploring Anatomy and Physiology in the Laboratory, further helped A&P instructors illustrate the structures and function of the body in an interactive way.
Microbiology instructors made great strides in making their discipline more personal. Derek Weber's interactive lab manual, Focusing on Health: Laboratory Exercises in Microbiology, offered the clinically relevant, real-world learning lens students have come to expect from their learning—regardless of their career aspirations. Read more about how Weber's manual supports career readiness today.
Organic Chemistry educators took it upon themselves to help students bond with their course material and with one another. Steven Forsey's interactive textbook, Organic Chemistry I & II, provided the media- and discussion-heavy solution to help students visualize chemical reactions, biomolecules and other complex concepts.
Critically evaluating how to make Social Science more representative
Curating examples of how telehealth has been used to treat psychological disorders. Creating discussion questions around a looming recession. Our top Social Science courses of 2022 demonstrate how educators rose to the challenge of making their field more representative of an ever-changing world.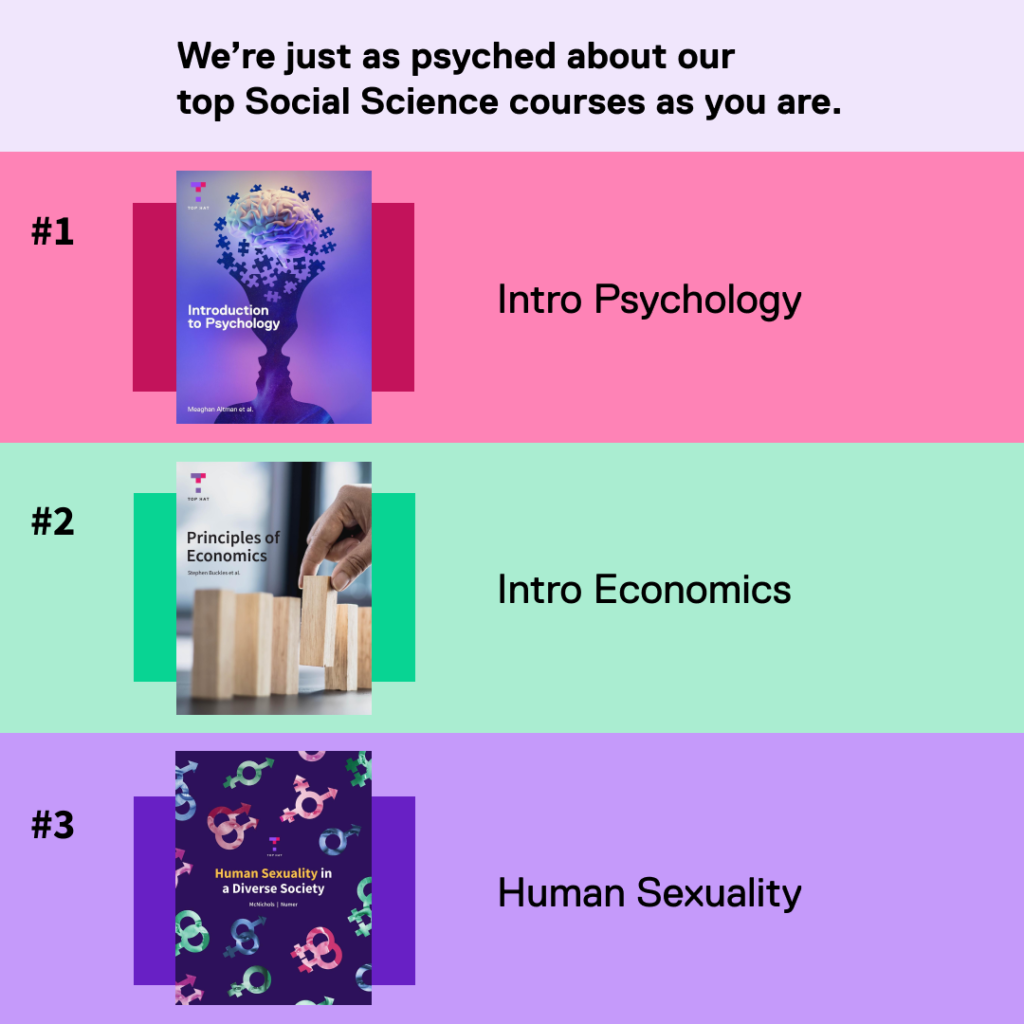 Introduction to Psychology faculty used data on how students learn best to inform their course decisions this year. Meaghan Altman et al.'s Introduction to Psychology text gave students a reading experience that not only helped them retain information, but reflected ongoing research since the pandemic. Hear how Altman boosts memory and information retention in our on-demand webinar.
Introduction to Economics instructors knew the pandemic rattled supply and demand trends worldwide. It's why they chose to bring real-life examples into their course now—not five years from now. Principles of Economics, authored by Stephen Buckles et al., allowed students to read about market trends and changes in economic growth as they unfolded in the real world. Read why Buckles believes interactive textbooks are better suited to meet the needs of Generation Z.
Human Sexuality educators discovered a more inclusive and safe way to teach topics students previously shied away from. Human Sexuality in a Diverse Society, authored by Nicole McNichols and Matthew Numer, let students explore a sex-positive approach through the latest news stories and legislation. Hear from both authors on why their discipline benefits from a gender diverse perspective in our on-demand webinar.
Putting the 'humanity' in the Humanities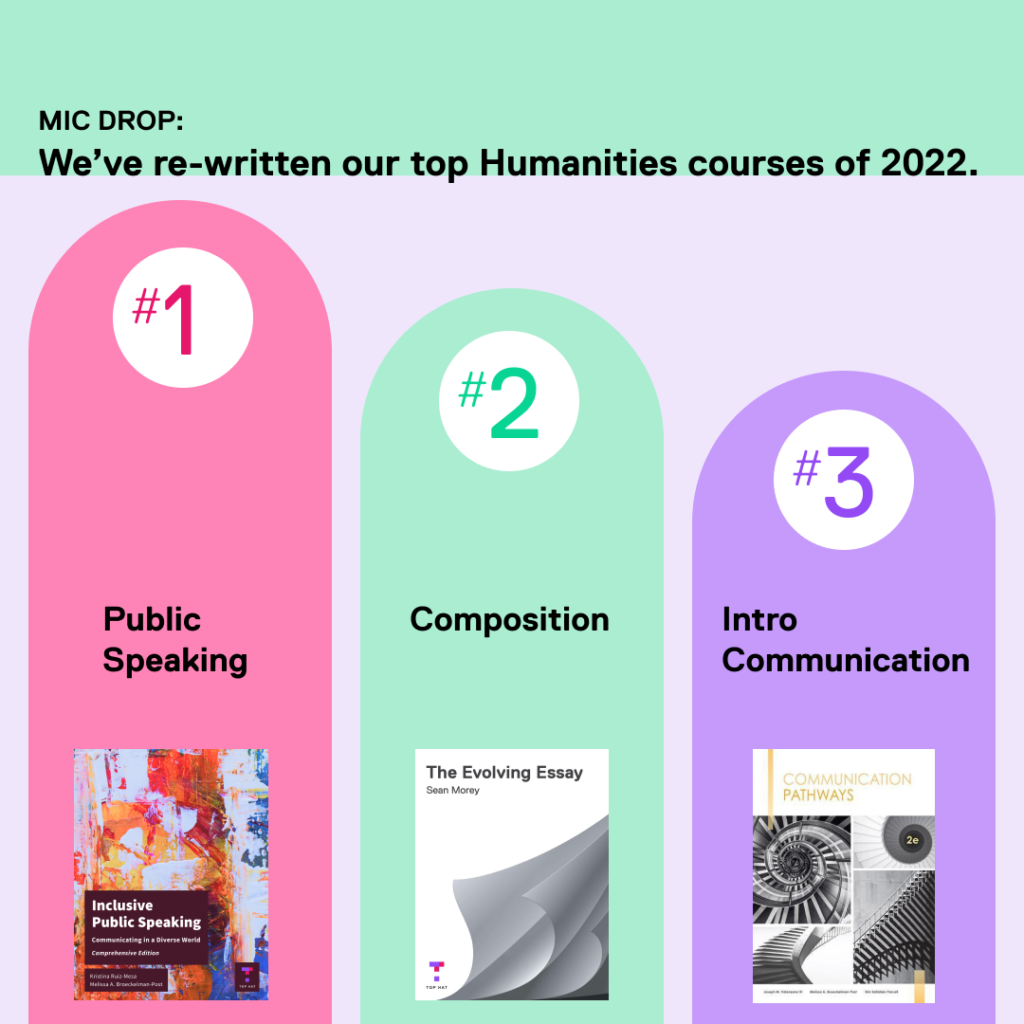 Bringing in acceptance speeches from the Emmys. Embedding tweets from earlier today in group activities. Our top Humanities courses of 2022 offer a dynamic spin on essential soft skill training for our future leaders.
Public Speaking faculty knew when to step aside and let their students do the talking. By using the interactive textbook, Inclusive Public Speaking, authored by Kristina Ruiz-Mesa and Melissa Broeckelman-Post, students had the opportunity to reflect on their own intersectional identities and gained essential skills (such as conflict management) to serve them in their academic and workplace endeavors. Hear from both authors on how to host healthy, vulnerable conversations in class.
Composition educators embraced what it meant to let students learn by doing. The Evolving Essay, authored by Sean Morey, offered a multimodal approach to writing in any academic, professional and everyday scenario.
Introduction to Communication instructors let students learn about relationship building, active listening principles and persuasive writing industry leaders. Communication Pathways, authored by Joseph Valenzano et al., has played a role in cultivating competent, dialogic communicators and helped students use interpersonal and nonverbal cues to lead effectively.
Thank you for making learning more dynamic at your school and among your students in 2022. There's still time to bring today's news into tomorrow's class. Explore Top Hat Pages: the only interactive content personalization tool to keep learning relevant. Take a self-guided tour today.