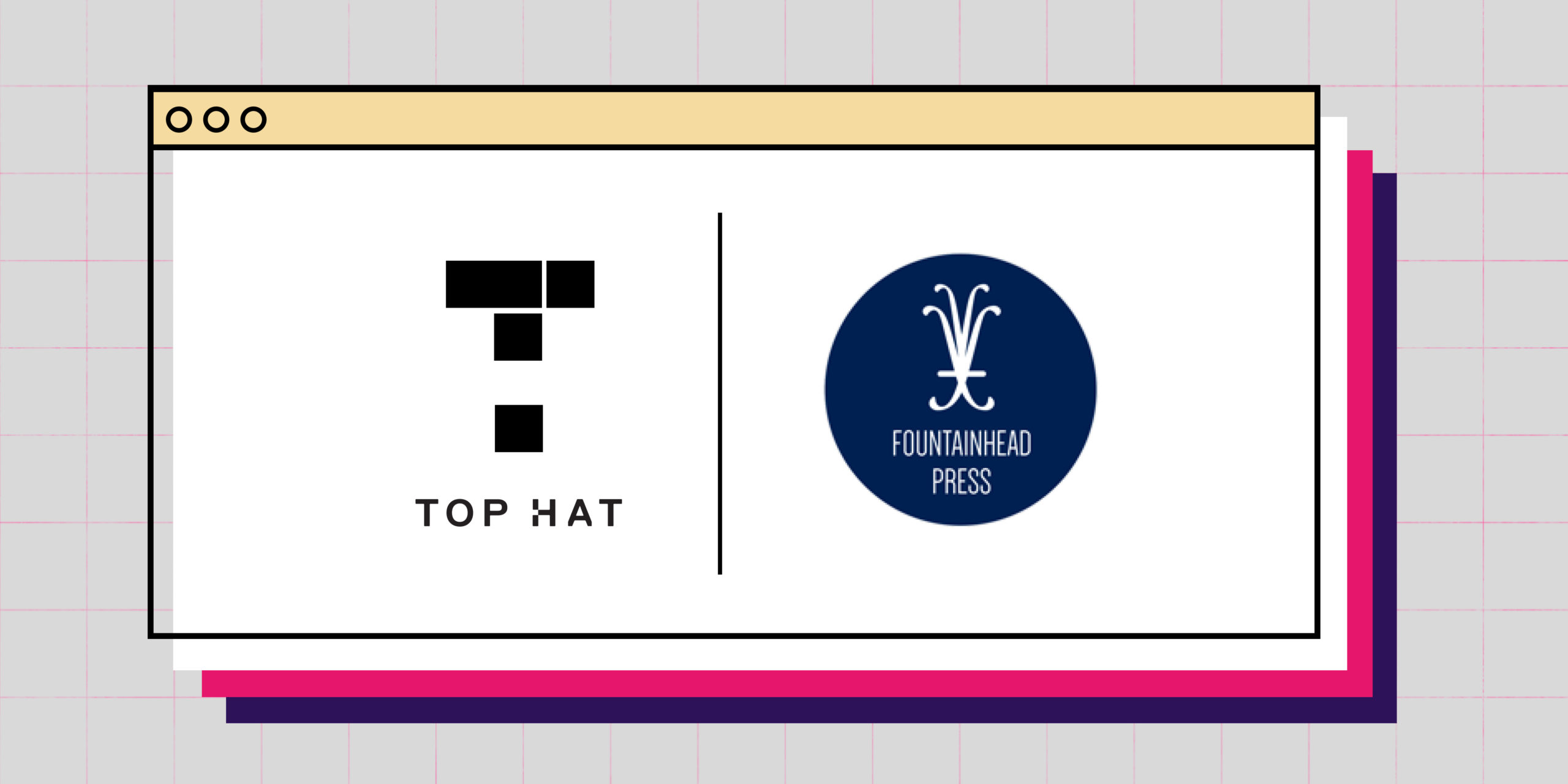 Acquisition brings more than 500 titles used at 400 institutions onto Top Hat's proven active learning courseware platform
Fountainhead's high-quality academic content will be fully integrated into Top Hat's all-in-one teaching platform, enabling educators who adopt these titles to deliver transformative student-centric learning experiences that change the nature of the way students learn
Fountainhead Press is Top Hat's third traditional publishing acquisition within the last year, following the acquisitions of the Canadian higher ed textbook business from Nelson, Canada's largest educational publisher, and bluedoor, a press that specializes in educational content for the sciences
Top Hat's platform enables educators with the flexibility to bring active learning to life for students in both in-person and online classrooms, with tools to take attendance, present slides, live-stream and record presentations, host discussions, give homework, assign interactive readings, and deliver assessments — all in one place
More than 3 million students are enrolled in courses using Top Hat at 750 of the top 1,000 higher ed institutions in North America
TORONTO — January 13, 2020 — Top Hat, the leading active learning platform for higher education, has acquired Fountainhead Press, an independent press with an expansive portfolio of higher ed content across multiple disciplines. Details of the transaction were not disclosed. The acquisition, which follows the recent acquisitions of bluedoor and Nelson's Canadian higher ed textbook business, includes more than 500 titles used at 400 institutions. These materials are being rapidly converted into digital courseware on Top Hat's platform and infused with interactive elements, enabling educators to easily design and deliver student-centric learning experiences customized to meet the needs of their individual classrooms in any teaching scenario — whether in-person, online, or a combination of both.
Fountainhead Press has been developing high-quality textbooks with authors since 2002, producing personalized, content-rich course materials designed with student success in mind. Built on the principles of innovation and customer partnership, Fountainhead Press brings 250 authors in disciplines spanning communication, composition, and science to Top Hat's platform. By converting Fountainhead's content into interactive digital courseware, Top Hat is expanding its broad portfolio of best-in-class content designed to support, engage, and motivate the modern student inside and outside the classroom.
"Over the past 18 months, we've worked with Fountainhead Press to produce high-quality, interactive, and affordable course materials on Top Hat's platform, and have witnessed firsthand their unwavering focus on delivering excellence for their customers," said Mike Silagadze, founder and CEO, Top Hat. "As we come together as one team, I'm excited about combining our passion to support educators to deliver rewarding learning experiences, both during the pandemic and beyond."
"Becoming part of the Top Hat team is an exciting evolution of our partnership," said Scott Timian, co-founder and CEO, Fountainhead Press. "Our textbooks have come to life in the Top Hat platform, allowing us to provide current, interactive, and engaging content suitable to any teaching format. The flexibility afforded by Top Hat expands our mandate to work with faculty and institutions to create personalized, affordable custom content."
"Fountainhead Press and Top Hat are the most amazing combination I can think of when looking for instructional materials in many academic college-level disciplines," said Dr. Désiré Baloubi, Professor of English and Linguistics, Norfolk State University. "As faculty and department chair for many years, no book has ever given me more joy and assistance in fulfilling my teaching responsibilities than Fountainhead Press's public speaking book on the Top Hat active learning platform. The ability to customize content to meet students' needs and achieve targeted learning outcomes is one of the best features any instructor will appreciate. It makes it possible for both faculty and students to embark together on the same journey to reach a common goal: success."
Transforming the Higher Ed Learning Experience to Better Serve the Modern Learner
Digital course materials already play a key role in today's higher ed classrooms, according to a recent survey of 3,412 students in the United States and Canada conducted by Top Hat. In fact, 64 percent of students indicated that at least half of their assigned reading is digital content and 56 percent of students said that at least half of their reading content is digital and interactive. Conversely, only 38 percent of students said that at least half of their assigned reading is print content. Furthermore, 37 percent of students said they prefer to use a digital textbook.
Over the past year, as institutions around the world have shuttered their doors due to the COVID-19 pandemic, educators have increasingly turned to Top Hat for help with engaging their students and ensuring they can access high-quality content. In fact, the company has secured 47 percent year-over-year growth in the number of courses that have adopted Top Hat's digital interactive content, with 175 percent year-over-year growth in student users.
"In the same way Tesla reimagined what the driving experience can be, Top Hat is enabling educators in higher ed to transform the learning experience for students into one that is more engaging and motivating and that drives better outcomes," said Silagadze. "The way many students are still taught today — with print or PDF content that encourages rote memorization — is not effective. When textbooks are brought to life with Top Hat's intuitive and easy-to-use technology, they become much more than just the vehicle for educators to deliver information to their students. Instead, they enable a world where all students are fully equipped and motivated to engage with their learning and come to class prepared. In this same world, all educators already know before stepping foot in the classroom, which concepts students struggle with and which students require early intervention. Here at Top Hat, we believe interactive textbooks powered by active learning technology will fundamentally improve the value of higher ed."
Top Hat's Student-centric Textbooks Reinforce Learning and Maintain Engagement
When a traditional print textbook is transformed with Top Hat's active learning platform, educational content becomes an effective tool for learning. Top Hat's interactive textbooks are:
Designed for active learning: Student comprehension is supported through engaging, media-rich interactive learning materials, assessment questions, activities, and rollover definitions, among other features.
Fully customizable: Easy-to-use editing tools let instructors adjust content to fit their curriculum and learning objectives.
Designed for ongoing feedback: Leveraging an assess-as-you-go model of assessment, students get feedback on their progress and understanding as they go through the textbook. Data points show instructors where students are struggling, enabling them to easily reach out and intervene early.
Enabling both centralized and community quality controls: Content stays up-to-date and relevant through both author-led review and community-sourced feedback.
To learn more about Top Hat:
Overview
Product video
Schedule a demo
About Top Hat
Top Hat is the only all-in-one courseware platform that enables active learning — a proven student-centred teaching pedagogy that promotes deep understanding, critical thinking, and subject mastery — with interactive content, tools, and activities. Millions of students at 750 leading North American colleges and universities use Top Hat to teach and engage with students before, during, and after class, in both in-person and online education.
Contact
Top Hat
Dianna Lai Read
dianna.lairead@tophat.com