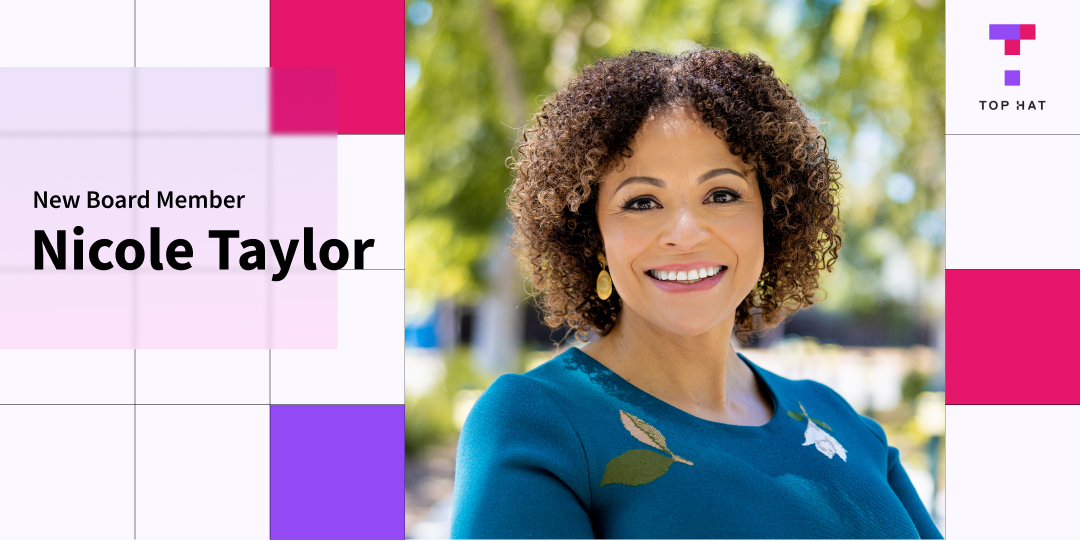 TORONTO – October 12, 2022 – Top Hat, a market leader in student engagement solutions in higher education, is delighted to welcome Nicole Taylor to its Board of Directors. As an independent board member, Taylor's unique combination of higher education executive leadership and commitment to championing issues of social equity will be invaluable in guiding Top Hat's mission to empower educators to deliver personalized, meaningful, and equitable learning for every student in every course.
"Nicole's long-standing dedication to leading and strengthening organizations addressing equity gaps in our society is truly inspiring," said Joe Rohrlich, CEO of Top Hat. "Her experience as a senior administrator at some of the most respected universities in the United States is the perfect complement to our board and supports our focus on partnering with institutions to transform the learning experience for students at scale."
Taylor brings deep expertise within higher education, having served as vice president of the ASU Foundation and Deputy Vice President and Dean of Students at Arizona State University, a school widely regarded as one of the most innovative institutions in the United States. Prior to her current role as President and CEO of the Silicon Valley Community Foundation, the largest community foundation in the country, she served as the Associate Vice Provost of Student Affairs and Dean of Community Engagement and Diversity at Stanford University.
Taylor's early experience as an educator in the Oakland public school system shaped her life-long commitment to education and improving the lives of young people. This includes leadership roles at Thrive Foundation for Youth, College Track and the East Bay Community Foundation where she raised millions for the African American Male Achievement Initiative, a program credited with significantly increasing graduation rates among black male students. For her many accomplishments and contributions to addressing inequality, Taylor was recently named to Forbes Magazine's 2022 '50 Over 50' listing.
"Higher education has been such an important part of my life and despite many challenges, remains the surest path to success and wellbeing for our youth," says Taylor. "I couldn't be more excited to support an organization that touches so many students and cares so deeply about ensuring as many people as possible benefit from an inclusive, high quality and engaging university education."
About Top Hat
Top Hat is North America's leading dynamic courseware platform, enabling educators to employ proven student-centered teaching practices through interactive content, tools, and activities in in-person, online and hybrid classroom environments. To accelerate student impact and return on investment, the company provides a range of change management services, including faculty training and instructional design support, integration and data management services, and digital content customization. Thousands of faculty at 750 leading North American colleges and universities use Top Hat to create meaningful, engaging and accessible learning experiences for students before, during, and after class.
Contact
Top Hat
Eric Gardiner
eric.gardiner@tophat.com