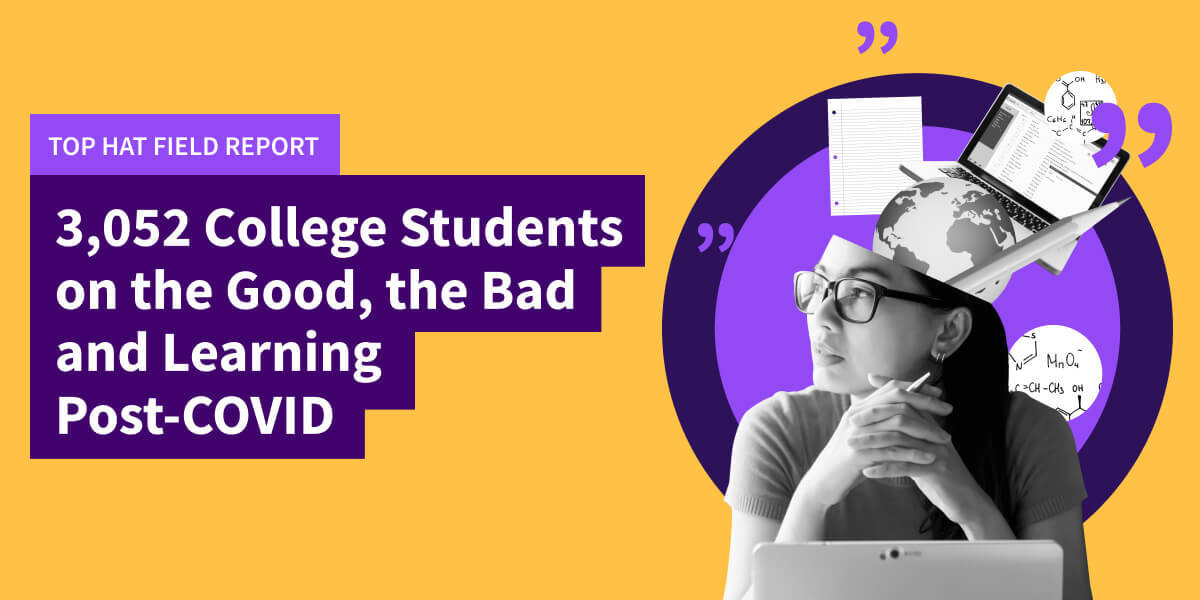 Most students are openly questioning the ROI of a higher ed degree, with less than one in five (19 percent) students responding that the learning experience has been worth the cost of tuition
COVID-19 has increased the difficulty of providing equitable access to education with one in three students experiencing challenges accessing the technology and resources required to support learning
The majority of students emphasize that faculty mentorship (76 percent) and community in the classroom (71 percent) are important factors in realizing value from their higher ed investment
Most students do not want passive education, instead valuing regular feedback from their instructors (85 percent), opportunities to develop transferable skills (79 percent), and active learning activities like discussion and collaboration (67 percent)
Students who receive regular, ongoing feedback from their instructors are more likely to see the value of their higher ed investment, feel engaged in their coursework, and rate the quality of their overall online learning experience as good or excellent
TORONTO — April 30, 2021 — A new survey of more than 3,000 higher ed students, conducted partway through the Spring 2021 academic term, reported three key insights. First, 80 percent of students do not feel the learning experience has been worth the cost of tuition. Second, students have appreciated the flexibility of remote learning and while they are looking forward to a return to the physical classroom, most want to see elements of online learning carried forward. And finally, when it comes to realizing the value of their higher education investment, on-campus experiences and activities are not nearly as significant a factor as the role of instructors in the classroom.
The Top Hat Field Report: 3,052 College Students on the Good, the Bad and Learning Post-Covid survey was conducted by Top Hat, the leading active learning courseware platform for higher education. The survey was designed to uncover student sentiments about the learning experience a year into the COVID-19 pandemic: what has worked, what hasn't, and how has the past year shaped student expectations for the learning experience once it is safe to return to the campus? The report provides insights to help institutions and educators create the right conditions for more students to receive and perceive meaningful value from their college investment as they plan ahead for the Fall 2021 academic term. (An abbreviated version can be found in this slideshow.)
"The COVID-19 pandemic has exposed fundamental challenges within higher education to provide meaningful learning experiences for students," said Nick Stein, Chief Marketing Officer, Top Hat. "These challenges will not simply disappear once students return to the physical classroom. The inability of institutions of higher education to consistently provide equitable access, a sense of belonging and engaging and motivating learning experiences has led the majority of students to openly question the value of a college degree. In order to address this troubling perception, we as an industry need to focus on improving the teaching and learning experience itself, while also ensuring equitable access to that experience for all students."
Online Learning Still Not Perceived As Worth the Cost of Tuition
It has been a year since higher ed institutions around the world pivoted to emergency remote learning, and many students continue to view it as worse than in-person instruction. In fact, less than one in five (19 percent) agree that the learning experience has been worth the cost of tuition and less than half (45 percent) feel engaged and motivated in their coursework.
Financial and mental health challenges have no doubt added to these sentiments. More than half (54 percent) of students are facing financial difficulties as the recession impacts part-time jobs and family finances. Top Hat's research indicated an increase in mental challenges over the past year. In April, 2020, 52 percent of students reported feeling anxious, and in March, 2021, that figure rose to 84 percent. Pandemic life has clearly taken a toll with the majority of students reporting feelings of loneliness and isolation (66 percent) and depression (58 percent), compounding concerns about their ability to pass the current school term (51 percent).
Access to Education Continues to Be a Key Concern for Many Students
More students are having difficulty accessing educational resources than a year ago
One of the most urgent issues to come to the forefront has been the difficulty many students have experienced accessing the resources to support their education. Last April, 27 percent of students reported that the move to remote learning resulted in a loss of predictable access to the Internet and computers, and 22 percent had difficulty accessing online learning materials. A year later, the situation has become worse. Roughly one in three (32 percent) students now report challenges accessing the technology and resources required to support learning.
Students benefit from the flexibility offered by online learning
As faculty have embraced education technology to improve access to learning, students see clear benefits in terms of flexibility. While in-person learning is still the preferred option, many students indicated that once campuses are able to safely re-open, they would prefer to retain some element of online learning. Specifically, 59 percent would like to maintain the flexibility to attend class in person or virtually, 43 percent would like to work with digital course materials, and 75 percent want to maintain the ability to view lecture recordings.
Additionally, many students require special support and considerations. This includes the ability to call in to online synchronous lectures and participate in class via texting (22 percent), the ability to participate in classes anonymously (19 percent) and the ability to access lecture recordings, transcripts (38 percent) and print versions of online assessments (27 percent).
Community and Connection with Peers and Faculty is Critical to Students' Perceptions of Value
Fostering community in the classroom remains an important aspect of the learning experience
The impact of caring instructors who take steps to create a sense of community in the classroom and get to know their students cannot be overstated. The majority of students identified faculty mentorship (76 percent), community and belonging in the classroom (71 percent), and receiving regular feedback to support academic success (85 percent) as important factors in realizing value from their higher ed investment.
While the campus experience plays a role, extracurricular activities and life on campus are not as significant in helping students realize the value of their tuition — at least not in comparison to the impact of faculty in the classroom.
Maintaining connections inside and outside of the classroom are important regardless of whether classes are online or in-person
Students place enormous value on the ability to easily stay connected with instructors and peers. Even when it is safe to return to in-person learning, two-thirds (67 percent) of students say it is important to stay connected with instructors and classmates using messaging and collaboration apps.
Vast Majority of Students Do Not Want to Be Passive Learners
Students want learning to be active, relevant and transferable
Through this current study, students indicated the importance of active learning and regular feedback in helping them to realize the value from their higher education investment. Specifically, they said it was important for their instructors to create opportunities to develop transferable skills like communication and collaboration (79 percent), make learning relevant by applying knowledge to address real-world issues (76 percent), and make learning active through discussion, collaboration, and interactive activities (67 percent).
Instructors should continue to incorporate technology even when it is safe to teach in-person
Students clearly see value in continuing to incorporate technology to address a number of different needs. For example, a majority of students say it is important to be able to access learning materials, lecture presentations, and assignments in one place (84 percent), to use in-class engagement tools such as live chat, discussion, and polling tools (56 percent), and to work with interactive textbooks that allow them to read and assess their learning as they go (53 percent).
The Value of Higher Ed is Fully Realized by Dedicated and Empathetic Instructors
Caring instructors make a big difference
The impact of dedicated instructors on the student learning experience cannot be overstated. Students who agree they have one or more instructors who care about them as a person are far more likely to say they see the value of their higher education investment, to feel engaged and motivated in their coursework and to have a favorable view of online learning when compared to the average. The survey found similar effects on student motivation and perceptions of value with respect to instructors who build community in the classroom, provide timely, helpful feedback to support their academic success and who make learning active and engaging through activities that promote discussion and get students working together.
Feedback is a powerful motivator
Regular lightweight assessments provide both students and instructors with timely, helpful feedback on comprehension, which allow for course corrections before it is too late. Students who agree their instructors provide them with regular feedback to ensure they succeed academically are much more likely to say they see the value of their higher education investment (74 percent), feel engaged and motivated in their coursework inside and outside of class (72 percent), and rate the quality of their overall online learning experience as good or excellent (71 percent). Comparatively, the overall average response for those same indicators was 50 percent, 45 percent, and 46 percent respectively.
Active learning is a game-changer for students
Students who agreed their instructors made regular use of activities during class time to promote discussion and interaction among students were more likely to see the value of their higher ed investment (65 percent), rate the quality of their overall online learning experience as good or excellent (67 percent), and be engaged and motivated in their coursework inside and outside of class (63 percent). Comparatively, the overall average response to those same indicators was 50 percent, 46 percent, and 45 percent respectively.
Lessons for Planning for the Next Normal
Improving access to education goes far beyond tuition affordability
Access is about eliminating the friction many students experience with getting started and maintaining a steady focus on their college education. This means:
Offering flexible options to attend classes in person or virtually, synchronously or asynchronously, which opens up a lot of opportunities for both traditional and non-traditional students to participate in the higher education experience.

Enabling access to digital learning materials to overcome concerns related to the cost, relevance, and effectiveness of traditional print textbooks.
Institutions and educators must work together to build community in the classroom
As higher ed institutions and faculty plan ahead for a return to campus in the Fall, 2021, it is important to stress that when it comes to fostering belonging, the on-campus experience cannot be a college's only calling card. In practice, this means:
Educators must actively prioritize getting to know their students and engaging them in activities designed to facilitate connections between peers and with faculty.

Institutions must provide both the instructional design support and the tools to help students find that sense of belonging.
In an increasingly competitive race for student enrollment, active learning will differentiate the leaders in higher ed
Students expect regular hands-on learning, and those who receive it are much more likely to say they would recommend their institution, feel engaged and motivated, and see the overall value of their higher education investment.
When it is safe to return to on-campus learning, it is important for educators to continue incorporating in-class engagement tools like live chat, discussion, and polling tools.

Provide interactive digital textbooks that allow students to engage with different types of content like video as well as text, and to assess their learning and receive feedback as they go.
Arming dedicated educators with small data creates the foundation to improving academic outcomes and driving value for students
Great teaching is a process of give and take that is based on empathy, connection, and the use of qualitative and quantitative insights to both challenge and support students.
Create feedback loops that serve up real-time student performance insights that enable just-in-time instructor intervention throughout the term, effectively ensuring students receive the support they need, when they need it.

Design courses based on active learning pedagogy that enables students to apply their knowledge in meaningful ways.
With all the recent investments into enabling edtech resources, institutions can offer a broad range of tools and support to improve the higher ed learning experience to be more engaging, relevant, and valuable. The challenge now is to ensure that the lessons learned over the past pandemic year continue to inform course design and delivery well into the next normal.
Resources
Chart: Student Sentiment for Fall 2020: By Level of Support from Instructors
Chart: Student Sentiment for Fall 2020: First Year Students
Read Top Hat's The New Higher Ed Value Equation to learn about the Hierarchy of Student Needs — a fundamental set of needs that must be met to help students thrive — and how to deliver tangible and perceived value on their higher ed investment
Research Methodology
Survey responses were collected by Top Hat from 3,052 undergraduate students in the United States and Canada from March 1 to March 14, 2021. Demographic breakdowns are as follows:
Institution type
4-year public: 69 percent
4-year private: 17 percent
2-year public: 14 percent
Country
United States: 88 percent
Canada: 12 percent
Student's year of study
First year: 43 percent
Second year: 25 percent
Third year: 15 percent
Fourth year: 11 percent
Other: 6 percent
About Top Hat
Top Hat is the only all-in-one courseware platform that enables active learning — a proven student-centred teaching pedagogy that promotes deep understanding, critical thinking, and subject mastery — with interactive content, tools, and activities. Millions of students at 750 leading North American colleges and universities use Top Hat to teach and engage with students before, during, and after class, in both in-person and online education.
Contact
Top Hat
Dianna Lai Read
dianna.lairead@tophat.com