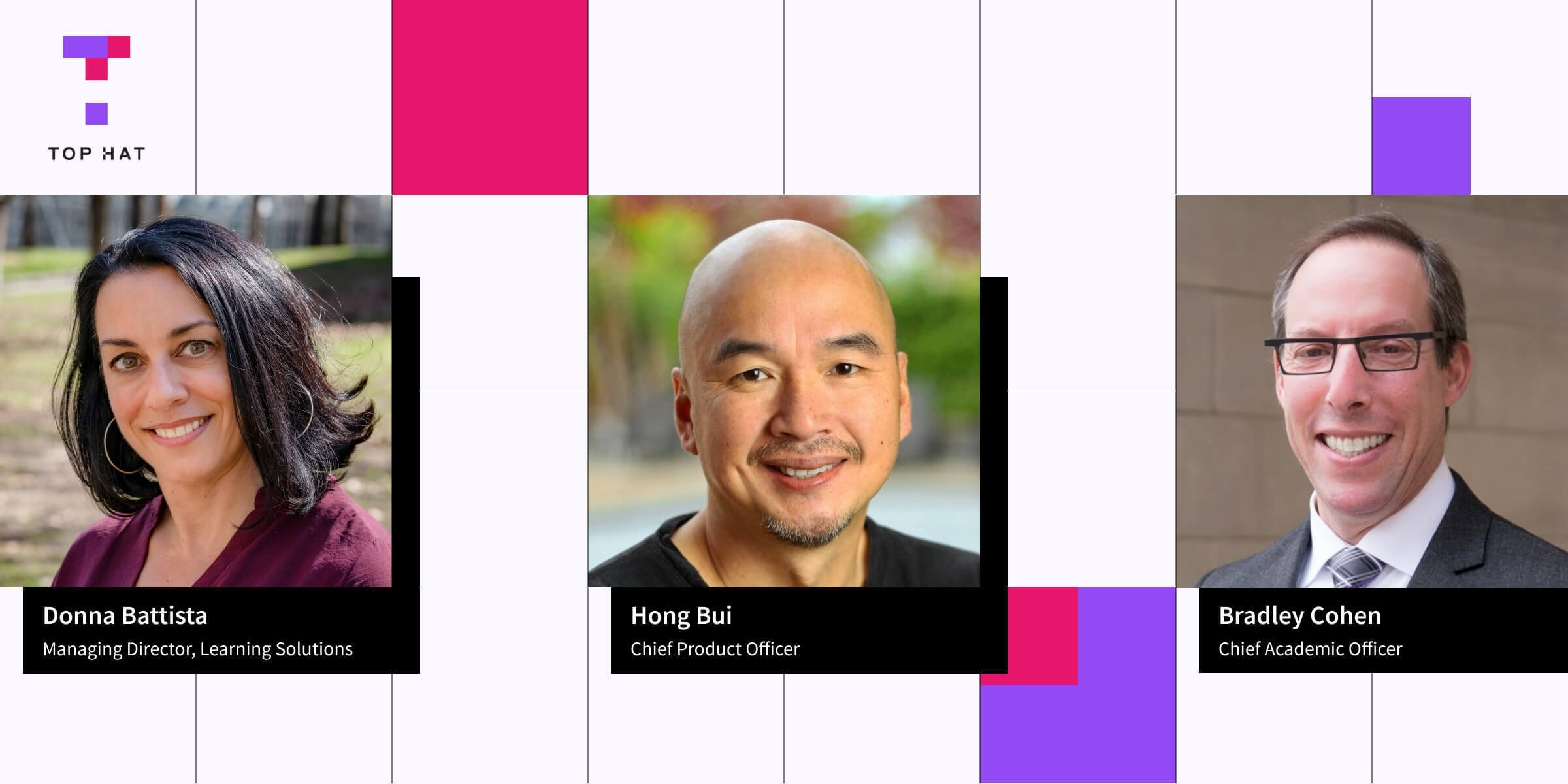 The appointment of three executives adds new depth and experience to accelerate the growth of Top Hat's dynamic courseware platform across North American colleges and universities
TORONTO — May 25, 2022 — Top Hat, the leading dynamic courseware platform for higher education, is delighted to welcome Hong Bui as Chief Product Officer, Bradley Cohen as Chief Academic Officer and to announce the promotion of Donna Battista to Managing Director, Learning Solutions. The appointment of three seasoned executives to the company's senior leadership team adds a number of complementary strengths that will enhance Top Hat's ability to bring next generation educational technology to colleges and universities across North America. This includes deep experience in consumer and enterprise product design under Hong Bui, digital publishing and content strategy under Donna Battista and both academic and institutional executive experience under Bradley Cohen.
"Hong, Bradley and Donna infuse our executive team with the domain expertise, fresh perspectives and proven leadership we need to accelerate our mission to transform the learning experience for millions of students across North America," said Joe Rohrlich, CEO of Top Hat. "We are tremendously excited to welcome these accomplished individuals as we empower educators to deliver meaningful, personalized and equitable learning in every course."
Hong Bui joins Top Hat from GoDaddy where he led the organization's security business across its global brands portfolio. Hong brings over two decades of senior executive experience developing and launching products on behalf of industry luminaries such as Amazon, Expedia and Apple. As Chief Product Officer, Hong will be responsible for driving Top Hat's product innovation to increase value to students and academic institutions, and enhance the company's competitive positioning and business growth.
Bradley Cohen brings 25 years of academic and executive leadership experience to the role of Chief Academic Officer, having served most recently as Chief Strategy and Innovation Officer at Ohio University. A former faculty member, senior vice provost and academic technology officer, Bradley will provide leadership and advocacy within the higher education community as well as strategic guidance to support Top Hat's product development, digital publishing and institutional engagement strategy.
In her role as Managing Director, Learning Solutions, Donna Battista will oversee the strategy and development of Top Hat's growing catalog of high quality, interactive digital learning experiences, custom content delivery and content services. Prior to joining Top Hat as Vice President, Content Strategy, Donna held senior executive positions at Burning Glass Technologies and Pearson Education where she served as Vice President, Product Management.
"We believe higher education is at an inflection point as institutions seek to deliver learning experiences that are more accessible, equitable and consistent with the needs and expectations of today's students," said Rohrlich. "Our latest appointments reflect our commitment to serving as an innovative partner dedicated to helping institutions improve student engagement, outcomes and retention."
Over the past year, Top Hat has made significant investments in its senior leadership team to accelerate its growth strategy. Recent appointments include Matt Schurk as Chief Revenue Officer, Jessica Hately as Chief Legal Officer and, most recently, Maggie Leen as Chief Marketing Officer.
About Top Hat
Top Hat is North America's leading dynamic courseware platform, enabling educators to employ proven student-centered teaching practices through interactive content, tools, and activities in in-person, online and hybrid classroom environments. To accelerate student impact and return on investment, the company provides a range of change management services, including faculty training and instructional design support, integration and data management services, and digital content customization. Thousands of faculty at 750 leading North American colleges and universities use Top Hat to create meaningful, engaging and accessible learning experiences for students before, during, and after class.
Contact
Top Hat
Eric Gardiner
eric.gardiner@tophat.com