Over the past decade, digital textbooks have become the norm in many college classrooms. That may sound like progress, but there's an issue: Digital doesn't mean dynamic. Many of these digital texts are just retro-fitted versions of legacy print titles and professors have to use them as they are. It's 2022, and that needs to change. That means providing educators with complete control over what their students watch, read and do with their text, while giving learners the ability to engage with up-to-date, personalized content—an experience they've become accustomed to outside of academia.
As an educator, you should have full autonomy over how, and what, your students read in your textbook. And that's where Top Hat's dynamic courseware comes in: We let you make any textbook your own. Want to swap out or alter images, assessment questions, or sections of a chapter? No problem! With Top Hat's dynamic courseware, you can personalize course materials any way you want—down to the individual words, photos or videos that appear in the text.
Not only does this completely disrupt the slow-to-change textbook market—offering functionality no publisher allows—but it helps you create learning experiences that are personalized, inclusive and designed to prepare students for their careers.
Here's how we can help you bring your dream courseware to life and meet the needs of a digital-first generation.
→ Browse the Top Hat Catalog for hundreds of dynamic textbooks
Top Hat's dynamic content responds to how students learn best
Top Hat's dynamic courseware has completely flipped the traditional textbook model on its head—much to the delight of Generation Z. Students who use Top Hat have become increasingly aware that dynamic and digital aren't synonymous. In a survey of 2,000 undergraduate students, 85 percent stated that content in Top Hat was more engaging than that found in a traditional textbook.1
We've redefined customization by letting you add, remove or alter multimedia, sentences, case studies, assessments and more for any title. You can reflect real-time events and milestones from your industry and give students the experience of engaging with up-to-date content that they're used to in their personal lives.
Better yet, students can access their textbook, lectures, discussions and more in the same platform, making it easy to retrieve all materials. And when you assess students from anywhere—with in-class polls and quizzes, and on their own time with homework readings—the results are captured in one single place, providing insights into how students are performing at the individual and class level.
Below are just three ways our dynamic courseware is changing the game for educators and students alike—and disrupting the legacy textbook model in the process.
1. Keep learning current and relevant
Top Hat ensures your students are always learning from the most up-to-date material. We regularly provide in-app content updates that you can automatically deploy to your students at any time throughout the semester, making sure the material in your book is never stale.
We also make it easy for you to increase student engagement with course material that reflects what's happening in the world. Edit any aspect of a book from the Top Hat Catalog any way you like. You can add in the latest developments related to COVID-19, political policies, or the stock market. That's exactly what Vanderbilt University economics lecturer Stephen Buckles did. By offering timely case studies and news stories related to the January 2021 GameStop stock phenomenon, Buckles' book is uniquely positioned to pique his students' interests.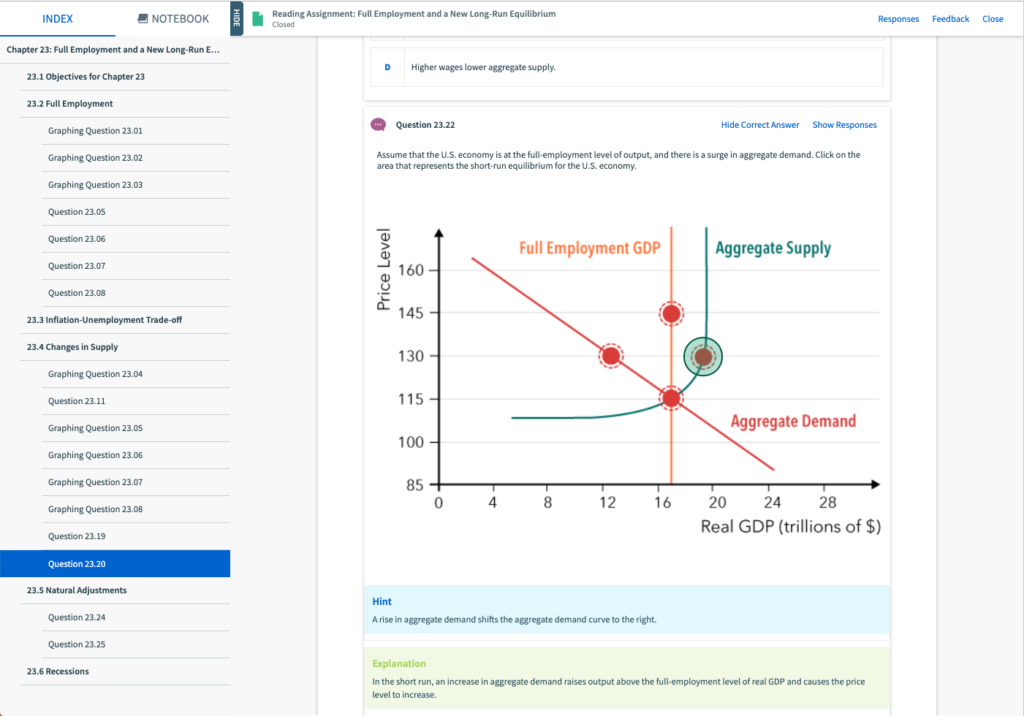 You can also give students a greater sense of connection with the material they're reading about, like Nicole McNichols, psychology professor at the University of Washington, did. When co-authoring her Top Hat title A Critical Introduction to Human Sexuality, she was able to embed videos, podcasts and news stories—bite-sized formats that appeal to today's learners. Christina Nguyen, one of McNichols' students, appreciated the additional relevancy that came with this approach: "Course concepts are that much more real when you can hear from someone who has lived experience with what you're learning about," she shared.
2. Represent all students in your course materials
When students see themselves and their unique lived experiences in your material, they're more likely to be invested in your course. Top Hat's robust customization capabilities make it possible to represent the diversity of your students, letting you substitute or re-write examples that are specific to your class. Further reflect the experiences of your cohort by embedding questions throughout and using trends to tailor your material accordingly. Here are just a few examples of how Top Hat's dynamic courseware helps make all students feel seen.
Edit content at the chapter, section, or sentence level: Customize content in your courseware to reflect diverse student names or experiences. For instance, within case studies, you may swap out any overused names and instead add in names that resonate with your students.
Promote equity by adding in relevant media and case studies: Use students' comfort level and familiarity with certain concepts to your advantage. Customize and swap out interactive components (videos, simulations, diagrams and more) in your text based on student strengths and challenges. For example, you might add in a case study on a human sexuality topic previously seen as taboo in order to facilitate an open dialogue.
Customize the assessment experience: Assign homework questions within your textbook to certain students who may need a refresher. Custom start and end dates can be provided based on student needs and concerns beyond your course. Plus, you can offer multiple attempts per question, giving students several opportunities to apply their knowledge without penalty.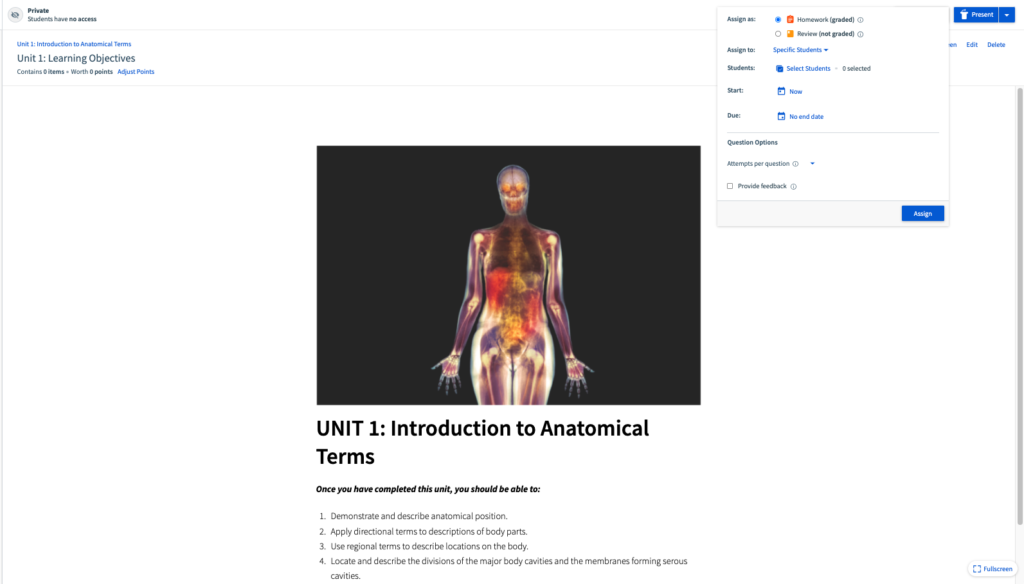 3. Prepare students for the workforce
A college degree is still largely thought of as a stepping stone to landing a professional career post-graduation—though students don't often feel that their learnings make them job-ready. Bridge the gap between your class and the workplace. Top Hat's dynamic courseware is designed with application and skill-based learning in mind.
Top Hat's dynamic courseware allows you to reflect students' career paths and the skills they'll need through discussion questions and case studies. Matthew Badtke, Science Department Chair and Professor of Biology and Chemistry at Jackson College, did just that by authoring his own Top Hat textbook, 19-COVID Questions. Badtke is able to tailor his content to meet the needs of future front-line workers—helping every student get comfortable with today's evolving health landscape. "Many of the students in my public health course are interested in a career in health care. I'm able to ask them about how they would interact with patients using the information on COVID-19 presented in the textbook," he shares. As the pandemic continues to evolve, so does Badtke's textbook. "I've been able to update the textbook as new information is reported on COVID-19—which is really important for a changing pandemic."

Let Top Hat Content Services help you create your dream content
No two courses are the same. That's why we're dedicated to helping you create dynamic content that addresses your teaching needs and responds to the unique experiences of your students. At Top Hat, we've introduced new Content Services to give you the personalized, one-on-one support you need to get there.
Top Hat's Content Services offer flexible authoring tools as well as access to instructional designers throughout the courseware creation and conversion process. Our team can help convert your print textbook to an engaging, interactive format or assist in the creation of all-original material and custom textbooks. Instructors in the sciences can also take advantage of custom lab authoring support.
Offered as part of our Content Services, our new Co-Development Partner Model will ensure your courseware is affordable, engaging and diverse. Here's how.
A collaborative effort: You'll meet with Top Hat partners to develop a project plan and share desired learning outcomes and content requirements for your specific title. We'll use these specifications to make sure we deliver on your goals.
A cost-saving process: We offer access to instructional designers and resources to help you create your dream courseware. The best part? We'll cover all associated costs, making sure finances aren't a barrier to student success.
An emphasis on access and equity: We'll support you in developing accessible courseware built on a foundation of equity and inclusivity. You'll also be given the chance to review and provide feedback regularly, making sure your voice and background are adequately represented.
Join the thousands of professors who have made the transition to Top Hat's dynamic courseware. Get started by exploring our new Top Hat Catalog, filled with interactive, customizable titles that you can make your own in minutes.
References
Fall 2021 Top Hat Student User Survey. (2021). Top Hat.