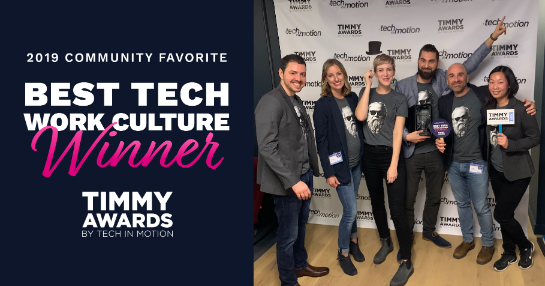 TORONTO – Top Hat, the leading active learning platform for higher education, today announced it won Tech in Motion's 2019 Best Tech Work Culture at the annual Timmy Awards ceremony. Tech in Motion revealed the results from public voting at a live ceremony. Top Hat took home the "Community Favorite" award after more than 40,000 votes were tallied in the Timmys, which recognizes the top places for tech professionals to work in 10 cities across North America.
The Timmy Awards were created by Tech in Motion and focus on bringing together local tech communities to meet, learn, and innovate. The Timmy Awards aim to celebrate regional tech communities and the companies and individuals leading the way to create the best places for tech professionals to work. Companies are evaluated based on their culture, values, and practices.
"Top Hat's mission is to make higher education more fun and effective so that educators are empowered to help students succeed," said Mike Silagadze, founder and CEO, Top Hat. "It's a big mission supported by a smart, talented, and driven team of people who are excited to be part of something meaningful. I'm proud to see our community of Top Hatters, customers, and their colleagues recognize the team for our efforts."
"The Timmy Awards allow the community to highlight the companies building a team worth joining and a culture worth working for," says Mandy Walker, Director of Marketing at Motion Recruitment, creator of Tech in Motion. "With tech unemployment at a 19-year low of 1.3%, it goes a long way that the local community chose Top Hat to represent the top workplaces and opportunities for technical talent."
The selection criteria for the Best Tech Work Culture is based on the following:
Committed to building a technology work culture that leads from the front

Actively promotes technical creativity, innovation and learning

Instills values that promote the idea that great ideas can come from anywhere

Rewards and encourages contributions from the entire tech team
With a focus on continually improving student outcomes, Top Hat has launched a number of initiatives to effect real change in the world of higher education.
In June, 2019, Top Hat awarded scholarships worth a combined $100,000 USD to five exceptional North American students for their academic achievements and the positive learning environments they helped foster.
In August, 2019, Top Hat Top Hat announced that all its products are now integrated into a single, seamless platform, making it easier for professors to manage assignments, discussions, tests, and grades, and identify early those students at risk of withdrawing from or failing their classes.
About Top Hat
Top Hat's interactive, cloud-based teaching platform enables professors to engage students inside and outside the classroom with compelling content, tools and activities. Millions of students at 750 leading North American colleges and universities use the Top Hat teaching platform. earn more by visiting https://tophat.com.
About Tech in Motion Events & The Timmy Awards
Tech in Motion is a North American event series that brings local tech community professionals together to connect, learn, and innovate. What started as a collaborative project in 2011 between IT recruiting firms Jobspring Partners and Workbridge Associates, part of the Motion Recruitment network, grew into an organization of over 190,000 members across 12 chapters in North America including Atlanta, Boston, Dallas, New York, Philadelphia, DC, Chicago, San Francisco, Silicon Valley, LA, Orange County and Toronto. Please visit techinmotionevents.com for more information about notable speakers, sponsors and events.