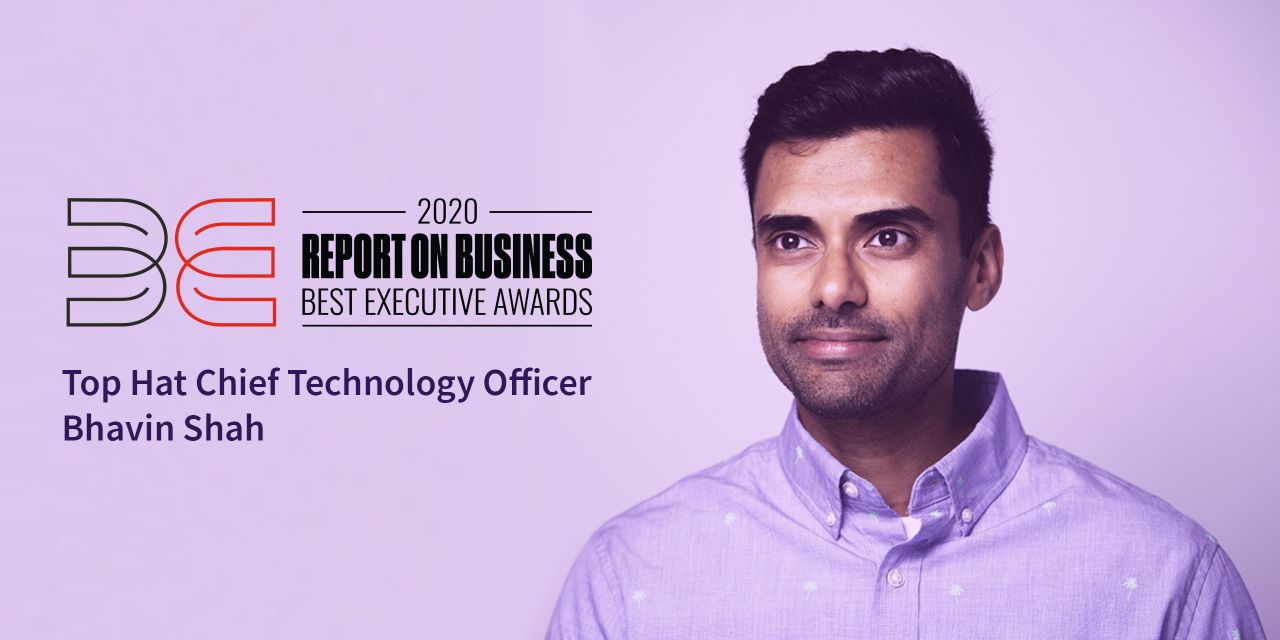 Shah's proven track record of customer focus and technical innovation recognized with award from The Globe and Mail celebrating excellence among non-CEO leaders
TORONTO – October 30, 2020 – Top Hat, the leading active learning platform for higher education, is thrilled to announce that its Chief Technology Officer Bhavin Shah has been awarded an inaugural Report on Business Best Executive Award.
The Report on Business Best Executive Awards is a new annual program to celebrate excellence among non-CEO leaders at the SVP, EVP, and C-suite (or equivalent) levels. The 50 winners chosen for 2020 represent the best of Canadian leadership in five functional areas: Finance; Human Resources; Operations; Sales and Marketing; and Technology.
Shah was one of only 10 winners in the Technology category.
The onset of the COVID-19 pandemic has created enormous uncertainty for educators around how they will deliver courses to students in a way that brings active learning to life. This award acknowledges Shah's role in leading Top Hat's efforts to build a platform that provides flexibility to support all teaching scenarios, while ensuring the experience is as engaging as possible.
"I'm truly humbled, but this recognition is really a testament to the incredible work our team is doing to transform the higher education experience for students and educators alike," said Shah. "I consider myself very lucky to work alongside such a mission-driven and passionate group of people who care so much about each other and our customers."
"Bhavin is a caring and thoughtful leader, and his impact on Top Hat's business and team is far-reaching." said Mike Silagadze, founder and CEO, Top Hat. "Bhavin has been instrumental in elevating Top Hat's technical development — particularly during the past six months as we've rapidly launched new products and acquired companies to serve the evolving needs of higher education. His unique mix of empathy and intellect is a tremendous asset for his peers and his team, and I speak on behalf of every Top Hatter when I say this recognition is very well deserved."
The Globe and Mail launched the Report on Business Best Executive Awards early in 2020. Winning executives were chosen after a call for nominations for leaders at Canadian public and private businesses, and the competition was later opened to include executives at not-for-profits, government institutions and/or academic institutions. Nominations were assessed by the Report on Business editorial team based on career background, leadership style, achievements, and impact.
Winners of the Best Executive Awards are profiled editorially in the November issue of Report on Business magazine, out online on October 30 and in print October 31.
To learn more about the Best Executive Awards program, and to see this year's winners, please visit www.tgam.ca/BestExec.
About Top Hat
Top Hat is the only all-in-one courseware platform that enables active learning—a proven student-centred teaching pedagogy that promotes deep understanding, critical thinking, and subject mastery—with interactive content, tools, and activities. Millions of students at 750 leading North American colleges and universities use Top Hat to teach and engage with students before, during, and after class, in both in-person and online education.
Media Contact: Dianna Lai Read, dianna.lairead@tophat.com