Top Hat
Black Educator Grant Program
Program Goals
Top Hat recognizes that supporting diversity in learning ultimately leads to better student outcomes. That's why we're inviting proposals for our grant program to examine Top Hat's impact on teaching and learning. This could include a range of topics, including (but not limited to) using discussions to increase critical thinking skills, leveraging questions to ensure every student has a voice, using an interactive textbook to drive student engagement, and incorporating different teaching methods to create an engaging and inclusive learning experience.
The purpose of this specific grant is to provide support to the Black academic community who, in the past, have faced unequal access to funding. Top Hat is accepting proposals from Black educators for research/evaluations that study the efficacy of Top Hat in their courses or in a wider field of study.
Top Hat's active learning app helps professors engage and motivate students in online, blended and face-to-face courses. With a wide range of products—from attendance to 15 different question types to interactive textbooks—Top Hat provides educators with the tools for an equitable and inclusive learning experience. For more information visit tophat.com.
Details
Amount: $10,000 research grant available depending on the scope of work—plus, free access to Top Hat for up to 100 students for one semester or term of the study
Proposal Submission Deadline: March 31, 2021
Study Timeline: Successfully funded projects may take six months (one semester) to 18 months (4 semesters) to complete
Eligibility: The candidate demonstrates the following criteria:

Is/will be an active user of Top Hat for the study time period
Has knowledge of or experience with educational research
Is able to commit time to conducting the research alongside teaching and/or administrative responsibilities
Identifies as a Black educator (i.e. professor, instructor, adjunct etc.)
Example Research Topics
Below we have listed ideas for potential research topics. Applicants may choose one (or a combination) of these or propose their own topic of interest, so long as the outcomes are focused on one or more of the following: faculty effectiveness, student engagement and learner outcomes. See the following framework as a reference: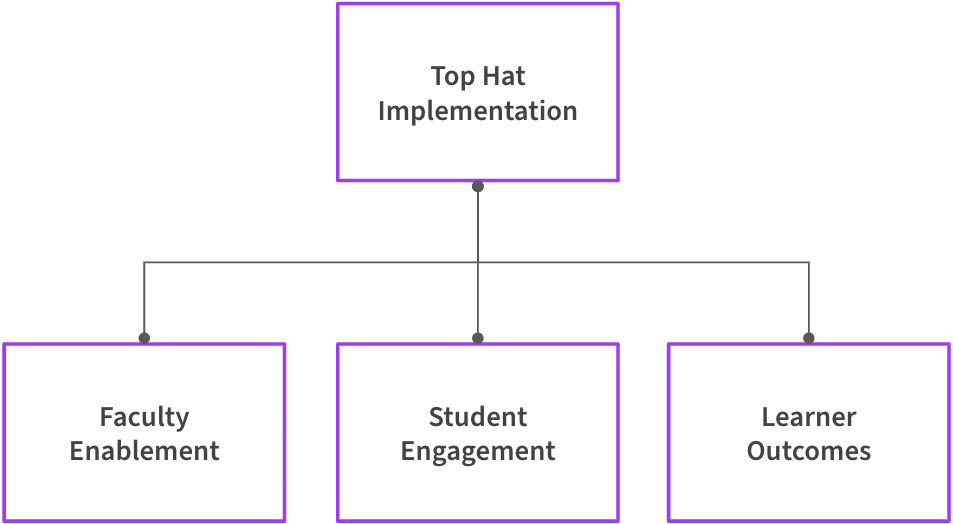 Example research topics may include the implementation and/or impact of Top Hat on:
Diversity in learning
Students' sense of belonging and community
Affordability and inclusivity
Student performance (exam or course grades)
DFW rates
Supporting specific teaching approaches (e.g. Flipped classroom)
Criteria for Selection
Data collection for Top Hat's 2021 Grant Program studies should be intended to take place beginning during the 2021–2022 academic year.

The grant program recipient must:
Obtain Internal Review Board approvals or exemptions prior to beginning research
Submit their findings to a reputable journal for publication and submit a final executive summary to Top Hat
Present their findings at either an in-person or virtual event hosted by Top Hat
Proposals will be reviewed and evaluated according to the following criteria:
Ability to lead significant, positive changes in student learning
Potential to produce quality scholarship
Likelihood that the project will be successfully completed
Application Process
Applicants must complete this submission form by March 31, 2021.
The Top Hat team may reach out to applicants with further questions. The selected applicant will be notified by May 2021.
If you have any questions about your submission, please reach out to Allison Macleod at allison.macleod@tophat.com.