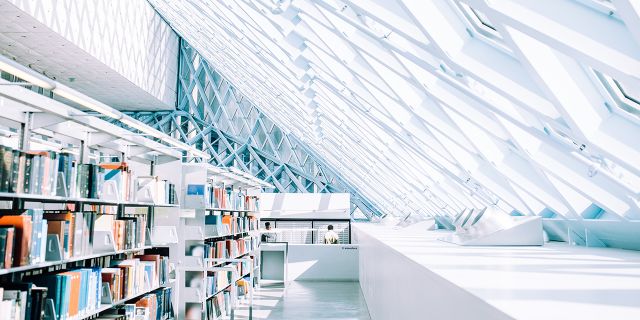 Ever wondered what writing interactive textbooks might be like? This summer, we sat down with professors who've gone through the process to find out about creating a text using Top Hat's authoring tool. The four-part webinar series provided insight into the creative process, explored the merits of digital authoring and demonstrated how interactive textbooks have improved students' lives.
Here are four things we learned from the series:
The way students learn and digest information has changed

Since beginning his teaching career, Stephen Buckles, senior lecturer of micro and macroeconomics at Vanderbilt University and the lead author of Principles of Microeconomics, has witnessed a shift in how his students learn. "They are much more involved in and aware of technology and all the good—and challenges—that it can provide." As a result, faculty have to compete for students' attention and time, both inside and outside the classroom.

Students' expectations are higher. Competition for time is more intense. "I can't compete with current technology. I decided to join them."

— Top Hat (@TopHat) June 22, 2017

Andrew Wegmann, assistant professor of history at Delta State University and a contributing author on the United States History Text, echoed this sentiment. "Students think, write and socialize on their smartphones and laptops," he said. "By using a textbook in the same medium, you're helping them make connections and engage with the subject."

When we asked Sara Eskridge, professor of history at Randolph-Macon College and the lead author of our United States History Text, about how her students learn, she didn't necessarily think existing textbooks were inadequate—rather, they were out of step with what the modern student wanted.  "Students weren't reading the book—they were trying to find the responses from Wikipedia, as opposed to reading the stuff that I assigned to them."

Subscribe to Top Hat's weekly blog recap

Get the best posts of the week delivered to your inbox:

Active learning is better than passive learning

Students learn more when they are actively involved in the process, and this is something that all of our educators agreed with.

Deborah Carroll, professor of psychology at Southern Connecticut State University and a contributing author on Statistics for Social Science, said the ability to embed learning checks and questions within the text can make a huge difference. "It gives students practice halfway through each chapter. [It forces them] to say 'Did I really understand that?' With the checks, students are able to apply the material they've learned right away, as opposed to passively listening and then going home and only understanding later what they did and did not get."

At first, Clarissa Thompson, professor of cognitive psychology at Kent State University and contributing author and editor on Research Methods in Psychological Science, found that her students were resistant to being in charge of their own learning. "The interactive questions can help them monitor their progress. If they're not doing well, it will get them to pause and go back and reread a section so they can better understand it."

Peer to peer interaction is common in Kwame Brown's classrooms. "I do lots of case studies and real time stuff," said Brown, professor of psychology at Hampton University and contributing author on Introduction to Psychology "I like to work current events into class."

Adding audio and video components into the texts proved to be a game changer. With the addition of these features, Eskridge said, students got to hear and see President Roosevelt's speech, as opposed to just reading about it. "It gives them a lot more context. Not only that, but they'll be able to engage with that primary source and then the questions that come after can turn into a group online discussion and a homework assignment."

Traditional textbooks don't change fast enough

One of the benefits of writing interactive textbooks is that they're much easier to update.

"I love that [the textbook] is a living, breathing document," Thompson said, "and that we can take the feedback of professors and students and make changes—that's so important. If we're taking into consideration the needs of students, we'll attract more of them to this product, and that will help them learn."

Carroll noted how difficult it can be to find the perfect textbook for your course. The texts she used to rely on often contained content that wasn't relevant to her particular teachings. "[Traditional textbooks] cannot be easily customized without involving the publisher, a long wait time and, usually, a big expense to the students," she said. "Using an interactive text eliminates this problem, because each text can be customized to suit the individual needs of the instructor."

Writing interactive textbooks means more collaboration
The ability to work nimbly as a writing team was a refreshing change for our authors.
Brown says he loved how quickly the team could collaborate electronically. "[In the past], it would take months to get feedback."
For Thompson, working with a diverse group of authors was a plus—bringing different areas of expertise to the textbook, she said, made for a great read for the students.
For Eskridge, the fact that she was given full leeway to choose her team helped. She was able to reach out to her personal network, find people with expertise in different historical specialties, and discuss what they could bring to the subject. A traditional publishing company rarely offers such a collaborative option.  
Technology is changing the education landscape, and these new developments can leave some feeling like they are being left behind. But as Brown aptly put it: "I think sometimes, as adults, we get resentful almost when the younger generation has better tools than we did. I'm glad that my students have this technology at their fingertips. I'm glad they don't have to use a card catalog.
"I think if we use it right and we teach them how to use what they have, they have the capability of being better than us. That's what I'd like to see them do—to marry what they have that's special about them with the wisdom we can provide to them."
.@drkmbrownTNN: Adults sometimes get resentful about the tools that students have at their disposal. No more card catalogs!

— Top Hat (@TopHat) September 14, 2017
Register to watch our full webinar series all about writing interactive textbooks by visiting this page.
Related pages
Learn more about Top Hat's course authoring software