The year 2020 has been one for the books—especially for academics. Some had to teach online for the first time. Others had to grapple with balancing a more strained work-life balance. Plus, trying to form a sense of belonging and community with students proved especially trying in a remote world.
We recently polled instructors in the Pandemic Pedagogy Facebook group on their hardships this year. We've summarized their responses in five themes below—and provided some actionable advice to take with you into 2021.
A growing time commitment
Classes that come with a collaboration component can make for unwanted time crunches. This educator shares how instruction is eaten up by Zoom technicalities.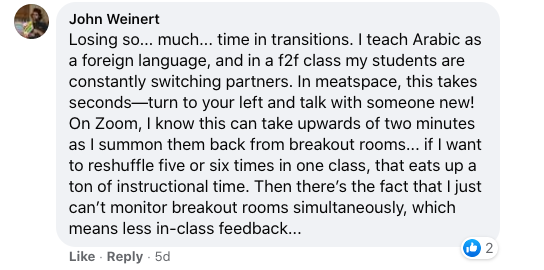 Grading has been a burden for some professors—especially when providing detailed and timely feedback online. Thoroughly reviewing student assignments does have its bright spots though, as Merv Matthew, Instructional Associate Professor at the University of Mississippi, found.


Scheduled meetings have since replaced informal, in-person catch ups amongst students and their instructors. As Kris Harrison, Virtual Professor at the University of Michigan, notes, Zoom meetings can be extremely draining, especially at the end of the semester.


How to address overworking: If possible, consider splitting grading responsibilities with your TAs. Alternatively, multiple-choice or single-word answer questions may be graded automatically in your learning management system (LMS) or in Top Hat. To empower your learners, consider the Top Hat Community app. Students can create custom discussion channels and host video calls when it comes time to completing an activity.
Too much, or too little, communication with students
Students may bite off more than they can chew with remote learning. Courses, for example, can be mixed with social events and virtual gatherings. Susan Ficken, Assistant Professor of Mathematics at Anne Arundel Community College, shares how this has strained students' communication with her.


It's hard to gauge who is struggling in an online learning environment. Beth Rosenson, Associate Professor in the Department of Political Science at the University of Florida, voices her concerns with student accountability.


Another educator shares their challenges with student questions that can be answered in the syllabus or updates in a learning management system (LMS).


How to address communication challenges: Students may hesitate to reach out when they're experiencing non-academic challenges. Be lenient with your due dates and consider an assignment 'grace period' of up to a week to give students a second chance—even if they don't directly reach out to you. Develop an FAQ sheet with anticipated questions related to due dates, grading and more. This can serve as students' one-stop shop for course questions before they email you.
Infinite silence during live classes
Online learning has meant more structure and certainty—but fewer opportunities for spontaneity. Rhian Morgan, Senior Lecturer at James Cook University, discusses her struggle with limited chances to build community online.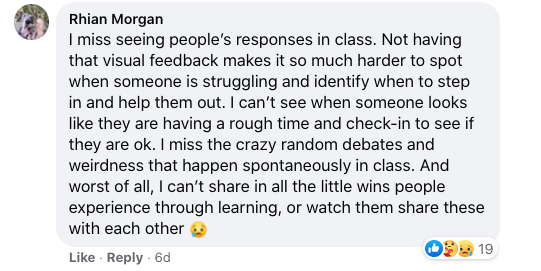 Not all students feel comfortable voicing their hardships in class or via email. Loni Kalk at Kauai Community College highlights her desire for intimate conversations with students in need of help.


Fatigue, accessibility issues, mental health struggles and more may prevent some students from engaging with course material. Kate Nearpass Ogden, Associate Professor of Art History at The Richard Stockton College of New Jersey, shares her challenge with silence in the classroom.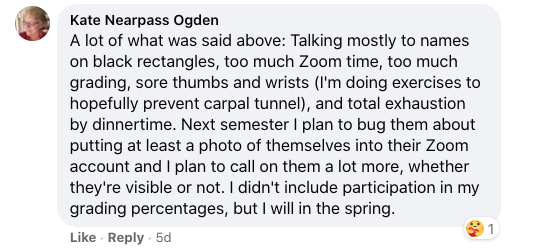 How to address participation challenges: Students may hold back on 'raising their hand' during class if they're not comfortable amongst their peers. Consider anonymous class forums or discussion boards where students can respond along with their student ID. Additionally, implement asynchronous participation when possible. This could mean counting participation as tweeting, responding to a question posed on a discussion board or submitting a video or audio recording when applicable.
Motivating students to attend class
Some students may be enrolled simply to get their course credit and proceed with their education. As this professor found, it can be hard to motivate students when they understandably have other priorities.


Live classes aren't always ideal—and can affect participation and attendance drastically.


Asynchronous engagement requires students to be accountable—but viewing lecture recordings can easily get pushed to tomorrow's to-do list. This educator voices her struggles with getting students engaged on their own time.


How to address student motivation challenges: Incentivize participation in your course. For instance, reward students with a one-to-two percent bonus for showing up to X number of classes. Alternatively, have students attend a webinar or extra-credit session for some bonus marks.
Becoming familiar with unfamiliar technology
There's nothing worse than losing Internet access halfway through a class or while inputting grades in your LMS. This professor voices her irritation.


With so much on the go, the most frustrating moment is realizing you haven't hit 'record' halfway through delivering a lecture. Sharon McIntyre, Consultant and Educator in Marketing, Entrepreneurship and Innovation at Mount Royal University, shares her struggles with Zoom in particular.


Asynchronous classes gave instructors a chance to make last minute adjustments to their course delivery. Sandy McGee, Adjunct Professor at Johnson and Wales University and the University of Rhode Island, shares that synchronous classes have only contributed to burnout and a lack of student engagement.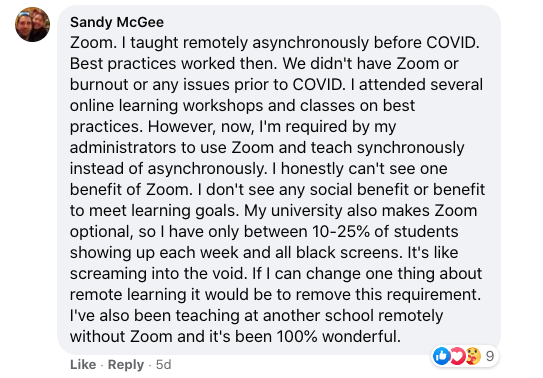 How to address technology challenges: If you're someone who struggles with remembering to hit record in your live class, consider building a recurring reminder in your calendar at the time that the class is set to begin. For those in rural areas or with poor Internet connectivity, you may want to record your videos on an external camera or phone first instead of directly in Zoom—or another platform that isn't dependent on Wi-Fi.
If you're experiencing Zoom fatigue, consider another tool like FlipGrid where you and your students can create asynchronous, bite-sized videos at your leisure. Additionally, incorporate discussions, breakout sessions and polls during Zoom meetings to keep students alert.
Top Hat's 2021 Online Teaching Toolkit gives you all the tools you need to build a virtual learning community. Get free access today.