Institutions are struggling to adapt to today's diverse student body: according to the National Student Clearinghouse Research Center, Hispanic and black students' graduation rates in 2018 were only 48.6 percent and 39.5 percent, compared with Asian and white students (68.9 percent and 66.1 percent, respectively).1
The push for inclusive teaching in higher education has only started happening recently, as more robust data on student achievement is becoming available. And the first thing that inclusive teaching addresses is the fact that traditional teaching methods have not served every student well.
Kelly Hogan and Viji Sathy, two STEM professors who lead innovative classroom and diversity administrative initiatives at the University of North Carolina at Chapel Hill and offer workshops on inclusive teaching, have noticed the shift. "National conversations on just about any topic have focused on inclusion in ways we've never seen before," the pair told Top Hat by email. "Our students are a part of these conversations and they are learning how to articulate discomfort and ask for what they need."
What is inclusive teaching?
Inclusivity is best described as a "mindset" that embraces a student-centered approach to teaching, rather than a reactive, teacher-centered approach.1 For John Redden, Associate Professor of Physiology and Neurobiology at the University of Connecticut, inclusive teaching means that if he's in his comfort zone, it "doesn't necessarily mean that's what's best for my class or that my students are comfortable."
Redden takes a broad view when talking about inclusivity: "It applies to LGBT groups, students of color, disabled students, first-generation students, and in many cases, we can include women." In practice, say Hogan and Sathy, "it means not blaming students for differences and planning course designs and classroom facilitation that are structured to work for more students… Imagine a core group of students that seem highly engaged in class discussions and a handful that rarely get engaged. Rather than blaming some students for behaving differently than others, we need to reflect on different methods we can use to ensure all perspectives are part of a conversation."
What educators can do to improve inclusivity
When it comes to closing the gap in college completion rates, Hogan and Sathy believe professors need to place student success at the center of their efforts, because the classroom is where many student difficulties originate. Whatever your starting point is, increased awareness of inclusive teaching is relevant in every discipline: "We have seen students grow in their confidence, performance, interest in our disciplines, ownership of their learning, and overall success."
Here are four strategies that have proven successful for a mix of students in the inclusive classroom.
1. Get to know your students
Asking students which pronouns they prefer is a meaningful way to establish an LGBTQ+-friendly classroom, says Redden: "I start my classes every semester by saying, 'I'm John Redden, I'm an associate professor, my pronouns are he/him/his.' I also include gender pronouns in my email signature."
"You just kind of establish it as the norm from the get-go, and that makes it easier for other students to volunteer their pronouns if they're comfortable. I think that's a really easy thing to potentially do."
We should ask ourselves often: for every choice that we make in our course design and environment, who might be excluded as a result of this practice?
A common mistake Hogan and Sathy see is faculty who come in expecting to teach the way they were taught: "It's difficult to see other perspectives without some effort, so we recommend that faculty learn more about their students' lived experiences in one-on-one settings, through surveys, and asking them about what makes them feel excluded/included in a classroom."
2. Check your assumptions
Academics are now openly discussing the fact that less privileged students have a difficult time making sense of their college experience, what many refer to as the "hidden curriculum" of higher education. Office hours are a perfect example, say Hogan and Sathy: "We often tell students when they are, but we don't tell them what they are and how they can be used (see Harvard professor Anthony Abraham Jack's new book The Privileged Poor). By providing more information [below], we are enabling all students to see the utility in meeting and not leave it to chance that some will know to use them and others won't."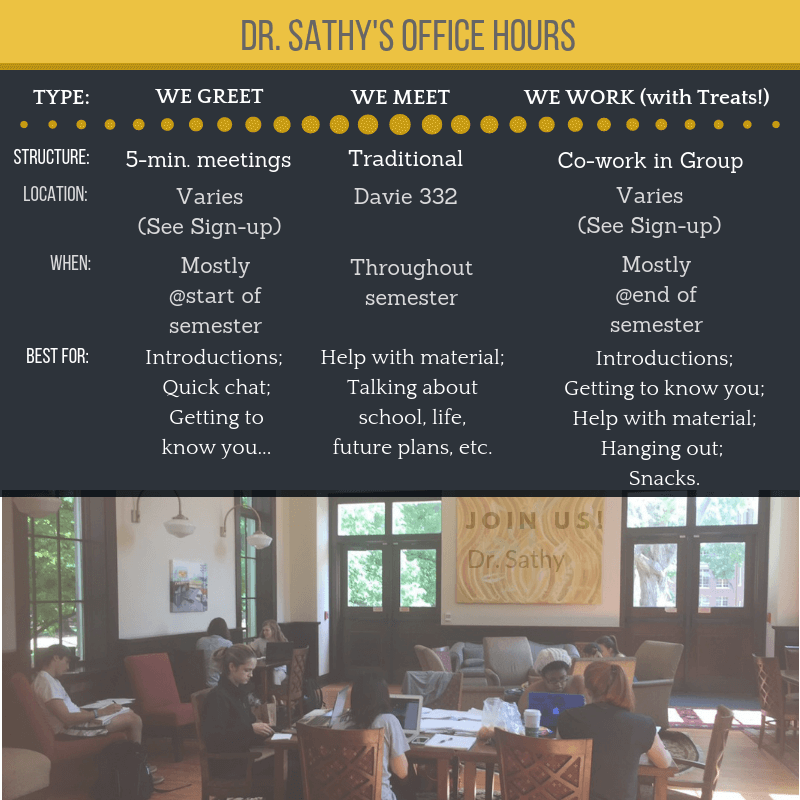 Redden also had to re-examine his own assumptions regarding the "hidden curriculum" and the challenges these create for disadvantaged students: "There are students that don't know what office hours are. Students can think office hours are the time when I'm in my office and don't want to be bothered because I'm working on a research project or something like that. But sometimes students don't know really basic things like that. It is so implicitly built into the core of every class that we do as instructors. It assumes that students have some kind of mentor or a parent or a sibling or a friend that can help them navigate through those situations."
3. Implement Universal Design for Learning
Universal Design for Learning (UDL) is a framework that guides the design of courses to benefit everyone involved in learning interactions. One low-stakes example of UDL is to require faculty to use microphones to build equity inside the classroom for students with disabilities. Overlooking this is one of the most common mistakes John Redden sees professors making. "A lot of times we have tech issues with the microphone or someone doesn't like to use a mic so they'll say 'Oh it's no problem, right? I'll just talk louder.' But in fact, that's actually a noninclusive practice because you have students who might have a hearing disability or students with devices that integrate with the classroom sound system."
Inclusive design can be as simple as a font choice, says Redden. "I make sure that I'm using a font that actually can be scaled up and isn't some weird handwritten font. I don't show graphs that are only red, green and black because that might mess with someone who is colorblind. There are lots of little things in terms of how we actually present information in the class that are not a lot of work but can make a big difference for someone's experience in the course."
4. Create a sense of belonging
Diversity in the classroom can be fostered within course design and the class climate perspective. Redden always looks closely at his course content for the absence of relevant perspectives. "If I'm looking for a picture of a person, am I going to pick a white person or am I going to take someone from some underrepresented background? Everybody knows if you just do a Google search for scientists that you can find old white guys in lab coats. It might be better to put more diverse images out there into the world to try to let people see themselves in that position."
Hogan and Kelly caution faculty to not just focus on diversifying the content of their classes, but also being more representative of different people and ideas. "Focus on making more students feel included in conversations, reading, taking notes and collaborating. We have both found that the act of telling all students 'you belong here' after a first exam and at other points in the semester is really powerful for students, particularly those who are doubting their abilities or feeling impostor syndrome."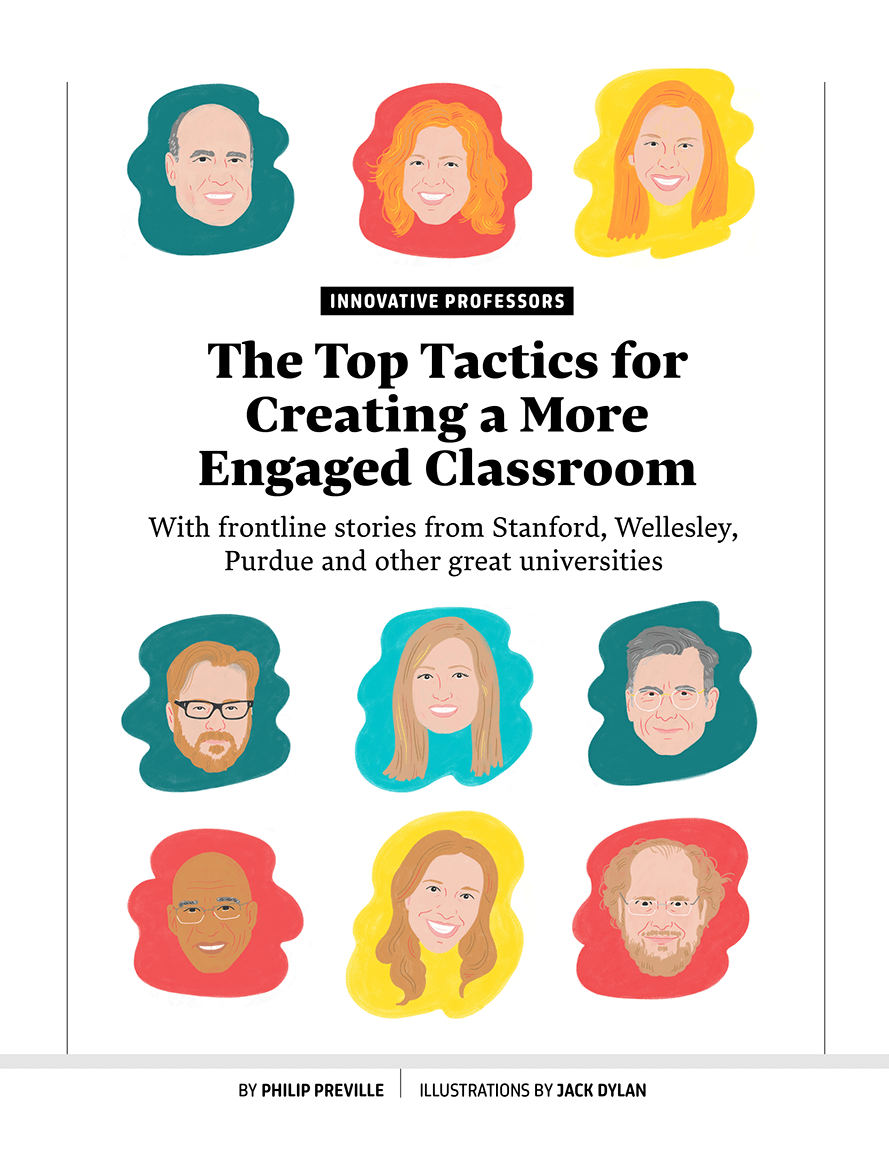 Read more
In need of some more inspiration to refresh your teaching?
Fill in the form below to get free exclusive access to our popular ebook, Top Tactics for Creating a More Engaged Classroom, containing 13 tactics you can try courtesy of some of North America's most innovative professors.
References
Completing College – National – 2018. (2019, May 15). Retrieved from https://nscresearchcenter.org/signaturereport16/