After Lisa Wold-Wendel, professor of higher education at the University of Kansas, flipped her classroom, she replaced the time used to spend lecturing in class with interactive case studies and active learning; her lectures are now recorded on video for students to watch before class.
She's not alone—71 percent of professors want to make their classroom more interactive, 76 percent incorporate digital material into their lessons, and 81 percent are using tech to improve active learning in class, according to Top Hat's 2018 Professor Pulse Survey.
Wold-Wendel explains her reasoning: "Students can take notes at their own pace, they can rewind if they need to, they can go back and watch them again later in the semester," she says. "And the technology allows me to see who has watched them and how much time they spend watching." That feedback even helped her to make some additional tweaks: "I noticed that no one was watching the 20-minute video segments," she says. "Now they are all 10 minutes long."
This reflects another issue among teachers—the need for student attention. Some 72 percent of those surveyed said that increasing student participation in class is important. However, only 42 percent say the majority of students actually do participate.
Professors are increasingly recognizing that sage-on-stage, stand-and-deliver lectures are no longer the best way to get through to students.
Some other interesting results for active learning proponents include:
55 percent of profs say their schools encourage the use of classroom tech
64 percent say they are allowed to experiment with course content
69 percent say their biggest challenge are students not preparing
72 percent say their primary motivation is teaching.
'Student growth and enthusiasm'
Our Professor Pulse Survey interviewed nearly 2,000 college faculty between April and July 2018, covering not just active learning but also politics, goals, career satisfaction — and of course, the thorny question of pay.
Salaries for adjuncts are confirmed as significantly lower than for full-time professors, the survey also adds. The most common response to the question on current salary by adjuncts in our survey was "less than $20K" a year (40 percent); for full-time professors, it was $60-80K a year (34 percent).
Despite the difference in pay, roughly equal proportions of adjunct and full-time professors (43 percent versus 47 percent) are hoping to introduce more active learning into class, as well as meaningful interaction with their classroom beyond the pulpit—as many anonymous respondents have explained.
"Being an adjunct professor I realize that I may not ever teach enough interested, talented, focused students," says one teacher. "I learn and enjoy teaching; witnessing student growth and enthusiasm is very rewarding."
"As a community college professor, I have the rewards of more personal contact with the students and not being overloaded with administrative and research responsibilities," says another. "At the same time I wish I had the time to do research but it is not possible teaching 17 credit hours each semester."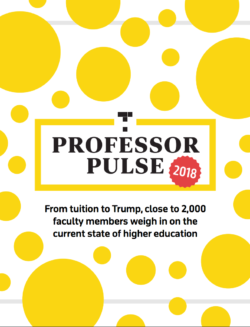 Free Ebook