In-class classroom response software, including Top Hat Classroom, has a profoundly positive effect on engagement—and a knock-on effect on grades, a new study in the March 2019 issue of the Journal of College Science Teaching says.
The study, authored by Andrew J. Petto, Distinguished Lecturer Emeritus in the Department of Biological Sciences at the University of Wisconsin–Milwaukee, covered two separate courses; a four-credit course for science non-majors, Human Structure and Function, examined over three semesters, and a separate large-lecture Introduction to Human Anatomy and Physiology Course.
In the large-lecture course, there was a statistically significant (p<0.002) positive association between an increase in students' final grades and the use of student response systems to promote in-class engagement and participation. "We experienced not only a difference in the ways that students were able to engage the material in class, but also in the way that the instructor was able to shape the classroom experience," said the study.
The courses did not just use content-based quizzing (knowledge checks) in class—in fact, this was only a minor component of the use of these technologies. Instead, the in-class engagement software, which included Top Hat Classroom, was used in three ways: "as a way of introducing a modified Socratic method for exploring issues of human biology; as a way to help students connect content to underlying themes and concepts that define the discipline; and as a way of supporting guided inquiry in analytic and computational approaches to contemporary problems in human biology."
The non-majors' course was taught with three different classroom response systems, one of which was Top Hat. In each of the three semesters the textbooks, curricula, rubrics, engagement material (and the instructor himself) were identical.
The engagement data was processed after all three semesters were completed. With Top Hat in particular, the odds of a student getting a C-grade or higher if s/he participated in 73 percent of the course or more were greater by a factor of 14, compared with a student that had an engagement rate below that threshold. (p<0.25)
"Although all three student response systems were used extensively over the course of the semester (often six or more question sets per lecture), the differences in their impact on students' final adjusted lecture grades varied significantly when used as intended in the course: to promote a modified Socratic method, to help students connect content to underlying themes and concepts that define the discipline, and to support guided inquiry in analytic and computational approaches to contemporary problems in human biology.
"This study points to the importance of aligning the intended use of the technologies and the learning outcomes to be assessed in the course when considering the relative effectiveness of the [classroom response system] options."
According to Petto, all platforms provided for increased engagement that helped students succeed, but Top Hat had a greater value added in that those who participated more got more out of the platform; with other platforms, minimal participation resulted in stronger effects. Petto adds that this direct link between regular participation and results gave the students using Top Hat a better understanding of the course material.
These findings are in line with several previous ones that have linked student response systems with increased engagement and grades. One meta-analysis of 51 studies found that there was a "positive, though moderated" impact on eventual student achievement, with greatest effect in "pure soft and applied hard sciences."1 But as the new study mentions, other studies have made the point that "student response system technologies are successful only to the extent that faculty make them an integral part of their pedagogy."2
Using a classroom response system in an integrated way—not just to test knowledge, but to support an active learning program—is straightforward with some simple templates. Discussion tools within software can help with peer review or think-pair-share, particularly in large classrooms. Even simple multiple-choice questions can be used, with segmentation of answers, in order to identify any issues with understanding.
If you're interested in learning more about active learning—and to hear more about how student response systems can increase engagement in any size or level of class—sign up to our active learning course below. It's free.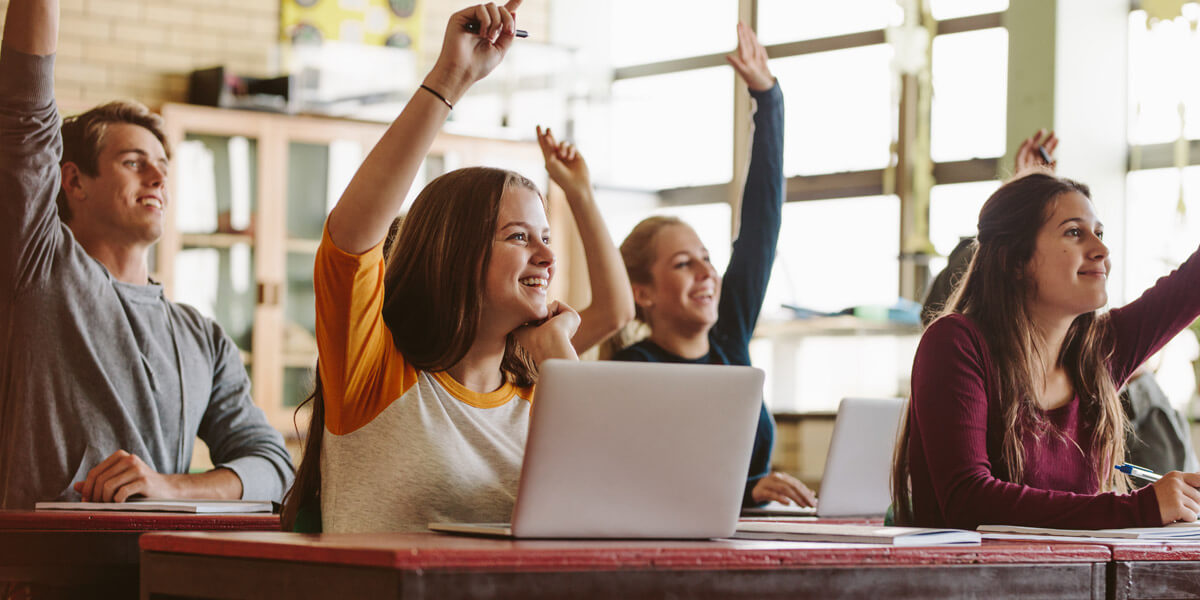 Sign up to our free active learning course
Our free online course, 'How to Implement Active Learning in Your Classroom,' will show you how to level up with new pedagogical techniques. Spots are filling up rapidly–enroll now to claim yours.
Fill in the form below or click here to find out more.
References
Castillo-Manzano, J. I., Castro-Nuño, M., López-Valpuesta, L., Sanz-Díaz, M. T., & Yñiguez, R. (2016). Measuring the effect of ARS on academic performance: A global meta-analysis. Computers & Education, 96, 109-121. doi:10.1016/j.compedu.2016.02.007
Related story
Activities for students in the classroom
Related pages
Learn more about Top Hat's online classroom software