In the leadup to the Fall 2021 academic term, the majority of college students had been looking forward to a return to campus. That is until the COVID-19 Delta variant began throwing plans into disarray.
How will the latest developments impact the new academic year, especially as so many students continue to experience challenges with mental health, financial concerns, and learning loss? Top Hat's latest survey of 1,524 college students shines a light on how the past 18 months have shaped student needs and expectations—and offers key lessons educators can apply to support students in the new academic year.
What's most clear is students are placing a premium on community and belonging and the value of what happens inside the 'classroom.' Despite the challenging environment, new opportunities abound. Online learning has not only become a viable and effective option in the eyes of today's students, but a preferred option for many. The irony is that after months of social distancing and our lives being constrained in so many ways, we've also enjoyed more flexibility in terms of the ways we work and learn. This flexibility has not only become an expectation, but a vital element in the academic success of many students.
Click here to download a SlideShare version of the report
The Student State of Mind
Students have experienced heightened stress throughout the pandemic. Economic, social, and academic upheaval have sapped motivation and confidence, contributing to already high rates of depression and anxiety.
Forty-seven (47) percent of students say managing their mental health remains a significant concern while almost one-third (31 percent) report feeling unmotivated and 28 percent express concerns about loneliness and isolation. These issues are no doubt being compounded by financial challenges (42 percent) and the issue of learning loss, with 32 percent reporting they were feeling behind, academically, before the school year had even begun.
The most common challenge among students is balancing their education along with other responsibilities. More than half (57 percent) worry about their ability to manage their schooling along with work, family, and other obligations. Flexibility around attending classes and submitting assignments has become increasingly important to wellbeing and academic success.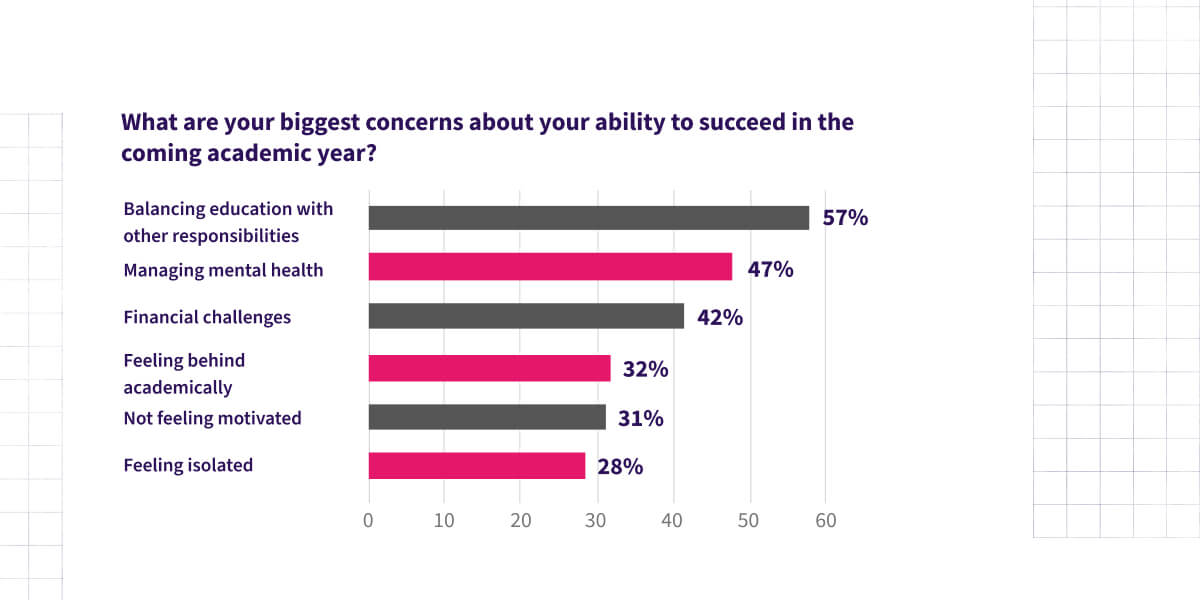 Barriers to Success
When students were asked about barriers to their ability to persist through the rigors of academia, economic challenges top the list at 62 percent, followed by academic concerns (57 percent), competing obligations (40 percent), and social concerns (30 percent) associated with feeling a sense of belonging at their chosen institution. For 29 percent, a lack of access to mentorship and support from faculty was cited as a potential stumbling block to academic success.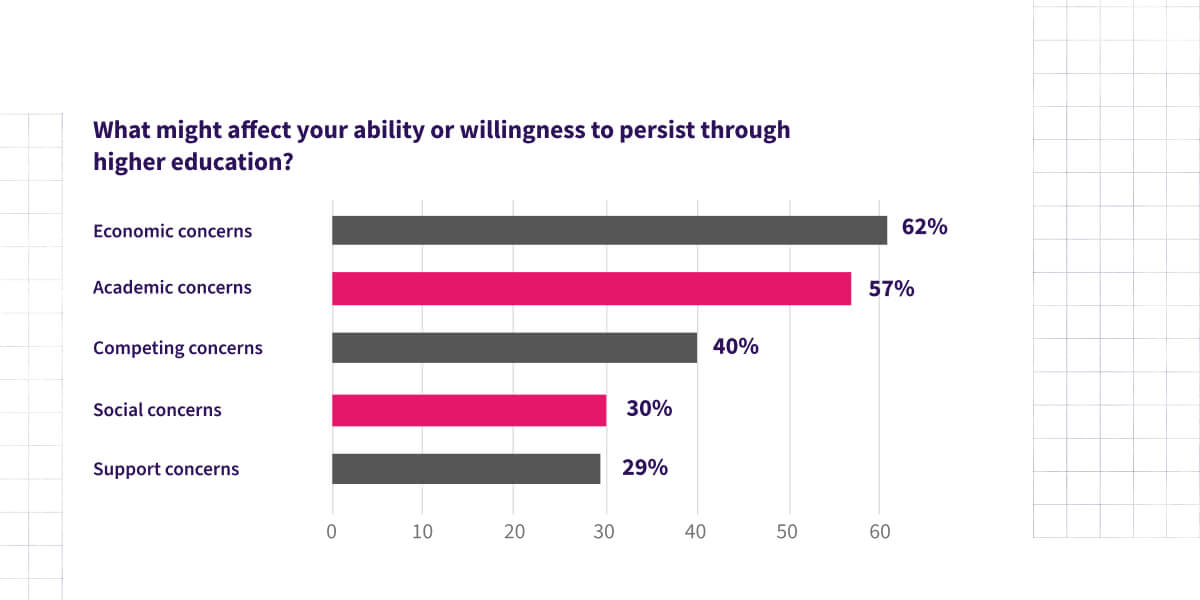 On the Issue of Student Confidence
While it is common for students to doubt their skills and abilities, the choppy and isolating experience of learning remotely has not exactly been a boon to student confidence. Only about half of students agreed that they deserve to be in higher education, and less than half feel a sense of belonging. And these issues may have compounded for some given the lack of preparedness many feel after more than a year of emergency remote learning.
This lack of confidence is more pronounced among students who identify as female. Female students are less likely to feel a sense of belonging or to say they have what it takes to succeed in higher education. Compared to students who identify as male, they are also more likely to believe they "are not as smart as others may think" and that "it's only a matter of time before people realize I don't belong here." Although the sample size is small, students who do not identify as either male or female are even more likely to struggle with a sense of belonging. They are also less likely to believe in their own aptitude and ability to succeed in higher education.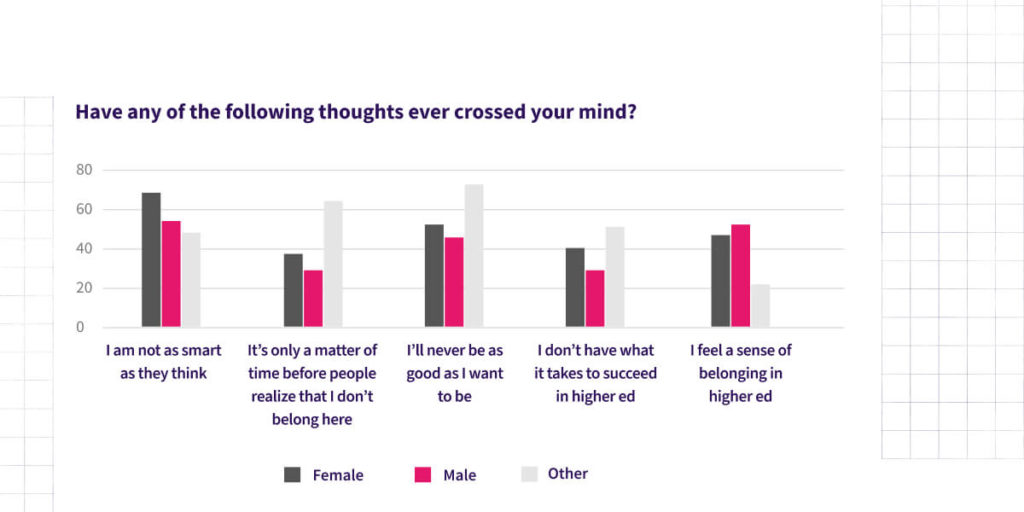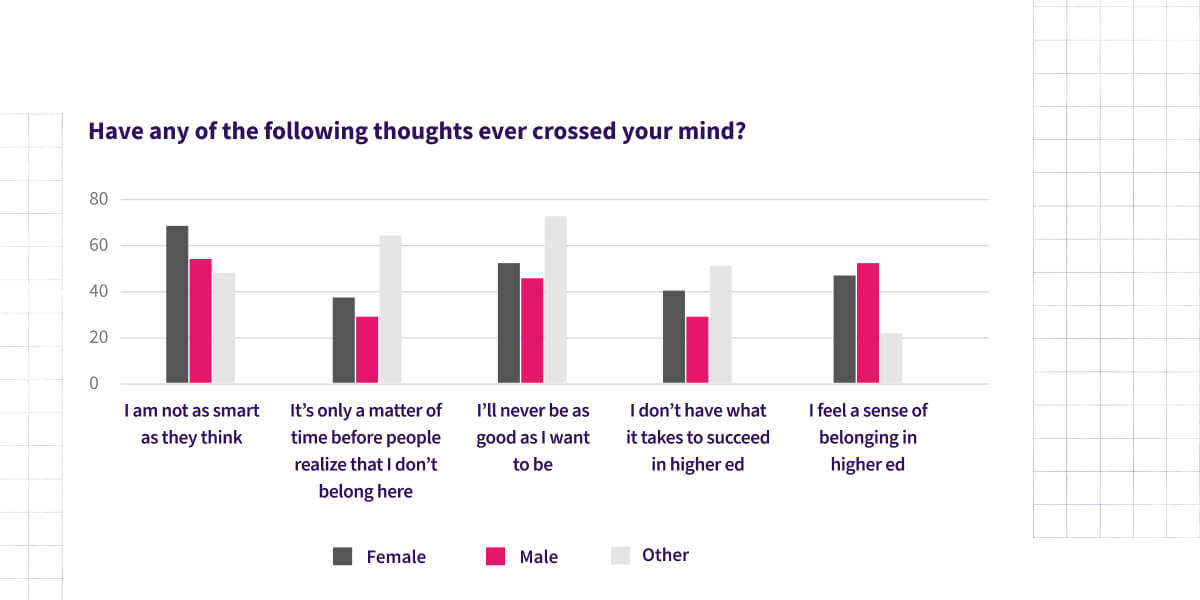 Prioritizing Community
In the leadup to the Fall 2021 term, many students were looking forward to the social experience of returning to school. Most noted the importance of engaging with peers inside the classroom (80 percent), and working and collaborating together (61 percent) as aspects they were looking forward to. These shared experiences are an important part of bringing students together through the learning process.
After a year of social upheaval, diversity is also top of mind. In fact, three out of four students feel it's important or very important that instructors introduce diverse perspectives into their learning materials. By doing so, instructors can create a learning community that is more inclusive and better reflects the world outside the classroom.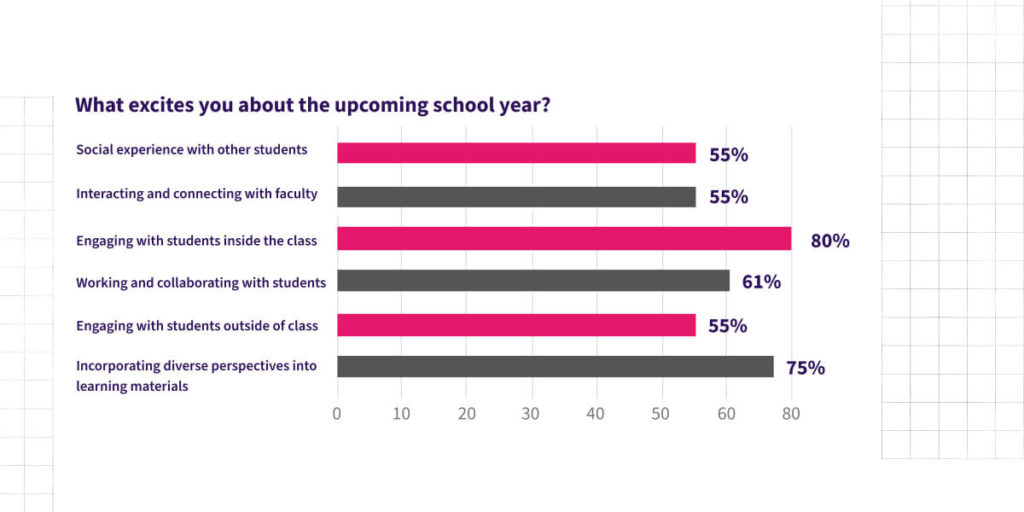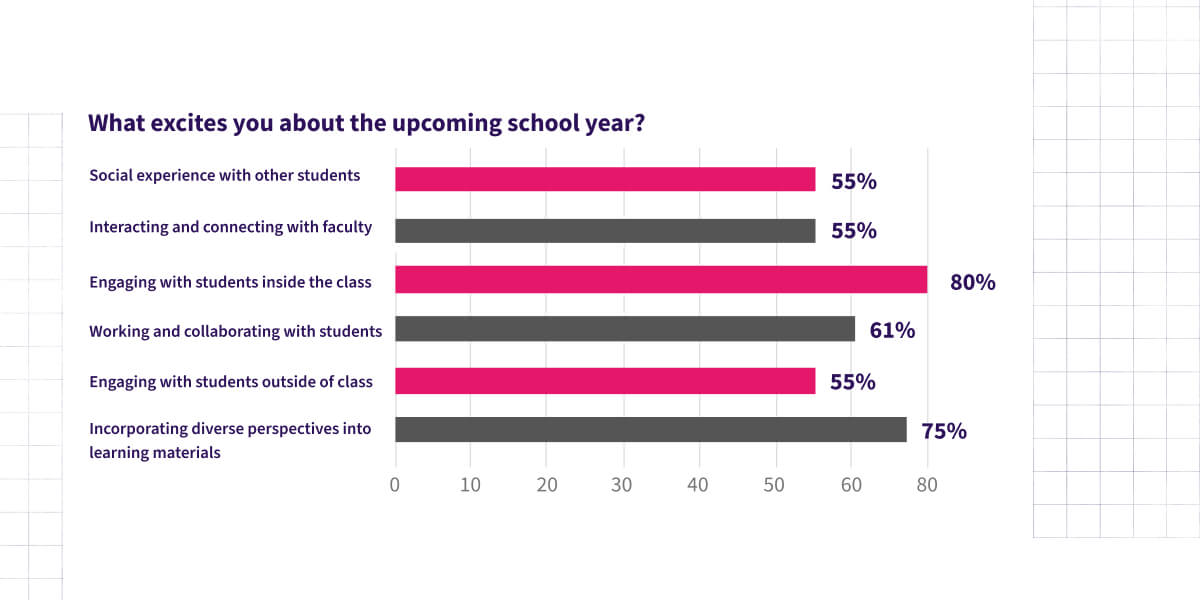 Cultivating Connection
Instructors can also foster a sense of community and belonging by taking time to get to know students and their goals (59 percent), ensuring timely and constructive feedback (88 percent), and providing mentorship to help students understand and apply their strengths (53 percent).
According to the groundbreaking Gallup-Purdue Index Report, mentorship was identified as one of six critical factors influencing an individual's ability to thrive and achieve an overall sense of wellbeing in the years following graduation. While mentorship is important to most students, it is particularly important to female students and those who identify as visible minorities.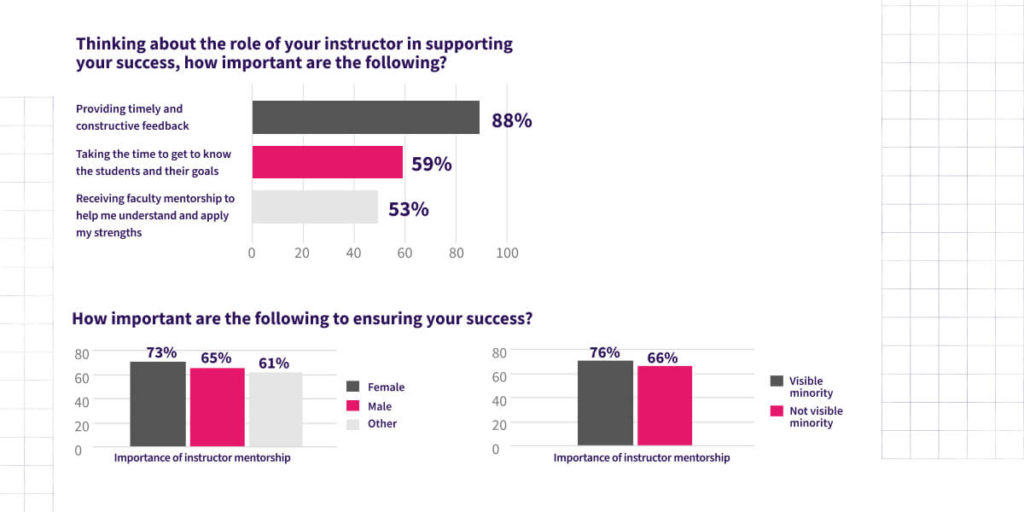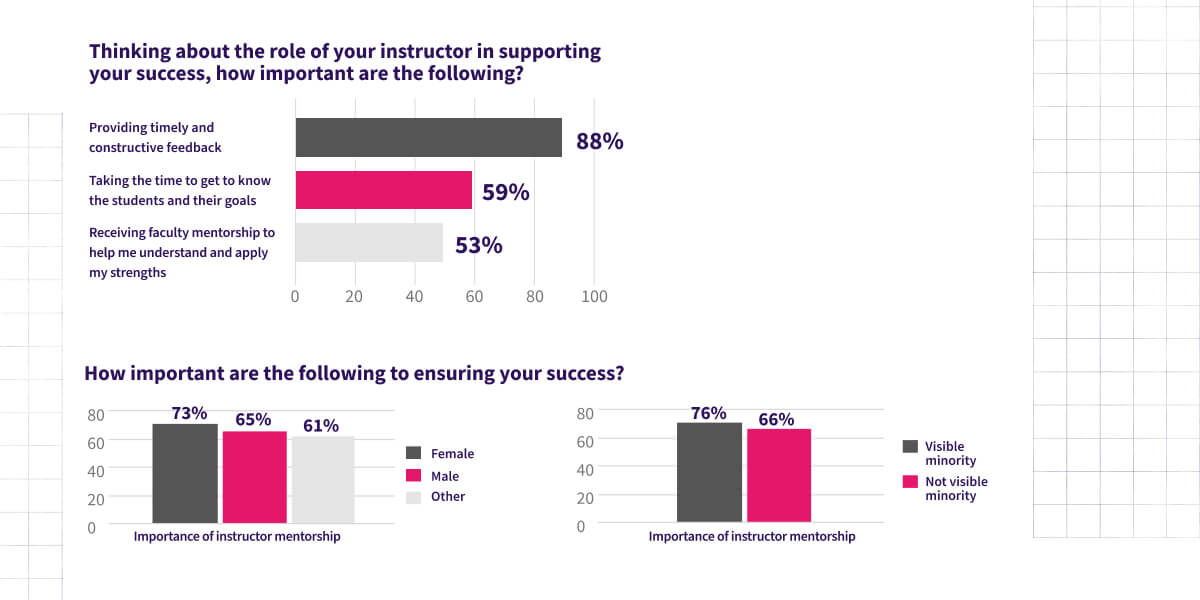 Flexibility is Now a 'Must Have'
While in-person learning is still the preferred option, most students would like to retain some element of online learning. Specifically, 83 percent noted the importance of offering flexible options to attend classes, and 76 percent emphasized the importance of having access to flexible learning options. This includes being able to view lecture recordings (91 percent) and providing options to connect with instructors beyond email (75 percent).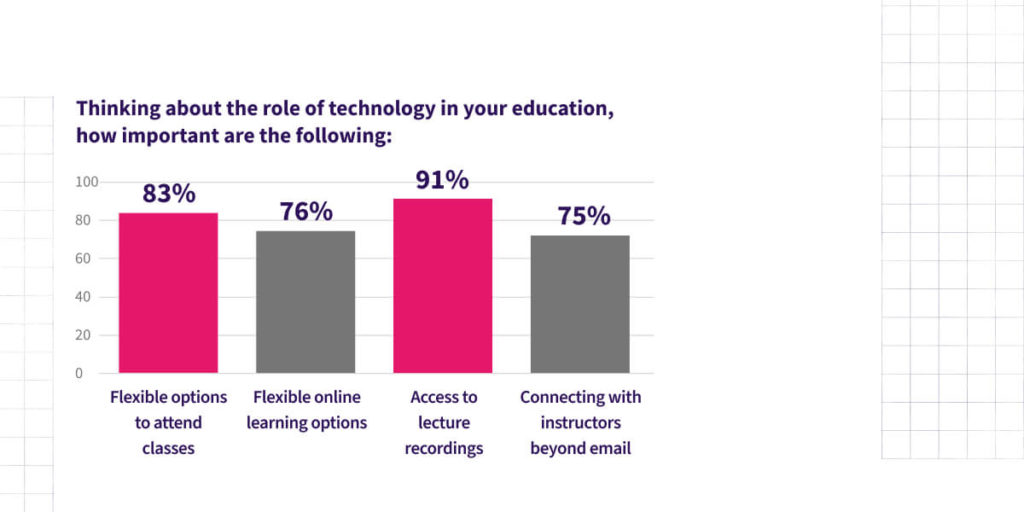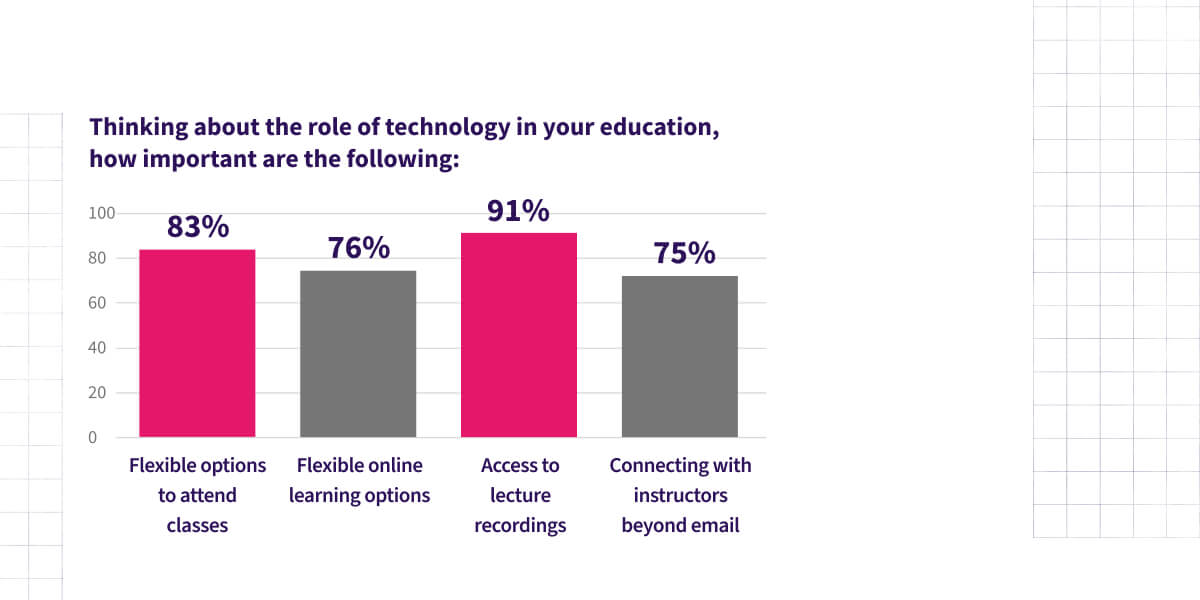 Supporting Minority Students
Flexibility is even more important to students who identify as visible minorities with 80 percent agreeing or strongly agreeing that online learning options are important compared to 70 percent for students who do not identify as visible minorities.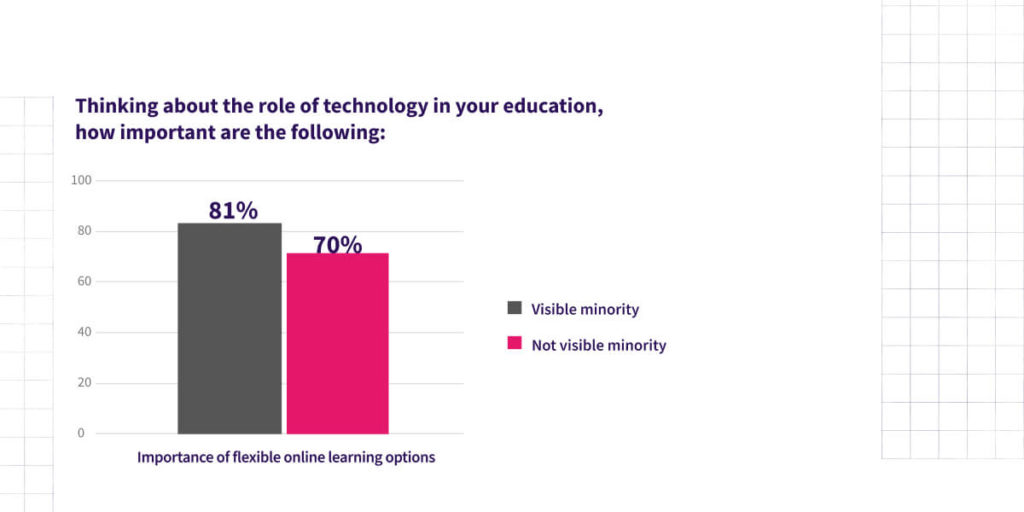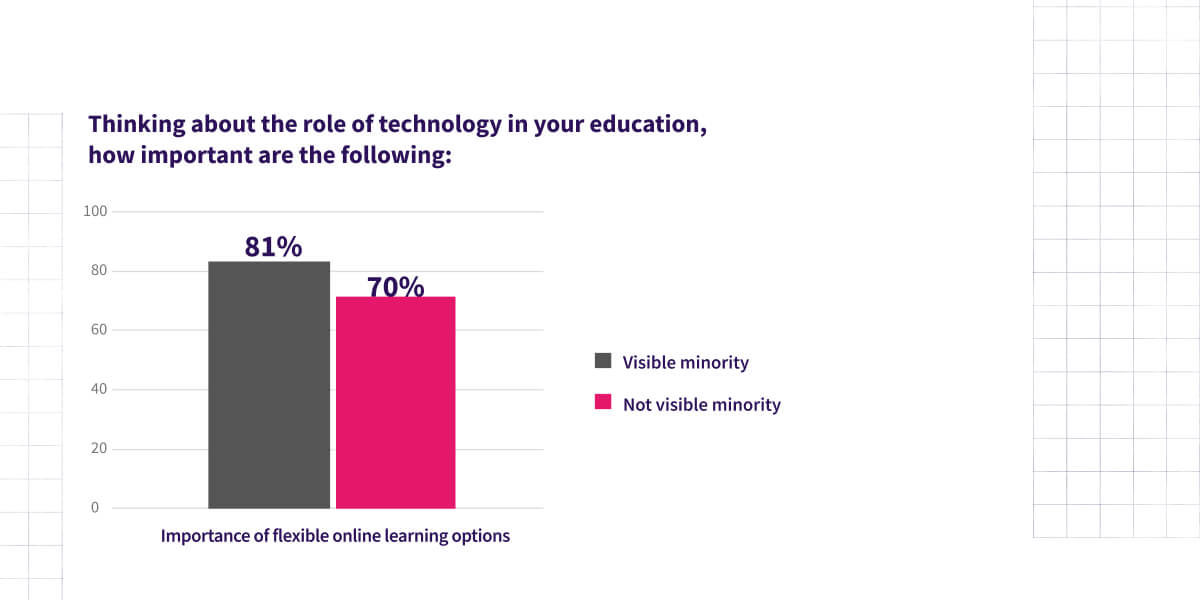 Engaging Learning is the Expectation
Along with flexibility comes expectations for engaging learning experiences. Seventy-four (74) percent of students want educators to incorporate in-class engagement tools, and more than three out of four want to learn using digital interactive learning materials.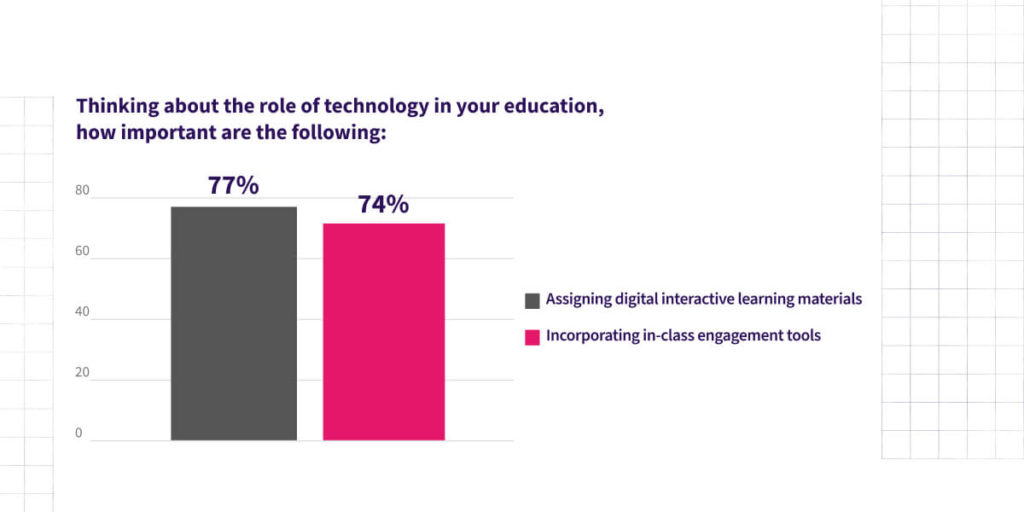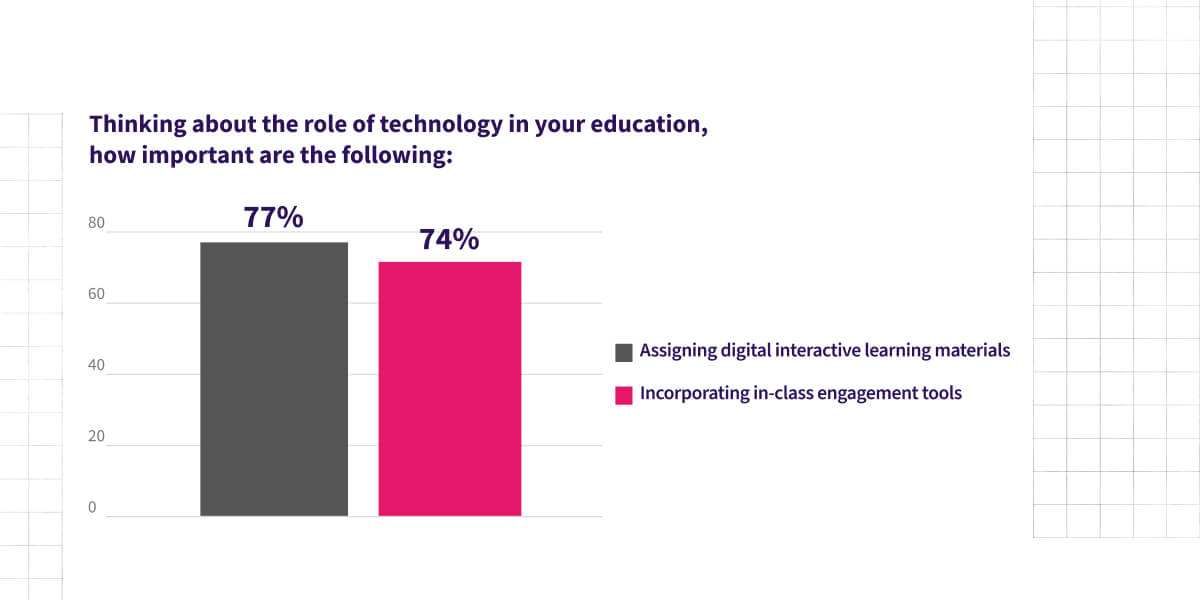 Lessons for Supporting Students Amid the Uncertainty
What's clear from this survey is that students are placing greater emphasis on what happens inside the 'classroom.' To have the most significant impact on student outcomes—whether grades, course completion, graduation rates, or soft skills development—students want the flexibility, engagement, and sense of belonging they need to succeed and have come to expect from their places of higher learning.
Here are seven takeaways from the report to better support students navigating the ongoing state of uncertainty.
Create opportunities for small wins, including frequent low-stakes assessments to build student confidence.
Design opportunities for students to work together inside and outside of class.
Commit to investing the time to get to know students and offer regular feedback.
Incorporate diverse perspectives into learning materials and course curriculums.
Build flexibility into course design by enabling students to attend and participate in classes in multiple ways.
Leverage in-class engagement tools to create interactive learning experiences that bring students together.
Assign digital interactive learning materials that allow students to self-assess their learning as they go.
About the Survey
Survey responses were collected by Top Hat from 1,524 undergraduate students in the United States and Canada from July 22 to August 1, 2021. Respondents were primarily undergraduates attending four-year public (65 percent), four-year private (14 percent) and two-year public institutions (21 percent). Forty percent of respondents identified themselves as visible minorities, 73 percent as female, 25 percent as male and two percent as 'other.'
Click here to download a SlideShare version of the report