At the end of the Fall 2021 semester, we surveyed more than 2,000 students on their experiences using Top Hat. In the spirit of Valentine's Day, we're sharing what they love most about our suite of interactive tools—and how they enrich the learning experience before, during and after class.
1. Easy navigation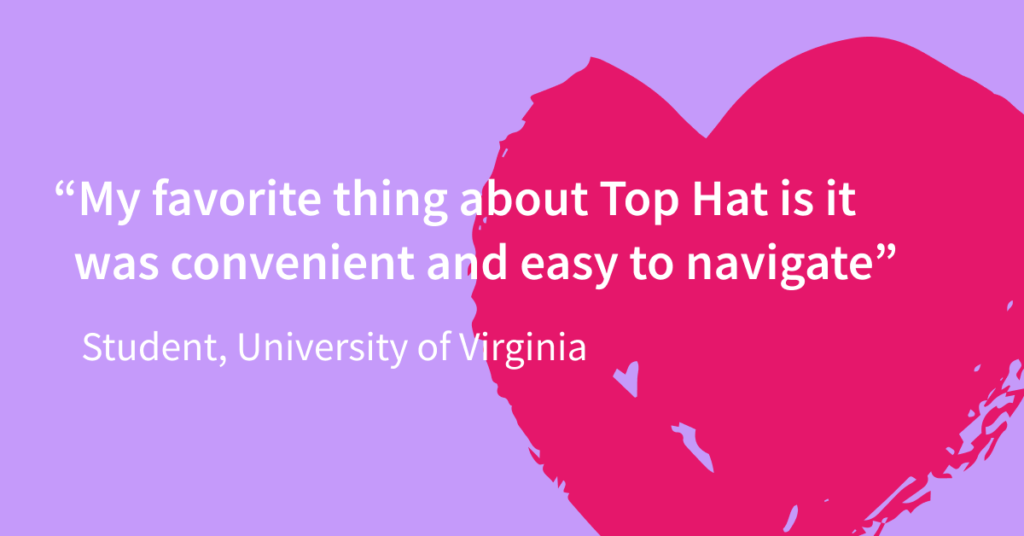 "My favorite thing about Top Hat is it was convenient and easy to navigate," noted a student from the University of Virginia. Curriculum planning tools allow instructors to organize, draft and upload course content including presentations, quizzes, assignments and learning resources in one centralized location. This way, students have a single place to turn for access to all course content that's organized in an intuitive way.
2. Large classes feel small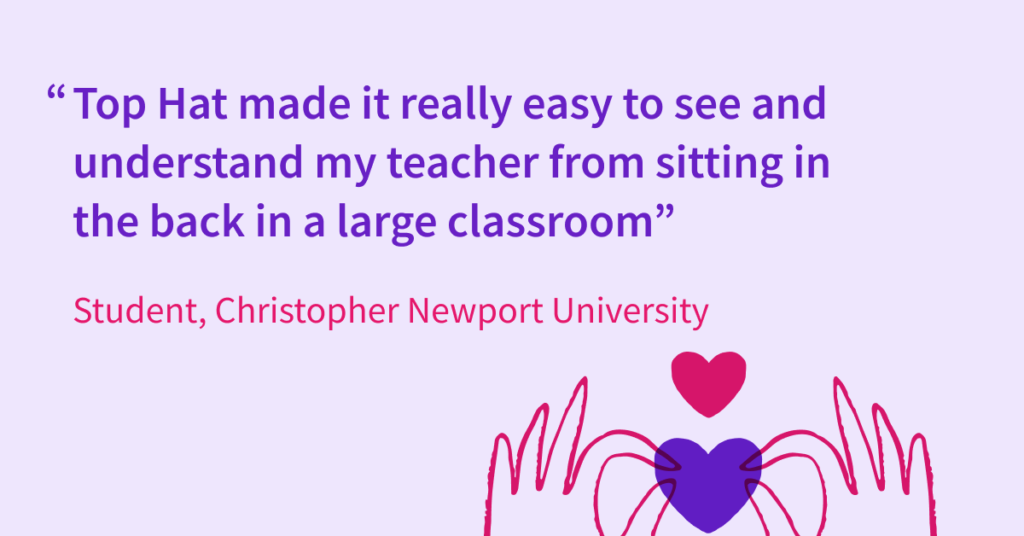 It's easy for students in large lecture halls to become distracted and quickly fall behind on course material. But for a student from Christopher Newport University, "Top Hat made it really easy to see and understand my teacher from sitting in the back in a large classroom." Top Hat lets professors intersperse polls and discussion questions throughout their lecture slides, making information retention and critical thinking a priority in classrooms of any size. Even better, educators can stay on top of which students are succeeding and which students might need further review.
3. Data-driven insights provide a look at student progress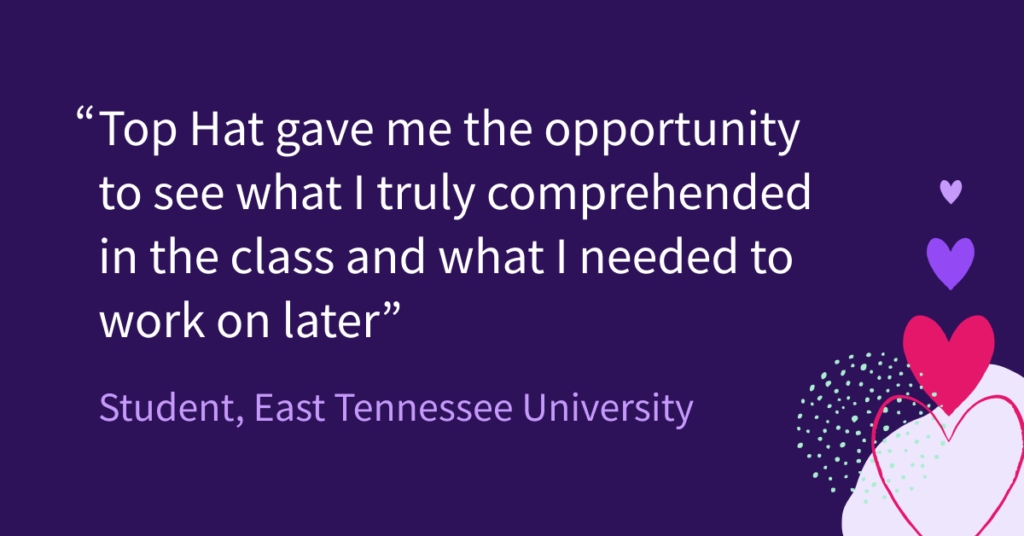 Top Hat gives students the opportunity to lean into learning, offering multimedia-rich polls and quizzes that help students apply their learnings. "Top Hat gave me the opportunity to see what I truly comprehended in the class and what I needed to work on later," said one student from East Tennessee University. Others concur: over 80 percent of survey respondents agree or strongly agree that Top Hat activities better helped them understand their course materials.

4. Interactive assignments improve motivation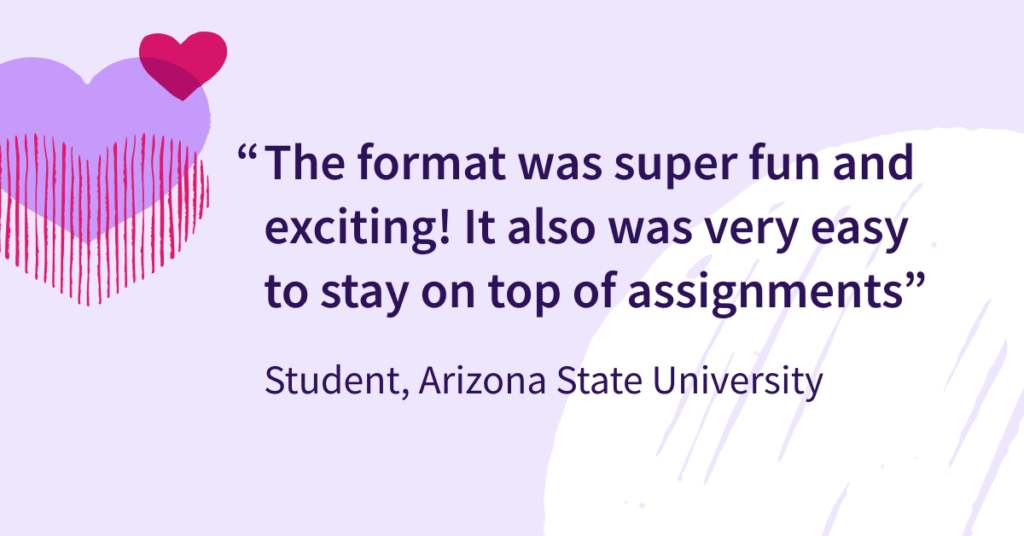 For today's learners, interactive assignments are crucial for engagement. Top Hat helps instructors fuel learning, letting them create assignments using 14 question types, including multiple-choice, click-on-target, and word answers. "The format was super fun and exciting! It also was very easy to stay on top of assignments," said one Arizona State University student.
5. Opportunities for collaboration and connection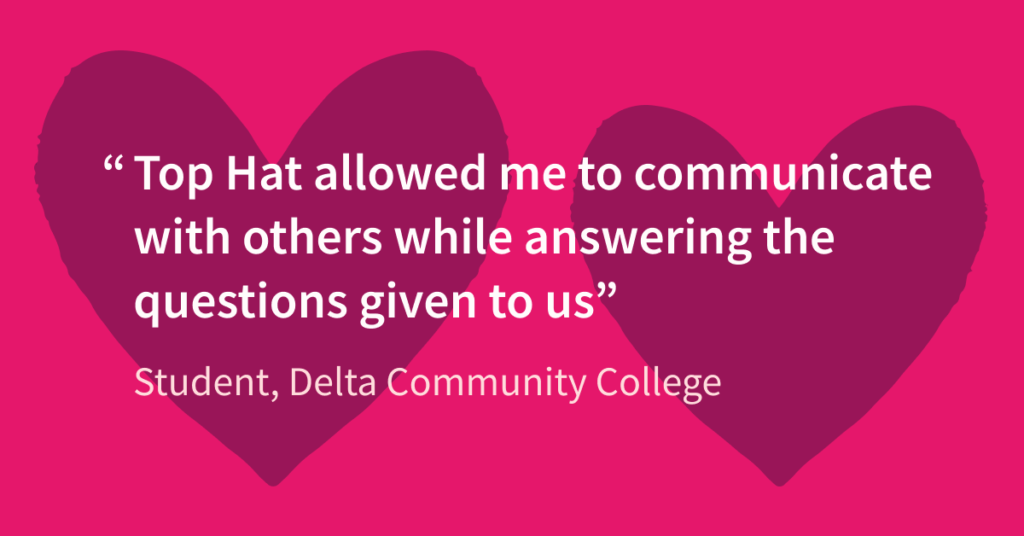 Community building is essential in creating engaging learning environments. However, it can be harder to come by in online and hybrid learning environments. One student from Delta Community College shared that "Top Hat allowed me to communicate with others while answering the questions given to us." Top Hat's online discussion tools create a buzz in the classroom, using text, videos and images to spur discussion while letting students respond with emojis, GIFs and more.
6. Creating engaging lab experiences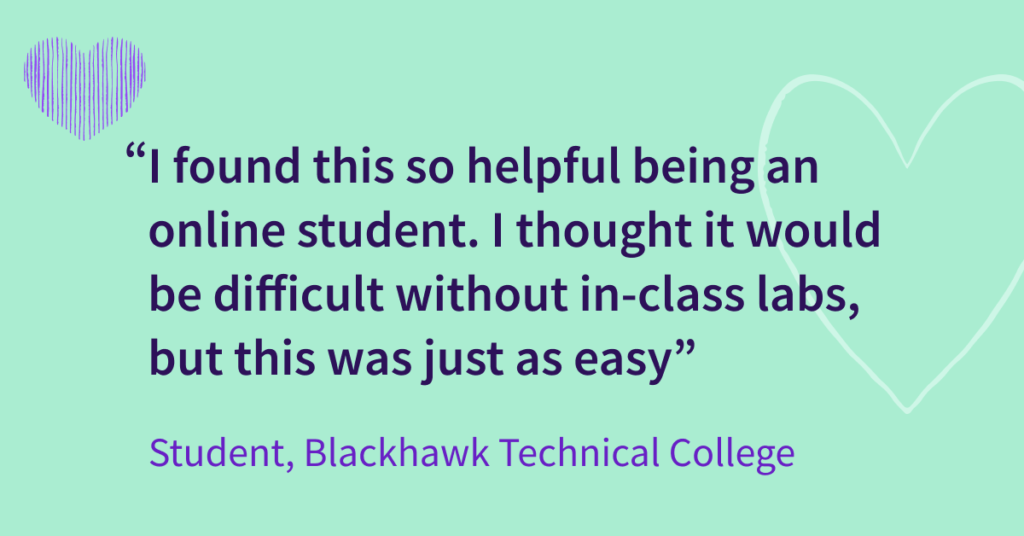 Static lab manuals have been a mainstay in higher education for years. However, they offer few opportunities for visual learning experiences. By offering dynamic questions and video demonstrations, you can provide a richer, more engaging pre- and post-lab experience, wherever learning takes place. "I found this so helpful being an online student. I thought it would be difficult without in-class labs, but this was just as easy," shared one Anatomy and Physiology student at Blackhawk Technical College.
Learn more about Top Hat, the all-in-one teaching and learning platform that enables professors to teach with engaging content, tools and activities in virtual, blended or in-person classrooms.