You've probably heard the terms 'synchronous' and 'asynchronous' too many times to count. But do you know the circumstances that call for each method to be used and how you can effectively use them? As a refresher, synchronous classes occur in real-time using a video conferencing solution. Asynchronous learning, on the other hand, permits students to learn on their own time. Although the fall semester is still being finalized for many, it's likely that most courses will have an online component.
In the virtual classroom, it's important to note that synchronous classes aren't any more ideal than asynchronous ones, or vice versa. A mixture of both delivery modes values students' time and priorities while providing opportunities for interaction among peers and instructors—a factor that 75 percent of students missed when remote learning took place in the winter 2020 semester. Both methods can help craft a holistic educational experience for students, providing them with time to reflect, digest and discuss course material in meaningful ways.
Below, we'll guide you through when, how and where to use synchronous and asynchronous methods in your online classroom and how Top Hat's new virtual classroom capabilities can help you in the process.
SYNCH 101: Introduction to synchronous methods
Synchronous course delivery via video conferencing software helps bridge the gap between instructors and students. It is also ideal for material that requires instant feedback or clarification. In synchronous classes, students can easily and instantly receive feedback from professors or TAs either in a lecture livestream or via a live chat. Content delivery should be balanced with opportunities for interaction within groups or individually to ensure students are set up for success. Plus, synchronous learning can provide a sense of normalcy for students, with much of the learning process structured the same way as face to face learning.
How Top Hat can help
Using a video conferencing solution of your choice, stream lectures, labs, office hours and more in real time. Students can interact with you and their peers, which not only combats isolation but also creates a collaborative learning environment. Upload your lecture slides to Top Hat to give students a truly interactive learning experience in any modality. Do you have complex equations or diagrams that would lend better to drawings as opposed to text? We've got you covered. You can annotate any slide to point out important concepts—whether that be a parabola or the stages of mitosis.
In large classes especially, it can be hard to tell who shows up and who does not. In Top Hat, attendance is automatically recorded when students join class, allowing you to focus on teaching. The gradebook aggregates attendance records and makes it easy to identify trends in absenteeism with color-coded data. And if attendance is the first piece of the engagement puzzle, comprehension is the second. Without having students in front of you, it's even more important to compensate through additional questions to test comprehension. Use 14 different question types, ranging from click on target to word answer to matching interspersed throughout your live class to keep students alert and engaged. Keep your students engaged throughout the whole class by using a combination of low stakes polling questions worth participation points and comprehension assessments worth correction points. You can easily adjust the question weight while creating the question or retroactively in the gradebook at any point.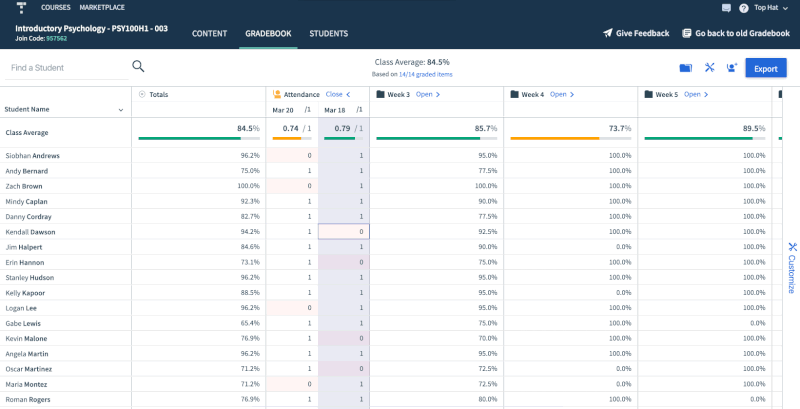 ASYNC 101: Introduction to asynchronous methods
Asynchronous, or self-paced, learning can demonstrate respect and empathy towards students' time outside of your class. It also gives them autonomy as to when and how they study. In this new reality, academia is only one of the many concerns for students, along with their relationships, health, family and jobs. On the accessibility and equity side, not all students have reliable Internet or access to technology at all times. Providing students with some degree of freedom in how they structure their learning schedule is therefore essential. Over-communicating is beneficial for students in asynchronous learning environments. Without the face-to-face interpersonal component of your class, ensure you check in on students to see how they're doing outside of school, whether they're struggling with technology or any other matter related to your course.
How Top Hat can help
Pre-record and upload videos—beyond lecture content—to share with students at a set time. Engagement extends to textbook readings as well. The Top Hat Catalog houses thousands of resources and materials—including textbooks and question packs loaded with media and in-line questions for students to test their own knowledge. Animations and 3D simulations help put complex theories into practice, helping students see the value of what they're learning.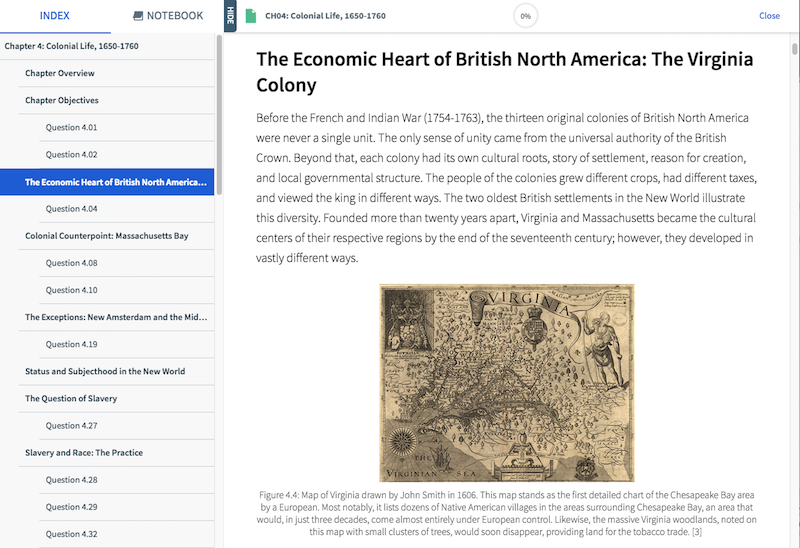 Wondering how to run an asynchronous lab in your STEM course? Do you want to create assignments to go along with your recorded lectures? Pages in Top Hat are highly customizable and allow you to easily build any assessment type. Inline frames, or iframes, can be used in pages to embed simulations or external webpages so students can assess resources within the assignment, reducing the distractions they might face by navigating to an external site. You can also build interactive questions and discussions using the interactive toolbar so students can scroll easily between readings and questions. When you collect answers in pages, not only are they automatically captured in the gradebook but you can also use the reports tab to view student responses to the questions only, saving you the time of scrolling through your entire assessment. You can also add accessible elements to your content in pages including alternative text to images and videos that are compatible with screen readers. No matter what type of asynchronous assessments you have planned for your students, Top Hat pages keep the learning easy, with all the materials in one place.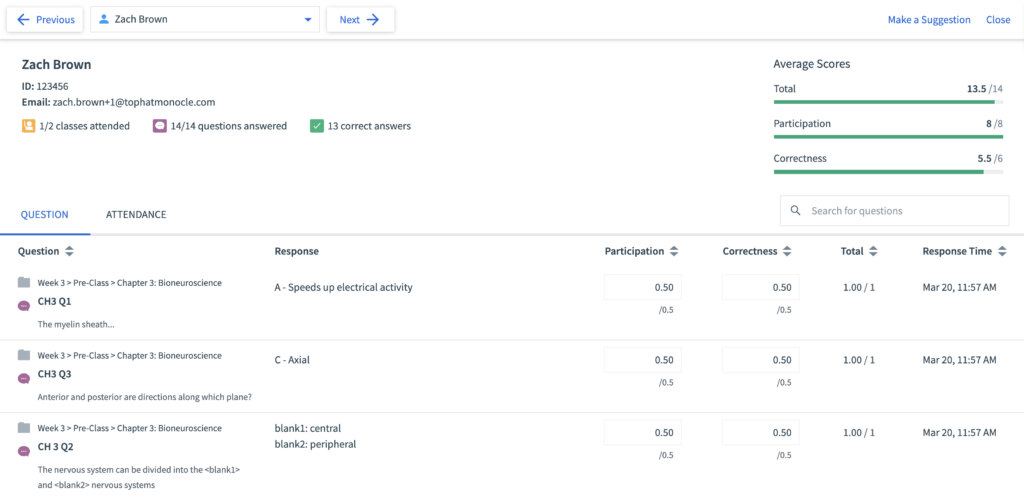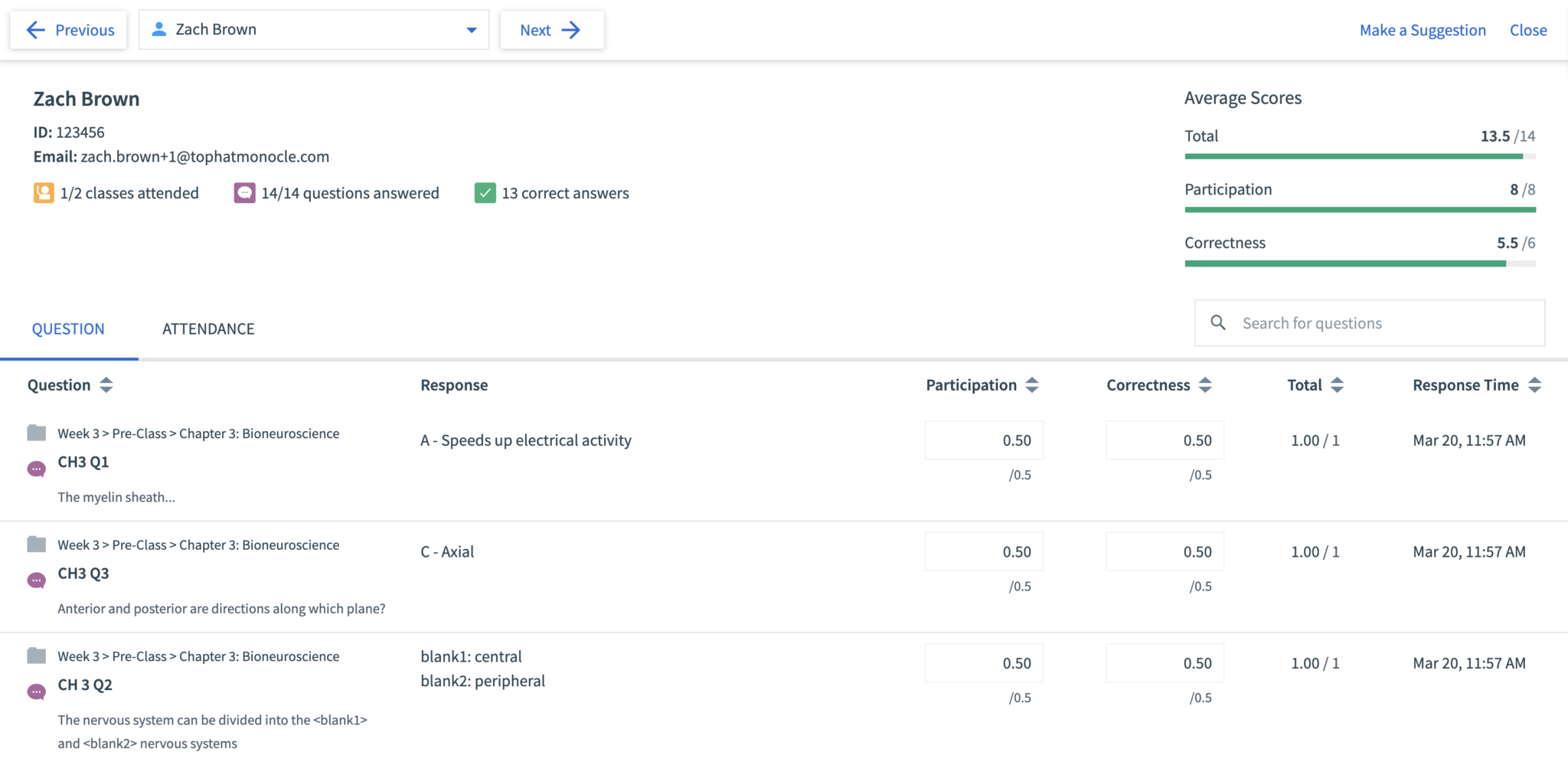 Customer profile: Frank Spors
Frank Spors, Associate Professor at Western University of Health Sciences, employs synchronous and asynchronous elements in his graduate level optics courses. Spors has students complete an asynchronous pre-lecture assignment with embedded YouTube videos of him that speak to intended learning objectives. These assignments are rich with discussion questions, providing ample opportunity for students—and Spors—to regularly check comprehension. "Depending on how well concepts are understood, I either slow down, continue as planned, or accelerate my lecture materials," Spors says, on how he delivers his real-time lectures and labs.
As Spors reported in his institutional review board-approved research study, students' approval rate for using Top Hat in lectures rose to 94.5 percent. Despite learning remotely, students are given freedom to complete homework assignments on their own time, allowing instructors like Spors to use these insights to inform how real-time classes will be delivered. You can read more on how Top Hat helps create connections with students in remote settings here.
Customer profile: Daniel Maxwell
Daniel Maxwell, Criminal Justice Lecturer at the University of New Haven, uses insights from asynchronous polls in textbook readings to inform his real-time lectures. Maxwell flipped his classroom, meaning students review interactive textbook readings packed with media and low-stakes questions to test their understanding outside of class time. From here, his synchronous classes are built around student responses to pre-class textbook assignments.
Gauging learner progress and completion during class is made easy with the 'progress bar' highlighting student participation. Top Hat helped students stay alert and engaged while navigating concepts in personalized courseware—and their grades show for it. Maxwell saw a seven percent average increase in quiz scores after adopting Top Hat. You can read more on how Top Hat makes it easy to flip your classroom in an online setting here.
Ultimately, a mix of synchronous and asynchronous methods will keep students engaged, alert and wanting to interact with your course content. Top Hat makes it easy to adjust your course delivery on the go, enabling you to adapt your agenda based on students' needs. Top Hat can help re-create the best teaching experience, with tailored content that empowers students regardless of whether learning takes place in-person, online, or a mix of the two.
Top Hat's new feature suite ensures your students have access to high quality textbook materials, assignments, lectures and more. Learn how you can take your online teaching to the next level while driving student success in our free guide.