Let's make education better.
That was the goal that started it all.
In 2009, my co-founder and I launched Top Hat because we felt the educational experience for professors and students was broken. We had a vision of creating a platform that not only improved the way students learned, but also made education more affordable.
Nine years on, we've served more than 2.8 million students. We've been used in more than 750 of the top 1,000 colleges and universities across North America. And we've saved students a substantial amount of money on textbook costs—most recently, we helped students at Ohio University save more than $1 million with our digital Open Educational Resources (OER).
We're proud of the strides we've made, but we know there's more we can do, so we decided to tackle the financial barrier to higher education, which remains insurmountable for many.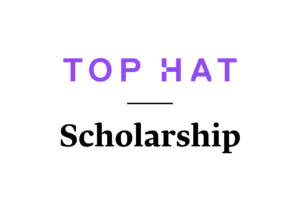 That's why I'm excited to announce the Top Hat Scholarship program. Starting today, professors who have used the Top Hat platform in the past 24 months can nominate outstanding students for one of five scholarships, with a total prize value equivalent to $100,000 USD per year.
Why are we doing this? When you look at the statistics in education costs across a few decades, the trends are worrying.
Tuition and debt continue to grow
Consider the following:
Textbook costs have risen 1,041 percent
Tuition and debt aren't the only things students are paying for through the nose. In 2015, NBC reviewed data from the Bureau of Labor Statistics and found that textbook prices have gone up more than three times the rate of inflation since 1977. That's an increase of 1,041 percent.
According to the College Board, a not-for-profit that aims to improve access to higher ed, the average student studying at an American university or college spends more than $1,200 a year on books and supplies.
Where does this leave the students? In a pretty bad place, it turns out.
According to the 2017 National Student Clearinghouse Research Report, only 57 percent of students enrolled in an American college or university completed their degrees. I think part of what's contributing to this low completion rate is the exorbitant cost associated with finishing their education. Researchers at Temple University and the Wisconsin HOPE Lab recently published a report titled Still Hungry and Homeless in College, which found that 36 percent of students surveyed were food insecure in the 30 days preceding the survey. Housing insecurity also affected 36 percent of students in the past year.
A scholarship that rewards innovative students
Our mission at Top Hat is to make higher education more effective, affordable and engaging, and we aim to support educators who want to help students succeed. The Scholarship also provides a way for professors to recognize and reward their most engaged and dedicated students—the ones who enhance the overall learning environment and bring exceptional value to the classroom. At the same time, it helps to alleviate the incredible financial challenges faced by many students in the US, Canada, the UK and Australia.
How to apply to the Top Hat Scholarship
From September 13, 2018 to February 28, 2019, professors can nominate students by answering a couple of questions about their performance. Students will then get a notification about their nominations and can complete their applications by responding to three essay questions about their growth during their educational career and any plans they may have for the future. From there, a longlist of 25 finalists will be chosen by an Internal Review Board comprised of Top Hat employees and representatives from the International Scholarship and Tuition Services, Inc. (ISTS).
Five winners will be selected by an External Review Board composed of leading experts in higher education and education technology. There will be one first-place prize of $50,000, one second-place prize of $20,000, and three third-place prizes of $10,000 each. Winners will receive their prize amounts in US dollars or equivalent in their local currency.
When I talked to David Harris, Editor-in-Chief of OpenStax and a Top Hat Scholarship board member, he immediately saw the big picture. "I applaud Top Hat's Scholarship program," he said. "It not only promotes access to a generous grant but also requires students to think about how education impacts their future, and that's priceless."
I couldn't agree more.
I'm proud of what our initiatives have accomplished to date, but it's time to start paying it forward. My hope is that the Top Hat Scholarship will help students not only financially, but will also spark a desire in them to continually innovate.
For more information and to nominate a student for the scholarship, click on the button below.
Learn More About Top Hat Scholarship