In this guide, you'll learn what teaching styles are, how they vary and affect learning and what tools and resources you can use to learn more about your own teaching style, including the dominant and secondary styles you most often adopt.
You'll get a better understanding of each of the five teaching styles by noted professor Anthony Grasha, which range from expert to delegator; as well as the six core teaching styles from Kay Mohanna, Ruth Chambers and David Wall's SETS evaluation of teaching styles, starting with the rigid official curriculum teaching style, to the all-around flexible and adaptable teacher.
This guide also contains insight on how to develop and better understand your teaching style once it has been identified, and methods you can adopt to experiment with other teaching styles to improve the classroom experience.
We'll also touch on the relationship between teaching styles, academic performance and active learning, how teaching styles relate to learning styles and how they apply to higher education as opposed to K–12 settings.
By the end, you'll have a comprehensive understanding of teaching styles, be armed with the resources to discover where you fall on the spectrum and hopefully be inspired to consider exploring a more blended teaching style.
Table of contents
1. What is meant by teaching styles?
2. How teaching styles affect learning
2.1. Developing and understanding your own teaching style
3. Different teaching styles
3.1. Mohanna, Chambers and Wall's teaching styles
3.1.1. Student-centered, sensitive
3.1.2. Official curriculum teacher
3.1.3. Straight facts, no nonsense
3.1.4. Big conference
3.1.5. One-off
3.1.6. All-round: Flexible and adaptable
3.2. Grasha's teaching styles
3.2.1. Expert
3.2.2. Formal authority
3.2.3. Personal model
3.2.4. Facilitator
3.2.5. Delegator
4. Why teaching styles are important
4.1. Teaching styles in higher education
4.2. Teaching styles and academic performance
4.3. Teaching styles and active learning
4.4. Teaching styles vs learning styles
5. Conclusion
1. What is meant by teaching styles?
Teaching styles are linked to a teacher's educational value system, and stem from your philosophy of education. Being aware of your own teaching style (or styles) can help you improve your teaching methods, and encourage more student engagement and, ultimately, student outcomes. It's the pattern of your teaching based on a set of strategies used within the classroom that you believe help your students learn the material most effectively.
Teaching styles not only refer to the teaching strategies and methods employed, but also the use of certain kinds of rhetoric. In fact, Daniel K. Schneider, an associate professor at TECFA, a research and training unit in the faculty of psychology and education at the University of Geneva, says that teachers are usually not aware of their own teaching style and it could even be described as an "emergent property."
One educator, for example, might be more teacher-centered, viewing himself as an authority figure on a particular topic. Another, meanwhile, might approach teaching in a more student-centred light, functioning more in an advisory role and giving students the latitude to work more independently. Neither would be making a necessarily conscious decision to teach in that way.
Anthony Grasha, the late Professor of Psychology at the University of Cincinnati, and a noted expert on teaching styles, defined five approaches: expert, formal authority, personal model, facilitator and delegator. Ideally, however, an educator experiments with multiple styles, considers his strengths, and develops an approach that they're comfortable with and that can maximize student engagement. Often, this will include a mix of—consciously applied—teaching styles.
2. How teaching styles affect learning
Harry and Rosemary Wong, former teachers and co-authors of The First Day of School: How to be an Effective Teacher and The Classroom Management Book, believe that there are three goals of teaching styles: to develop effective classroom management skills, to achieve lesson mastery and to have positive expectations.
Teaching styles can vary considerably based on individual classroom settings, the subject you're teaching and the diverse group of students. An authority or lecture-based teaching style, for example, is well-suited to large classes and subjects that require heavy memorization, like history. A delegator/group teaching style might be more conducive to subjects that require lab activity, like chemistry, or ones that involve significant feedback, like debate and creative writing. In the latter style, the teacher inspires and observes rather than recites facts.
The goal for any teaching style is to remain focused on teaching objectives, engaging students as best you can while avoiding trying to be all things to all students. Not all students respond well to a particular style, which is why many teachers who are versed in teaching styles use a combination of them based on the subject matter or environment.
But students are the most important factor: and it's important to use a teaching method to engage students at all levels of learning and ability. Using a balanced mix of teaching styles that blends the best of what you have to offer will reach every student effectively.
2.1. Developing and understanding your own teaching style
The first step in developing and understanding your own teaching style is to take an inventory of your skills and personality. There are several resources that can offer structure to this self-reflective exercise.
1. Mohanna, Chambers and Wall's Staffordshire Evaluation of Teaching Styles (SETS) is a self-evaluation questionnaire and scoring sheet that helps teachers see for which teaching style of six—all-around flexible and adaptable, student-centered/sensitive, official curriculum, straight facts no nonsense, big conference and one-off—is their strongest preference.
2. The Teaching Behavior Preferences Survey by Behar and Horenstein (2006), meanwhile, includes questions to determine if you are more teacher- or student-centered, and into which of four subdomains you might fall.
3. The Principles of Adult Learning Scale by Conty (1983) includes 44 self-administered questions to determine where you fall on the spectrum of teaching styles as well.
4. Another option is the Constructionist On-Line Learning Environment Survey by Taylor and Maor, which measures the quality of an online environment and teaching styles.
3. Different teaching styles
There's no canonical group of teaching styles. The concept can be sliced in many different ways in terms of definition. One group of classifications, for example, is based on content while another is based on student communication.
The important consideration is that teaching styles identify the gaps between where learners are and where they need to be and find a way to help bridge that gap.
Teaching styles can range from strict authorities to, more commonly nowadays, those that promote active and collaborative learning. Here are two of the most commonly used sets.
3.1. Mohanna, Chambers and Wall's teaching styles
Kay Mohanna, Ruth Chambers and David Wall developed SETS in 2007, with the purpose of discovering if there were distinct teaching styles that could be measured.1 They were familiar with the idea of learning styles but felt that these did not take into account the importance of the teacher in the learning process as well. They also wondered if a mismatch between an educator's teaching style and a student's preferred learning style could stand in the way of positive educational outcomes.
They analyzed aspects of teaching by studying educational literature and looked for patterns and associations. The themes they came up with fit into six identifiable teaching styles: all-around flexible and adaptable; student-centred, sensitive; official curriculum; straight facts, no nonsense; big conference; and one-off. From these, they created a self-evaluation questionnaire and scoring sheet to provide teachers with personal scores in each type to identify their strongest preferences. Plotting these points onto a Staffordshire Hexagon provides a visual representation of an educator's personal teaching style matrix.
3.1.1. Student-centered, sensitive
This teaching style brings emotions to the forefront, giving students more responsibility for their own learning, treating learning as a personal activity. It's used by teachers who are not comfortable doing straight presentations, or when a subject does not necessarily call for formal lectures. Role play and drama can even be involved.
While this is a more modern style of teaching that promotes greater interaction, an active learning environment and helps students develop critical thinking and meta-cognitive skills, it might not be effective for all students—many people can quickly get frustrated with personal, unsupervised learning..
This style is best used in smaller classrooms, and where discovery and exploration would be more effective in the learning process than reciting facts and note-taking. It can be used in medicine and teaching a patient-centered mindset, and it's ideal for a setting where activities like role playing, lab work and drama can be used, such as debate and creative writing.
3.1.2. Official curriculum teacher
Teaching styles like this one are for the well-prepared and accredited teacher who is aware of, and wants to follow, the formal curriculum to a tee. As Wall explains, "As well as being familiar with the curriculum statements, this teacher is very careful to match their teaching with these curriculum statements, so that over the course of time, the whole curriculum has been properly covered."
This teaching style focuses on external targets for teaching, as well as faculty development and "teaching the teacher," and offers dependency and security to teacher and students alike. Knowledge of the curriculum itself, of course, is paramount and this teaching style cannot work without it. However, one major disadvantage to this is that teaching to a structure means that one cannot deviate from it, even for subjects that students may find interesting or worth more time, and student engagement potentially suffers.
3.1.3. Straight facts, no nonsense
Similar to the official curriculum teaching style, this style describes educators who like to teach the straight facts, typically in a lecture format. They are less focused on multi-disciplinary teaching and learning, and more on specific course material that needs to be taught. It's most appropriate—and popular—for students at the beginning of a subject who need to initially absorb a large amount of bare-bones facts and concepts, and for subjects that focus on a lot of heavy facts and content that needs to be memorized.
If content-based, teaching styles like this align well with the cognitive domain in Bloom's taxonomy. For skills, Miller's pyramid may be more useful. But aligning to structure could be hard for teachers who prefer to take a more personal tone with their class—the authors recommend anybody who wants to adopt this teaching style attend 'teach the teacher' courses.
3.1.4. Big conference
This teaching style is adopted by teachers who like to get up on stage in front of a big audience to share their knowledge on a topic. These teachers can potentially be very engaging speakers who can hold students' interest, even if there is little interaction in class.
This teaching style would be great for subjects like psychology, philosophy or law, especially for early year courses, which are prone to massification (very large class sizes).
Of course, stage fright or fear of public speaking can be a significant problem for many teaching in this particular teaching style. Being able to network, engage others and engender respect are vital parts of speaking at a conference and teaching in a conference style. And, just because somebody can give a compelling presentation, it doesn't mean they can necessarily teach. As Chambers says, "Quite often when a charismatic speaker has given a rousing lecture, you can think afterwards, 'Well, what did they actually say?' and not be able to voice a single take home message."
3.1.5. One-off
The one-off teaching style is defined by teachers who prefer to deliver small, self-contained bits of teaching on a one-on-one basis versus lecturing on a topic for an hour in front of a big audience. There are no props or fancy presentations—just the teacher and student. It can also cover any impromptu teaching time, or guest workshops—the crucial aspect is the freshness and the lack of initial relationship between the teacher and learners.
"One-off teaching is impersonal, flexible, self confident, self contained, resourceful, centered more on the purpose of teaching than learners' needs [and] discontinuous," Chambers writes; indeed, the reason why a one-off teacher might be brought in is to fill a knowledge gap so that a curriculum can be fulfilled.
3.1.6. All-round: Flexible and adaptable
Those who prefer this teaching style are comfortable using different skills and methods in the classroom. They take into account both the environment and individual student needs, and adapt on the fly—knowing that learners differ. The integrated approach is inclusive, and allows teachers to adjust as needed, thus potentially reaching more students effectively.
Some teachers might feel that it's easier to stick to one teaching style, but a base awareness of different teaching styles and how they can apply to different students is a good first step towards developing an all-round mentality. "The all-round flexible teacher does however possess one skill we should all aspire to as teachers; the main role of any teacher is to create an educational environment that supports learning," says Mohanna.
3.2. Grasha's teaching styles
Anthony Grasha coined five approaches to teaching styles in 19962: expert, formal authority, personal model, facilitator and delegator.
All teachers possess each of these five teaching styles to varying degrees, he said, though they gravitate to some more than others. He likens teaching styles to an artist's palette: the teacher's primary or dominant teaching style(s) are similar to the foreground of a painting, while the other qualities still exist, but are farther into the background. All styles and colors, however, are needed to some degree to create a painting with dimensions and layers.
Many educators and educational institutions use Grasha's styles to help define their approaches to learning and teaching. One study with EFL teachers3 found that they most frequently adopted the facilitator style, followed by delegator, personal, expert and formal authority. The study determined that this method helped create an environment that was more conducive to learning, promoted higher levels of motivation and helped students achieve their goals.
3.2.1. Expert
The expert teaching style defines teachers who want to showcase a high level of knowledge and expertise in a subject and use information to challenge students. The goal is to transmit information to students to prepare them for assignments, exams and further studies. This tremendous knowledge transfer can be helpful for students looking to soak up information like sponges from a top resource in the field. But this method can be intimidating for students if it's overused. And while this style focuses on facts and figures, it might not successfully show the processes used to find answers to problems.
Similarly to Mohanna, Chambers and Wall's official curriculum teaching style—and the one-off style, for parachuted-in knowledge, the expert style is ideal for large and more mature classes in higher education, including introductory sophomore classes where there are many facts and figures that students need to grasp.
3.2.2. Formal authority
This educator establishes status among students, clearly defines his or her learning goals and expectations and follows a set list of rules of how things should be done. This teaching style is great for students who need structure since there are clear guidelines and expectations, and an understanding of the acceptable way to do things. But it can also be too rigid and standardized for many other students who appreciate more active learning settings, interaction and better engagement. It can work effectively in studies like law or music where there are established rules that need to be followed, and where a teacher can lead by example by playing an instrument or discussing legal procedure.
3.2.3. Personal model
Here, educators use any opportunity they can to teach by using personal examples, and establish a prototype on how to think and behave based on their own beliefs and methods. The teachers oversee, guide and direct work, but don't necessarily present themselves as authorities on a subject. Rather, they show students how to do things and encourage them to observe and follow directions in order to complete tasks. This educator, then, is essentially a role model.
This style provides hands-on experience and direct observation. But some educators run the risk of pushing their own way as the best way, which can cause some students to feel inadequate if they can't live up to the standards. This method could work well, however, in a higher education setting where students already have a good grasp of the material and abstract concepts, and where all students are working on the same level, like in advanced medical studies.
3.2.4. Facilitator
Providing a warm, more emotional climate, this teaching style focuses on teacher-student interaction on a personal level. Students are encouraged to ask questions, explore different options and suggest alternatives, and are guided along the way as they learn by trial and error. The goal is to help students think independently and take more responsibility in their own learning process. In this style, the teacher works in a more consultative role, there mainly for support and encouragement. This style allows for much greater flexibility in the classroom and focuses on student needs and goals. But it can be time-consuming and ineffective if the subject matter is one where a more direct approach is needed. Some students might also be uncomfortable with a less structured approach.
Facilitation can work well in smaller classroom settings or upper-level and graduate courses where creativity and exploration are encouraged, and if students are at a point they feel willing to take risks.
3.2.5. Delegator
The ultimate goal for someone adopting this teaching style is for students to be able to function autonomously, working independently on assignments and projects or as part of small teams with peers. The teacher is available, when needed, to be used as a resource. But there aren't formal lectures.
A style like this can help students develop the tools to be confident and independent learners. Still, students who aren't ready for such autonomy could become anxious and not perform well. This method is great for higher-level studies where students already have an appropriate level of knowledge and don't need much hand holding. They are ready to rise to the next level of learning, and view the teacher as a guide, not someone who's there for standard instruction.
4. Why teaching styles are important
4.1. Teaching styles in higher education
Teaching styles used in K-12 classroom settings won't necessarily work in higher education settings. Younger children will initially respond more to authoritative teaching methods, and while older school students might benefit from blended learning or working on their own projects, new college students will be expected to do a great deal of research and work on their own.
Many studies have found that there is value in higher education teachers sharing some aspects of their personal lives with students. It humanizes them and makes them appear more relatable and approachable. Doing so could be as simple as mentioning your love of a popular TV series as an aside (bonus points if you can relate it to the course material) or even some family circumstances. "When [a faculty member] shared that she has a daughter beginning college at another university, she showed that she understands from multiple perspectives what it is like to be a college student," says Dr. Sarah M. Ginsberg, associate professor at Eastern Michigan University, in an essay entitled Faculty Self-Disclosures in the College Classroom.
Content isn't the be all, end all of classroom management. More important than having the knowledge is being able to use effective instructional methods to share it. In other words, how you teach something is just as important as what you teach.
In addition to trying to make things a bit more personal, seeking feedback from students throughout the year, not just at the end of a course, can help teachers gain a better understanding of how well their teaching style is working, and how they can adjust it to better reach students. Technologies like clickers and in-class polls and surveys can help, as well as simply observing student behaviour to gauge their interest and enjoyment in the class.
Change doesn't have to be drastic. Employing simple tactics can go a long way to increasing student engagement. It could be asking students to write their own questions, comments or responses on assignments for your feedback—taking some inspiration from the more student-centered teaching styles—or structuring an otherwise lengthy lecture to include breaks, which would require some flexibility in teaching.
4.2. Teaching styles and academic performance
Many studies have found a relationship between teaching styles and academic performance. In Malaysia, one study4 found a "significant but moderate" relationship between a lecturer's teaching style and student academic engagement; more backup for the relationship between student engagement and a teacher's teaching style can be found in the OECD Program for International Student Assessment (2000).
A student's ability and willingness to learn also depends on how suitable a teaching style is to the way they prefer to learn. While engaging students in a greater variety of activities within the classroom and creating a learning environment that is inviting and fun, they may have a deeper psychological investment in the work. A school's culture can also impact student participation.
Overall, student involvement is an important predictor of academic performance. So the more students are involved in and engaged with their studies, the better they are likely to perform.
4.3. Teaching styles and active learning
Not surprisingly, some teaching styles lend themselves more to active learning than others. Any teaching style that involves less lecture time and more student interaction is conducive to active learning. This includes teaching styles like the delegator, facilitator and personal model in Grasha's classifications, and the student-centered, sensitive, one-off and all-around, flexible and adaptable in Mohanna, Chambers and Wall's. Any blended teaching style, of course, incorporates some active learning components.
To encourage an active learning environment, and ensure that it thrives, find a comfortable balance between both the cognitive and affective dimensions of teaching, and work to develop a genuine relationship with students in some way.
Even if you gravitate more to an expert or authoritative teaching style, try and make yourself more approachable and available by carving out some time to create meaningful activities for students. Presentations, demonstrations, and responsive feedback—part of a facilitator's or delegator's style—are vital parts of active learning.
Even teaching styles such as a formal authority or a one-off lecture can incorporate some active learning strategies. Flipped classrooms can be achieved with a curriculum-based teaching style; a 'straight facts' approach is melds well with a muddiest point exercise.
4.4. Teaching styles versus learning styles
Teaching styles and learning styles can work hand-in-hand. And when they match, it can result in a positive experience all around.
Learning styles, in general, describe ways that students prefer to absorb and understand information, and the classifications they put themselves in based on their preferences. Some sets include visual learners, auditory learners, kinesthetic learners or verbal learners. As there's no common definition for learning styles, there's no scientific basis to them: nevertheless, taking the student's perspective is valuable when considering your teaching style.
Like learning styles, it's widely acknowledged that teaching styles fall on a spectrum and are contextual rather than fixed. An educator doesn't necessarily just adopt one style of how to teach but might employ a particular style as a primary one with a smattering of other styles used when necessary. Or the teacher might switch styles based on subjects, students, course curriculum or other mitigating factors as part of a plan to adopt more effective learning strategies.
At least one study has found a statistically significant correlation between successful teaching styles and learning styles5. But a mismatch between the two, for example, could in some ways actually be beneficial for lower-level students and those in the early stages of learning. Some students can benefit from being pushed to learn in new ways outside of their comfort zones, and thus develop new learning skills.
Regardless of the primary teaching style, the goal should always be to adopt a balanced method that doesn't favor one style too much, that is open-minded to different types of teaching and can accommodate different learning styles.
5. Conclusion
Teaching styles are not set in stone, and teachers shouldn't be placed in specific boxes. Every educator falls somewhere on a spectrum, from the authoritative expert to the student-centered facilitator and delegator. More important than defining where you fall on the spectrum—though this is useful to determine—is analyzing and observing your curriculum, students and subject matter and finding the best teaching style to match.
Teaching styles that match students' learning styles, and that put student needs and learning at the forefront, can lead to more positive academic outcomes. Students tend to be more engaged, and thus better grasp the material.
Educators who are aware of their teaching style, and who re-evaluate it, try new things and get feedback from students can take teaching to a new level.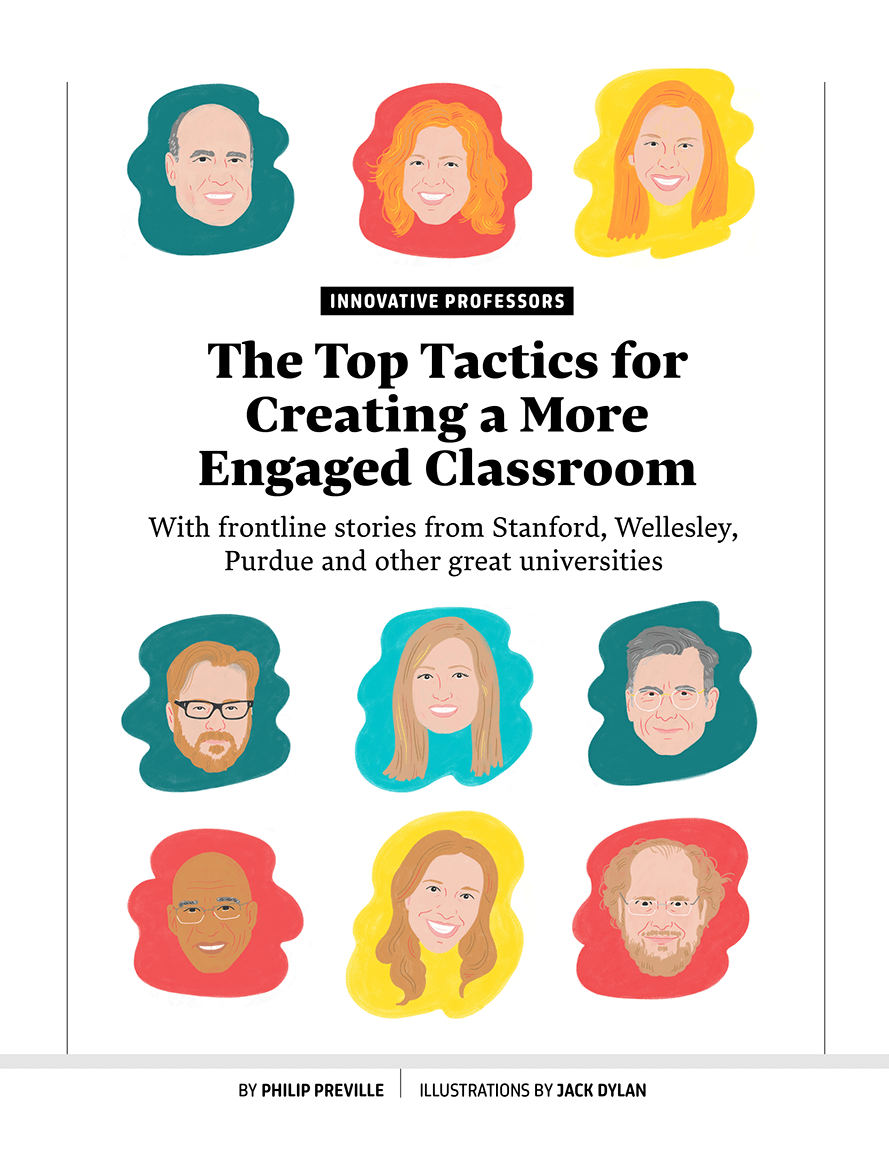 Read more
In need of some more inspiration to refresh your teaching?
Fill in the form below to get free exclusive access to our popular ebook, Top Tactics for Creating a More Engaged Classroom, containing 13 tactics you can try courtesy of some of North America's most innovative professors.
References
Related pages
Learn how to manage a class using Top Hat