Since the year 2000, textbook prices have skyrocketed
In 2000, students were asked to spend an average of $754 a year on textbook supplies. By the 2017–2018 academic year, this figure increased by nearly 70 percent to $1,256.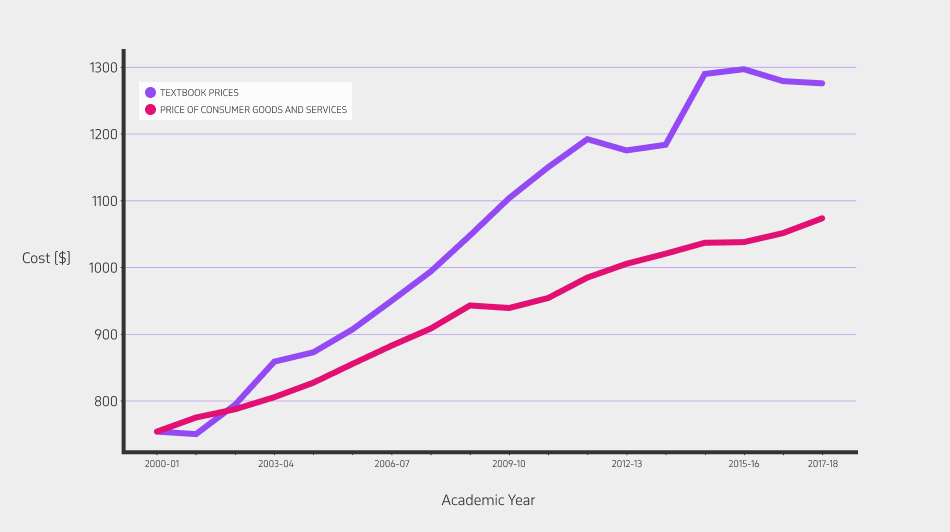 Students skip buying required textbooks
While the average cost of books and supplies across colleges in the U.S. has increased since 2011, that doesn't mean students are buying them. In fact, student spending has fallen.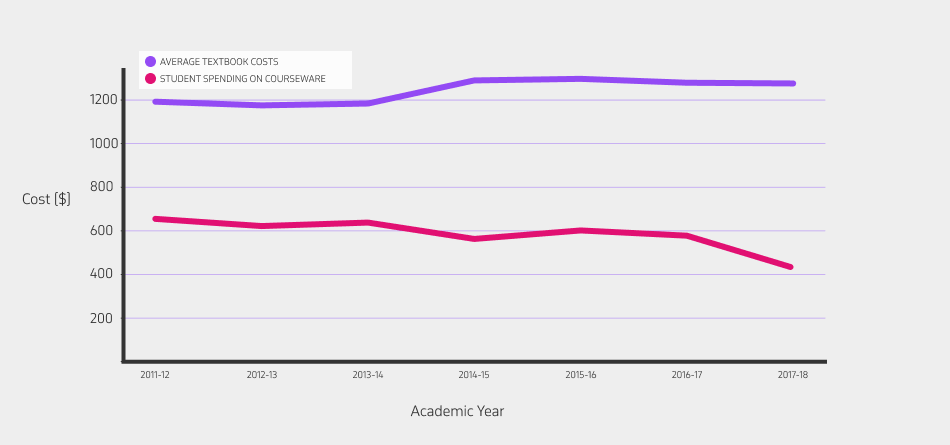 And textbook companies have been suffering: Pearson reported a pre-tax loss of $3.25 billion for 2016, the biggest in its history.
The main culprit
It all comes down to lack of competition: Five publishers—Cengage Learning, Houghton Mifflin Harcourt, McGraw-Hill Education, Pearson Education, Scholastic—dominate the market and students generally do not have a choice in which textbook they are assigned. Cengage and McGraw-Hill recently announced plans to merge and create one giant publisher, further reducing competition in the textbook market.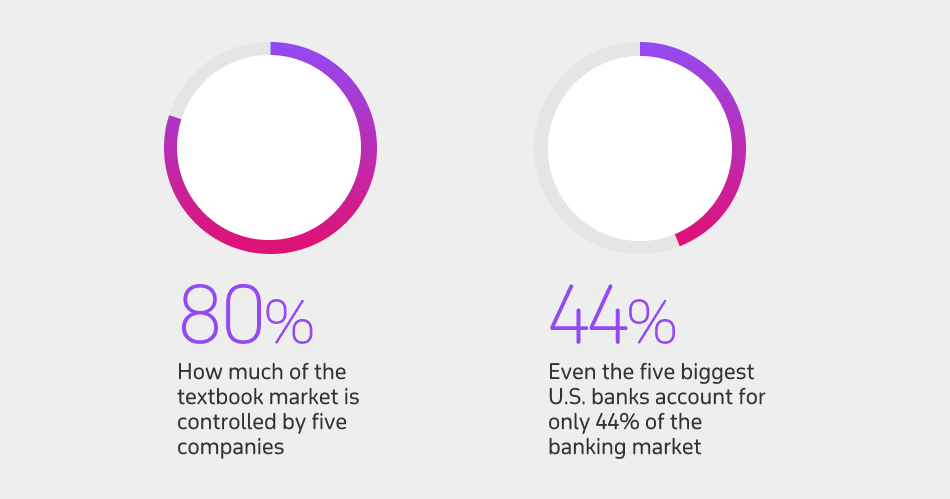 These publishers have also shortened the cycle for new textbook editions—which, on average, are now coming out every three years instead of the previous five years—in order to notch up price points and increase revenue from new textbooks sales.
Impact on student behavior
When students don't buy the textbook immediately, it has an appreciable effect on whether they stay in their courses (known as a DFW, or D-Grade/Fail/Withdraw Rate). In fact, there was a 33 percent reduction in DFW rates for financial aid–eligible students after free textbooks were introduced at the University of Georgia.
Ultimately, students are sacrificing basic needs to save money for textbooks.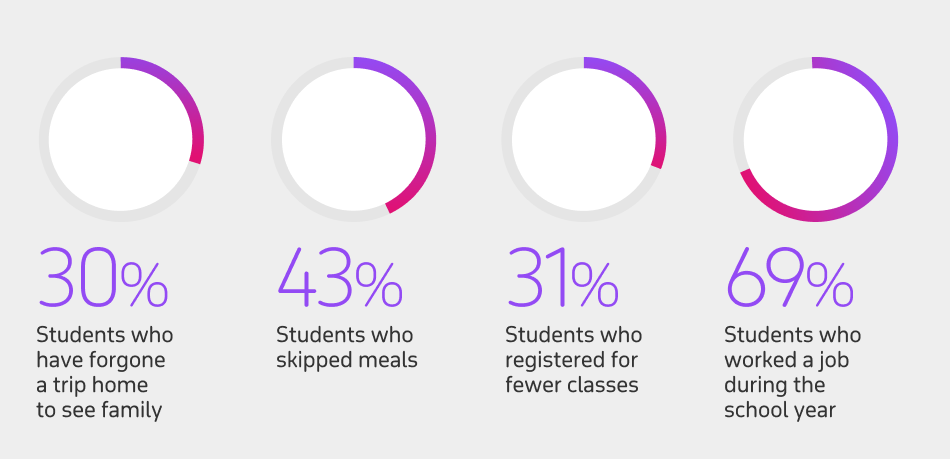 The heavy cost of textbooks
Did you know that students at public colleges pay upwards of $1,375 for textbooks and supplies every year, while those at private institutions shell out around $1,200. That means, students at public colleges pay 20 percent more than private college students.
And across the eight geographical groups of states in the U.S., there's significant regional variation between the average price of what students are being assigned.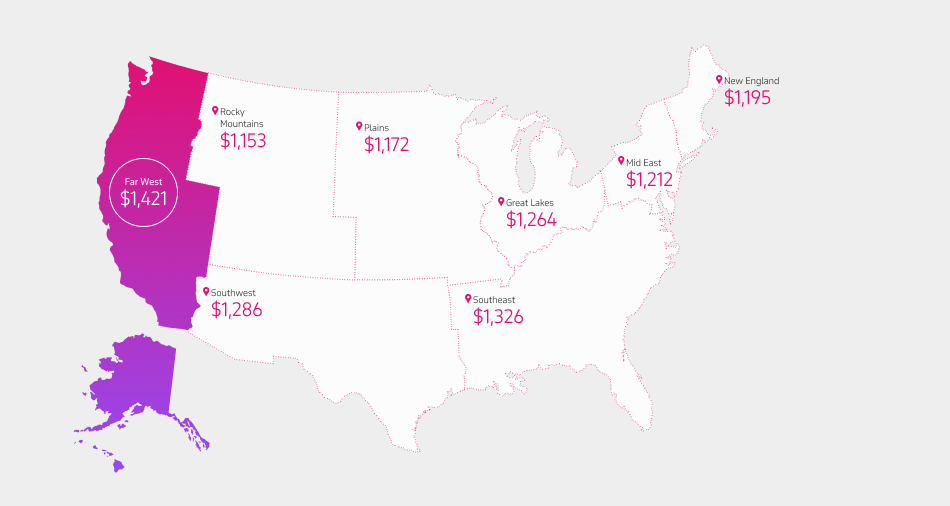 First-year students—especially those at public higher ed institutions on the West Coast—spend more. The reason? They're starting out from scratch, introductory courses require heavy loads of materials, and they don't yet have access to the community networks that can help them borrow books or buy used. Plus, the West Coast typically has a higher cost of living. And the breakdown by age? First years spend $381 per term. Juniors and seniors spend $317 per term.
Solutions for students
Open Educational Resources (OERs) are one way that colleges have been able to reduce the burden of costs on students. If adopted widely, the results could be huge: expanded use of OERs has the potential to save students across the U.S. $1 billion annually.
Textbook rentals allow students to skip the new textbook market altogether and use a book for a specified amount of time. Used textbooks are another option weighed against buying the new textbooks that many publishers are now releasing every three years. In fact, as many as 70 percent of students have admitted to buying used textbooks.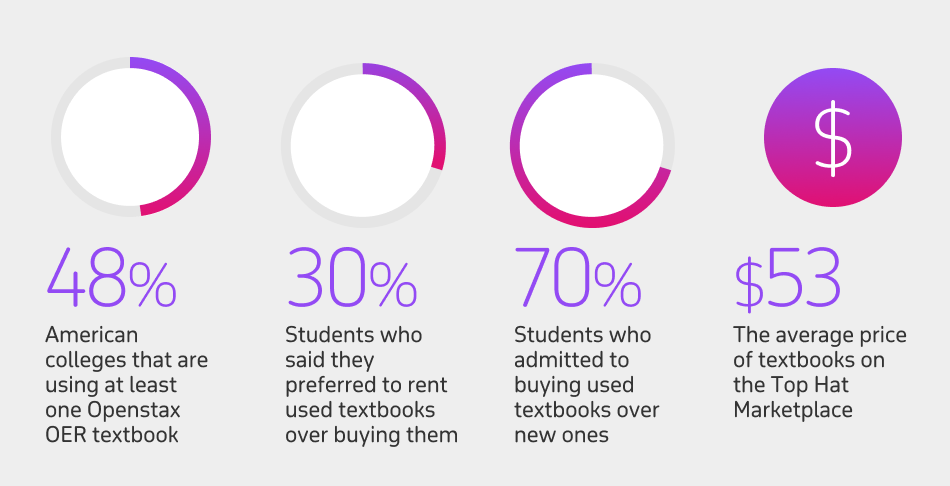 And finally, there's Top Hat.
Top Hat offers an all-in-one solution that gives students access to content both in-class and outside class. From the start of the course, Top Hat keeps textbook costs down, and plays a key role in helping professors develop an active learning classroom.
Sources:
National Association of College Stores (Fall 2014 term figures)
US Retail Price Index
Covering The Cost, Student PIRGs
Active Learning, Course Design and the Promise of OER: Top Hat Webinar
IPEDS (2017-8 provisional data)
National Association of College Stores (2006)
Openstax