Many of my students at the University of Puerto Rico-Mayagüez are future engineers, and creative writing presents a challenge for them. When I first started asking my students to develop a story with an original character, they often fell back on what they were watching on TV: serial killers, lawyers with deep pockets, intelligent women with a dark side and other well-worn character tropes.
The students worked hard but their stories would end up being predictable. This went on for a few semesters, until one day I decided it was time to turn on my students' full creativity. I wanted to find a way that would open their minds, senses, and hearts.
I needed help—and I found it in an unlikely place.
Subscribe to Top Hat's weekly blog recap
Get the best posts of the week delivered to your inbox:
It was early January, and all around me there were snow-capped mountains, and I was wandering through the streets of the 2000-year-old city of Geneva, Switzerland. I was accompanying my husband, who was attending a conference at the European Organization for Nuclear Research (CERN). As I stepped into a picture-perfect square, my eyes caught a glimpse of a stand full of sweaters, scarves, and hats. Feeling the cold, I rushed over.
I glanced over the clothes, but quickly something else grabbed my attention: knitted finger puppets. My mother has always been big on knitting and I had accompanied her to many wool shops throughout my childhood. Yet, I didn't remember ever seeing such artful little puppets that ranged from piggies in vests to psychedelic octopuses to fowls of every woolly feather. The Peruvian woman who ran the stand told me the puppets were hand-knitted by Andean girls and women as part of a tradition dating back to the Incas. I could see no two were exactly the same, each an expression of the knitter's personality.
The puppets made me think of British writer A.A. Milne, who had transformed his son's teddy bear into the unforgettable Winnie-the-Pooh. "Aha!" I thought. "I can take dozens of these puppets into my classroom and they will help me fire up my students' creative powers!"
As a new semester was about to launch, I became more than a little nervous about bringing "toys" into my classroom. After all my students, are not children but young adults in their late teens and early 20s, not a time when most of us would want to be seen in public playing with puppets.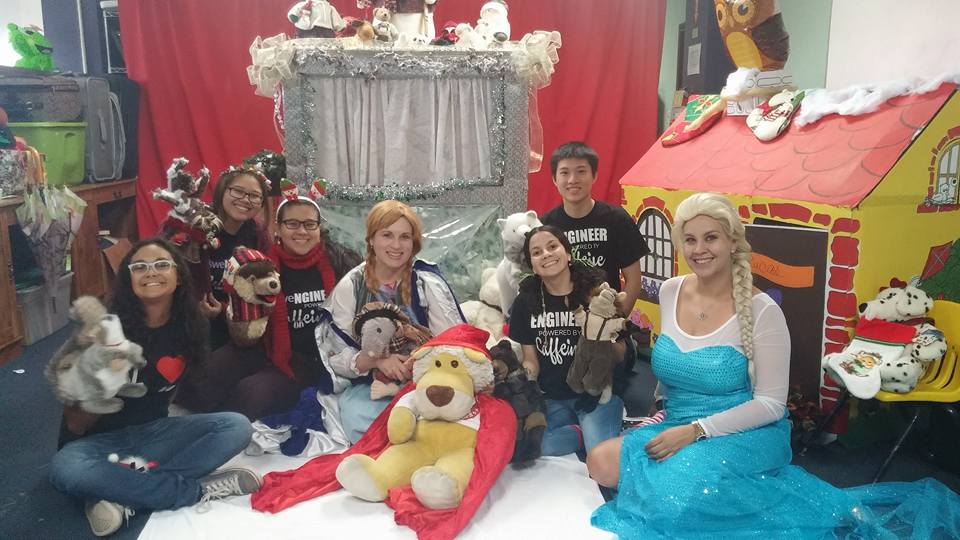 Engineers at UPR with their puppets, and their professor (right)
In spite of my doubts, I decided to go ahead, and after a little experimenting (including baskets, crayons, and colored sheets of paper), the predictable TV-inspired characters were left behind. Soon we were entering into the realm of creativity that springs from our inner child's imagination.
For instance, this past semester one civil engineering student who had been accepted to a NASA summer internship chose a squirrel puppet and transformed him into special agent Agent Nuttz, who has an arch-nemesis, The Phantom, "a white owl with claws that had already left their mark on Nuttz's face." A perfect setup for a story where opposing sides battle each other.
Meanwhile a second-year English major, pursuing a minor in writing and communication, transformed two stuffed toys into a romance set in a far-off land between Hershey the Knight, a tough chocolate-colored bear from an economically challenged background, and Princess Baby Blue, a light blue bear who loves raspberry tea.
I also had a student tell me that she enjoyed my creative writing class because the exercises we did gave back value to "childish" things she was told she should have outgrown.
Re-evaluating and re-connecting with "childish" things is important. Master storyteller Stephen King greatly values childhood as a source of inspiration for his work. In Stephen King on Childhood, he states that children live in "a secret world that exists by its own rules… we forget what it is to be a child and we forget that life which is kind of exotic and strange and that's what really interest me."
He adds that talking to himself and his characters, as children do, is "what people pay me to do." If a successful writer like Stephen King is interested in childhood, then all budding creative writers should be too.
You can read more on this in my upcoming Top Hat book, Creative Writing: Fiction. In Chapter 6, I recommend that after your students have created their characters using my exercise From Animal Character to Story, they break up into groups and form publishing houses or film production companies and experiment with writing dialogue and scenes.
And who knows—the characters and the work your students do in groups could become the basis of a future Pixar or Disney film.