Anyone who deals with distracted students will sympathize with this instructor at the University of Michigan at Ann Arbor, who recorded all the things she spotted students doing instead of listening to the lecture. Here's a tweet, by one student, which went viral:
My GSIs recorded all the things they caught students doing in lecture over the semester 😂😂😂 pic.twitter.com/nvvhYAMaa0

— Tahany (@TahanyAls) April 17, 2017
In the oceanography class, where students are required to bring laptops to the lecture, graduate-student instructor Meg Veitch noticed that many students were looking at cat videos and buying $240 worth of turtlenecks rather than taking notes. She told the Chronicle: "If you're watching a video or playing a game, it's not so much your distraction. It's distracting to everyone behind you."
Some students get distracted when, despite being interested in the material, they lose track of the instructor's train of thought. This is called the Pulpit Problem—students don't easily absorb complex concepts if they're not actively building their own connections that lead to knowledge. People learn by thinking and applying concepts for themselves. When this doesn't happen, students can easily tune out, switch over to their Facebook account, or shop for sweaters.
There's research to support this. Undergrads in classes with traditional "sage-on-stage" lectures are one-and-a-half times more likely to fail than those in classes that use a wider variety of teaching techniques, according to the University of Seattle.
Technology as a catalyst
You could pull students attention back to the lecture by shaming them, but the long-term solution is to employ active learning, where class discussion and exercises take precedence over a one-way transmission of information. In fact, personal technology itself can serve as a catalyst for the adoption of these active learning strategies.
Instead of fighting the phones and laptops that students bring to class, instructors can use them. Smartphone apps, social media and student engagement platforms such as Top Hat make the transition to active learning classrooms easier and more efficient. Minute papers, quizzes and muddiest-point exercises can all be executed and tabulated online. Debate proceedings can be videotaped and posted to course websites. And instead of social media being a powerful distraction, it can be harnessed to connect and discuss the topics in the course, as education engagement expert James Lang suggests.
Furthermore, technology also lets you design and adopt new teaching activities, and adapt them quickly without having to expensively redesign your classroom.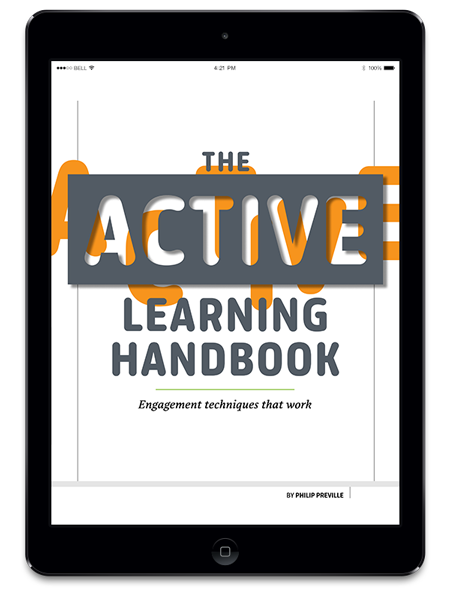 Technology can and should be your partner in developing an actively engaged classroom.
Download our e-book to learn more about the research behind active learning, and how different techniques can be incorporated into the classroom using technology. →