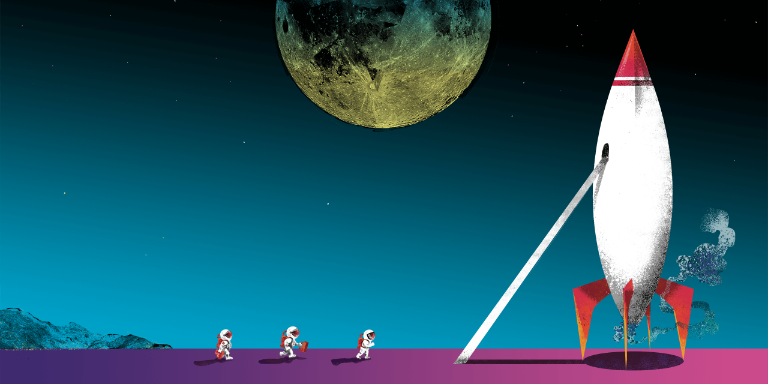 Finally, free actually means free.
At Top Hat, we've been working on making education more effective and affordable since 2009. Now, we're happy to make a move that delivers on both fronts. Beginning April 12, with the launch of our Open Content Initiative, we're offering completely free access to thousands of textbooks and other Open Educational Resources (OER)—freely accessible and openly licensed learning materials—on the Top Hat Marketplace.
It's about time. Students have been forced to weigh the pros and cons of emptying their wallets and draining their financial aid to buy textbooks for far too long. A recent study found that 65 percent of students decided against buying a textbook because it was too expensive, even though they knew it would harm their grades. Student debt has ballooned to $1.49-trillion, while traditional educational publishers have raised the price of textbooks at three times the rate of inflation since 1977.
Just as bad, digital publishing platforms and e-readers have been charging a toll to students—disguised as a platform fee—to access free, openly licensed OER.
Enough is enough.
"We want to help bring OER into more college classrooms"
Innovative educators have been combating the cost of attaining a solid university education by making use of OER as far back as 2002. It's educational content for a generation that grew up with smartphones, interactivity and on-demand information. Just as importantly, OER promises to be easily adaptable, and therefore aligned with an educator's course needs and way of teaching.
Professors and schools have been slow to adopt OER for a variety of reasons: the first generation of OER was hard to find; quality was uneven; and there was no way to customize content specifically to a course. Most of it came in static PDFs that were hard to read on a smartphone and were difficult to adapt.
But those early perceptions are changing. As the next generation of OER becomes more engaging, interactive and customizable, the OER movement is gaining momentum in higher education. We want to help bring OER into more college classrooms. That's why we created a home for the new OER—the Top Hat Marketplace, where educators can easily find the most relevant course content. Everything in the Marketplace is created, updated and shared by authors using Top Hat's platform, or sourced from reputable third-party OER content providers. All of it is entirely customizable. And anyone can discover, adopt and make the most of the content by utilizing Top Hat's built-in assessment and homework capabilities free of charge.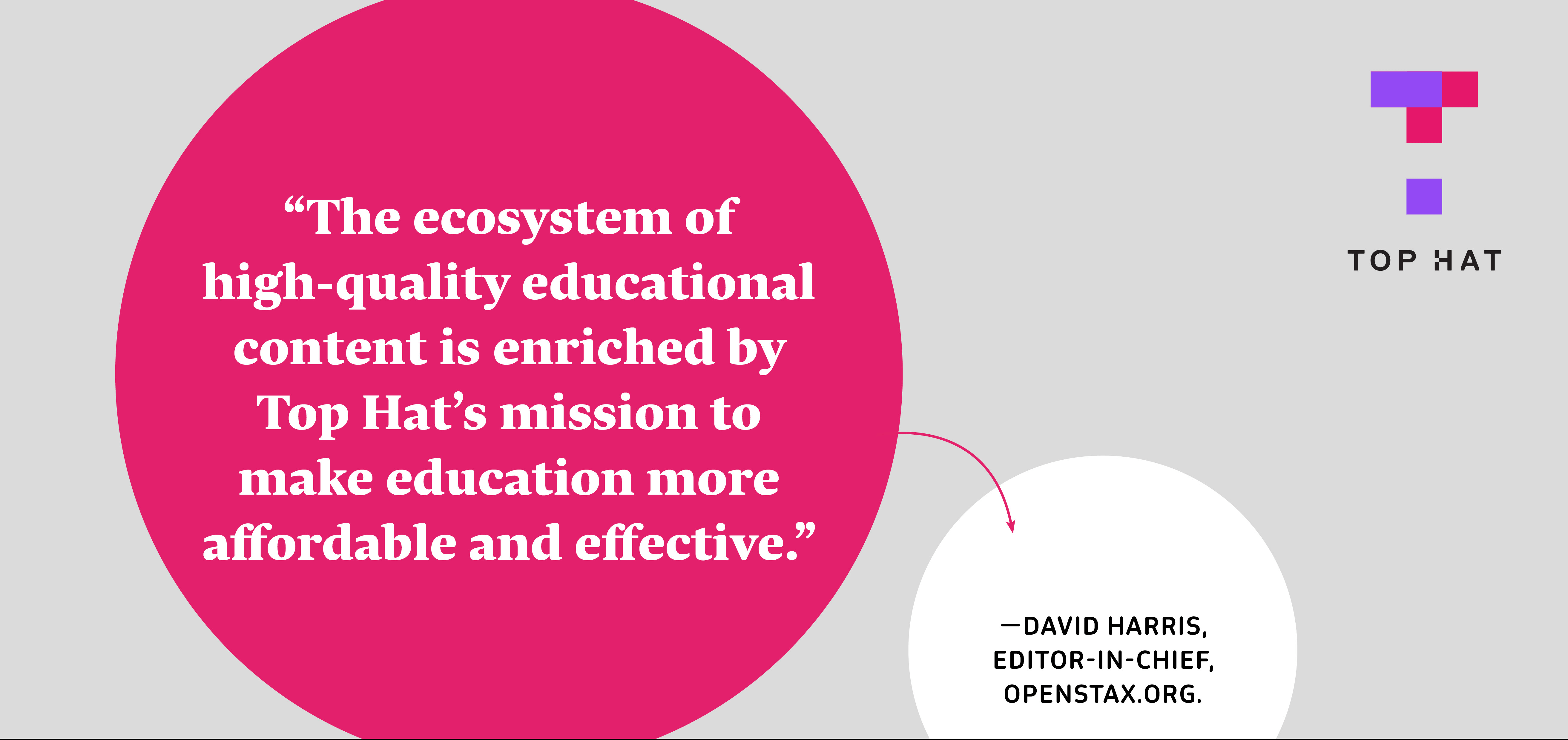 In creating an open content marketplace for the distribution of OER, we're keenly aware that we're entering a community where openness and freedom are valued, and are under constant debate. Many textbook publishers are guilty of 'openwashing'—pretending to take on the positive community aspects of open educational resources while profiting from access to their platforms.
The CARE Framework, released in March, is helping to guide our stewardship of these open materials. We are contributing to the community by organizing and making it simple to find  OER, and we give full attribution to all contributors. Anyone who adopts textbooks from the Marketplace can provide feedback and suggest enhancements to the authoring team, who can accept or reject the changes, and push updates to new and existing users. Our OER will soon be subject to the same community-review and revision process as the commercial textbooks available on the Marketplace; and all OER derivatives will be openly licensed and remain free. We're working with Creative Commons to ensure all of our content is openly licensed and properly marked.
We're also ensuring these free OER are available independent of Top Hat's teaching platform. All of our OER Marketplace offerings will be available for download and distribution in other formats including EPUB, PDF, and even raw text, if you want to use them that way.
While you won't actually have to use Top Hat to access the course content in our Marketplace, we hope you will choose to do so. And here's why: in addition to offering free access to nearly 20,000 high-quality course materials available on the Marketplace, we're also including Top Hat's homework and assessment capabilities—a vital part of open textbooks—free of charge. We believe students and educators should have access to a full-featured textbook experience when they choose OER. (We will continue to charge students a fee for Top Hat Classroom, our in-classroom engagement product, Top Hat Test, our product for administering secure formative and summative tests, and our commercial textbooks and other course content, which are available in the Marketplace too.)
It's easy to get started: Just visit the Marketplace and choose an open textbook.
For students, it's just as simple. They can download the app, create an account, enter the course code and instantly enjoy high-quality textbooks in an interactive format on any device. Access will remain free, for life.
If Top Hat is going to succeed in its mission to make education effective and affordable, we can't allow free, openly licensed OER to lie behind a for-profit padlock, or remain scattered randomly across the Internet. The Open Content Initiative will allow instructors and their students to use our platform for free in combination with any free content in the Marketplace.
Finally, "free means free" when it comes to open educational resources.
Related story
3 reasons why students pay more for their textbooks