Ohio State University has saved students an estimated $1.8 million to date by ditching in-class clickers for Top Hat and OER textbooks with Top Hat, according to Liv Gjestvang, OSU's Associate Vice President of Learning Technology.
Top Hat's OER textbooks encompass more than text—it can include galleries, timelines and interactive tools. Each book can be adapted and edited by the instructor, and can incorporate questions and discussions for immediate feedback as students learn, making it an easy route into active learning for classes.
Speaking at a Top Hat event at EDUCAUSE 2017 in Philadelphia at the beginning of November, Gjestvang said that since adopting Open Educational Resources at OSU, their students "are not only saving money but are able to engage in new teaching practices."
As a textbook price comparison, a used or new chemistry textbook can cost $200-$300. Top Hat's Organic Chemistry I & II book costs $65, offers lifetime access and features interactive aspects such as embedded video.
The fact that the OER content is interactive, and not just a scanned copy of a print book, is important for Gjestvang. "We've seen that if it's a PDF, students don't like it and cannot read it properly," she said. PDFs and phones were never made to get along—a point Gjestvang says many students previously complained about.
Statistics on Ohio State's use of Top Hat
Professors: 1,122
Student usage: 40,000
Estimated student savings to date: $1.8 million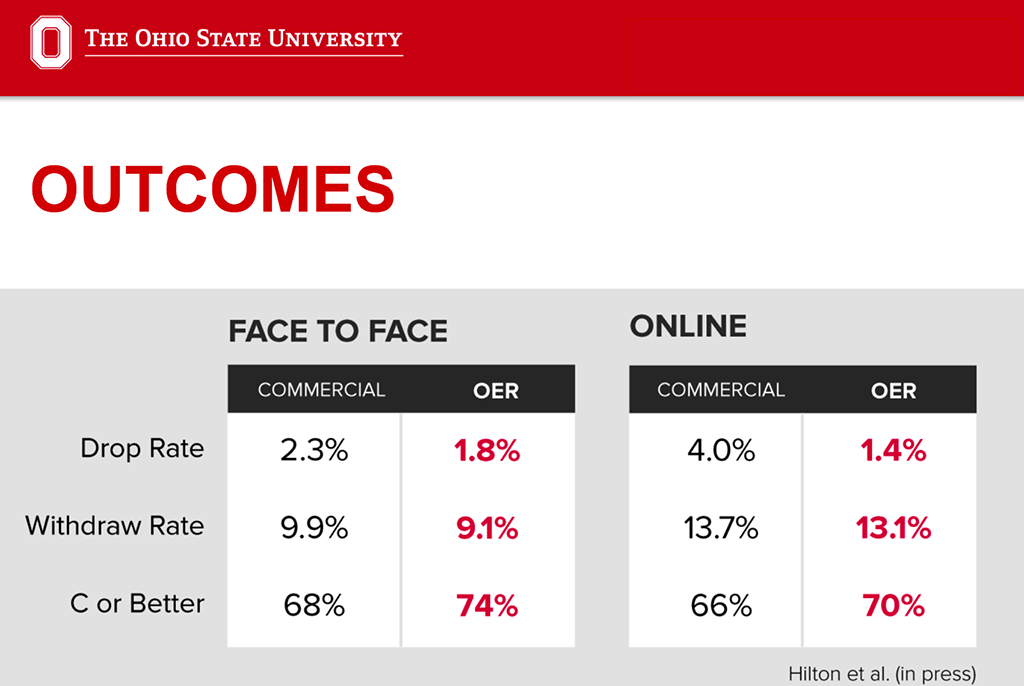 Results so far from using Top Hat Classroom and OER textbooks vs. clickers, according to Liv Gjestvang.
Some of EDUCAUSE's list of the most pressing issues facing higher education technology included the affordability of tuition and the need to measure and improve student success—both of which are addressed by increased adoption of OER textbooks.
Tech that students would like faculty to use more
1. lecture capture
2. free, web-based content
3. early-alerts for academic issues #EDU17

— Marc Drumm (@marcdrumm) November 1, 2017
Earlier that day, Gjestvang received the prestigious Rising Star Award for her "demonstrated track record of sustained service and increasing impact in higher education and her collaborative and innovative style of leadership." Change management, one of EDUCAUSE's Top 10 campus technology issues, is another area Gjestvang excels in. Her leadership strategy for OER adoption on campus is to start implementing the technology with people who already see the benefits of OER, and provide staff and small grants to help new users get started.
For those on the fence, there are also programs where instructors can watch active learning classes that are powered by OER, so they can judge how it can apply to their own teaching.
And Ohio State University might be inspiring other schools, too. Just 74 miles away in Athens, OH, Ohio University has separately signed a partnership with Top Hat to supply OER materials to students, which in turn will save them $500,000 per semester.