Engage 2017 wasn't just about learning new teaching techniques—it celebrated innovative educators who used new methods to meet their classroom goals. In our inaugural Innovative Educator Awards, these following four educators showed focus, spirit and imagination in improving their student engagement and results.
Top Author
Beth Hammett—College of the Mainland, TX
English
Beth Hammett began to explore Top Hat because she found that her students in English composition were not attending her class or completing their assignments. She creatively solved her engagement problems by writing a book with an exciting and unusual angle on English composition—asking students to compile and orally present their own conspiracy theory. This concept engages them with how to read social and traditional media, academic research, reasoning and crafting a persuasive argument.
Hammett uses a flipped classroom structure. Students work through her Top Hat chapters outside of class, and during class they interact with slide presentations and take part in on-the-spot discussions and questions.
"Being able to drill into students' attendance, daily progress, and grades, makes assessment and accountability simpler," she says. "Top Hat helps me utilize every minute of class times, and students enjoy learning."
Top Newbie
Burcu Tuncer Karabina—Florida Atlantic University, FL
Mathematics
Karabina focuses tirelessly on student success—a difficult task, because her Math courses are aimed at disinterested Liberal Arts majors. She uses Top Hat Classroom to post in-class questions (for bonus credit) and help her class receive immediate feedback, so that they know in-lecture if they are on the wrong track, and can ask for help.
Top Hat has given her the time to offer students assistance and create a positive learning environment. The results speak for themselves: her class average has increased to 82%.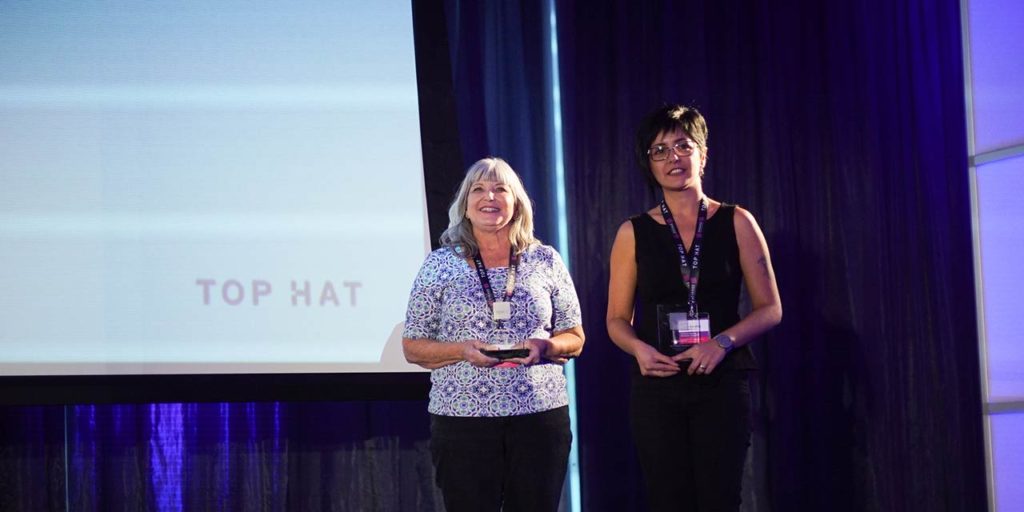 Beth Hammett and Burcu Tuncer Karabina. Photograph: Black Rhino Creative
Top Educator
Matthew Numer—Dalhousie University, NS
Health Promotion
Matthew Numer introduced Top Hat in his Human Sexuality class, which was growing from 150 students a term to 400. Scaling a class like this comes with challenges—how do you ensure everyone's voice is heard and keep everybody participating? Furthermore, the awkward subject matter sometimes means more bashful students are less likely to speak out.
Student evaluation of his course, Numer says, ranked extremely high—but he wanted to see whether Top Hat genuinely did improve engagement, so he sought funding for a peer-reviewed study into student experience and BYOD (Bring Your Own Device) technology. The study found several statistically significant improvements.
Numer is a thought leader and a mentor, training his long-term TA Becky Spencer in his teaching methods and naming her co-author on publications. Last year, Spencer received Dalhousie's Graduate Teaching Assistant Award. As Numer says: "It is important that as we innovate and support highly effective teachers, we also pass along their expertise to junior and senior faculty alike."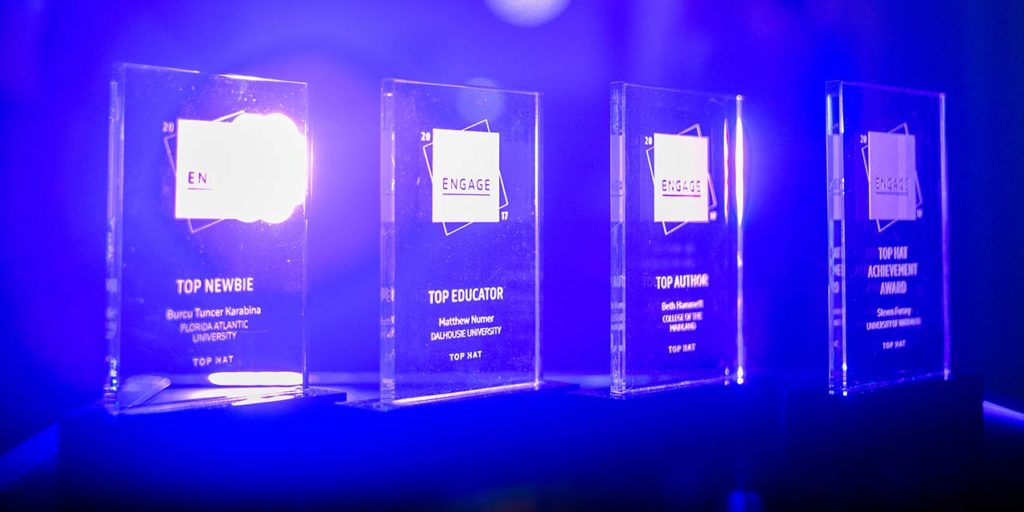 The Innovative Educator Awards. Photograph: Black Rhino Creative
Top Hat Achievement Award
Steven Forsey—University of Waterloo, ON
Organic Chemistry
Steven Forsey, who started his education career at the University of Waterloo in 1985 as a chemistry lab instructor, has always been an early adopter of technology. As a recipient of the Excellence of Science Teaching Award, he has embraced emerging technologies to enhance the learning experience of his students in the classroom.
Mohsen Shahini, co-founder of Top Hat, told the conference that Forsey was chosen because of his pioneering history. "What amazes me about this prof is that he's never been afraid to change his classes year after year," said Shahini. "In 2009, he was the first professor who said 'yes' to our app. And later on, he became our first author."
These four Innovative Educator Award winners are just a few of the incredible members of our Top Scholar community. If you're interested in being a Top Scholar and having your great work in education recognized, fill out our application form.
Stay tuned for the call for submissions for our 2018 Innovative Educator Awards.
Try our free 4-Part Teaching Resources Kit, built by Top Hat's instructional designers, to help plan activities, lectures, assessments and more.