While institutions have supported educators well in managing pedagogical shifts to hybrid and online learning environments, technical support has been lacking—and this is a concern for professors when it relates to student engagement. With technology playing an important role this fall, being able to address student engagement and equity issues that arise from online learning are essential to building an effective classroom community.
Top Hat recently surveyed 808 higher education faculty and instructional design staff to understand how educators and institutions have prepared for the fall semester. In this installment, we explore how instructors are using technology to deliver engaging, equitable learning experiences this semester.
Top Hat's free Faculty Preparedness Survey highlights instructional challenges and insights as faculty head into the fall semester. View or download the report here.
Instructors are concerned about how new modalities will affect them personally
Managing the shift to a new way of teaching is challenging at the best of times. It's even more so in the face of an ongoing pandemic, especially when personal health and safety—and that of loved ones—is also at stake. Given the uncertainty, many have experienced heading into the fall, and the increased workload involved in adapting to new teaching modalities, it's hardly surprising that many are anxious. Forty-five (45) percent of respondents are concerned about maintaining a state of good mental health, while 40 percent are concerned about looking after themselves physically. Balancing childcare and other familial responsibilities worries 20 percent of professors as well.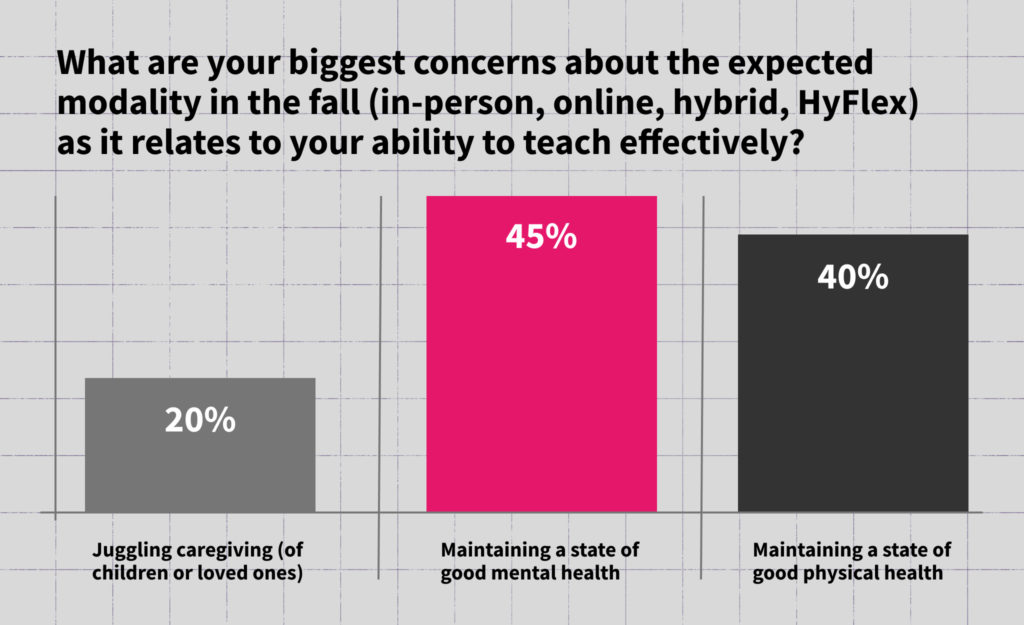 Engaging students? Many faculty have not received adequate training
While institutional support around remote teaching received favorable reviews, most instructors have not received adequate training on using online tools and platforms to engage their students in and out of class. This is a notable gap given that keeping students engaged in online courses is a chief concern for 81 percent of respondents.
Fifty (50) percent indicated that learning to engage students in real time was either a minimal or non-existent part of their training while 55 percent said the same for learning to engage students outside of class. This places the burden on individual instructors to foster community and belonging in their classrooms. The stakes are high. A lack of focus here may jeopardize efforts to meet increased student expectations for a connected and motivating learning experience.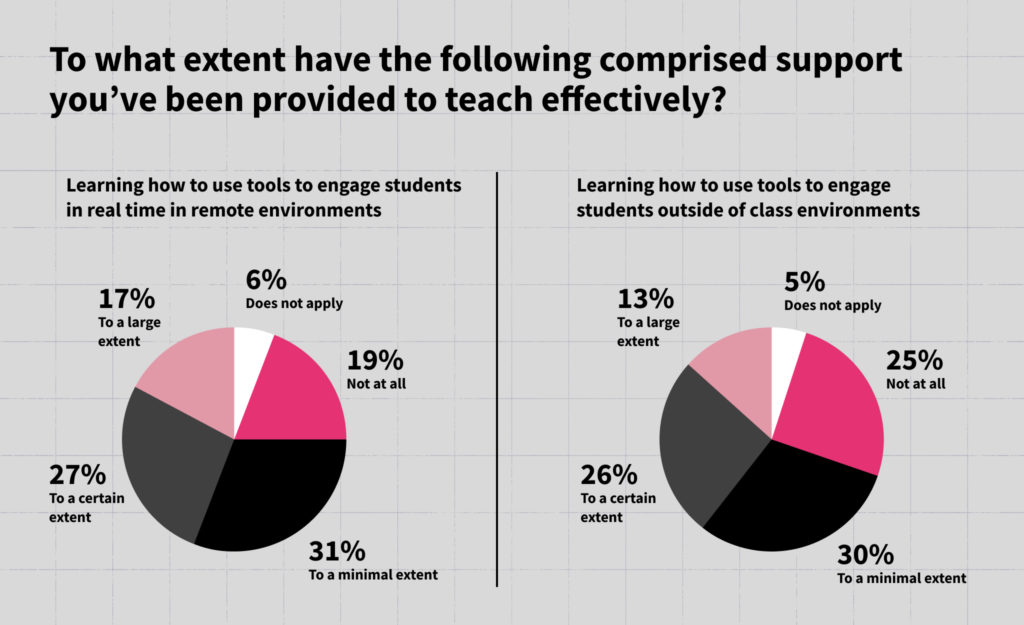 Addressing student equity issues
For many students, especially those from disadvantaged backgrounds, learning remotely presents a number of challenges: Internet connectivity, regular access to computers and spaces conducive to quiet study, among others. Navigating student equity issues are important for many faculty members. The good news is that 45 percent of respondents have taken proactive steps to manage these issues as it relates to live or synchronous online learning. However, a significant portion reported that while they are aware of these issues, they have not taken steps to address them.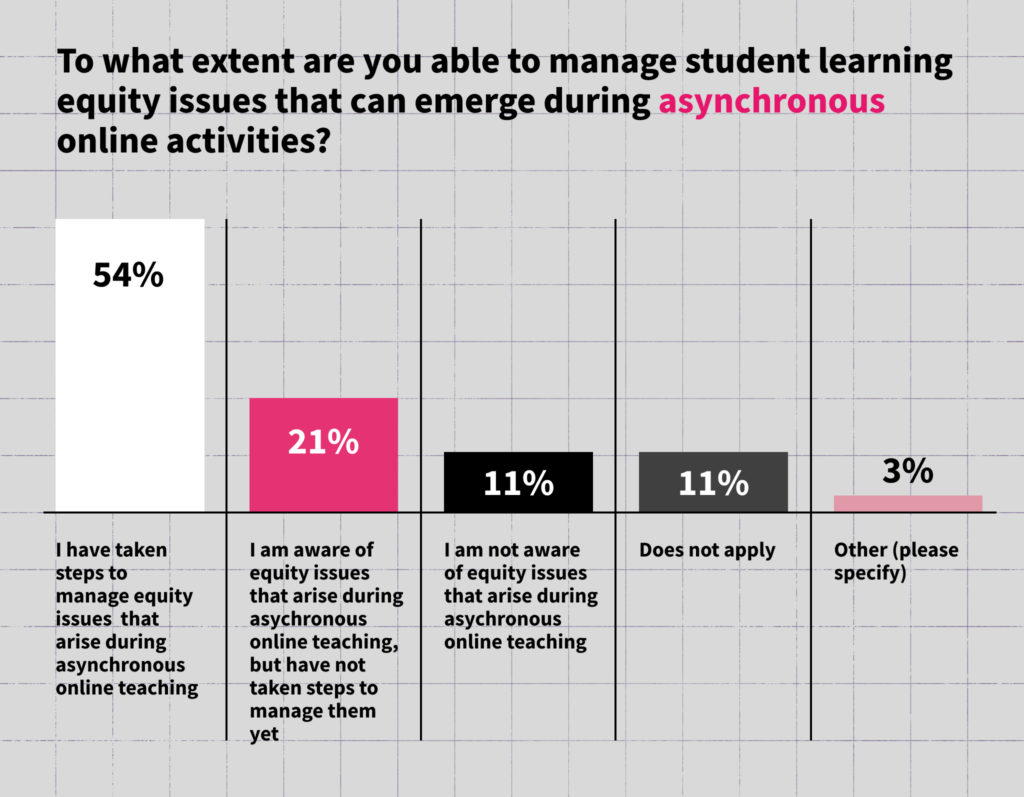 Fifty-four (54) percent are in the driver's seat when it comes to managing student equity issues related to asynchronous or self-paced online learning. However, 21 percent of respondents report they are aware of but have not taken steps to manage these issues. While this is a complex issue, providing students with video replays of lectures and building in opportunities for course material review into class time are low-effort ways to ensure students have equal access to learning.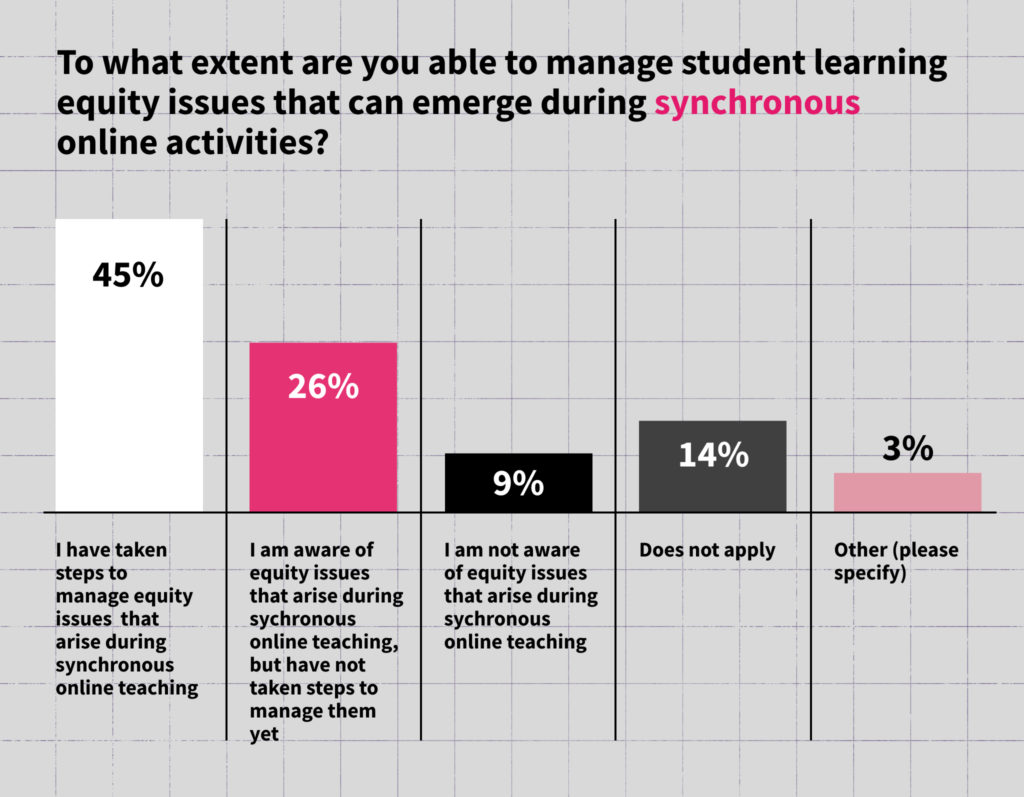 Issues with Internet connectivity, familial responsibilities and part-time work all impact student learning in hybrid and online environments. This makes it all the more important for instructors to design courses that are flexible and accommodating of individual needs to provide students with as few barriers to learning as possible.
Survey methodology
Survey responses were collected by Top Hat from 808 higher education faculty and instructional support staff in the United States and Canada from July 13 to 19, 2020.
How are other faculty members faring with tech tools? How are they managing student equity issues in their online classrooms? The answers to these questions, and additional insights, are provided in Top Hat's free Faculty Preparedness Survey, which can be viewed or downloaded here.
Faculty sound off on the fall term in our four-part series:
Part 1: The Disconnect Between Faculty and Institutions Over the Fall Semester
Part 2: Uneven Tech Adoption Raises Concerns About Student Success