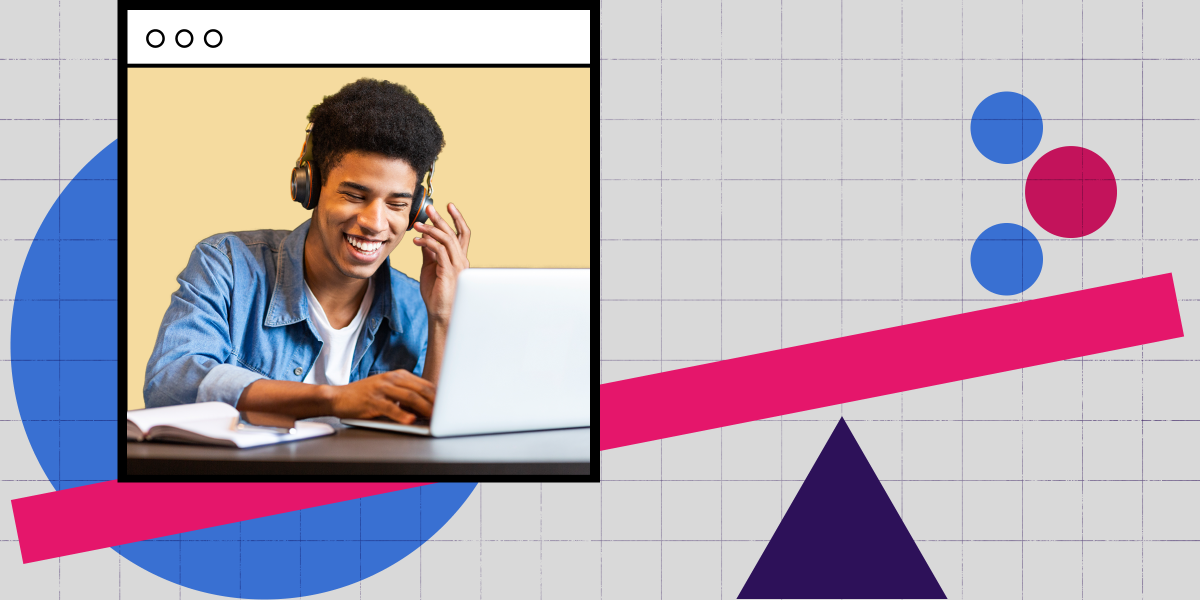 Both within classrooms and across institutions, the way professors are using technology in their classrooms vary widely. As the fall semester gets underway, many are continuing to rely on a variety of solutions to support the remote teaching experience. This patchwork approach may jeopardize efforts to meet increased student expectations for a more engaging, more seamless and more human learning experience.
Top Hat recently surveyed 808 higher education faculty and instructional design staff to understand how faculty and institutions have prepared for the fall semester. In this installment, we explore how instructors are using technology to deliver online and blended learning and the potential impact on student success and educational ROI.
Top Hat's free Faculty Preparedness Survey highlights instructional challenges and insights as faculty head into the fall semester. View or download the report here.
Teaching online? An LMS is not enough
Over 80 percent of faculty members use a learning management system (LMS) in some or all of their courses, but an equal portion are using other digital teaching tools as well. This suggests that an LMS alone is not sufficient to teach and engage students taking part in online or blended course formats.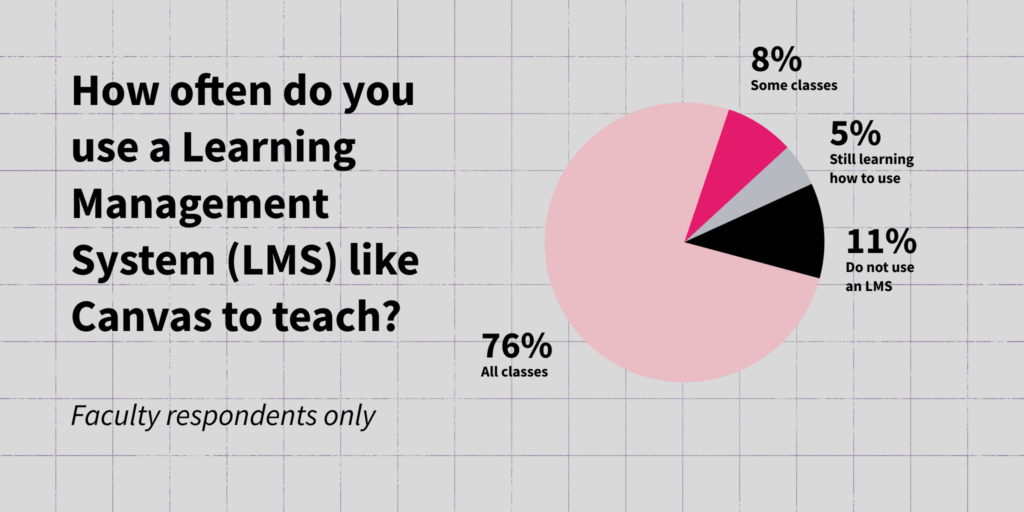 How well equipped are faculty to use technology to support their remote teaching efforts? The answers are mixed. Five percent of faculty are still learning how to use an LMS while 12 percent of respondents said the same for other online teaching platforms. 11 percent indicated they do not use an LMS at all while eight percent said the same when it comes to using other digital teaching tools. This is some cause for concern given the heavy reliance on the technology required to teach students in the coming semester.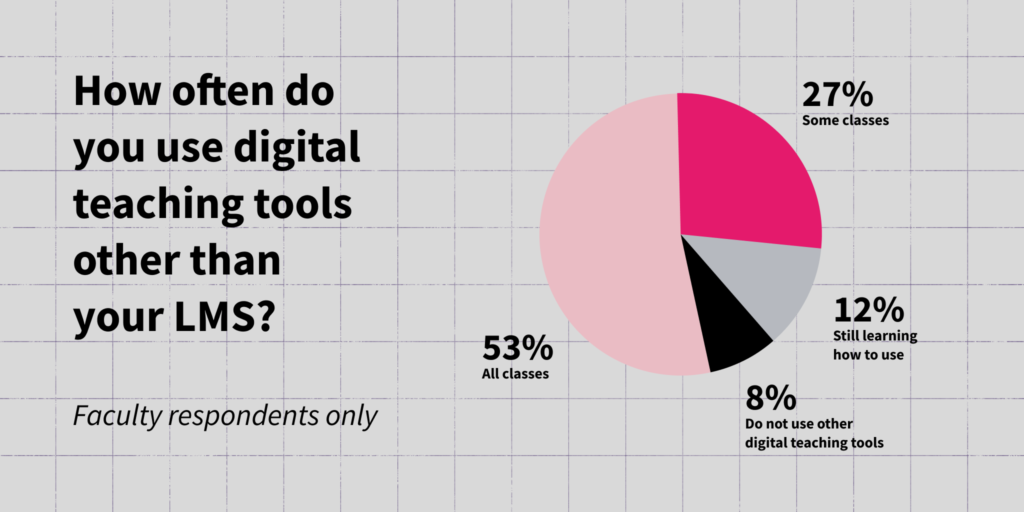 Many faculty members are figuring out their own solutions
Over 30 percent of professors reported that their institution had not mandated any tools or technologies this fall, while another 31 percent indicated that some direction has been provided. The lack of standardization risks creating an uneven and disjointed learning experience for students who may be required to navigate a variety of different systems. It also increases the burden on instructors to research, select and learn how to use different technologies to support course delivery, as well as institutions that may be called upon to provide support when things do not work.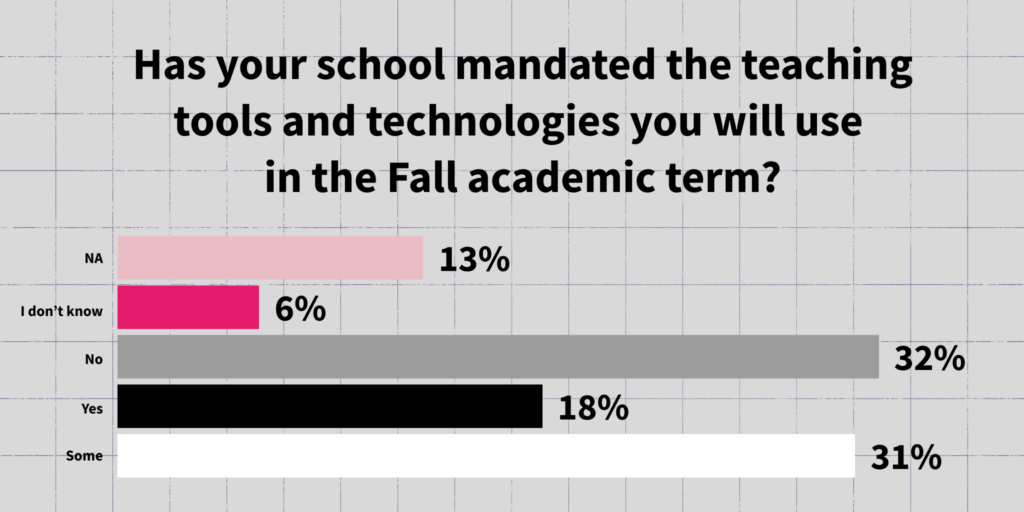 Concerns about pressures on students
Over 50 percent of instructors are concerned about how students will navigate online teaching tools, while 41 percent share the same concern with respect to accessing online teaching materials. Over the immediate term, it will be important for instructors to turn their energy to orientation to ensure students are comfortable with the tools they will be using to power their learning.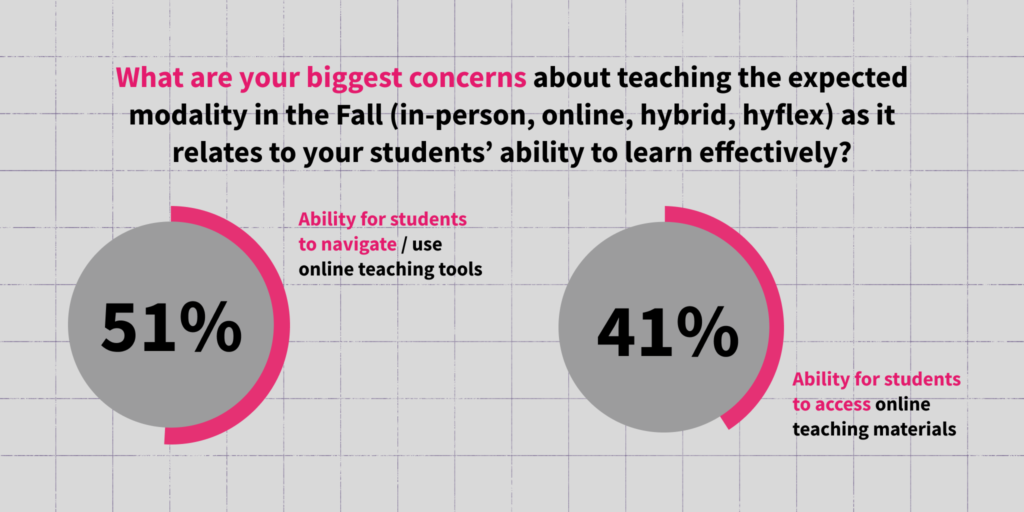 Longer-term, standardizing on tools designed for online instruction will be an important focus, not just for creating rewarding learning experiences for students, but for increasing the scale and efficiency of the virtual classroom at an institutional level. Familiarity with properly integrated tools will allow faculty to focus on the student experience by using technology as a complement to their teaching rather than 'one more thing to manage. Students, on the other hand, can move much more seamlessly between courses and avoid the headaches many experienced in the spring navigating between different systems to attend 'class' or access learning materials.
Survey methodology
Survey responses were collected by Top Hat from 808 higher education faculty and instructional support staff in the United States and Canada from July 13 to 19, 2020.
How are other faculty members faring with tech tools? How are they managing student equity issues in their online classrooms? The answers to these questions, and additional insights, are provided in Top Hat's free Faculty Preparedness Survey, which can be viewed or downloaded here.
Faculty sound off on the fall term in our four-part series
Part 1: The Disconnect Between Faculty and Institutions Over the Fall Semester