Learning Management System
Top Hat is the industry-leading active learning platform that pairs with learning management systems for schools to help professors engage and motivate students in online, blended and face-to-face courses.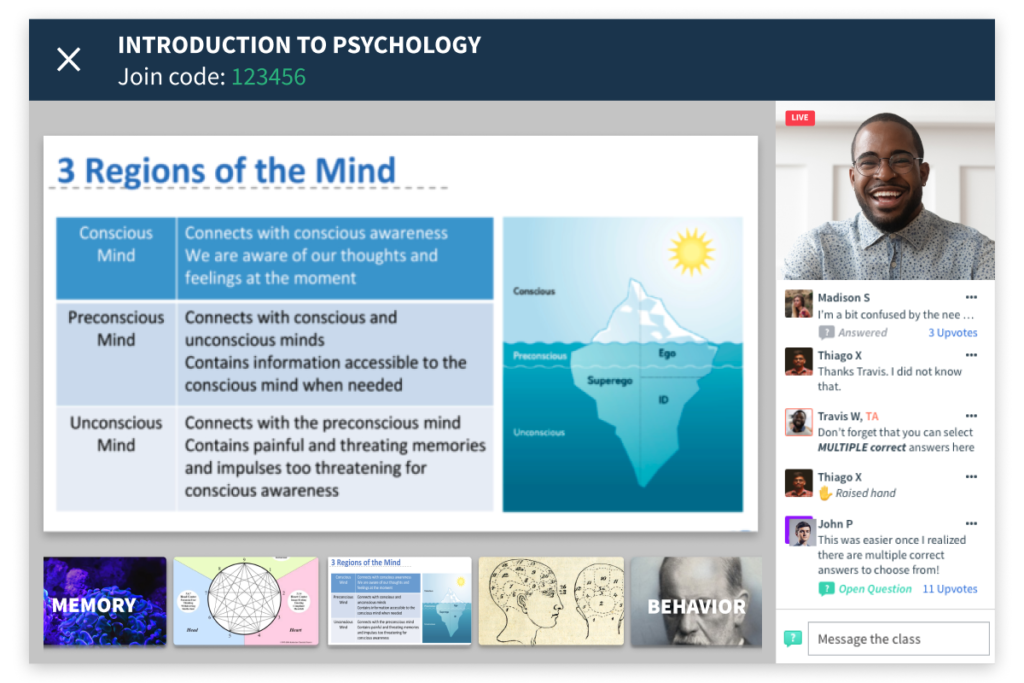 What is an LMS?
A learning management system (LMS) is a software-based platform that facilitates course management and administration. An LMS stores institutional data, course rosters and final grades. Top Hat is the perfect partner for your LMS, providing an environment rich in active learning and syncing seamlessly to ensure that the right information flows into the administrative features you rely on to collect and report on student data.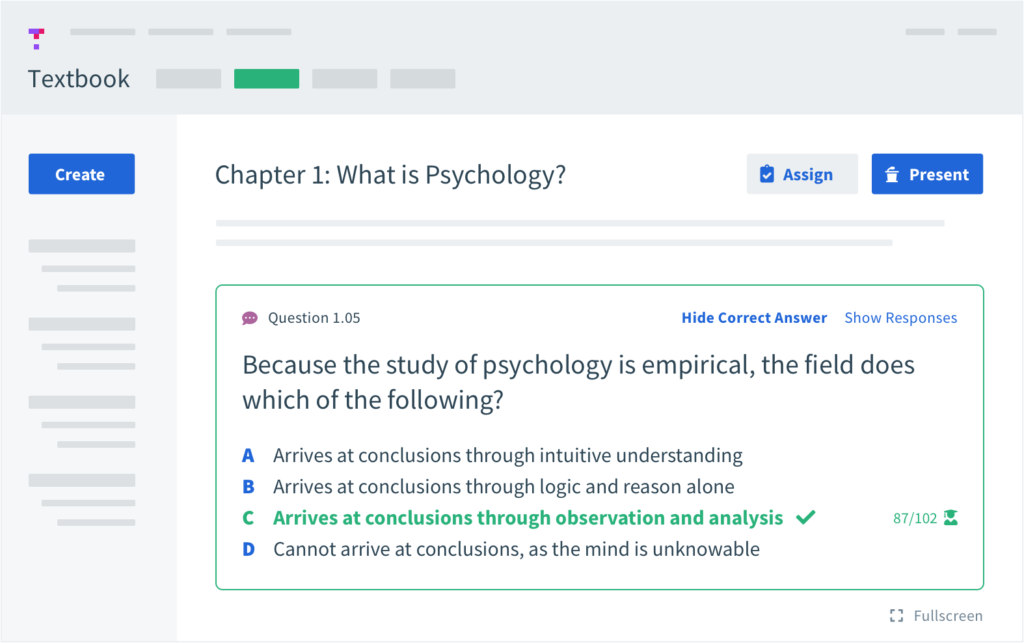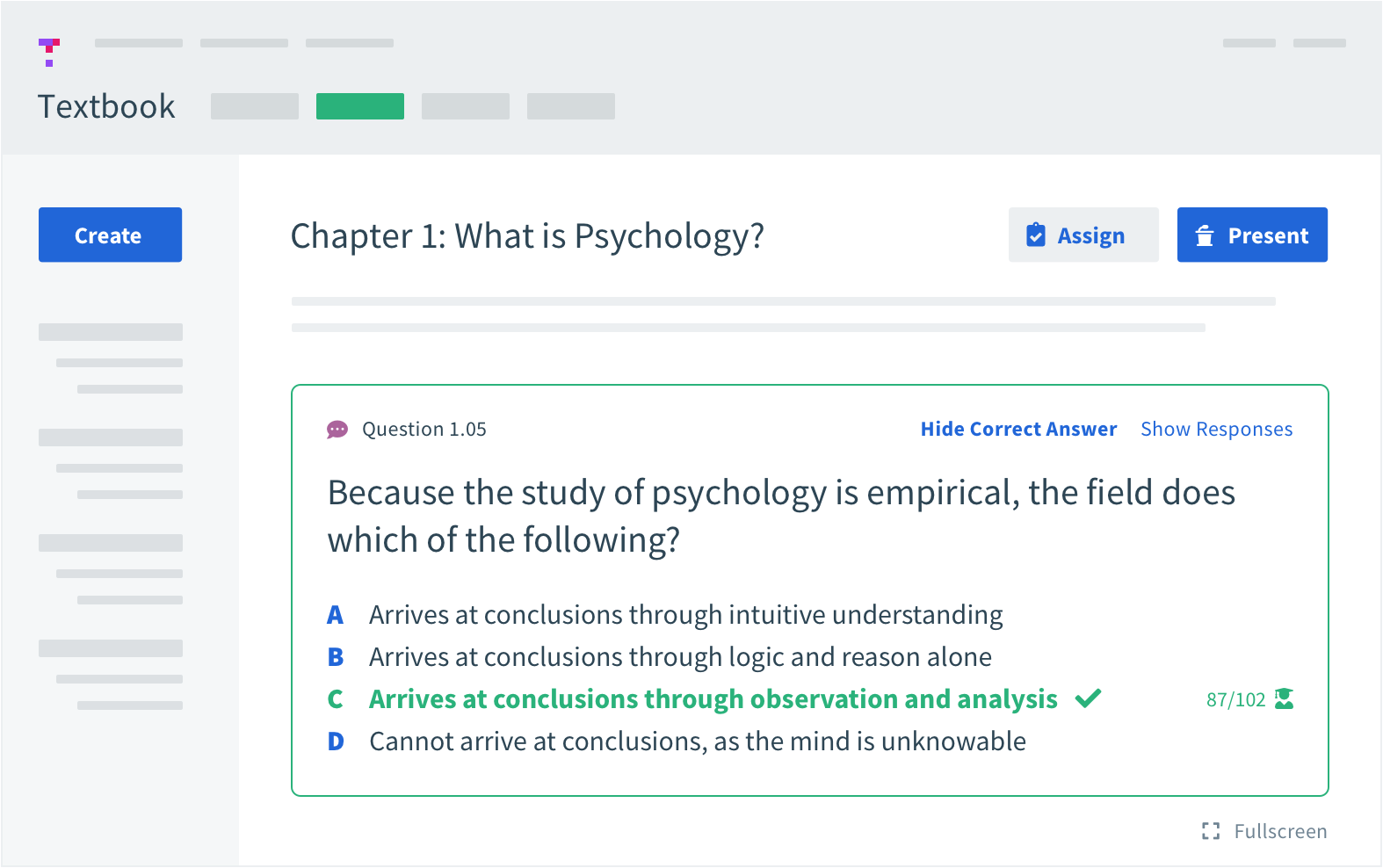 Turbocharge your LMS with Top Hat
In the wake of the COVID-19 pandemic, the need to support online learning is critical. To build engaging learning experiences while ensuring curriculum standards are met, high-quality online course solutions are now essential. With Top Hat's all-in-one web-based active learning platform, course delivery is easy. Share engaging presentations, connect with students through video streaming and ask interactive questions to assess comprehension of learning objectives. Top Hat enables active learning, helping you keep students connected and engaged before, during and after class. Read on for an understanding of how Top Hat creates an active learning environment.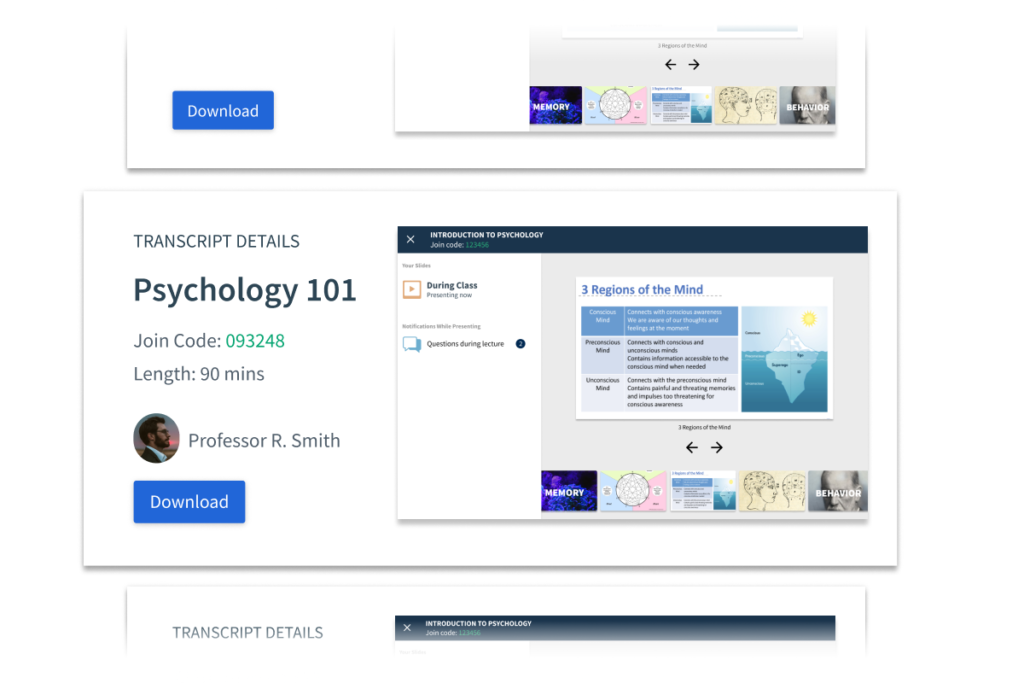 Streamline your lecture prep
Unlike your LMS, Top Hat can help you spend less time on course preparation. Top Hat makes it simple to import and edit slides that can be supplemented with dynamic content, including audio, images, GIFs and video. Use the Top Hat Marketplace—a repository for thousands of high-quality textbooks across countless academic disciplines—to import question packs and pre-packaged slide decks to save time. Increase participation in synchronous online courses by taking advantage of more than 14 different question types, ranging from basic (including multiple-choice, word answer, numeric answer, fill-in-the-blank and more) or select from our advanced offerings (including video assignments and chemistry drawings), all of which students can respond to on their own devices.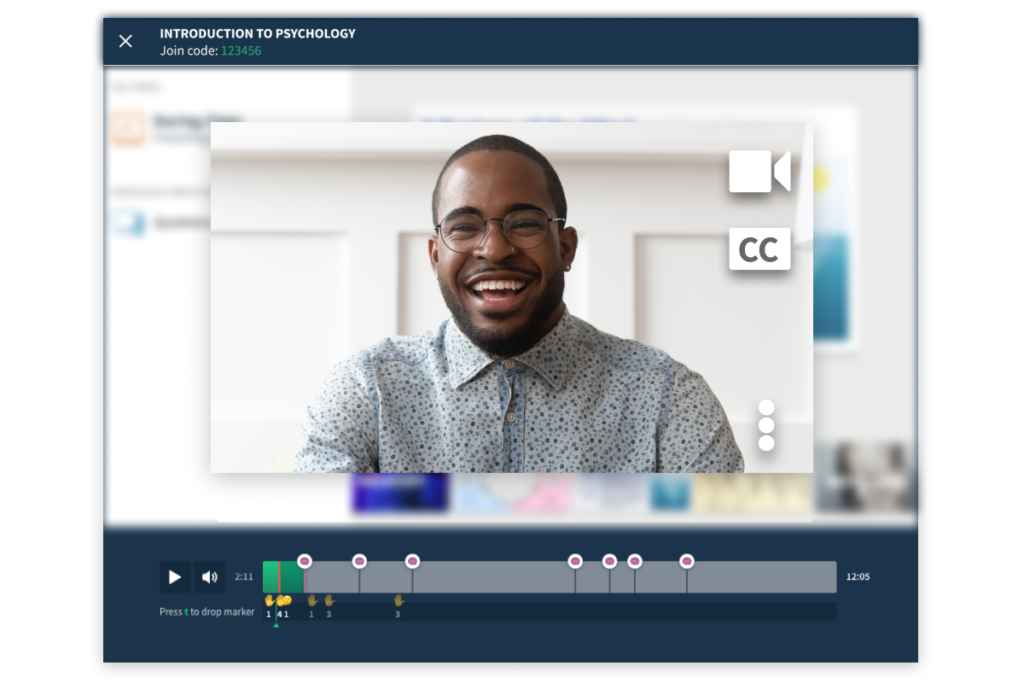 Foster an online learning community
Give your students a space to engage with their peers online and get support from their instructors. By leveraging discussion threads that can be dedicated to specific assignments or curriculum objectives, students won't be stuck searching Google for homework answers. Moderate chat threads by muting, replying to specific messages and more. Encourage collaboration and discussion by using group chat channels for projects and study groups to enhance the learning experience. You can also provide students with a safe space to share their interests and connect with peers in the same way they do on their favorite social media sites.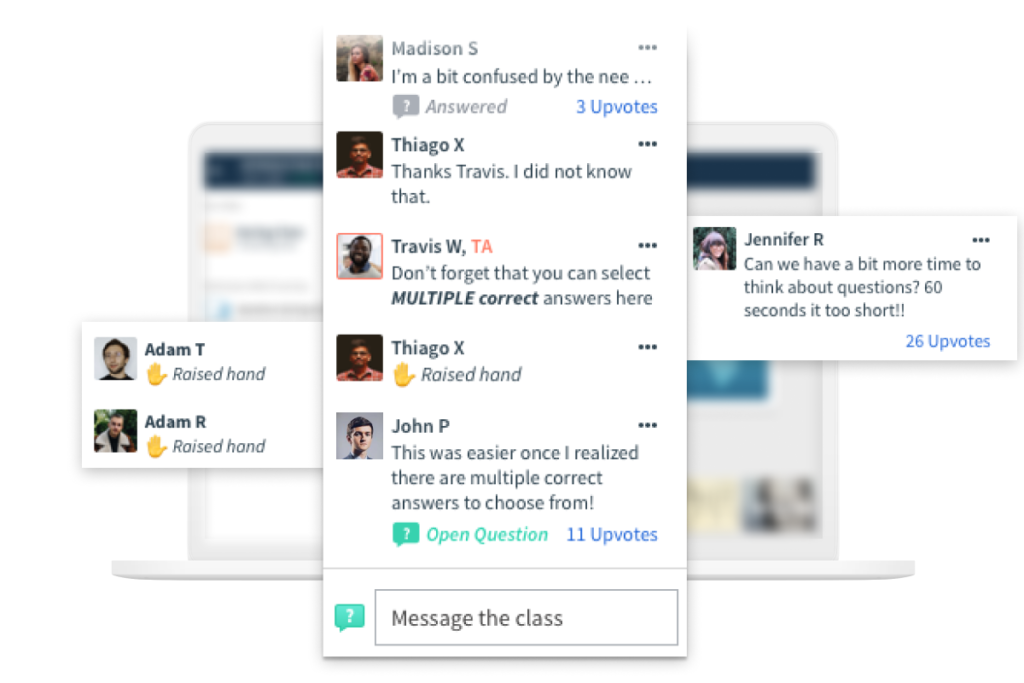 Build real-time connections with students
Use Top Hat's real-time video streaming capabilities to meaningfully engage with students. During a synchronous online lecture, intersperse comprehension-gauging questions between slides to keep your students on their toes and ensure they learn course material properly, through frequent formative assessments. While streaming your class, students can communicate with each other via a live chat—powered by Top Hat Community. They can write down questions or raise their hands to ask them verbally. They can also react to materials you're presenting with their favorite emojis. Live polling also lets you check-in with your class so you can tailor future lectures to reinforce essential course concepts that prove challenging. Share student responses and correct answers to questions posed in class using auto-generated visual graphs, word clouds and heat maps. Top Hat helps you build connections with your students and drive engagement at every step of the learning process.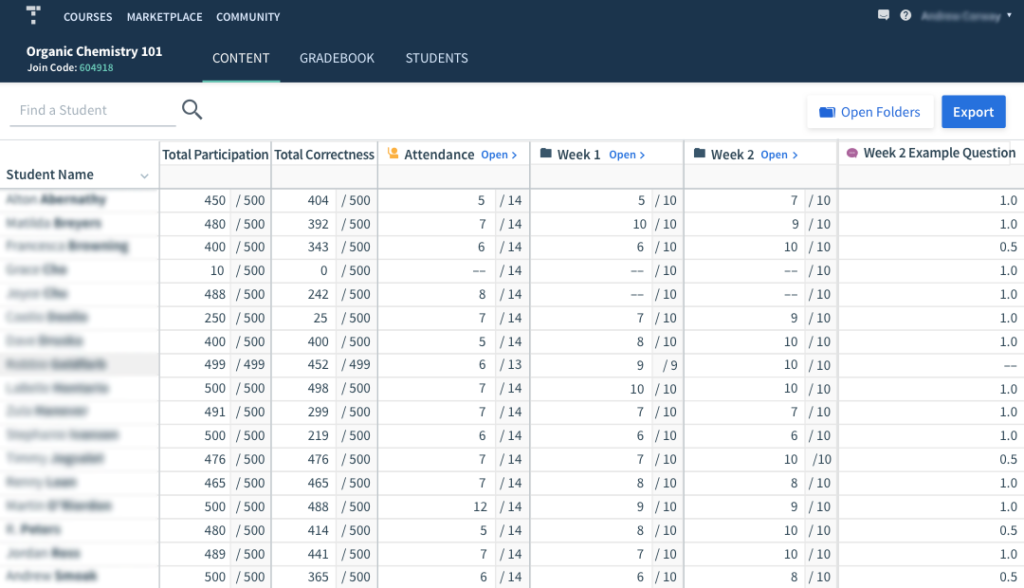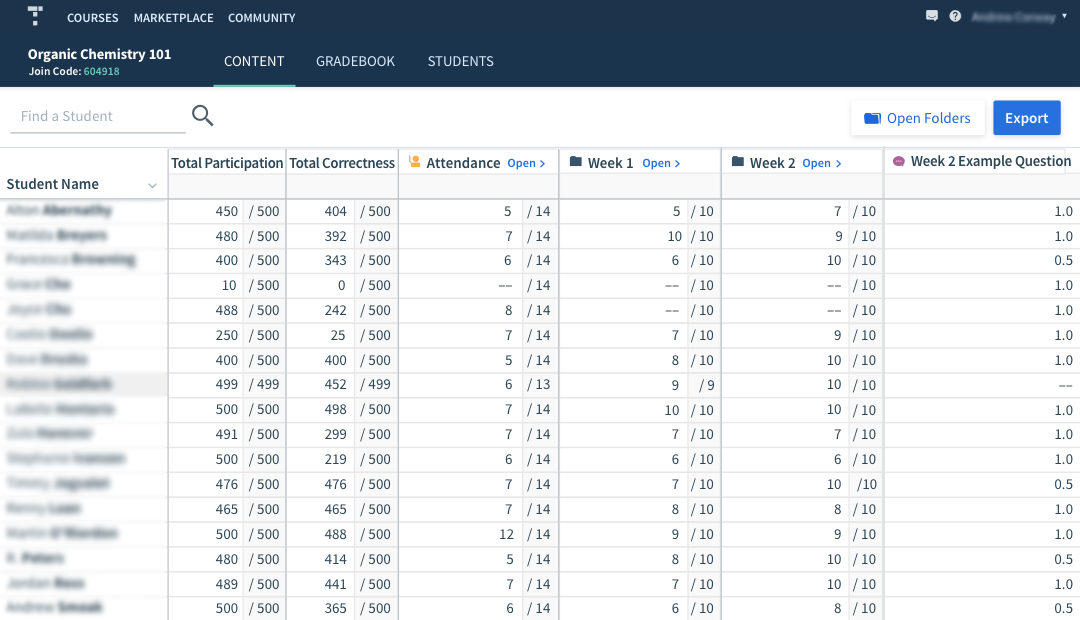 Integrate valuable student data with your LMS
Learning management systems make professor's lives easy by housing grading data. Top Hat provides numerous opportunities to collect insightful student data via polls and assessments students take on their own laptops, tablets or smartphones. All of this data is recorded directly into the Top Hat gradebook for students and professors to access at any time. Top Hat syncs with most popular LMS options and this data is easily transferred to your LMS directly. Read on for an understanding of all the ways Top Hat collects student grade, participation and attendance information.
Track which students are tuning in to livestream lectures. During presentations, instructors have the option to automatically record attendance as students join the live lecture stream. Professors have to worry about one less thing while teaching remotely.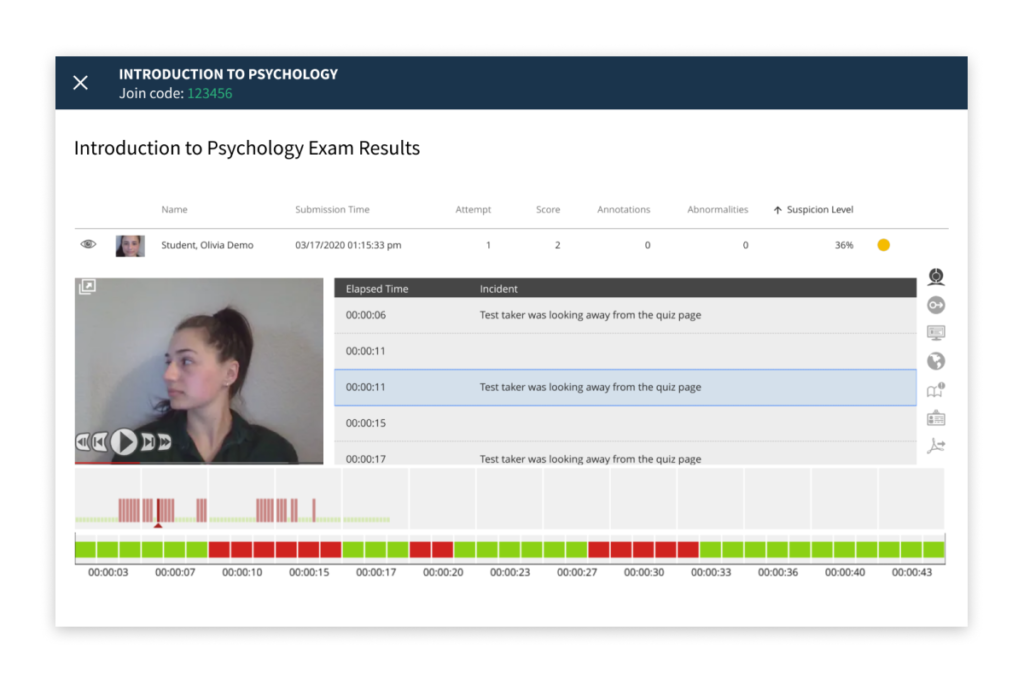 Maintain academic integrity with remote tests and quizzes
Securely administer remotely proctored quizzes, tests and exams students can take on their own computers. Instructors can monitor student activity with an automatically generated, easy-to-understand proctor report that flags any irregular behavior. Prevent cheating by verifying student identities and create specific start and end times to accommodate individual student needs. Choose from a variety of flexible assessment capabilities for asynchronous assessments, open-book tests, auto-graded quizzes and securely proctored remote exams. All of this is available via Top Hat's online active learning platform and the grade results from your assessments are synced directly to your LMS.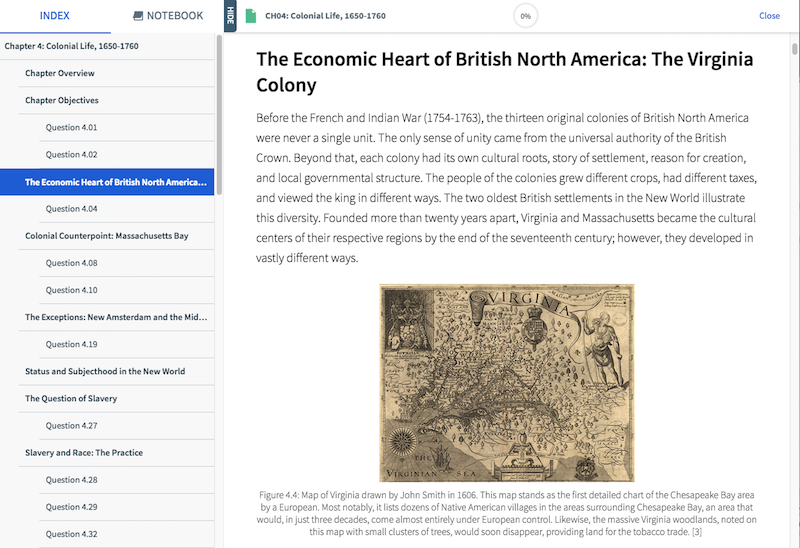 Enjoy custom interactive textbooks and course materials
Adopt or create your own interactive digital textbook. The Top Hat marketplace offers access to thousands of digital textbooks and course packs, including titles by Top Hat authors and from partners like Fountainhead Press, Bluedoor Publishing and more. Make homework assignments that extend active learning outside of class meetings. Embed multimedia elements throughout readings to help students understand course material in new ways. Track reading completion and comprehension with engaging homework questions that help you assess individual progression through course content. The results of any questions asked in your course materials are stored in the Top Hat gradebook, the data of which can be synced to your LMS.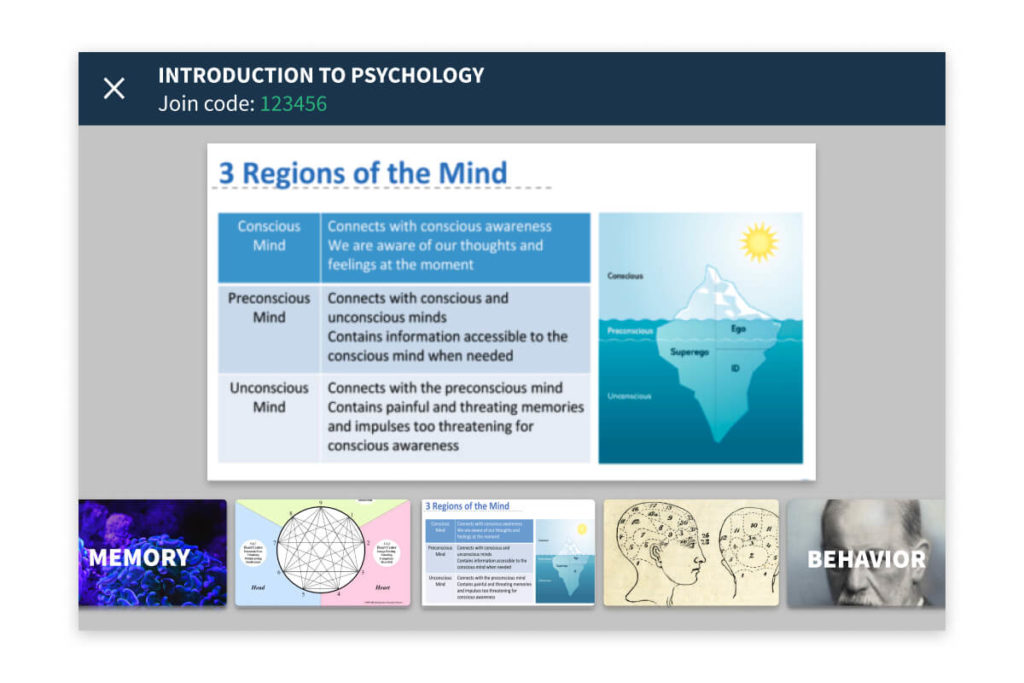 With Top Hat, students keep learning after class is finished
A truly beneficial learning environment doesn't start and end in the space of your lecture window. Once your lecture is complete, Top Hat's classroom software allows you to assign slides in review mode, meaning students can then download and study at any time. Plus, you can add digital learning activities like quizzes to offline assignments and coursework to keep the learning experience alive.
Join a community of 750+ campuses that use Top Hat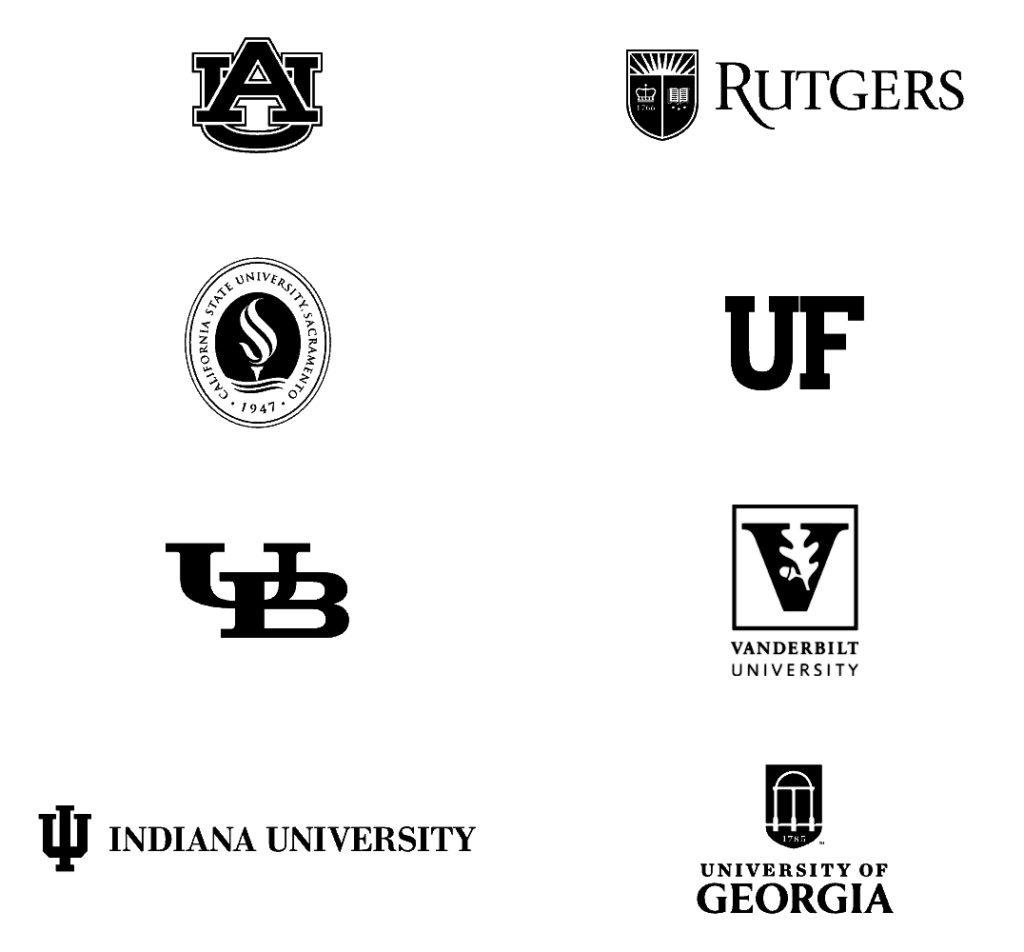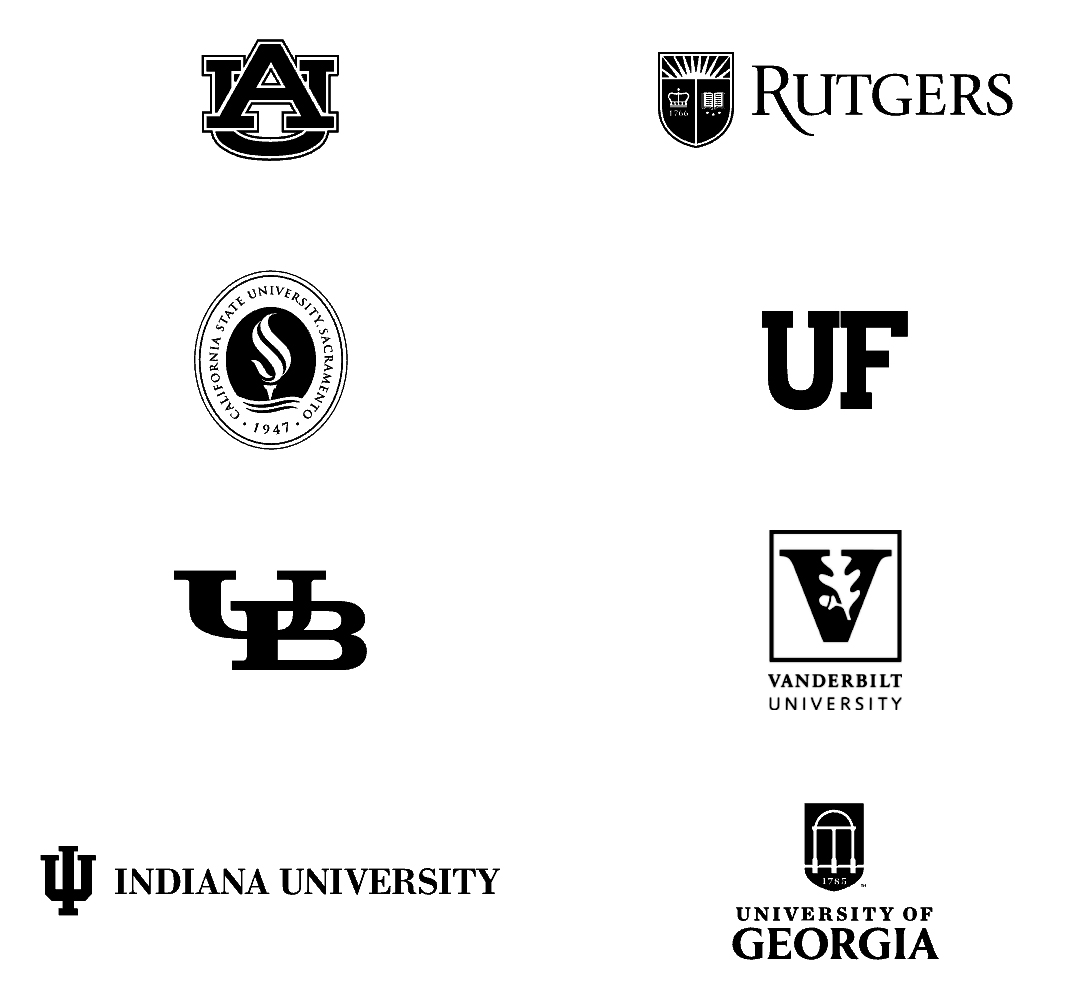 The Perfect Partner For Your LMS
Learn more about Top Hat by scheduling a personalized demo
FAQ
What can a learning management system do?

A learning management system, or LMS, is a cloud-based software system designed in-part to house learning materials and grades. It also allows students to deliver assignments in a variety of learning environments. The depth and breadth of features of a learning management system can vary by vendor.
LMS software solutions all generally contain the following:
– A content management system for lessons: This allows instructors and teaching assistants to use LMS features to upload course materials, lecture transcripts, additional materials and links to external sites such as Wikipedia and YouTube videos for flipped classrooms, and assignment instructions. It's not meant to be a substitute for lectures—but it's immensely useful for student learning and development to keep track of what they've learned, especially coming up to exam time.
– Notifications: The learning management system will usually have internal notifications for important messages, like assignment changes or professor requests, and this will be externally linked to e-mail or an app so students who might not routinely log in to the system can still find out about important news.
– Progress tracking: A learning management system's main objective is to manage student learning. An LMS will usually allow students (and their instructors) an overview of how they're performing throughout their courses, both individually and collectively.
– Different levels of security and access: Individual students should only be able to access their own courses. TAs can access all students' assignments, and set grades, but they might not be allowed to change anything in the course itself. Professors have full access to their own courses and student lists. And departments and administration have the appropriate and necessary access to the student data they need.

Learning management systems in higher education have to respect FERPA, the Family Educational Rights and Privacy Act. Single sign-on, which is when a user (professor or student) uses a single ID to login to all of their secure systems, is being increasingly found within LMSs and reflects the overall importance that learning management systems have in the educational world.

Some types of learning management systems include gamification, which enhances learning by turning assignments or other projects into competitive games. There are many different ways to do this: for instance, group tournaments, leaderboards or high score tables, and even virtual stickers.

Finally, learning management systems will often allow you to attach custom branding, putting your institution or company's name on each page within the LMS, and on each email that the LMS sends out. This feature is usually found as a paid add-on.
How does Top Hat accommodate diverse learning needs?
Top Hat allows instructors to level the playing field with best-in-class tools that make your course more flexible and accessible. You can allow students to attend class virtually or dial-in over the phone. You can also offer video replays of class meetings for students who are unable to attend, along with PDF transcripts of lecture recordings for those who prefer to read. Students can also participate anonymously in class discussions, ensuring everyone feels comfortable contributing, even when course content is sensitive in nature. The Top Hat platform is optimized for use on all iOS and Android mobile devices, to allow for mobile learning.
How to select a learning management system
It's not normally a professor's decision to select a learning management system, as it's a choice that affects everybody in an organization. Your institution will usually have a preferred learning management system, often through a contract with an LMS platform provider. Often these contracts are exclusive.
Institutions make decisions about which learning management system to use based on features and functions, informational security, plans and pricing models and the robustness of the system overall. In some cases, a free trial might be available.

Availability of customer service and support is important, too—some higher educational institutions have large IT departments that can handle queries and issues, some are considerably smaller. For open source LMS systems, the level of support might be lower, support forum-based, or be a purchasable add-on.
However, learning management systems are not just confined to the higher education world. Corporate use of learning management systems is well-established: Litmos, Talentlms, Skillsoft and Docebo are just four of many examples of LMSs designed for employee training programs. These kinds of systems are used for training courses for new employees, compliance training, talent management and training management.

What is the history of the learning management system?
The origin of learning management systems can be traced back to before personal computers were in common usage, to distance education. The first institution that taught through mailed correspondence was back in 1728 in Boston—a shorthand course. In the early 20th century, some surprisingly prescient technological leaps were made: Thomas Edison published instructional films in 1910 (among the first 'multimedia') and a 'teaching machine,' which generated exercises and question formats, was invented in 1920 and perfected in 1929. (You can see the same thing now, a century later, in tests that are automatically and randomly generated for assessing students.)

The first learning management system software was around the time that personal computers first gained popularity in the 1980s. These were not networked until the 1990s, when bulletin boards and modems were used to connect to the Internet. The Open University in the UK, a long-standing distance education institution, built one of the first learning management systems that could be operated over a network in the 1990s, called "FirstClass".
Now, in the present day, another useful side-effect of learning management systems is standardization. In a higher education setting, it's important to know that all students are being taught the same courses and being given the same assignments with the same rules, so as to make sure the playing field stays level. This is particularly important if the professor wants to grade the class on a curve.

Corporate LMS options are used for employee development and learning. Often, this is business-critical—particularly for safety training. Video conferencing and webinars are common online training and online course features. Learning management systems are also used in employee orientation and corporate training; to make sure that everybody who takes a role at a company is familiar with the company's history, mission and vision, values, and best practices.

LMS platforms are at the core of many e-learning courses; as the student is entirely experiencing the course online if the learning management software is not user-friendly or continually crashes or loses work, the course's overall evaluation will suffer. An individual or an organization setting up an e-learning course will need to decide carefully on which learning management system to use, and what meets students' needs.
How does a learning management system work?
Most LMSs are browser-based and are therefore "software as a service" or SaaS. They're accessible with an Internet connection and because they almost behave like social networks (in that they host content and students are able to interact with fellow classmates and their teacher), they don't work offline. Students usually should be able to download some kinds of lecture content such as slides or PDFs and read them offline.

There are a number of installation options, depending on the LMS. LMSs often run in the cloud, on a central server—much like Google Suite or other externally hosted services. The advantage of this is that you don't have to invest in IT infrastructure or security, and that server updates and firewalls are all taken care of by your LMS provider.
Other options you might find available include installing and hosting a learning management system locally. This would be an effective idea if your LMS is only to be hosted on a private intranet, for instance—and it offers maximum flexibility on how you use your resources. In some cases, for sensitive or military applications, you may be required to install and host locally.

Private clouds are another solution where an external server is rented to host the LMS, without giving up control over access, installation and security. Learning management systems follow the standards set in SCORM, or Sharable Content Object Reference Model. This is a set of technical directions that are an industry standard for interoperability—allowing different LMSs to communicate with each other.

As well, SCORM is a standard for LMS content storage and retrieval, authors also write according to the standards of SCORM—because that way, their content is portable and can be uploaded to multiple systems.
Content for LMSs can be created in word processors such as Microsoft Word or Google Docs, in video using Adobe Premiere or Final Cut, and presentations via Google Slides or Microsoft PowerPoints—as well as their open source equivalents. There are several third-party free and paid-for software packages that can convert each of these content types to SCORM format so they can be freely uploaded across different LMSs.
How does Top Hat integrate with learning management systems?
Top Hat integrates with several learning management systems that are popular in higher education, including Desire2Learn (D2L), Canvas, Blackboard and Moodle. A straightforward authentication process allows student and course data to be securely imported from most popular LMSs. Professors can also download student grades and responses from Top Hat's gradebook in an excel spreadsheet format before uploading the data in their LMS.
Here's how the process works between Canvas and Top Hat, as an example.

Authentification:
1. First, make sure you have created a Top Hat account and course, that your courses on Canvas are published, and that you are an instructor in Canvas (as opposed to a TA, or an administrator). You should designate only one person to manage the syncing of grades.
2. From your course page, click on your name in the upper right hand corner and select "Course Settings." Select the course you want to sync with Canvas, and then select the option to set up your LMS and sync. Click on the blue "Enable LMS sync" button.
3. Clicking the blue "Authorize Top Hat with your LMS" button will give Top Hat permission to authenticate with your learning management system.
4. Log in to your Canvas learning management system on the screen provided (note: if you are already logged into Canvas in the same browser you may not be provided with this screen and will be logged in automatically).
If you are teaching multiple courses using Top Hat you will want to follow the above steps to authenticate each of your Top Hat courses with its corresponding Canvas course.

Inviting students:
When your Canvas course roster has been imported into Top Hat, clicking the blue "Go to Student Manager" button will take you to the student manager screen on Top Hat. Here, you can invite students to the platform, and see a list of all of the students who have been added from Canvas. Students with an existing Top Hat account will be automatically enrolled in your Top Hat course and can be identified by "Enrolled" in the Enrollment column.
If a student does not yet have a Top Hat account associated with their email address, instructors must invite them to create an account and join your Top Hat course. You can select all the students on your pending list, and click on "Invite Selected."

Syncing grades:
You can easily transfer student grade data from the Top Hat gradebook to your Canvas grade center. The syncing of the two platforms is a deliberate action and does not occur automatically. Most professors choose to sync regularly to ensure the students' grade in Canvas is up to date with the inclusion of their Top Hat components. To do this, either click on the "LMS Sync" button in the upper right-hand corner of your course gradebook, or sync from your course settings.

There are several flexible options to export grades and attendance rates to Canvas. But whichever LMS you are using, throughout the process our experienced onboarding team will be available to guide you through any integrations you need to make.
Popular Tags