Free Flipped Classroom Software
Top Hat's technology and support staff can help you build a flipped classroom video software that incorporates active learning principles, for student engagement that connects your class and feedback scores that shine. Start the process of flipping your classroom with Top Hat's free and powerful app.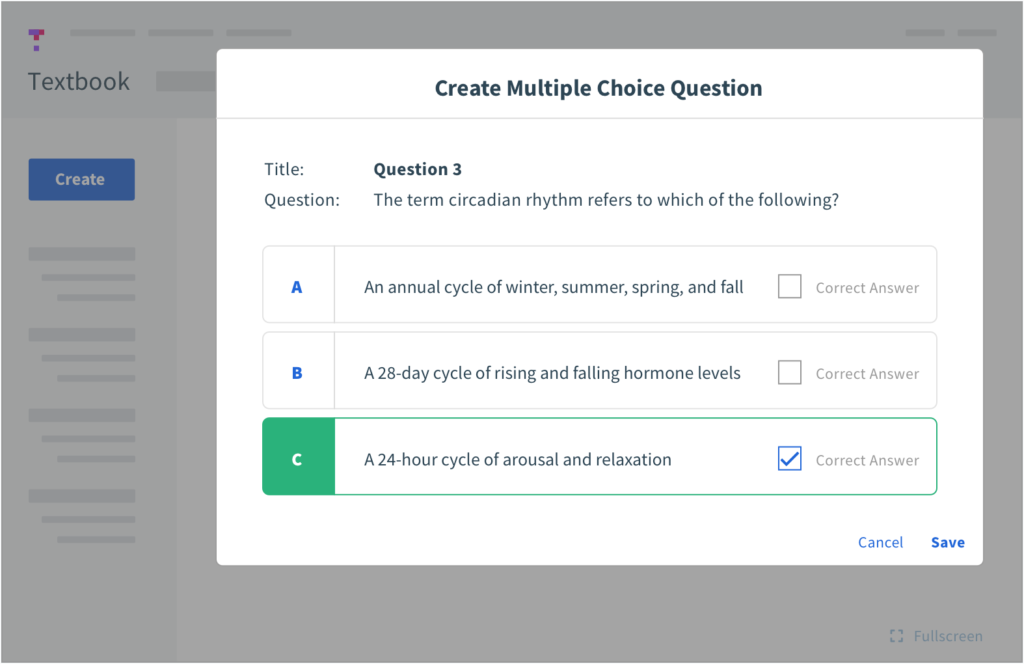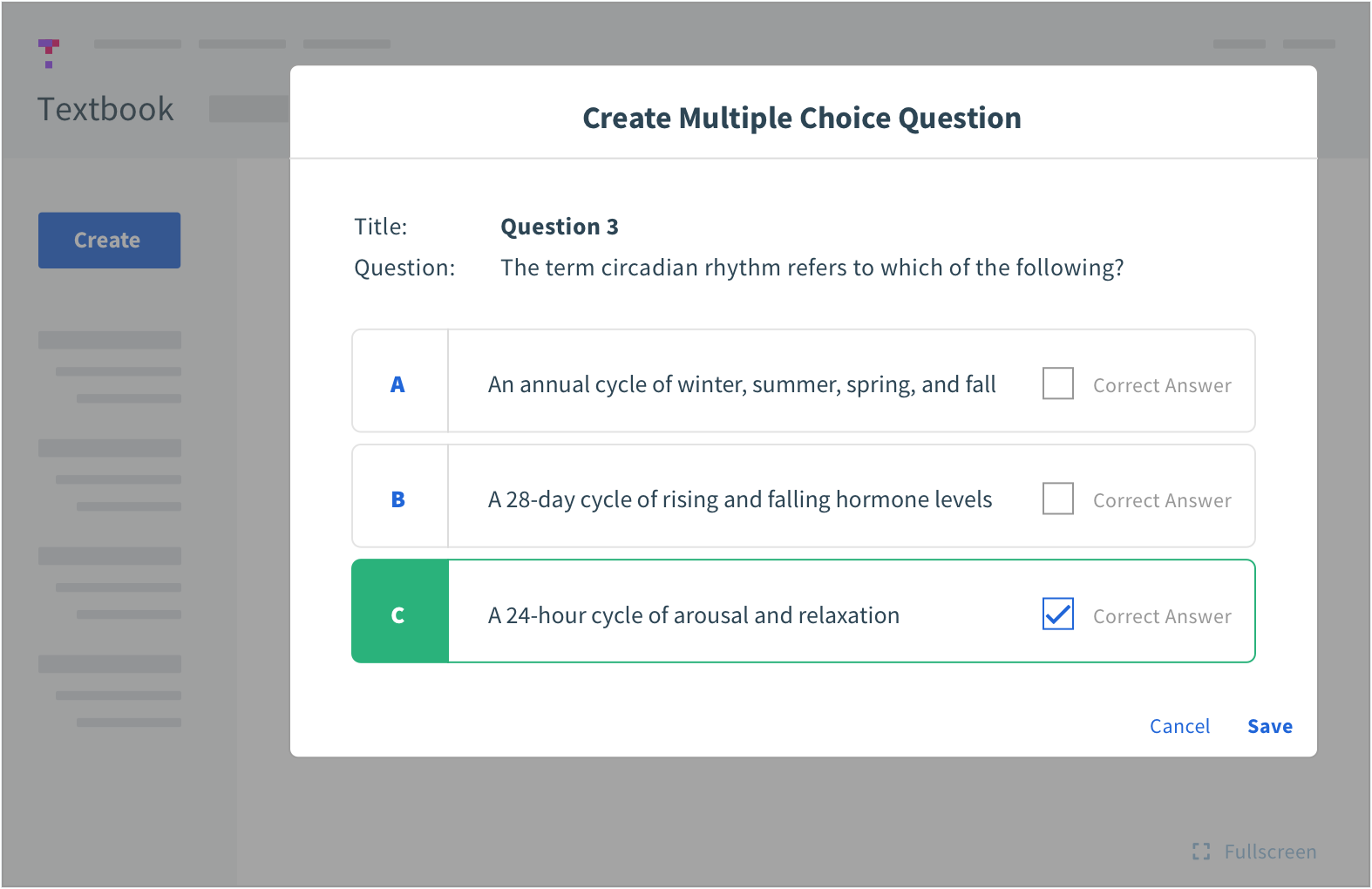 Technology's key role in activating modern learning techniques
Innovation in higher education pedagogy is happening everywhere. As instructors move to incorporate different teaching strategies like active learning and flipped classrooms in their learning environments, the need for reliable technology in education becomes increasingly important. That's where Top Hat's engagement software comes in. It transforms smartphones, laptops and tablets into teaching tools, allowing educators to easily create a flipped classroom.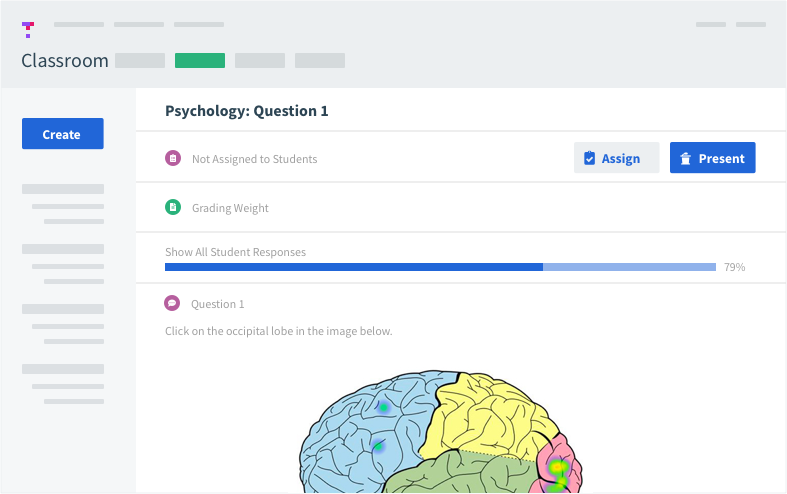 Simplify your preparation for your flipped classroom
Top Hat allows higher education instructors to include a range of interactive question types in their classrooms, as well as learning activities designed to promote student engagement through formative assessment. We offer a range of flexible question types designed to test everything from recall to creativity, including multiple choice, word answer, numeric answer, group discussion, click-on-target and more. Our flipped classroom software platform also offers advanced, discipline-specific question types. Examples include integrations with video assignment edtech tool Bongo—great for experiential learning in language courses, for example, or video responses to webinars—and the ability to use chemistry drawing tool ChemAxon directly within our platform.
To save time while flipping the classroom, educators can import free, pre-made interactive questions from the Top Hat Marketplace, an online hub that houses thousands of pieces of educational content. We offer industry-leading instructional design and curriculum design support—experienced and novice educators alike are set up for success from day one.
Eliminate the need for extra hardware
Our flipped classroom software syncs directly with the devices your students already own and use on a daily basis, making their learning experience more engaging—and making it more straightforward for you to facilitate active learning activities. There's no need for them to purchase additional hardware; they just need to download and register for the app.
Track attendance easily
Accountability is key to the student-teacher relationship when flipping your classroom. With Top Hat's attendance technology, instructors can automatically verify whether a student is physically present in class. They can easily take attendance by prompting students to sign in on their devices using a unique code. Instructors can auto-assign grades for attendance. Top Hat uses proprietary market-leading technology to verify the physical location of students, ensuring that only those students who physically attend get counted; students who attempt to attend class from home are not counted. However, it's your classroom—we've also built in excused absence options for flexibility.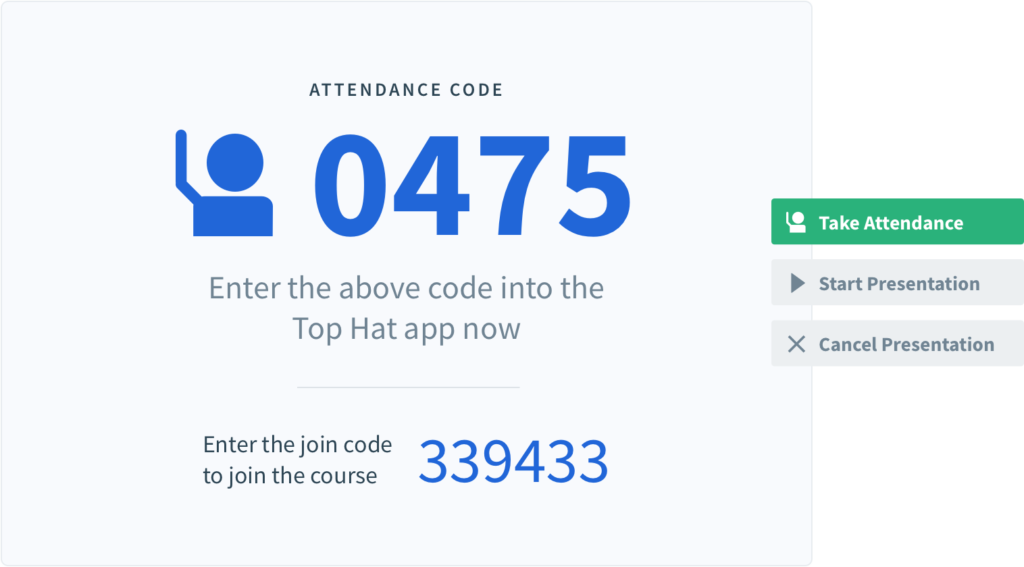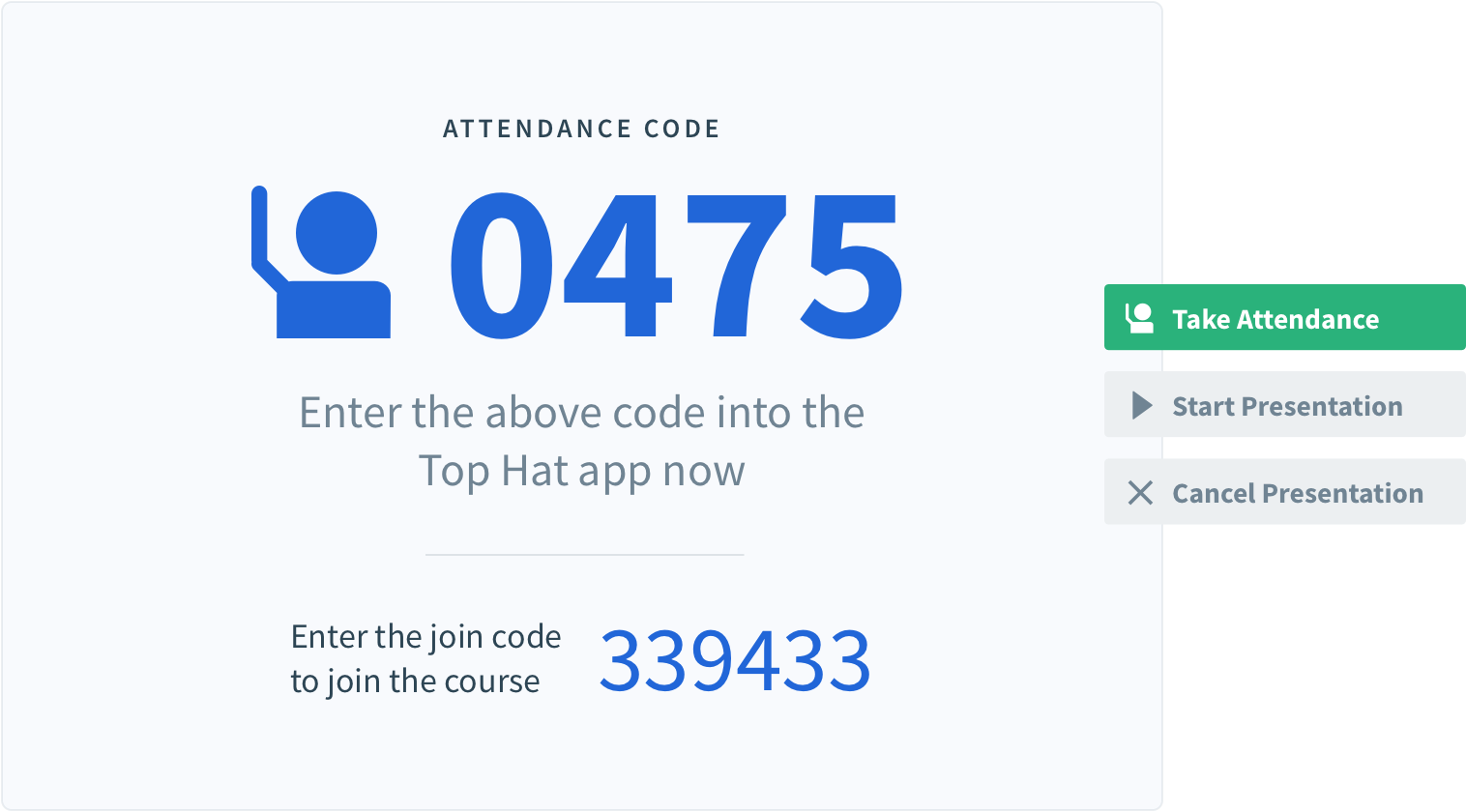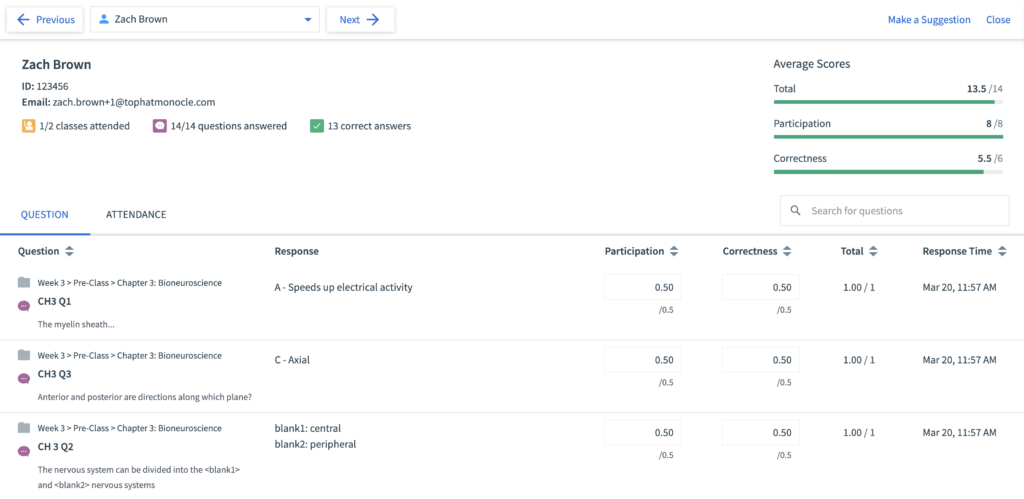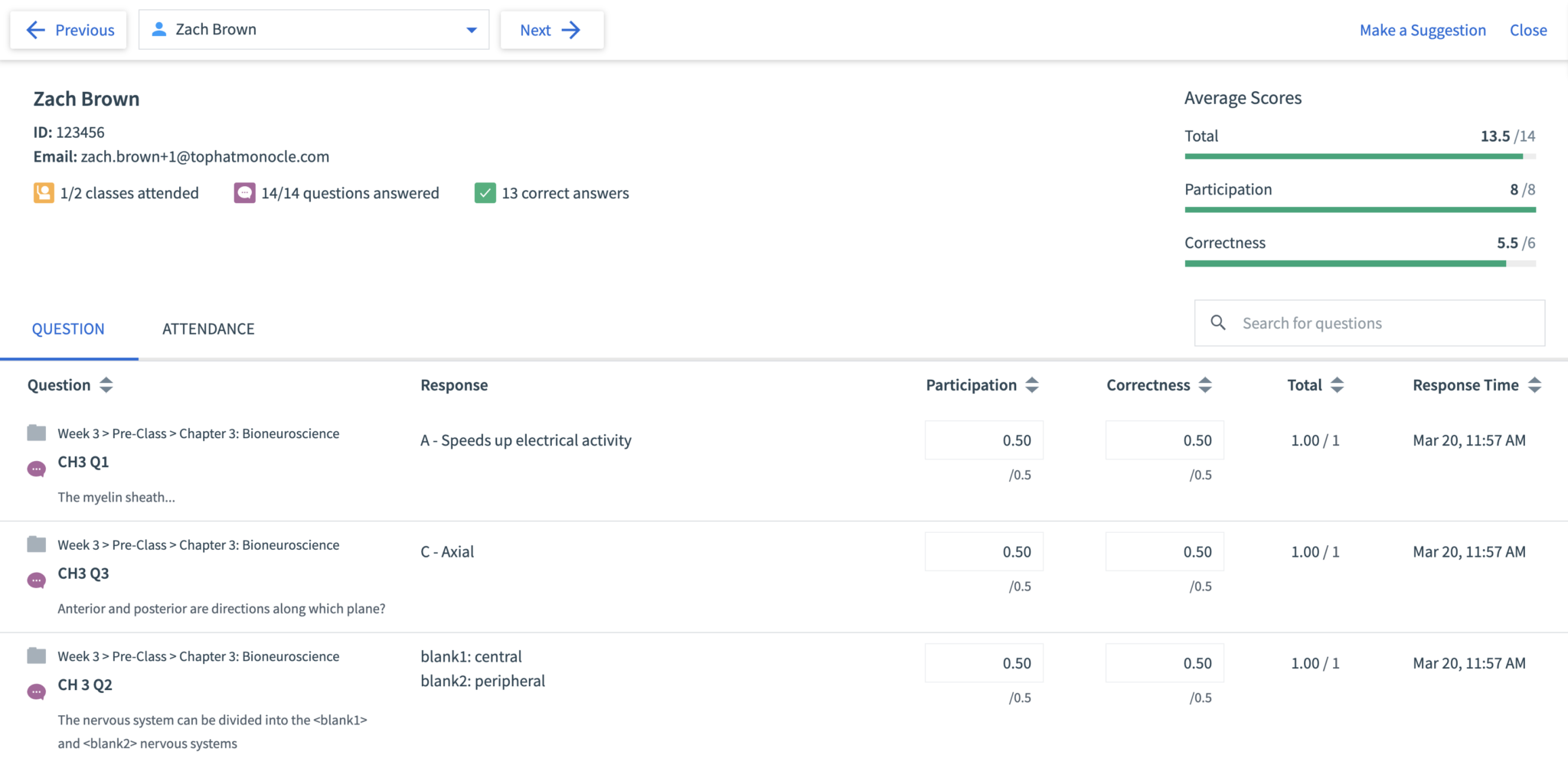 A fully synchronous flipped lecture experience
Enhance your teaching methods by using Top Hat to offer a synchronous lecture with a focus on student-centered learning. If you are choosing to use slides in your flipped classroom—for instance, to clarify any points within your lectures outside of class or to facilitate discussion, you can sync them with students' devices, allowing them to follow along in real-time. Unlike in an online course, students are unable to move ahead of the instructor, so their attention remains focused on what's being presented. As part of your active learning strategy, you can also use Top Hat to share student responses and correct answers to questions posed in class using visual graphs, word clouds and heat maps. Telling students why you're doing this enhances metacognition.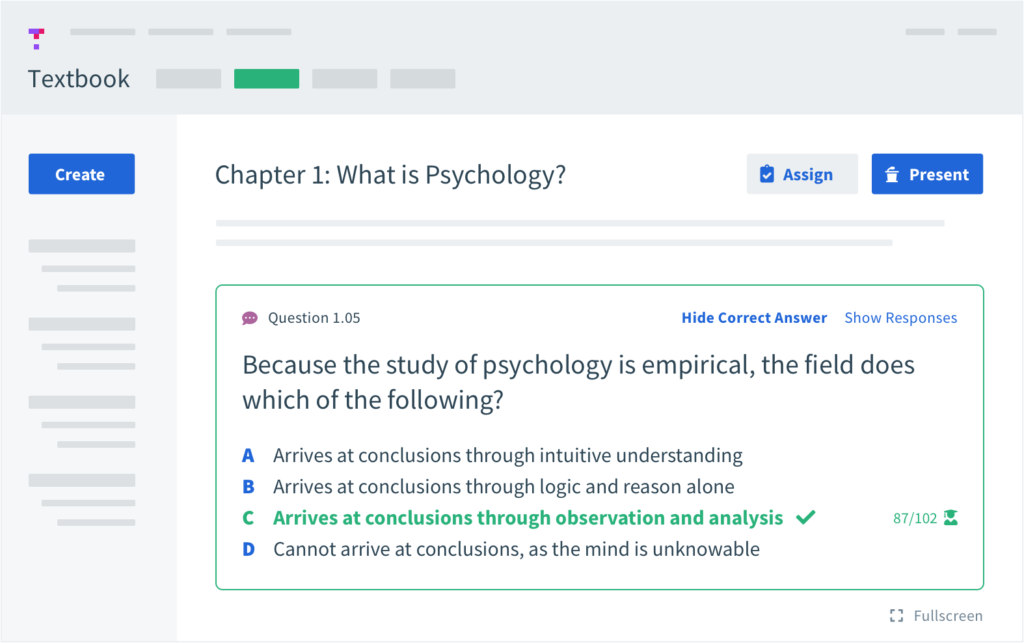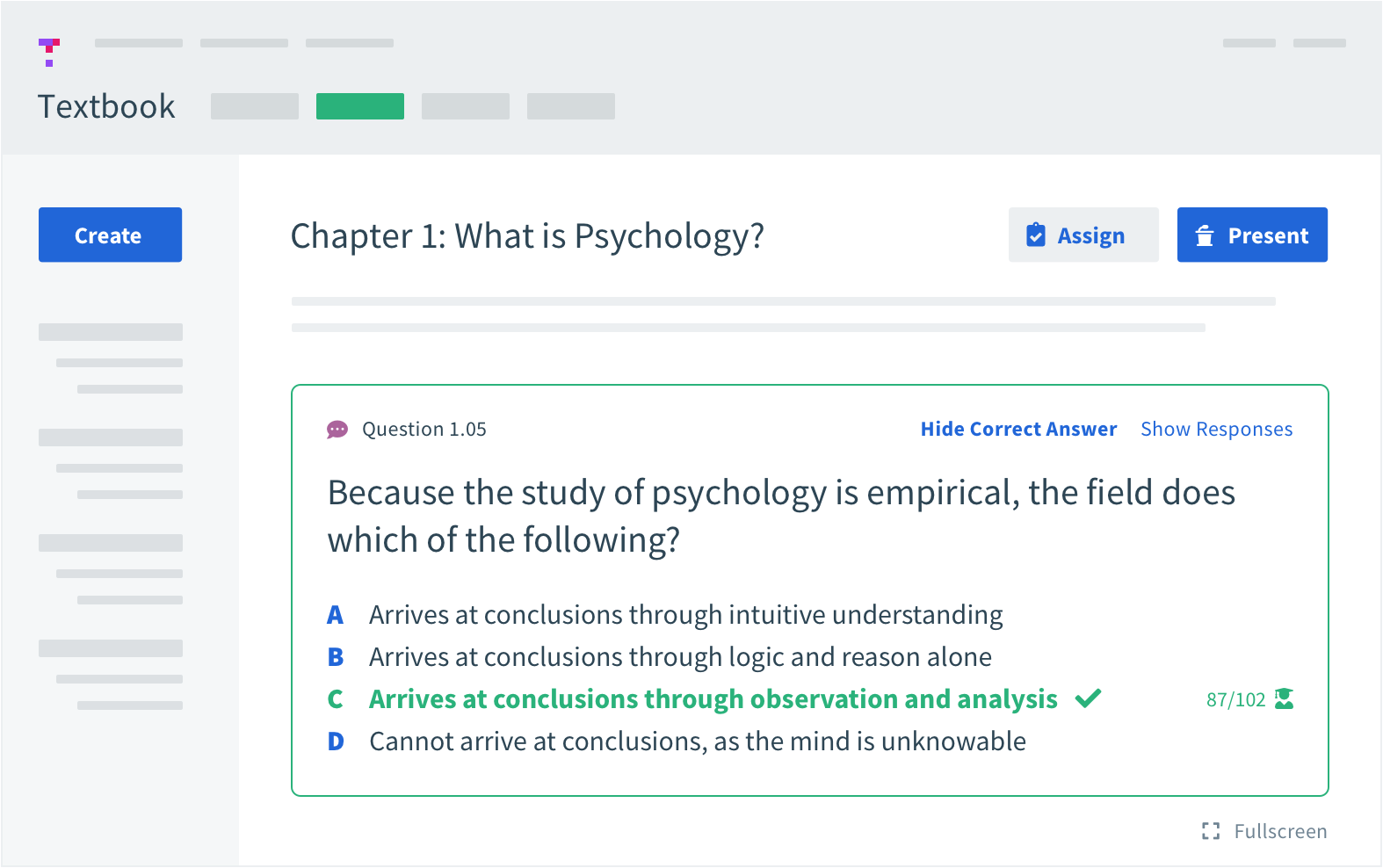 Create a collaborative learning environment that motivates students to participate
Motivate students to participate in a flipped classroom, instead of just passively sitting in a lecture in a traditional classroom, by using Top Hat's software to facilitate real-time discussions embedded within the flow of a lecture. Students can choose to contribute anonymously, ensuring that everyone feels comfortable sharing their thoughts, even when the subject matter is sensitive. Instructors can also use Top Hat to encourage and facilitate group work such as think-pair-share and peer-to-peer collaboration and interaction. It's the 21st-century version of the clicker.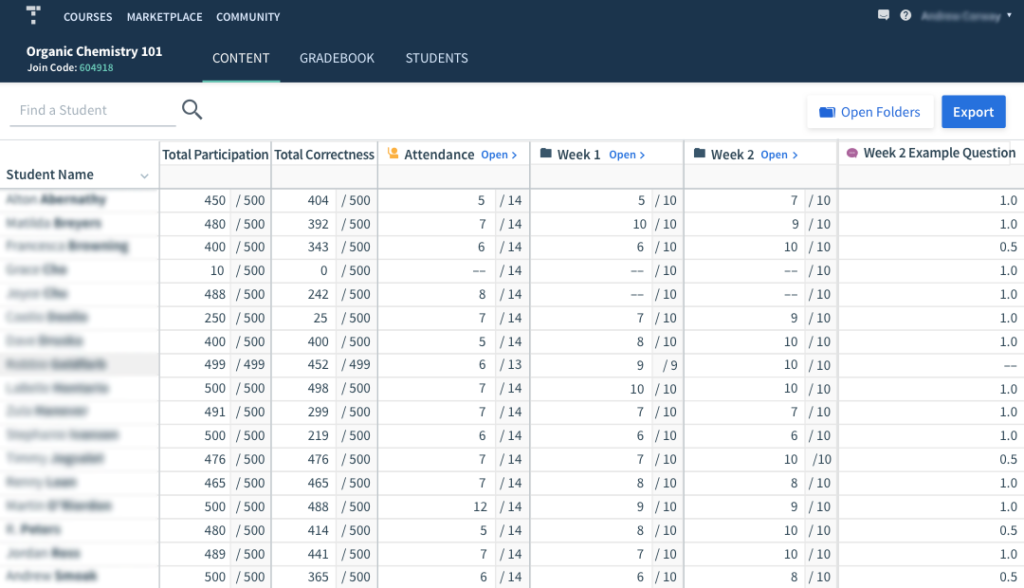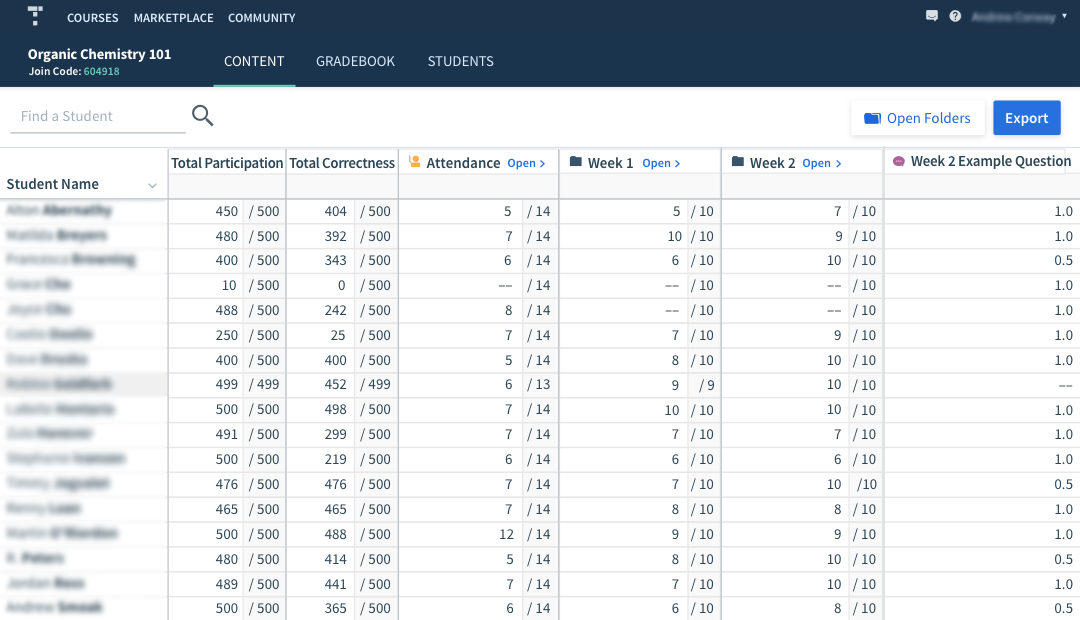 Automatic grading lets your flipped classroom focus on the teaching
There's no need to stop teaching a participatory flipped classroom to grade. Easily track student learning and performance—automatically assigning grading weight to interactive questions, attendance and student participation. All grades are uploaded directly into the Top Hat gradebook for students to access any time, increasing accountability for participation. You can export grades easily to your learning management system. And you can analyze auto-graded results to gauge comprehension and student achievement, identifying concepts to review or reinforce in your next lecture… or even the current one.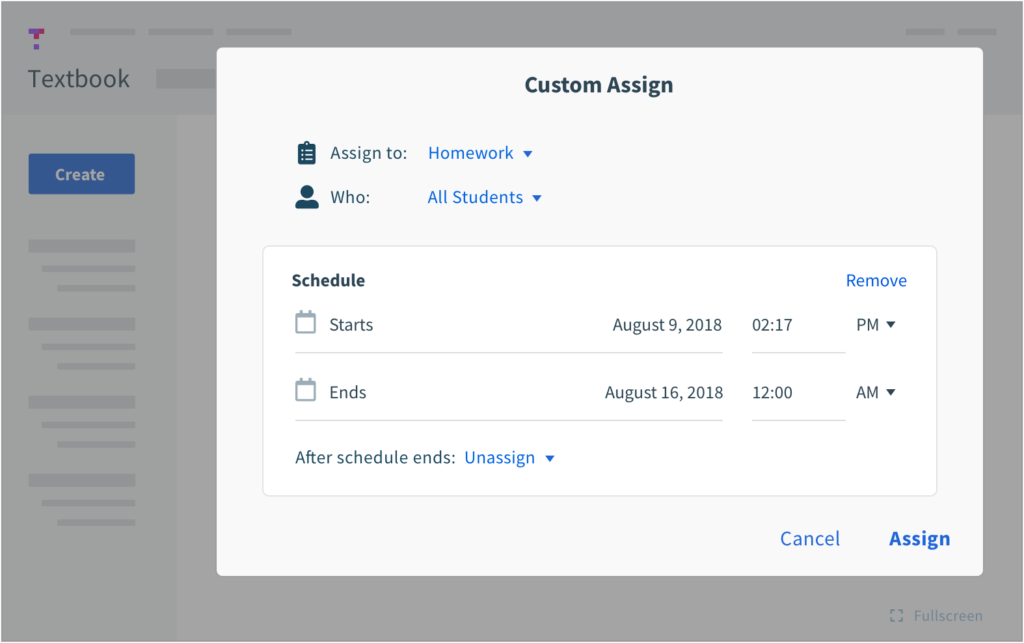 With active learning strategies, students keep learning after the lecture is over
A true flipped classroom experience doesn't start and end in the space of your lecture window. With Top Hat's software, every facilitator can easily create an active learning experience before during and after class. Assign pre-reading of chapters or lecture slides, or create pre-class quizzes to gauge student understanding. With direct instruction, test, check and discuss every step. Once your lecture is complete, you can assign slides in review mode, meaning students can then download and study them at any time.
Join a community of 750+ campuses that use Top Hat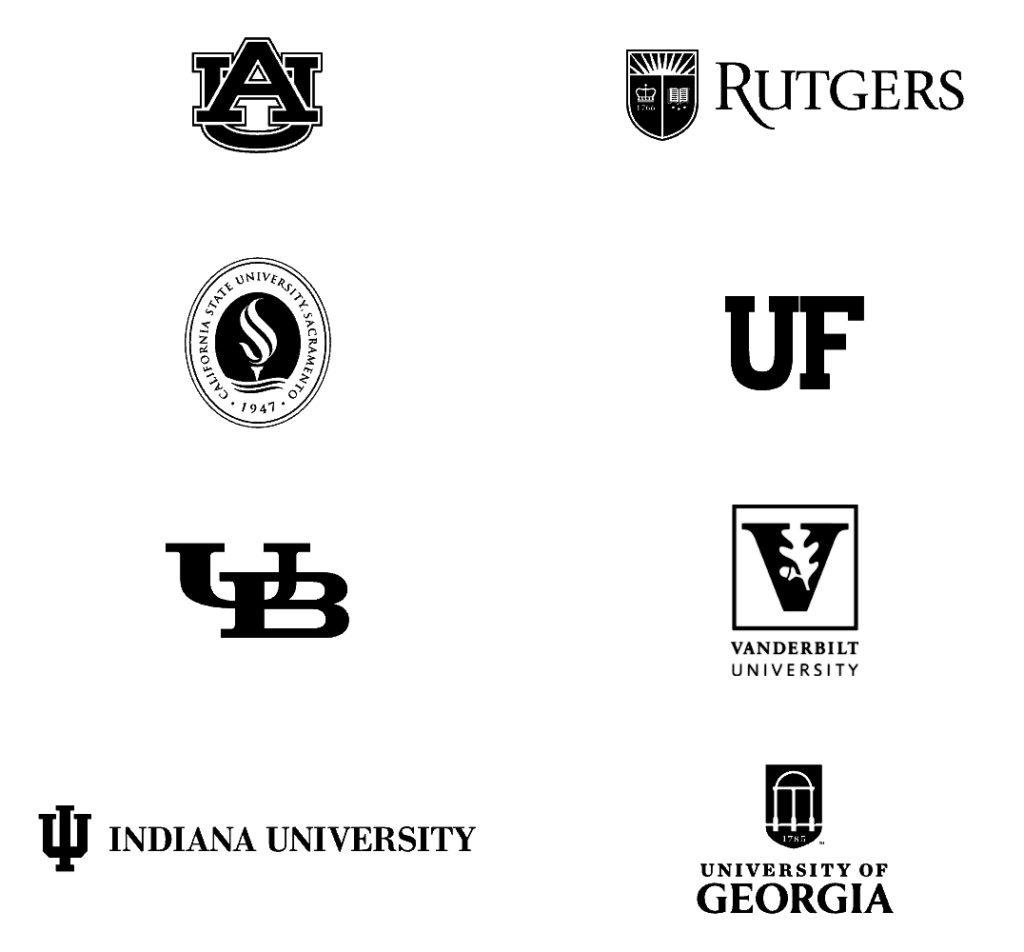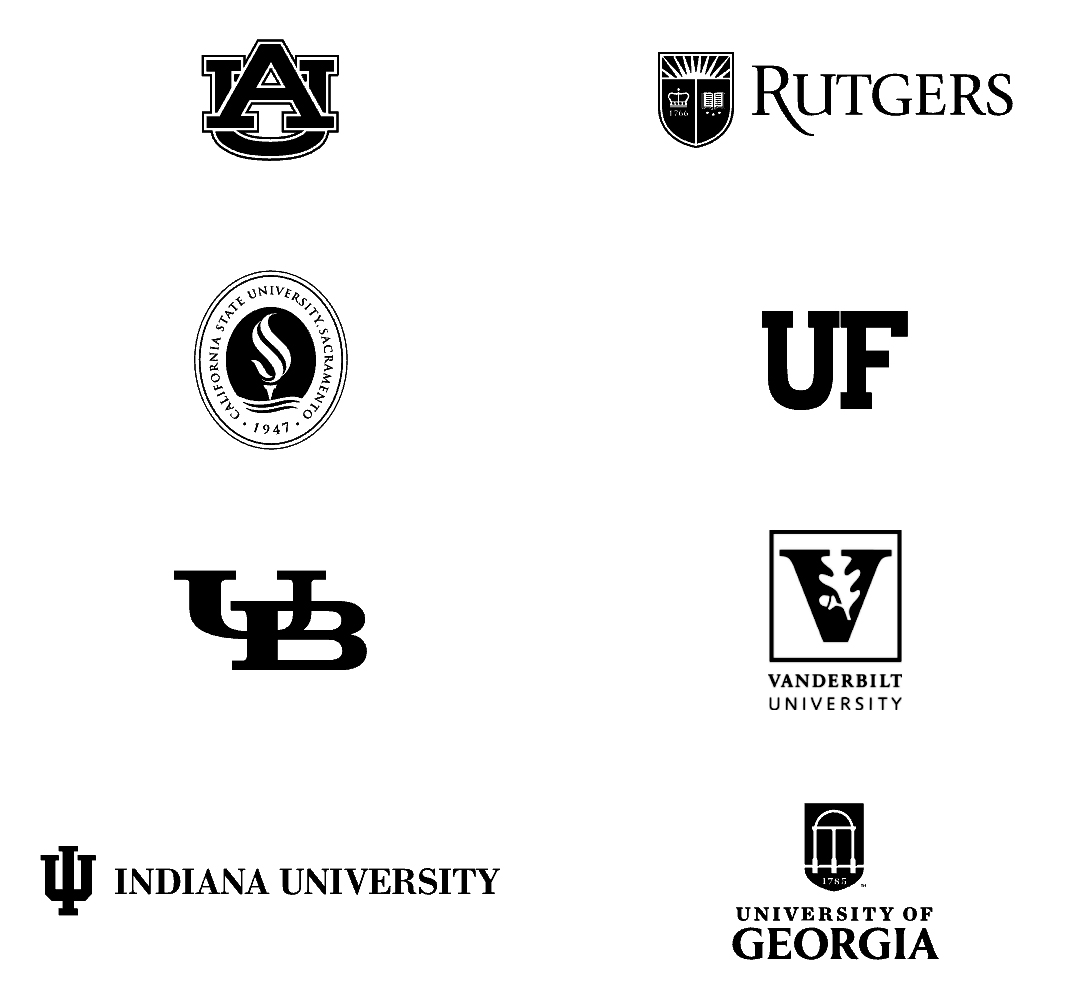 Simplify flipping your classroom today
Get started by scheduling a personalized demo
FAQ
What is a flipped classroom?
A flipped classroom inverts the traditional teacher-student interaction. In a traditional class, students prepare for a lecture, listen to the lecture, then attempt the homework. This often leads to a lack of student engagement and attendance, which has a direct negative effect on educational attainment. In a flipped classroom, however, students watch lectures outside of class—often in video format—and in class, complete interactive learning methods that are prepared within platforms like Top Hat. (It's different from other kinds of asynchronous teaching such as online courses because a key part of the mechanism is the in-class time.)

With a flipped classroom, students are better prepared and better engaged with the topic. Another benefit is that it frees up time for modern active learning techniques, such as peer instruction or lab work.
How do I flip my classroom?
Flipping a classroom for study before, during and after your class is, in essence, an exercise in trust and accountability. For a flipped classroom to be successful, there has to be an incentive for students to watch your lectures and prepare in advance, and your classroom activities and instructional strategies should focus more on higher-order thinking and application of the material, instead of just recall.

Try to start small by flipping one or two of your lectures during your semester and offering a handout; your institution's center for teaching and learning will also have prior knowledge and resources that can help you. There are many online resources that detail how to flip your classroom. With Top Hat, our team of experienced instructional designers can help you use education technology to deploy most flipped classroom scenarios.
Popular Tags