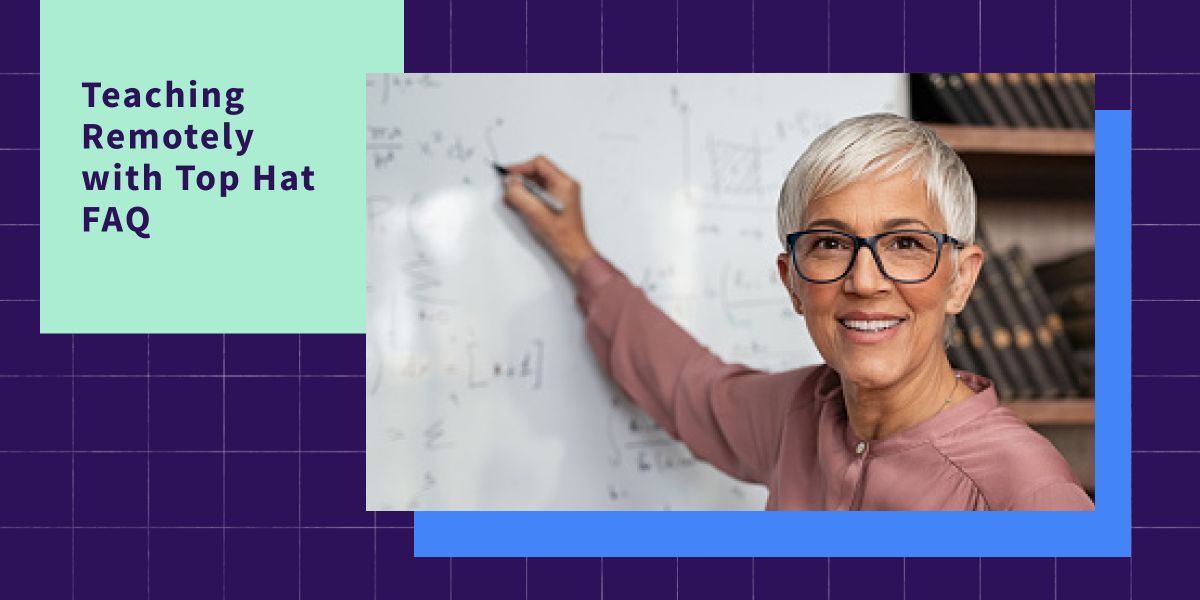 We provide answers to some of the most frequently asked questions about Virtual Classroom—Top Hat's suite of tools designed to engage students before, during and after class with interactive readings, discussion questions and office hours.
Is there a projected date that virtual classroom will be available?
We have started the progressive rollout for Virtual Classroom and are targeting to have it available in all Top Hat courses by the beginning of September.
How can I use Top Hat to facilitate group work in remote classes? Will I be able to host breakout rooms in Top Hat?
Top Hat's community app, Slate, offers fun and easy ways for professors to facilitate group work for students in online, hybrid and face-to-face learning environments. Professors and students can easily access their course community in Slate using their Top Hat credentials—to create their own channels to collaborate on activities, assignments and projects. Channels can be used to chat or start multi-participant video conferences, allowing students to collaborate and communicate online, both asynchronously and in real-time. While there is currently no "breakout room" functionality within the Top Hat platform, many professors using Top Hat have used Slate to get students working together in other ways, both during and outside of class time.
How can I create group assignments on Top Hat Pro? Or create discussion threads where students can upload their work to share with their classmates?
At this time, it is not possible to create group assignments in Top Hat. However, students can create private groups in Slate to share files, use video conferencing, and engage in group discussions. Full details on how group learning is facilitated in Slate can be found here.
Do you have campus-wide licenses? I am not comfortable asking my students to pay for technology or content.
Campus-wide site licenses are available via institution level partnership/agreement with Top Hat.
I don't understand what Slate is, can you provide me with more detail?
Slate is Top Hat's community messaging platform, purpose-built for higher education. In Slate, students can join private channels for their courses and public channels related to topics relevant to their higher education journey, such as peer tutoring, part-time jobs and campus life.
When an instructor creates a Top Hat course, a corresponding private channel is made in Slate. Instructors receive an email inviting them to login to Slate where they can manage their course channel.
Upon enrolling in a Top Hat course, students receive an email invitation to Slate (and the specific course channel for the course they enrolled in). Instructors can use their course channel to keep students up to date on announcements and to answer common questions. In addition to this, students can chat in private groups and messages, and join public channels on their Slate campus.
Finally, Slate also powers the live chat in Top Hat's virtual classroom. The chat feed is stored in a separate "lecture chat" channel for the course, so students and instructors can continue the conversation even once class has ended.
Full details on how Slate works can be found here.
Can you briefly describe how the technology will work if I am in a face-to-face class with some students and want to have others join in remotely and have everything recorded to be available later?
For hybrid classes, students will be prompted with a question as they enter the virtual class session asking them if they are joining remotely or in person. If the student selects "in person," the audio/video feed will be disconnected upon entry into the virtual class session—since they are physically present to see and hear the professor. They will still be able to participate in the live chat within the VC. Once lecture recordings are available as a feature, professors can record the live lecture and assign it to students to review after class as well.
Are the automatically created transcripts able to be edited?
The initial release doesn't include this feature but it is on our roadmap to add this functionality.
Is it possible to see the students while teaching synchronously? Or do they only use the chat box?
Students' webcams will not be turned on when they enter a class. Only the professor's webcam will be shown. However, moderation tools will allow professors to turn on the webcam and microphone and "share the stage" with students who raise their hand, so they can ask or answer questions.
Why would I want to use Slate if I already use Canvas?
Canvas is first and foremost a course repository that offers a chat tool for students who are in the same course. In contrast, Slate is a community app purpose-built for higher education that provides students and instructors across campus with digital spaces to communicate, collaborate and build connections that will improve their academic and social lives. Because its channels and private messaging functionalities are more organic to the types of communications platforms students are used to, Slate encourages vibrant conversations between students.
Can students answer questions asked in recorded synchronous lectures if they are watching the recording asynchronously?
No, this will not be possible in the fall release. The professor will need to assign the questions to students who were not in attendance.
I teach a computer lab class. It would be helpful for me to be able to see the students' screens to see that they are doing the lab activities correctly. Is that possible?
Using the moderation tools, a professor can invite a student to "share the stage" which will enable a student to participate using a webcam and/or microphone, as well as share their screen.
How do you monitor cheating for online testing?
Top Hat's remote proctoring functionality uses artificial intelligence to run identity verification on students entering the test. A room scan can also be made a prerequisite for entry into the test. Once in the test, the remote proctoring tool can monitor students' head and eye movements (via webcam), audio feed (via their microphone), web traffic, and web page navigation. Each of these monitoring attributes are configurable, meaning a professor can mix and match the restrictions that they wish to apply to the exam (e.g. monitoring screen and web traffic, but disable webcam monitoring). Instructors can also choose to enable a lockout feature, which forces students out of a test if they depart the proctoring window for a certain length of time.
Once a student hands in the test, a recording of the test taker is generated (which can include video, audio and screen recording, depending on the configuration set by the instructor). The proctoring tool uses artificial intelligence to flag instances throughout the recording where a suspicious behavior is observed (e.g. departure from the test, looking away from the screen) and aggregates these instances into a score for each recording. Recordings are then arranged from most to least suspicious to make it easy for instructors and adjudicators to review. When reviewing a recording of a student's test, instructors can easily see where instances of suspicious behaviour were flagged.
Full details on Top Hat's remote proctoring functionality can be found here.