Textbook costs are out of control. According to the College Board, (a not-for-profit organization that aims to improve access to higher ed), the average student studying at an American college or university spends approximately $1,200 a year on books and supplies. And a whopping 5.2 million students have used their loans to purchase textbooks.
You'd be forgiven for thinking this is primarily a student problem, but our research tells us that the vast majority of educators are not happy about it, either. The results from our 2018 Professor Pulse Survey show that 90 percent of professors think the cost of textbooks is too high.
Lori Peek, a sociologist at the University of Colorado Boulder, worries that cost is a rising barrier that doesn't just keep students out of college; it also hinders their chances for success once they're in.
"I am really concerned about it because I see it in the classroom," Peek says. "Being a social scientist, I ask my students how many of them work 10, 20 or 30 hours a week. More and more hands are going up for the higher numbers now. They're struggling with the cost of living, and it's impacting their studies."
Soaring price tags aren't just hurting students—they're hurting professors, too. Of those surveyed, nearly 40 percent said students don't buy the assigned text. Even purchasing it is no guarantee of reading it—only 30 percent of professors say that the majority of their class reads the book.
So what's keeping textbook prices so high? There are a number of factors to consider. The biggest one is that the market is primarily controlled by five big publishing houses. These companies keep prices high by issuing new editions each year, regardless of whether or not new material is included in the book.
Publishers have also taken to bundling these new editions with unique digital access codes that are only available through campus bookstores. As a result, students are forced to purchase at the highest price. Worse, they cannot resell the content behind codes on the secondary market once their courses have finished.
If these pricey textbooks were being used and championed by students and professors alike, perhaps the cost could be justified. But our survey revealed that 57 percent of professors have to supplement using additional materials to make up for problems with the main course textbook, including "it's out of date" and "it doesn't address certain topics."
Perhaps the way forward is to make use of the technology students already use and start looking at textbooks as more than just a static course component. One of the survey respondents had this to say: "I almost always incorporate interactive, digital learning materials in my course. They are great tools to engage the students, and some of these materials explain complicated material much better than I could."
And more and more professors are starting to seek out and use OER (Open Educational Resources) in class. A Babson Survey Research Group reported last year that the number of faculty members using OER textbooks has nearly doubled since 2015. The Professor Pulse Survey found that 86 percent of professors allow personal devices in classrooms and 76 percent are already incorporating digital content into their courses. These stats tell us that a shift to a more modern approach to designing and distributing course content may well be the way forward. As one professor said: "There's so much information readily available. I think textbooks are becoming obsolete."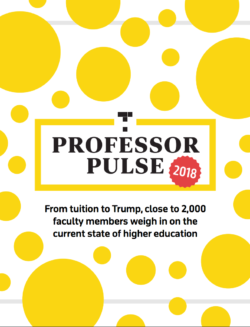 Free Ebook