The cancellation of in-person classes due to COVID-19 forced higher ed instructors nationwide to pivot their course delivery, with little notice or time to prepare. The initial goal was to minimize disruptions to learning. However, instructors soon realized that there was more to digital classrooms than digital technology. It's unknown whether—and if—fully in-person classes will resume for the upcoming school year. The reality is, hybrid or online learning will now make up a significant portion of students' college experience.
Curating an online learning community for students while going the extra mile to create social connections both in and out of the classroom will help students stay connected, motivated and engaged. Below, we share the need for empathetic teaching in an increasingly digital learning environment, while outlining teaching strategies for managing and creating camaraderie in your blended or online classroom.
Creating an online learning community
Empathetic teaching has always been important, but it's critical in digital settings. Professors' care and concern for their students doesn't go unnoticed either. Students appreciate when instructors tailor their lesson plans and larger teaching approach to help students navigate through anxiety or uncertainty. "Being mindful of the fact that other people right now are struggling to figure out how they're going to eat really keeps me grounded," says Eric Davis, Associate Professor of Sociology at Bellevue College. "I try to set the table so that my students can share their feelings and stories without feeling ashamed. I don't say 'we're going to get through it. I say 'we're going to thrive through it.'" Learn more about how Top Hat provided Davis and his students reassurance during the transition to remote learning in mid-March.
Creating an online learning community, however, requires a different approach than in a traditional classroom. For example, we're already seeing the inevitable signs of 'Zoom fatigue.' Video lectures aren't enough to keep students interested and engaged. Forging a community of online learners means making the digital classroom an inviting place for students. It means using technology to help students who were previously reluctant to raise their hands to participate in class and fostering peer-to-peer (and peer-to-instructor) connections to make the course material meaningful.
To create a sense of community, get to know your students' needs by conducting regular online surveys or polls
To create a sense of community, get to know your students' needs by conducting regular online surveys or polls. You can then leverage this information to adjust your curriculum to make it more collaborative. Having learning materials scattered across multiple platforms can undermine the sense of community you're trying to build. A central hub that houses all materials can help students align with one another on assignments and small group discussions.
Shifting from 'instructor' to 'community manager'
Being the 'sage on stage' doesn't work in a modern classroom. Even the most riveting of lectures won't translate well in an online learning environment, since it's hard for students to passively stare at a computer screen for 50 to 75 minutes. Instead, shift toward becoming a 'guide on the side.' By delivering shorter lectures and breaking up class time with interactive learning activities and small group exercises, your role becomes more of a community manager. This means you facilitate activities and group work while keeping students motivated and engaged.
Here are some practical learning strategies and teaching tips to help you take on the role of a community manager.
Incorporating short audio clips or videos from online textbooks or YouTube
Polling or quizzing students about course material and soliciting student feedback
Providing the option of open assessments, where students choose from a range of possible assignments to complete
Getting students to create Tik Tok videos for assignments or presentations
Assigning small group work in breakout rooms and visiting those groups to monitor how collaboration is progressing
Creating online games related to material in the course (or having students create their own games)
Without physical classrooms and campuses, students are missing out on the critical social aspects of higher education, which help to create a sense of community and engagement. Consider adding a virtual 'water cooler' to your course and foster spaces outside of class, such as a discussion board or social media page where students can answer questions about real life interests in an informal, fun way.
As a community manager, it's important to remind students that they're part of a larger campus culture—and that they're not alone. Alert them to non-academic activities and resources, and share links to webinars and virtual events that may be of interest.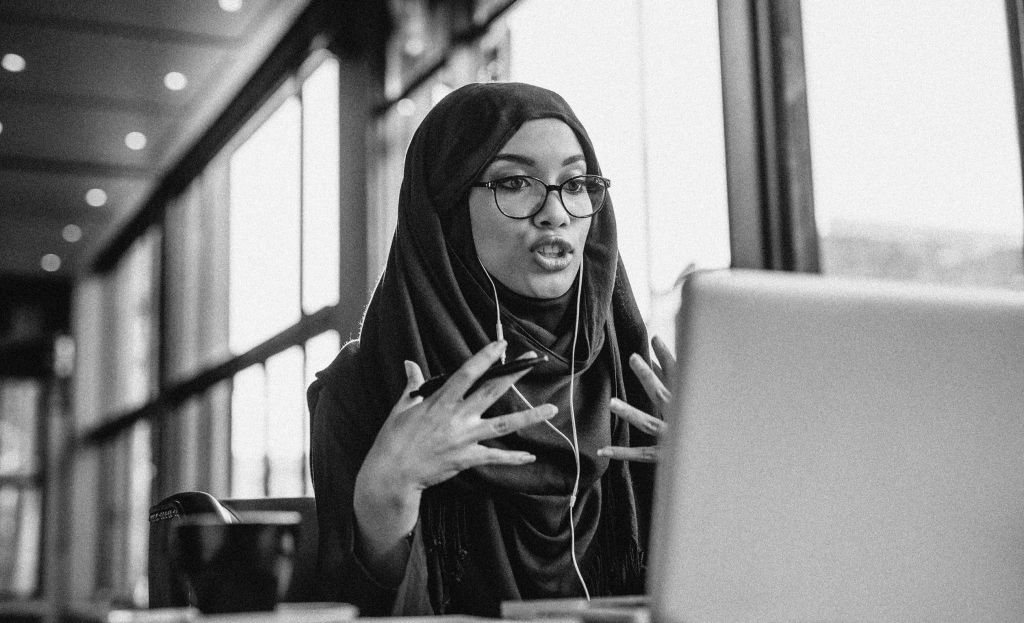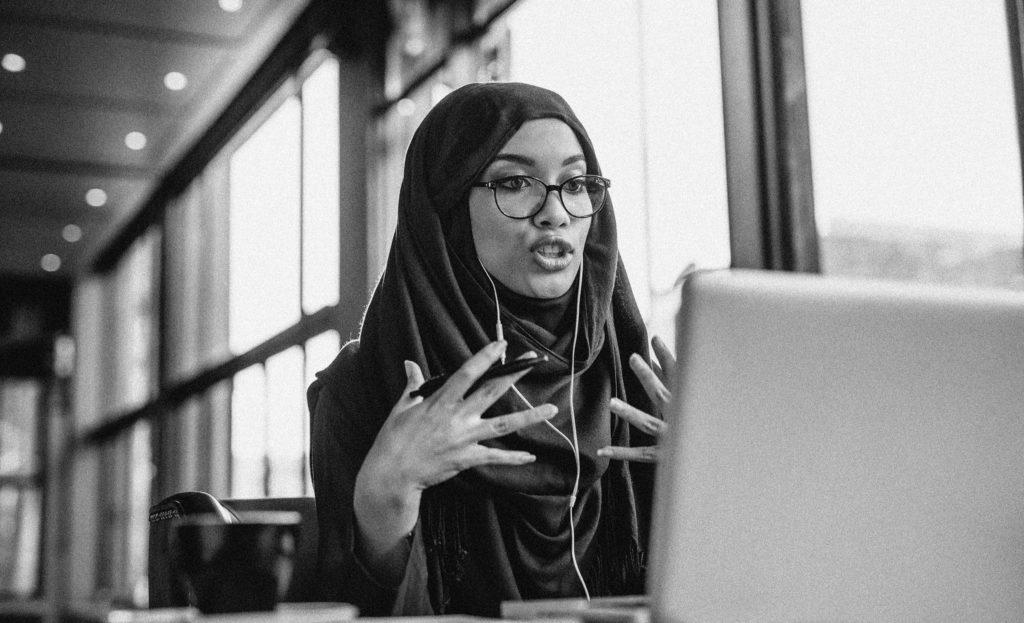 Fostering social connections among—and with—your students
In a traditional classroom setting, students get to know each other through informal networking during and after class. Just because distance learning has taken flight doesn't mean students should miss out on the social aspect of the learning experience. With physical distancing measures in place, it's perhaps even more important for instructors to make the effort to create social connections among students.
Get the process rolling by breaking the ice. This could be as simple as setting up a discussion thread called "introduce yourself" or using icebreakers (which are applicable in either a synchronous or asynchronous learning environment). While it's ideal to do this at the start of an online course, icebreakers can also be used as a precursor to group work. Here are some online icebreaker activities to help drive student engagement.
Classmate Quiz: Have students post introductions on a discussion thread. Give them a few days to read them all in preparation for a matching or multiple-choice quiz about their classmates—you can even entice them with bonus points for the winner.
Two Truths and a Lie: Students post three statements about themselves: two true, one false. Their classmates review and guess which statement is false (explaining the reason behind their guess). Students then reveal the false statement and list the names of students who guessed correctly.
Three Ps: Divide students into small groups using breakout rooms. Ask students to share three facts with their classmates: something personal, something professional and something peculiar (such as a hobby or habit—nothing too personal).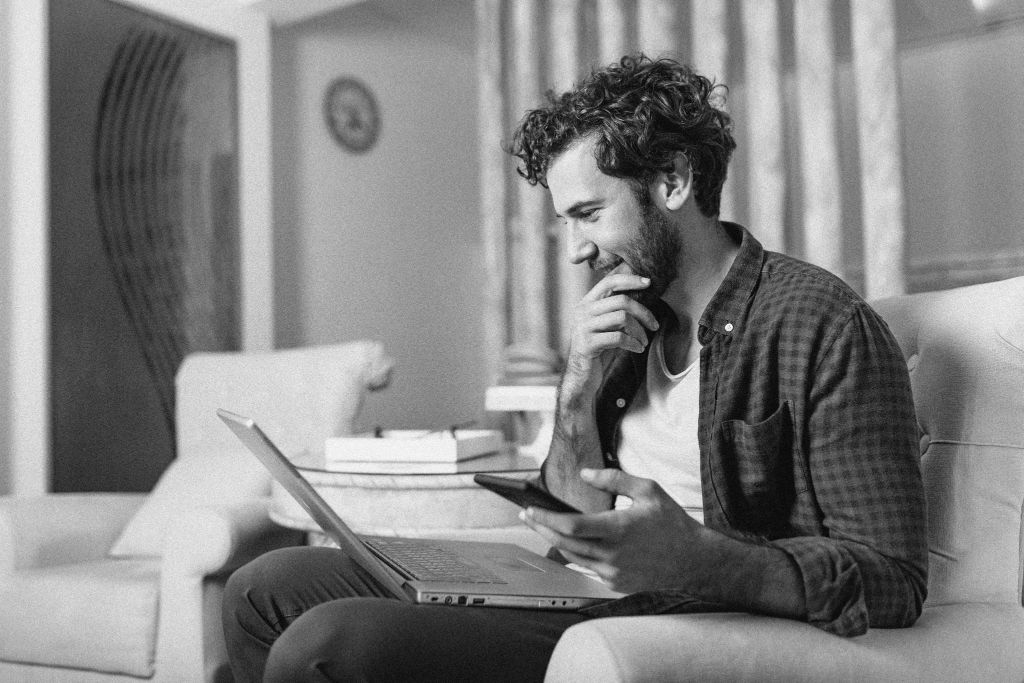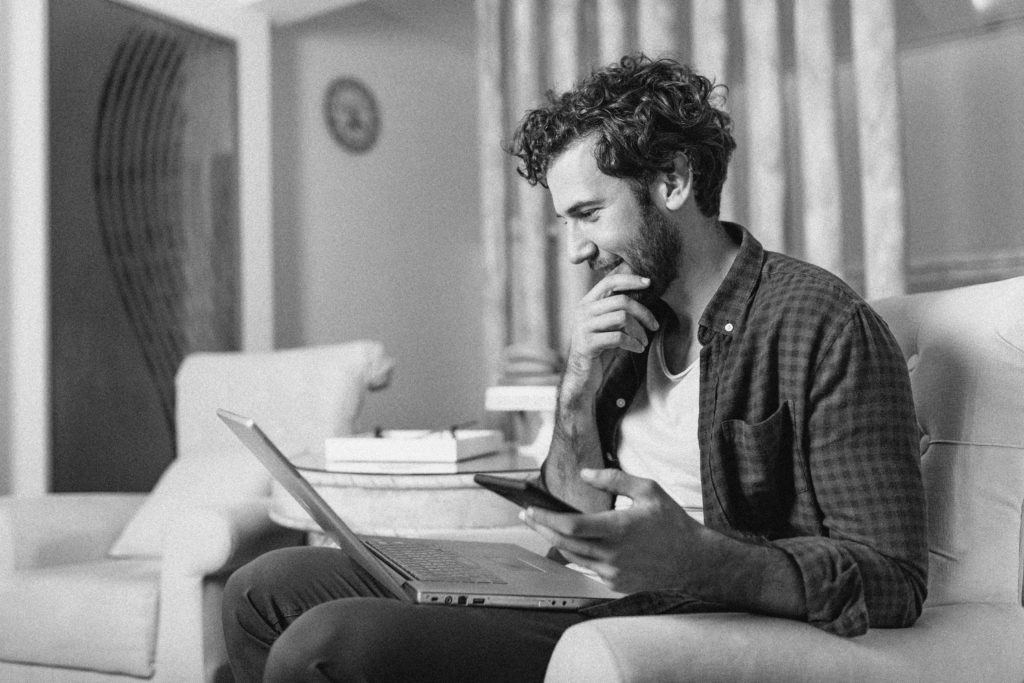 Bringing your authentic self to the virtual classroom
People often lose their 'persona' when they shift to the online world. But crafting an authentic and empowering presence as an instructor, or community manager, is more important than ever—especially when students are feeling anxious, disconnected and isolated. Establish your presence by providing some information that humanizes the person on the screen, such as your research interests or how you got into your field. While you want to build empathy, you don't want to unload your stress or struggles onto students. Jamie Pomeranz, an Associate Professor of Occupational Therapy at the University of Florida, shares what it means to teach with empathy in the modern classroom. "It's one thing to empathize. Once you've reached that level of empathy, then you've got trust. From here, that's an opportunity for us to really empower students."
"It's one thing to empathize. Once you've reached that level of empathy, then you've got trust. From here, that's an opportunity for us to really empower students."
Empathy in the classroom can help students manage their anxiety during uncertain times—and keep them engaged. Take time to acknowledge the challenges they're facing right now. Make sure they know you're there for them with virtual office hours. This can help to build rapport with students, even if you can't be together in the same room. At Top Hat's Engage 2020 user conference, we spoke to professors on what empathetic teaching means to them. Here's what they had to say.
Creating connections with students
A feedback loop is a powerful way to build stronger connections with students. This is a process where students complete a task, get feedback and make adjustments accordingly. It's meant to be non-evaluative and focused on a specific learning target. Feedback isn't simply saying "good job." It's explaining why a student did a good job (or what needs to be corrected). And it typically requires students to reflect on that feedback, thus creating a loop. Since this is an ongoing process, digital formative assessments can facilitate a continuous feedback loop. Using tools such as online assessments or platforms like Top Hat, you can provide specific, immediate feedback to students, helping them to reset their trajectories—and helping you to evaluate student performance.
Classroom response systems can also help you understand how students are performing. When you pose questions to the class, for example, students can respond anonymously through their personal devices—the responses are then displayed on the screen in real time. Some online learning platforms also offer weekly course reports to track student comprehension, outlining where they performed well and where they need more work. This can make it easier to identify struggling students and reach out with helpful, actionable feedback.
Leveraging insights and tools for student engagement
The Top Hat gradebook tracks student participation and results for every type of assessment. Educators can easily monitor progress at the course level and check in on individual students. Accompanying the gradebook, Top Hat's Weekly Course Report recaps students' performance in the form of weekly emails sent directly to your inbox, identifying those in need of intervention and providing actionable direction to keep students on track.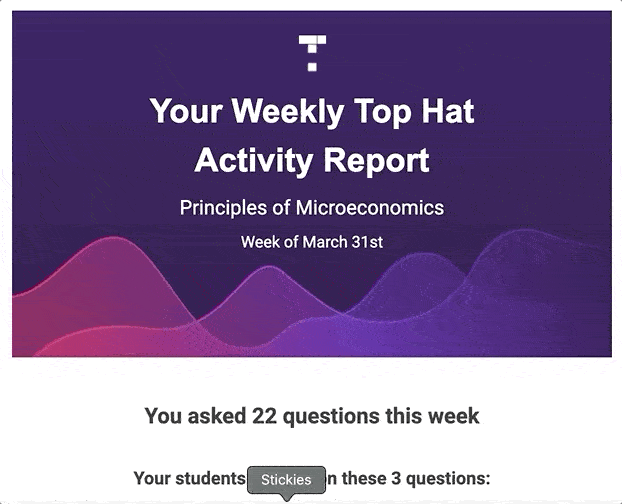 It could also be useful to find a mentor who is thriving in the online teaching environment, saving you time and unnecessary missteps. You can connect with experts on social media (with hashtags such as #remoteteaching and #instructionalcontinuity) to learn the tricks of the trade and make the mind shift from instructor to learning community manager.
When it comes to keeping students engaged with interactive learning activities, the possibilities are endless. Our Ultimate Guide to Online Teaching is packed with tips and practical toolkits for how to uplevel your digital or blended course. Download the guide today for insight on how to align learning outcomes to meet your students' needs, all while keeping them motivated and engaged.