When University of Washington biology professor Carl Bergstrom and Information School professor Jevin West set up registration in January for their one-credit seminar, they expected a modest response. Instead, they woke up to a mile-long waitlist, bursting inboxes and tens of thousands of pageviews from around the world.
Their course, Calling Bullshit, clearly struck a chord beyond their Seattle campus. At a time when "fake news" has become a commonplace term, West was pleasantly surprised that their course on battling misinformation went viral.
Subscribe to Top Hat's weekly blog recap
Get the best posts of the week delivered to your inbox:
"It's funny, we're using the same medium to stop this misinformation," he says in a phone interview.
From the course's snappy title to its meme-worthy visual identity, the professors clearly understand how to engage a wide audience. While the course is in part a response to the proliferation of fake news or the current administration, West stressed that misinformation has always been around.
"We're getting inundated with BS all the time. It doesn't matter if tech changes… being able to dissect BS doesn't change. It's a timeless skill," he says.
Calling BS has been a career-long pursuit for both professors. West says that it is constant for them—whether they're reading scientific articles, news headlines or reviewing their own work.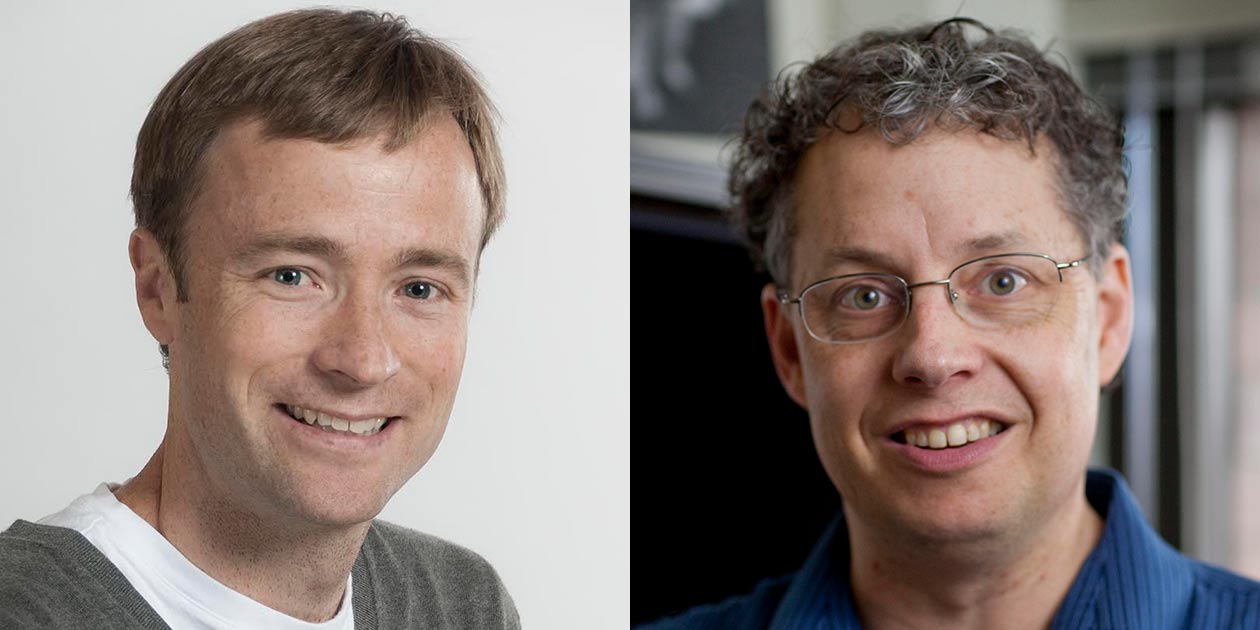 For the last decade, West and Bergstrom (above, L-R) have studied how information flows through the world. One of their research projects, VizioMetrics, recognizes the shift to a more visual culture. Using machine learning, they classified 8 million figures from medical studies by the scientific impact of the papers they appeared in. In this, they also created what has been dubbed as "the first visual search engine for scientific diagrams."
The course syllabus covers BS from all angles. It begins with how to verify information by tracing it to its source, and examining the platforms where it spreads. It also explores fundamentals like causality, statistics and how to check data visualizations for manipulation. Most importantly, it teaches students how to refute BS. An especially daunting task given Brandolini's law, developed by Italian programmer Alberto Brandolini and described here:
The bullshit asimmetry: the amount of energy needed to refute bullshit is an order of magnitude bigger than to produce it.

— Alberto Brandolini (@ziobrando) January 11, 2013
Since the course's success, Bergstrom and West have begun talking with teachers and have created a high school version of the course. The slightly sanitized Callingbull.org just launched and West says he hopes they can bring the course to every high school.
"For us, it's very important that we pass this along to all generations," he says. "We think democracy depends on citizens having this particular skill."
The first Calling Bullshit seminar will take place this Wednesday, March 29. While the 160-person class was filled in a minute, students can follow along online at callingbullshit.org. Bergstrom and West will be posting on a weekly basis and plan to make video clips of the lectures freely available online. An expanded three or four-credit course will launch in the fall.
You probably don't really know as much as you think. And this is normal, says Steven Sloman, Professor of Cognitive, Linguistic, and Psychological Sciences at Brown University.