Looking for a checklist of things you need to ask a vendor when shopping for a classroom response system? Look no further. This extract from our latest guide aimed at university administrators, How to Select the Right Clicker for Your Institution: A Guide to Classroom Response Systems for Administrators, contains six important questions to ask.
Over the last 25 years the active learning movement has spread across higher education, introducing new approaches and new technologies to make classroom teaching more effective. And there does not exist a more ubiquitous symbol of the drive for more effective assessment, and better student engagement, than the clicker. Having appeared on campuses a little over two decades ago, clickers (which are now more commonly known as classroom response systems) have evolved into robust platforms capable of attendance-taking, grading and everything in between.
Administrators who have helped scale clicker usage on campus have done so for a reason: after faculty begin to use clickers, they swear by them for their ability to get students engaged with key learning concepts and improve learning outcomes. But with so many options to choose from, searching for a suitable clicker system for your institution can be overwhelming. How does one begin to evaluate the choices?
"We had an exhaustive list of criteria when we chose our new response system," says Ryan Banow, an educational developer at the University of Saskatchewan's Gwenna Moss Centre for Teaching and Learning, who was also part of the team that selected the U of S's new CRS. Brian Roberts, who played a similar role when Central Michigan University chose its CRS, says they too had a list of essential criteria that any winning system had to meet.
Here are six things to consider when choosing a classroom response system to implement across your institution:
Can it integrate with an existing LMS?

Some clickers work seamlessly with some LMS systems, but not with others. An easy integration can be especially helpful for grading, if class participation grades depend upon clicker responses. Another feature to look for is single sign-on (SSO) capabilities. SSO eliminates the need for multiple usernames and passwords, helping to improve adoption rates among faculty and students.

What kind of data analysis can it support?

Clickers aren't just about generating results for students. Institutions can surface insights and conduct analysis from data they collect on student evaluations, course enrollments and student successes. Additionally, institutions can track a wide variety of issues related to their clicker system: how many faculty members are using it, how often they are deploying it in the classroom or outside it, the total number of students using it, support calls, costs and more.

Does it offer third-party app integrations?

Faculty will often have to augment their textbooks, slides and question types with additional offerings from third-party apps. These apps provide enhanced functionality, often assisting with asynchronous learning, increasing the scope of assessment, enhancing group work, and saving administration time.

What kind of question variety does it offer?

Any system that uses smartphones or tablets should make use of various question types. This includes those that are applicable across a range of courses (matching, ranking, short and long answer questions) and those that are discipline-specific (such as graphing functions for mathematics and drawing chemical bonds for chemistry.)

How much will it cost, and how will it be charged?

Some colleges charge clicker costs upfront as part of their package of fees; others like CMU sell clicker licenses through the campus bookstore; still others use the model where professors adopt the clicker for use in a course and students absorb the fees associated with it. There are institutional constraints to consider here too: not all institutions or jurisdictions allow individual professors to adopt products that result in ancillary fees for students. Administrators should look out for flexible pricing options. Some companies will offer a discount to students if the school agrees to subsidize the cost. Others offer a sort of sliding scale, wherein as adoption of the tech goes up, the cost to the school goes down.

What kind of instructional design training and support is included?
Most clicker companies offer phone and online support, but institutions need to first decide what kind of support they want. "We prefer to be able to do as much as possible locally," says CMU's Roberts. "We wanted a company that could train our people to train others and teach us to troubleshoot the most common problems on our own." Companies that offer access to instructional designers and training on how to use technology to teach effectively are a good bet: they'll help ensure that users get the most out of the new system.
Conclusion
Universities are complex, idiosyncratic organizations with hundreds of moving parts and choosing a clicker system that will integrate fully can take a lot of legwork. But it is an investment that pays off. Despite the additional work required to adopt clickers, research shows that both active learning in general, and clickers, in particular, improve teaching, learning and student outcomes. And that's something that every organization can get behind.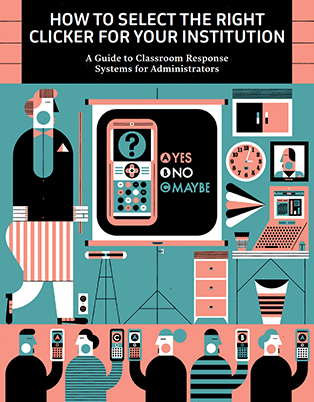 Need an in-depth look into all the factors an institution should consider when selecting a classroom response system? Download our free guide, How to Select the Right Clicker for Your Institution: A Guide to Classroom Response Systems for Administrators, today.
Related pages
Learn more about Top Hat's response system