Upgrading a print textbook to contain quizzes, surveys and checkpoints is far from a gimmick, according to psychology textbook author Stephen Franzoi. That's why he's transferring his current textbook, Social Psychology, to Top Hat's digital platform.
Franzoi builds self-report questionnaires into each of his chapters that students can take and then use to compare them with their peers. "Cognitive psychologists say that the best way for learning to turn into long-term memory is if it's autobiographical in nature," he explains—and if students can connect their own experiences with the text, their recall of it improves.
"With a print text, what the students have to do now is they have to actually score it themselves. With Top Hat, they just take the questionnaire. It's automatically scored for them, and it saves a lot of time."
The new format, with questionnaires embedded within the digital textbooks, will help students understand the course material better as well as apply it to their daily lives. "What I really want to do for psychology students, is [for them to] not just do well on exams, but to then be able to apply it to their everyday living," explains Franzoi.
Franzoi is one of several BVT Publishing authors who are moving their textbooks to a digital platform, in partnership with Top Hat. BVT—which was founded by academics who felt existing textbooks were too expensive for their students—publishes subject matter books on psychology, sociology and college readiness and success. The company's efforts to go digital was the subject of a recent Top Hat webinar.
By moving to a digital platform BVT is enabling profs to integrate their own agile teaching methods into the material. In books published on the Top Hat platform, professors can customize content and include real-time feedback to questions.
As well as being able to use interactivity to encourage recall and understanding, one obvious benefit of moving the textbook to digital is that it's easy to keep updated.
"Right now I'm revising my social psychology text," explains Franzoi. "By the time the students get the book, you could say to a certain degree there are certain aspects of that textbook that are already out of date.
"A print textbook is static in that regard. The nice thing about an interactive textbook is that a professor can go in and take some of the latest scientific findings and insert them into the text so that the students read that ahead of time."
"There's a question right there"
The shift is also welcome from the students' perspective—and the digital platform actually allows them to more easily pick up the book in time for the start of the semester. As Richard Schofield, BVT's Director of Business Development explains, professors find that students just don't buy print textbooks until the very last moment: "Many students get to week three or four before they've bought the book, and then open it right before the midterm and try to cram."
On the other hand, there's a much lower barrier to students when the textbook is digital and fully integrated within the course. "When we put the content on Top Hat, it's really in a flipped classroom environment where the students have to read the chapter before they come to class, because their homework is in the chapter… They read a few paragraphs and there's a question right there and they answer that question and they get points for it, and they move on.
"They're getting that reinforcement as they read and they're getting the rewards of the points as they read, and they're coming to class prepared, far more than they ever did with just the traditional book."
All of this is adding up to enthusiasm for authors to move their textbooks to a digital platform too. "They all know if you're not at the cutting edge, you're gonna be left behind."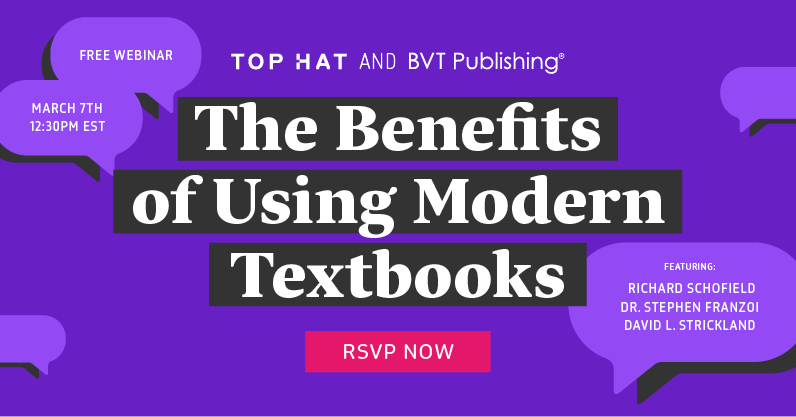 Available on demand
Watch the full webinar between Top Hat and BVT Publishing now to learn more about interactivity within textbooks, including an explanation on how real-time feedback on student comprehension can help you course correct and improve student outcomes.
You can also watch a live demonstration of how content on the Top Hat platform works.
Fill in the form below to get free exclusive access.
Related pages
Learn how to create an online learning platform using Top Hat