In the introduction to our new comprehensive report The Death of Traditional Publishing & The Future of Course Content, we look at how textbook industry trends have overtaken conventional publishers, leaving them in serious financial trouble.
Three years ago, the global consulting firm McKinsey & Company provided a dire forecast for the sector in a report titled The Future of Textbooks. "Higher education publishers face a growing threat from the rental-textbook market," the report said, predicting that rentals would begin to cannibalize new textbook sales by 2017. "Publishers can meet this challenge," the firm counseled, "by shifting their emphasis from print to digital."
Subscribe to Top Hat's weekly blog recap
Get the best posts of the week delivered to your inbox:
Consultants are not always known for the accuracy of their predictions, and in this case McKinsey misjudged: the grim future they foretold arrived even sooner. Rentals, it turned out, were only one of many textbook industry trends upending traditional publishers, from new digital competitors to open-license textbook initiatives. As a result, most of the sector's major players reported substantial declines in sales and revenue for 2016, leading many of them to reorganize operations and lay off staff. And while 2016 was a particularly bad year, it also fit the pattern of an ongoing decline in publishers' revenues from their traditional print operations.
London-based Pearson PLC., the world's largest education company, posted a loss of more than $3 billion last year, due to a 15 percent decline in sales, and laid off some 4,000 employees as part of a global restructuring. Two of America's largest educational publishers were also printing red ink for 2016. Cengage Learning, in Boston, closed its fiscal year with a loss of $176 million. Meanwhile, in New York, McGraw Hill Education recorded a net loss of $116 million—a year after posting a $175 million loss.
All these firms had effectively taken McKinsey's advice, making substantial investments in their digital operations. And while all saw increases in digital sales, those gains were not enough to stop the bleeding.
All told, the numbers paint a startling picture of a sector in distress. When one firm posts a big loss, the blame can be put on a single instance of sloppy management or poor product development. When every major firm is losing money, it's an industry in the midst of disruption. The changes that have beset other sectors of media and publishing—the rapid shift from hard copies and hard assets to digital forms of consumption, the accompanying collapse of traditional revenue models and loss of jobs, and the anxious search for solutions—have now proven unavoidable for textbook publishers.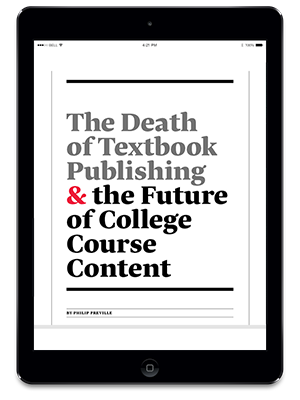 We've compiled a comprehensive report on textbook industry trends, with analysis on why traditional publishers are facing a decline in their market.
Download our PDF: The Death of Textbook Publishing & The Future of Course Content →