Assessment is more than figuring out what mark goes on a student transcript. Formative assessment turns learning into a dialogue instead of a one-way conversation between the professor and a passive audience.
When done effectively, formative assessment helps students adjust their approach to assignments, making them more proficient by the end of the course.
But there's a big difference between receiving feedback in a "timely manner" and "real-time." So, what are some of the benefits of real-time feedback in higher education?
1. Learning can be personalized
Every student learns at a different pace, so charging through a syllabus with no regard for the diverse needs of the class is no way to build relationships. By integrating assessment into each lesson, a personalized learning dialogue can be created between the professor and students.
Providing real-time feedback is a way for professors to be more responsive educators. Are the students are understanding what you're teaching? Do they need you to break down concepts into smaller steps, or step back and give context? By finding that out as you go, no one gets left behind.
2. Students will develop self-regulation skills
By the time students get to university, most are already setting learning goals and evaluating their own and others' work. Professors can continue to develop these self-regulation skills in students by offering their expertise.
When you deliver real-time feedback to students on their assignment through a learning management system, students immediately find out if they are off track and are able to make appropriate changes. The more feedback students receive, they better they will become at evaluating their own work.
3. You can strengthen the student-professor relationship
Real-time feedback makes it much easier to have a meaningful student-professor relationship because you know right away if students are understanding course material or enjoying the content.
Rather than getting a surprise at the end of the term in the form of disappointing exam results or lackluster course evaluations, conducting assessment for learning or gathering feedback throughout the term keeps you tuned in to student interests and struggles. Get away from the sage-on-stage stereotype and create a dialog with your students.
The takeaway
Formative assessment can become part of class discussion, or it can take advantage of mobile devices in the classroom through quizzes and polls in student response systems and educational apps.
Whichever route you choose, real-time feedback is a win for your students and for you. It makes your courses more interactive and interesting, gives you a better idea of student understanding and helps students develop more of their own skills and mastery.
Related story
Formative assessment vs summative assessment: How they work together
Related pages
Learn more about Top Hat's realtime student information system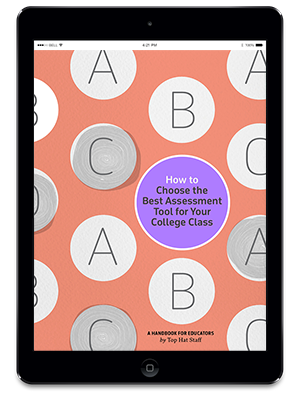 Looking for new ways to assess your class? We have a comprehensive guide, as well as expert tips on balancing formative and summative strategies.
Download our e-book, How to Choose the Best Assessment Tool for your College Class →