My story
I started at Villanova as a professor in the department of Mechanical Engineering last fall, in 2017. I'm on a tenure track position, and my research, within the Multiscale Modeling of Materials and Machine Learning (M⁴L) Lab, focuses on creating computational models to predict the mechanical behavior of materials across multiple spatial and temporal scales, with particular interest in studying the potential of machine learning for these applications. As part of this, I'm writing proposals, mentoring students and establishing research collaborations.
That's my research side—I have two sides to the coin. I'm also very passionate about excellence in teaching. As part of that, I'm trying to increase engagement and participation in engineering courses. Villanova was recently recognized as a National University as part of the Carnegie Classification of Institutions in 2016, and that unique balance between excellence in teaching and excellence in research is one of the main reasons I am here.
Research is important: I love research, but I also love teaching. [Combining them] is a challenge—I don't yet know how to get a balance, but I'm trying my best!
What was my challenge?
The main challenge is that engineering students at Villanova have very high learning expectations when they come to class. It's not enough for them to come to class, listen to the lecturer, and go home and do the work.
You can tell this from the types of questions that they ask, the motivations they have for learning, their interests—they are not going to learn in the "regular way" and then go home. They have more curiosity, they want to learn more in a different way.
How did I solve it?
When I started teaching, I was looking to use active learning. I initially started looking for clickers—but then I found out about joining a pilot program with Top Hat. After looking it into it, I found that Top Hat was a great platform for engagement and participation.
First, I let students think about the questions I ask individually and let them submit the answer. I'll then let them discuss in pairs, and they submit the answer again, without knowing the correct answer. That way, they're asking the questions and they're the ones that are solving the problem.
It's important for me that Top Hat allows me to set the bar high in terms of the knowledge expectations of the engineering courses while using Socratic principles to drive the learning process.
I like it so much because it helps me to improve engagement and participation but I don't have to water down the content. I want students to have fun and learn.
What was the impact on students?
One of the questions I ask the students in the anonymous midterm survey I prepare for them—I like to get feedback not only at the end but also when there is still time to react and we can change things for them—was: "What do you like best about this class?" This word cloud shows the result of the survey.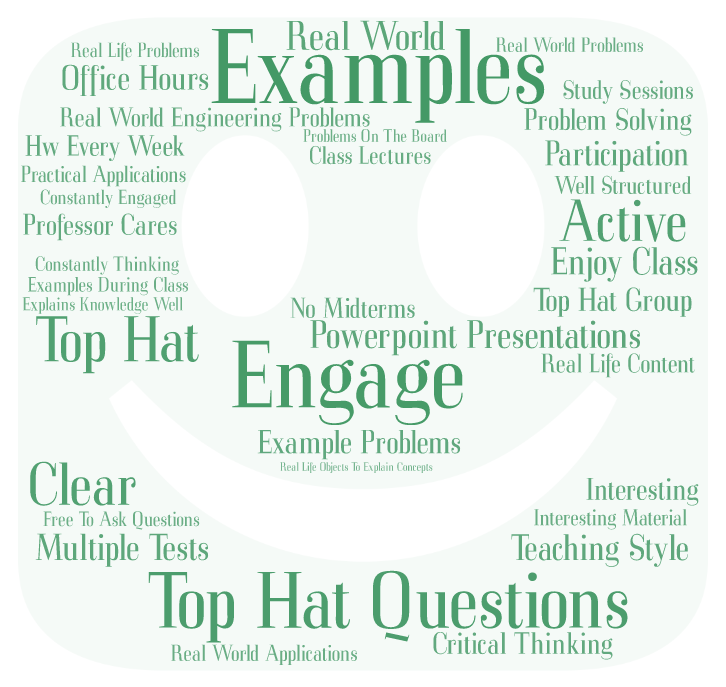 As told to Quin Parker
Book a personalized demo of Top Hat →