The move to learning at home meant giving up elements that were so ingrained in the on-campus experience. One of those factors was the sense of community and belonging found within (and beyond) the classroom. With online learning, students no longer have regular access to faculty and friends. More importantly, many activities that strengthen students' bonds with each other—sports or clubs, for example—can no longer be replicated online. In the move to remote learning, students' sense of belonging has been put in jeopardy—and faculty believe it's time to address this pressing issue.
Recently, Top Hat polled 808 higher education faculty members and instructional design staff in North America to more clearly understand their thoughts on the fall semester—and we're highlighting our findings in a four-part series.
In the final installment here, we share why community can no longer be considered an afterthought when forming an online classroom.
Top Hat's free Faculty Preparedness Survey highlights instructional challenges and insights from faculty heading into the fall semester. Read or download the report here.
Community is an essential asset to the online classroom
Informal interactions among students are no longer a common reality—especially when learning is self paced. Almost nine out of 10 survey respondents (87 percent) acknowledged this, rating the importance of fostering a sense of community among students as moderate to high—and indicating a clear need for peer-to-peer community.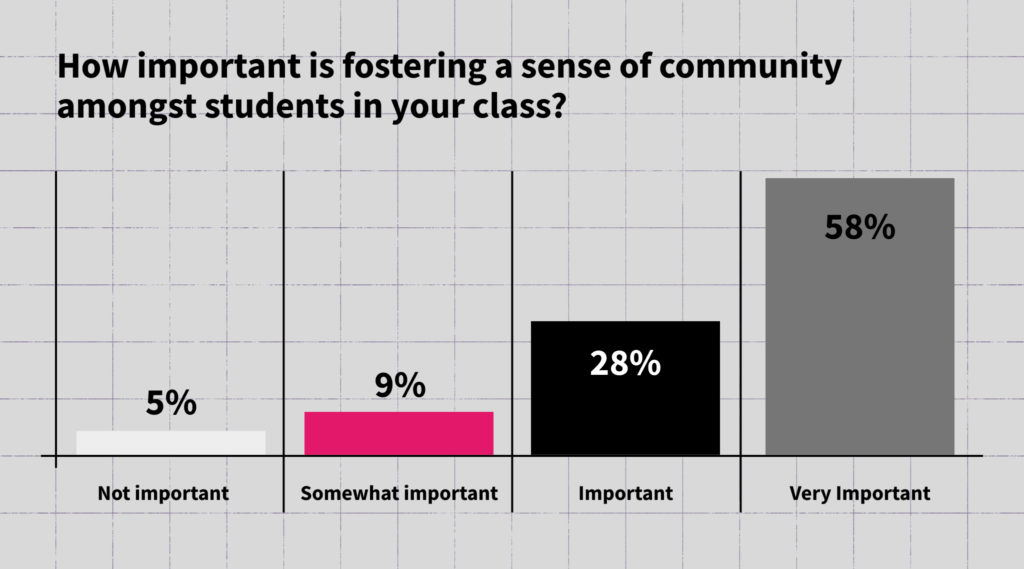 Study hours can now vary from student to student—and it's become a challenge to communicate and collaborate inside and outside the 'classroom' in real time. Almost six out of 10 (58 percent) of faculty rated students' ability to stay connected with classmates in the spring term as low or moderately low.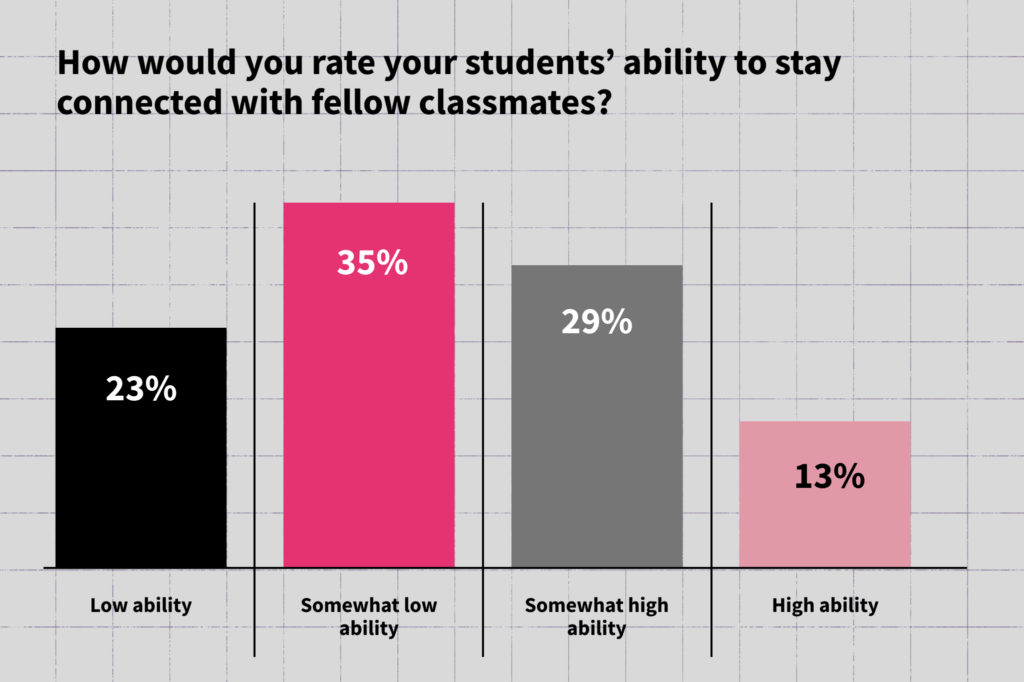 Institutions could do more towards embracing community-based pedagogy
Add 'community building' to the list of factors that institutions have overlooked when preparing for the fall, so say our survey respondents. Diagnostic assessments, icebreaker activities and office hours can all help faculty connect with students—but 55 percent state their schools haven't supported them when building these opportunities.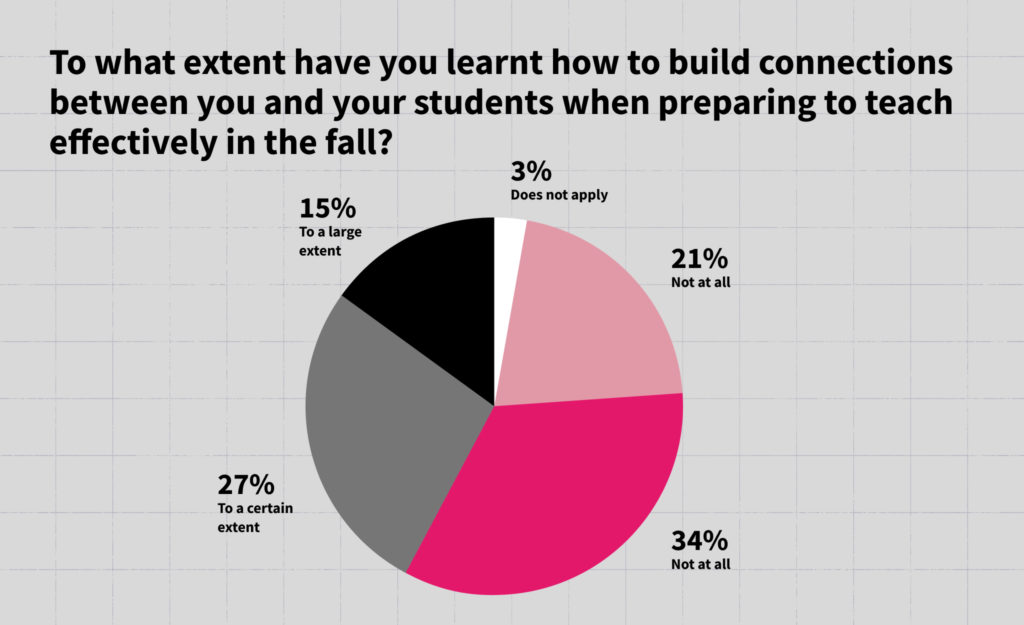 For classmates who have never met one another, strengthening community and connectivity is essential in order to make all students feel comfortable. Unfortunately, 63 percent of faculty indicated that their institutions didn't succeed when it came to student-to-student connectivity.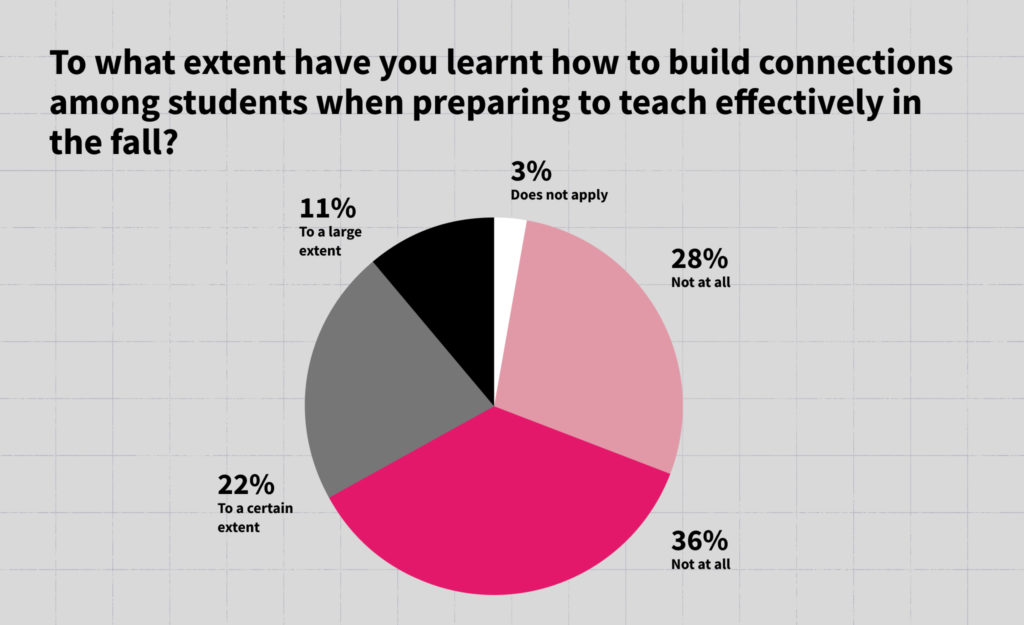 This fall, a sense of community in the classroom may be the single most important factor in bonding students and faculty. A better connected classroom environment will allow students to communicate with each other and instructors—but first, institutions must rise to the challenge.
Survey methodology
Survey responses were collected by Top Hat from 808 higher education faculty and instructional support staff in the United States and Canada from July 13 to 19, 2020.
How are other faculty members faring with tech tools? How are they managing student equity issues in their online classrooms? The answers to these questions, and additional insights, are provided in Top Hat's free Faculty Preparedness Survey, which can be viewed or downloaded here.
Faculty sound off on the fall term in our four-part series
Part 1: The Disconnect Between Faculty and Institutions Over the Fall Semester
Part 2: Uneven Tech Adoption Raises Concerns About Student Success
Part 3: Educators Aren't Convinced About Their Ability to Teach Effectively in This New Reality