It's crystal ball-gazing time. And while it's hard to predict what challenges lie ahead, especially once Trump takes office, there are consistent themes that educators will return to again and again over the next year: be innovative, do more with less and look to new sources for resources and inspiration. Here are five ways those themes will play out in 2017:
New demographics will change campuses
The idea of a "traditional" college student (i.e. between ages 18 to 24) is shifting. Increasingly, more working parents, veterans and returning students (i.e. over the age of 25) are pursuing degrees, especially at state schools. In fact, the percentage increase of students age 25 and older has been greater in recent years than the percentage increase of younger students, according to federal education statistics. This influx of new students brings different needs and expectations, and colleges should increasingly be looking to their IT departments to help meet the demands of a changing and diverse student population. More than ever, tracking students' learning patterns and assessing their engagement with course material is an essential capability for forward-thinking profs. Systems that simplify data collection and establish consistent ways to track, manage and analyze this type of small data will help professors connect with new groups of students like never before.
Download our White Paper: The Death of Textbook Publishing and the Future of Course Content →
Billionaires will fund educational development
Tax reform may well be one of the first agenda items for the new Congress, and Brian Flahaven, director of legislative, foundation and recognition programs for the Council for Advancement and Support of Education, says higher ed should be particularly concerned about it. Proposed changes to charitable deductions codes will likely de-incentivize charitable giving—Flahaven projects it could drop between four-and-a-half to nine percent—and for institutions already struggling with decreased state and federal funding, declines in private philanthropy and alumni giving are a serious threat. But it's not all doom and gloom. To kick off 2017, Chinese billionaire Charles Chen Yidan of WeChat created the most lucrative annual prize for educational research and development, and donated $320 million (U.S.) for an endowment. Each year, an independent board of the Yidan Prize Foundation will award two prizes of about $5 million, made up of $2 million in cash and an investment in the winner's project. The first prizes will be awarded in September.
Subscribe to Top Hat's weekly blog recap
Get the best posts of the week delivered to your inbox:
Higher ed institutions will re-examine their programs to support international students
Diversity on campus and a population willing to pay sticker-price tuition are just two of the factors that have driven higher ed institutions to court international students. A 2012 report by the American Council on Education looked at the percent of institutions that offer international students: orientation in the institution and/or the U.S. classroom (65%); assistance in finding housing (53%); orientation to the U.S. and local community (53%); host-family programs (18%); and support services for dependents (6%). What was missing from the report? Data for "pathway" or bridge programs for ESL students (intensive English classes mixed with a few other academic courses), which have sprouted up on college campuses across the U.S. over the last five years. An update to the report is scheduled for release in spring 2017 and will likely push the international student agenda forward as colleges scramble for additional revenue streams under increasing cuts to state funding.
Community colleges will benefit under Trump
Community colleges now enroll almost half of all students who go on to take some kind of post-secondary education. "The mission of community colleges—to educate and retrain Americans from all walks of life—will likely get support from Trump, who has often promised to focus on jobs, jobs and more jobs as part of his plan to rebuild the nation's economy and workforce," says NPR's education correspondent Claudio Sanchez. "Expanding higher education options tied to training and actual jobs should give community colleges a prominent role in helping Trump push his economic agenda."
Ed tech: An engine of social mobility, or a deterrent?
Has all the money spent on technology in higher ed improved post-secondary productivity? And if investing in tech has improved productivity, have these improvements resulted in greater post-secondary access, lower costs and higher quality? These were two important questions posed by Dr. Joshua Kim, director of Digital Learning Initiatives at the Dartmouth Center for the Advancement of Learning, in a post on Insidehighered.com. After reading Evicted, sociologist Matthew Desmond's best-selling 2016 book on poverty and housing, Kim challenged the industry to ensure that ed tech is not another factor that concentrates advantages on the already privileged—something that educators will continue to wrestle with in the year ahead.
Related story
All about education buzzwords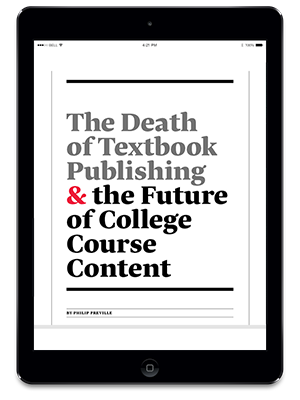 Get up to speed on one of the top education stories of the decade — the sunsetting of traditional textbook publishing — with our free white paper.
Download The Death of Textbook Publishing and the Future of Course Content →