Top Hat is excited to introduce the new gradebook, our revamped system that allows professors and students to view grades and attendance all in one convenient place.
The new gradebook is full of great features and functions on a brand new, streamlined interface. All content is displayed in a grid-based layout, and allows professors to effortlessly edit information, copy and paste to an external spreadsheet and export student grades instantaneously. Attendance is incorporated into the master grid and searching for individual student results is seamless, ensuring teachers can quickly glean insights into student performance.
The new gradebook, which is coming soon, will make it easier than ever for professors and students to provide feedback that'll go towards making the product even better. Here are some of the new features we're most excited about.
What's new with the Top Hat gradebook?
Everything's new. We heard that the old system wasn't as intuitive or easy to use as it should have been, and we've addressed those issues. This was an opportunity for us to start fresh and build something from scratch, both from a user experience and technical experience standpoint. We see the new gradebook as the launching pad within Top Hat where professors can gain insights into student progress and performance.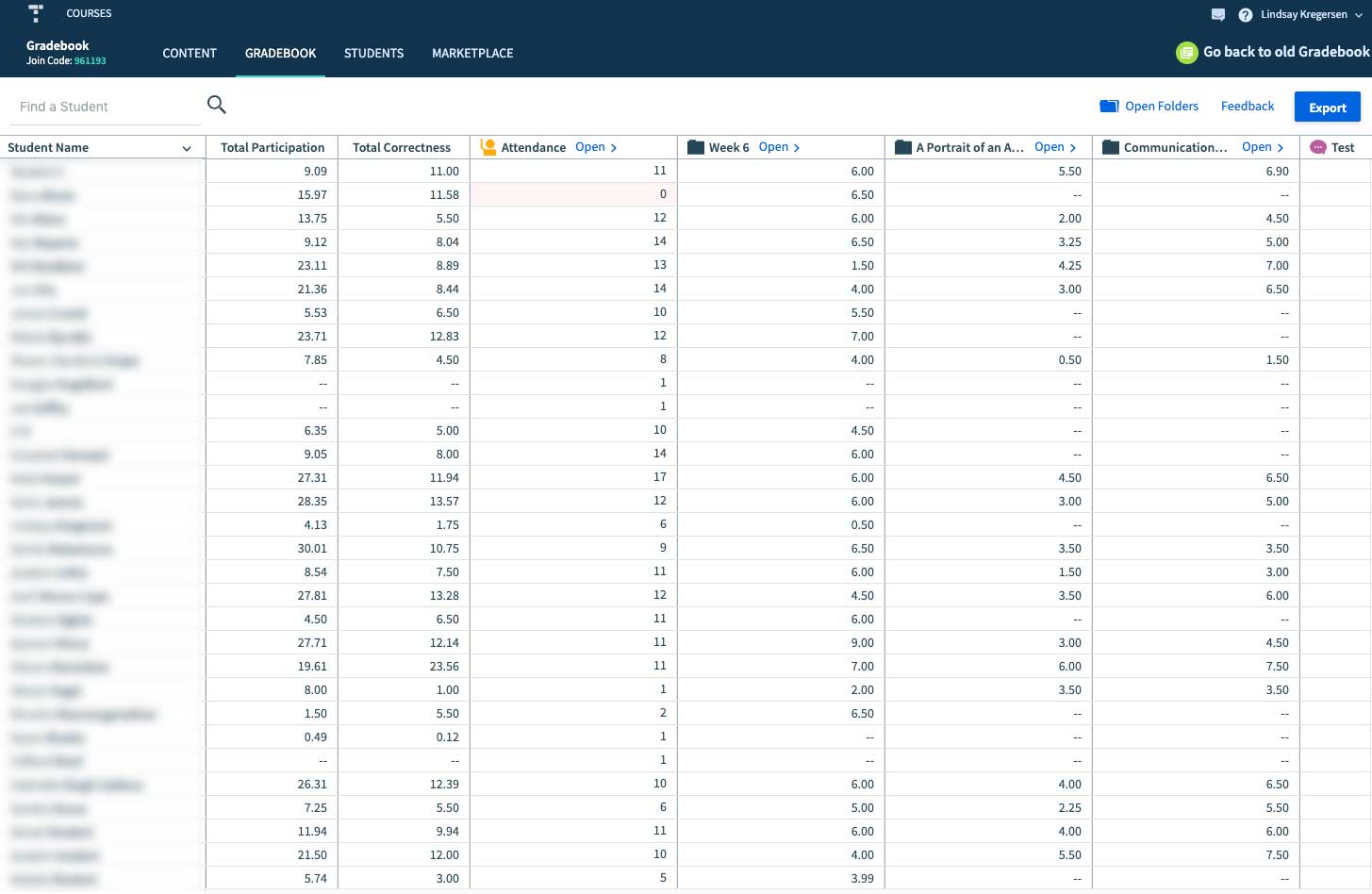 Updated features and functions for professors
The grid layout (above) makes everything a lot more intuitive and now looks similar to other gradebooks professors might be familiar with. It's very easy to see trends in attendance, for instance. And we've also made editing a lot easier, so when a professor double-clicks into a cell, they'll see the response the student submitted and they'll actually be able to make a grade edit based on what they see.
I think professors will also really love how quick the export function is now. Even if you have a massive course with hundreds of questions and students, the data export takes just seconds. And we've made sure that quick access to grades will be available no matter how many students are trying to access the gradebook simultaneously.
The learning curve now is almost non-existent. It's very intuitive and much more visual for both professors and students. But ultimately, what we think will make the gradebook most valuable is its ease of use—we want it to be an aspect of the Top Hat platform that professors can take for granted. These are just a few of the ways we're thinking about our gradebook holistically and designing it so professors can accomplish their tasks with ease.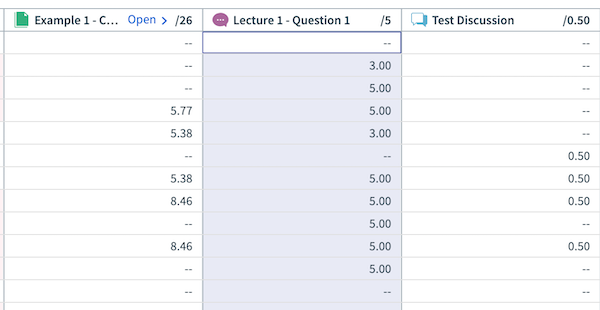 Guiding pillars for the new gradebook
Reliability, usability and grade integrity were all top of mind during the gradebook redesign. And, related to these, we also wanted to ensure we were mindful of scalability. Now, the new gradebook will respond well in even the largest classes or when we bring in new question types.
One thing Top Hat does really well is we listen to our customers, whether that's during the onboarding process or through our support channels. We accumulated feedback from our professors and we also worked with focus groups and had user researchers who spoke to dozens of professors about the kinds of tasks they want to be able to do with a gradebook.
We've now worked on these gradebook changes for the better part of a year, ensuring we're incorporating all feedback from current Top Hat users. We also looked at the competitive landscape and what other gradebooks could be doing better and all that went into making the best product possible.
Improving the gradebook further
On the new gradebook, there's a feedback button at the top right that we monitor constantly—if you want to get your voice heard, that is the best way to do it. Or, of course, you can go through your customer success manager as well.
We're always looking to improve the gradebook and, in future, we hope to add more great features that'll make grading more streamlined and even enjoyable. We want it to be the place where professors can derive insights on how their students are performing so that they can react and improve those outcomes.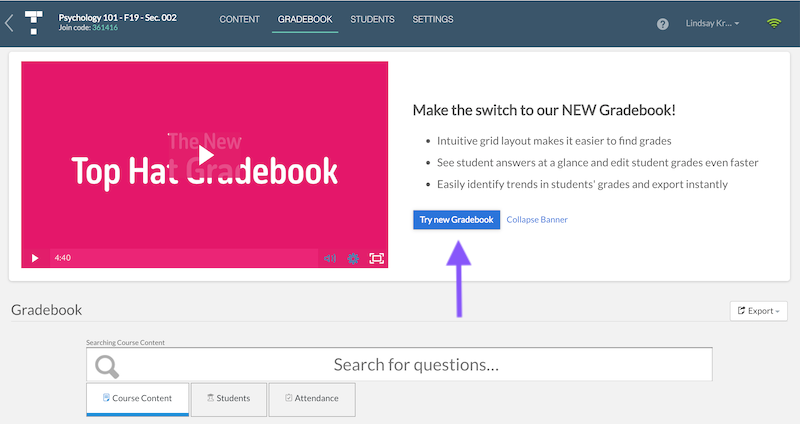 The new gradebook will be available to all Top Hat users in the fall. And it's just one way we're making Top Hat a more insightful platform for professors so that they can do their jobs more easily and more effectively.
Gradebook is currently in beta.
Related pages
Learn more about Top Hat's gradebook software